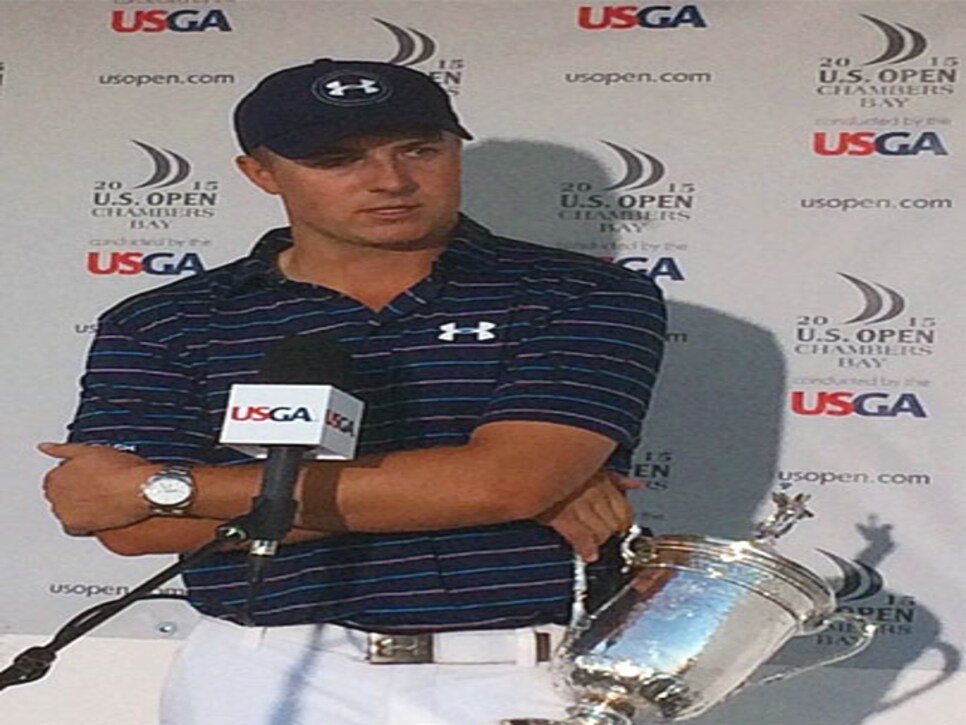 Jordan Spieth
The simply, stylish Speith may not mess with much color or pattern, but he certainly doesn't shy away from large accessories. His U.S. Open trophy, carried here casually as if it was a beer at a frat party, is a strong and stylish touch that elevates any outfit. It also happens to pair perfectly with green jackets.
Under Armour
Rickie Fowler
Rickie normally brings his best looks to the game's biggest stages, and even though Friday's light-blue rig was right on trend, Thursday's red-pant/black-shoe combo lacked enough contrast to really pop. It's a shame we didn't get to see what he had planned for the weekend.
Puma Golf
Tiger Woods
One way to deal with balancing contrast in your outfit is to not have any at all. I'm not sure why it took Tiger so long to pick up this monochromatic move, but we're glad he finally did because this is one of the strongest looks we've seen on him in a long time. It's a seamless set-up from top to bottom that makes for an impactful visual on TV. The tonal look also softens the black-tape seam detail across his chest and down the center of his back nicely, which makes the accent look that much more modern.
Nike Golf
Dustin Johnson
Dustin to me looked the best on Sunday but I am on record as loving the tonal look for the same reasons laid out for Tiger. DJ looks like a very serious athlete in the all dark total looks and the House of Fleming strap is pretty cool touch, too!!
adidas golf
House of Fleming
Jason Day
I'm not sure whether Day's been hitting the gym more lately or if he just shrunk his sleeves in the wash this week. I know he had other things going on this week, but in the future he should really let the pythons breathe a bit.
adidas golf
Rory McIlroy
Rory put some high-frequency Lunar Control 3 combinations together all week, and each day's combo looked cooler than the last. Nike has shown a bunch of neon this season, and the shoe feels like the best place for these color pops, so far. That said, Nike needs to take Rors to the next level by scripting a little more consistency in his outfits to better balance those sneaks. Why do we see Rory in everything from all black to neon pink in one weekend when Federer and Nadal get to wear one outfit for two weeks straight? There's got to be a happy medium here somewhere?
Nike Golf
Michael Greller
Speaking of sneaks, Under Armour appears to be upping its game in the category, too. Greller, Spieth's now two-time major champ caddie, looped around his old stomping ground at Chambers Bay in these killer teal-and-blue mesh-woven kicks all week.
Under Armour
Matt Every
We see tons of athletic-looking sunnies on tour, but Every looks like a stud in this flat brim and classic shade shape. Keep this in mind for your own game: your street clothes and golf gear do not need to come from completely separate wardrobes, and your sunglasses are just another example of cool crossover style.
Callaway Apparel
Brian Campbell/Cole Hammer/Jack Maguire
It was a particularly strong showing for several amateurs in the field this week as they all got the fit part down perfectly and seemed to have a nice clean look about them. They each dressed confidently, showed their personal style and, it seemed, looked to enjoy their chance at Chambers Bay as much as they could have. Well played gentlemen.
Bryson DeChambeau
The top spot in amateur style, however, went to the recent NCAA champion, a rising senior at SMU. We don't see a ton of newness in headgear these days, and this kid looks phenomenal in this short-brim newsboy cap. This is DeChambeau's signature style, and it feels like a cool take on a classic, a nod to Hogan that still manages to feel fresh and young.
Geoff Ogilvy
I've always thought Ogilvy owned some of the coolest natural style on tour. His partnership with Linksoul feels like the perfect match that blends cool, contemporary, professional looks with Geoff's laidback, casual vibe. Notice how he doesn't hook up a structured, classic-brown golf shoe to his brown belt and opts, instead, for a crisp white kick that blends with his beige trouser? That's something every guy can bring to his game.
Linksoul
Footjoy
Billy Horschel
Ralph Lauren has got the components right, but sometimes it needs to lend a little more styling guidance to the 2014 FedEx Champ. I love all the pieces individually, but together this heavy black belt creates too much contrast and dilutes the effect of a really stunning shirt in a bold, color-blocked pattern.
RLX-Ralph Lauren
Footjoy
Ryo Ishikawa
Ryo is just on another level; the kid could wear a sack and it would still look hip. The team at Callaway Japan consistently puts together exciting collections that speak to Ishikawa's individual aesthetic, as well as his need for functional, tour-performance product. His light fill-down vest is on trend with a faint, floral pattern and also features zip-off sleeves that convert the style into a vest. His olive trousers are also versatile because, depending if they are paired with dark or light layers, they can look sharp in any season.
Callaway Apparel
Darren Clarke
DC is looking more like Nick Wooster every week. Check out those classic old-fashioned soles on his golf shoes -- all leather and quite smart. No matter what ends up happening inside the ropes, the European Ryder Cup team will be one sartorial set come 2016.
Patrick Reed
What in God's name is Reed thinking about? Those tartan patches on his trousers feel pretty DIY, and the match-match white accessories are something to leave behind. Repeat after me, "Less is more."
Callaway Apparel
Martin Kaymer
Hugo Boss needs to start scripting the 2014 U.S Open champ with a little more direction. I love the shirt, shoes and the pants but (once again) just not all together. This is just too many looks in one outfit, and the high level of contrast takes this whole thing over the top.
Hugo Boss
adidas golf
There's never any shortage of patriotic patronage at the U.S. Open and the fans at Chambers Bay did not disappoint this year.