Style
2016 Masters Style Preview
Golf Digest's Mr. Style, Marty Hackel, previews what tour pros will be wearing at Augusta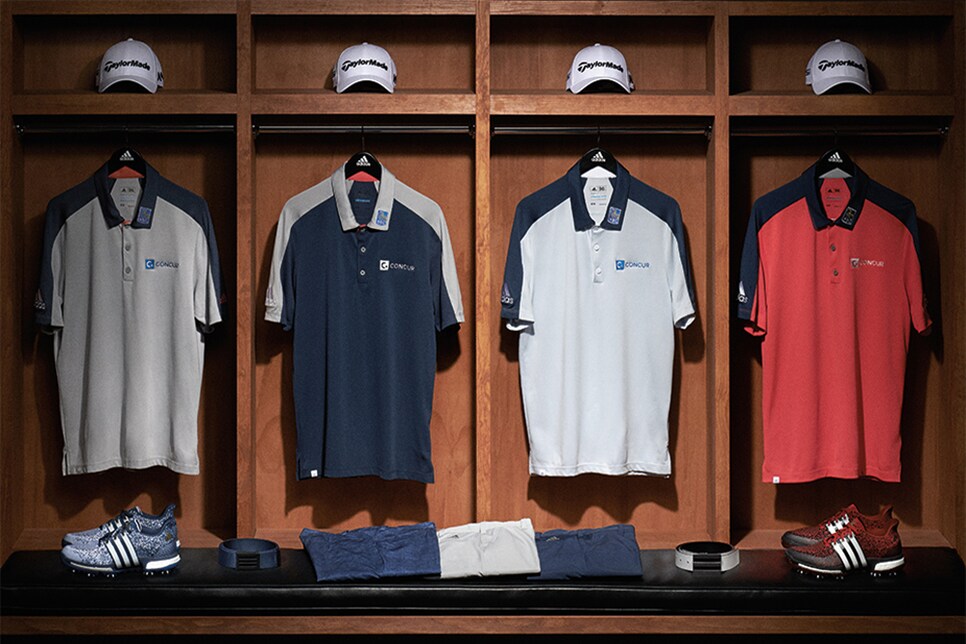 Jason Day/Adidas
I've long been an advocate for apparel companies to stick with one shirt style/design and repeat it throughout the week in various color ways, so I like what Adidas is doing here with Day. They've identified a signature look for the World No. 1 and are running with it. I'd like to see them go further and keep this pattern going at all four majors, selecting a style at each event and sticking with it. Meanwhile, expect to see Day wear the Boa lacing system throughout the week; he's a big fan of the secure fit it creates.
Dustin Johnson/Adidas
Like his Adidas running mate Day, Johnson gets good marks for consistency in this script. He's staying on trend with the contrast colored placket. For a big guy, Johnson's got good style. His pieces fit together effectively. His hat is perfect for him, the belt is just right, his trousers look great. He gets the details just right.
Patrick Reed/Callaway
Reed and Callaway make a good effort here to get on trend with colorful designs that have simple but cool details. Reed also gets thumbs up for being smart with his belt selections. He's showing you that when you match your belt with your pants or your shirt, the strap can disappear. This is all nicely clean and straightforward.
Webb Simpson/Izod
As usual, Simpson looks in control and on trend. The simple stripes keep his look balanced. I think Friday's look is the best of the bunch, as it feels fresh and has a nice creative touch with the striped belt. White shoes all four days also makes sense not just for a major, but for your next buddies' trip, too. It's a color that simple goes with everything.
Brooks Koepka/Nike
I've had people asking me whether Brooks has changed trainers or gone to a new workout program, and I tell them neither. The reason Koepka is looking more fit is the fit of his new Nike clothes. Koepka's wardrobe has him looking more athletic. He's effectively matching his belt with his trousers and consistently standing out with his tonal stripes. Bottom line: Koepka clothes project that he means business. He's presenting himself with a confidence that's sending a message to everyone who sees him.
Rory McIlroy/Nike
The theme is grey every day, and it seems pretty smart in my book. The look builds as the tournament progresses, making it a savvy choice. The only real color variation is in the hat. McIlroy will also showcase Nike's new Blade collar on his polos, a modified knit look that sits fairly low and has a modern, sleek feel.
Bubba Watson/Oakley
Like Day, Watson stays is staying on message with a consistent look, picking two patterns and giving two options with each. Again, you don't need four dissimilar things going on. It's better to create a point of view and stick with it. Oakley's is color-blocked, engineered stripe. It simplifies Watson's style message.
Brandt Snedeker/Peter Millar
Sneds is going for it again with some fun trouser selections. The hounds-tooth moisture wicking pinks for Saturday are perfect for his personality. A good lesson again in making a statement with one element that results in the total outfit looking great. And by the way, those belts are slick!
Louis Oosthuizen/Ping
This is the first time that Ping has taken its apparel collection design in house, and its new product line touches all the key bases trend-wise: engineered stripes, color blocking, contrast colored plackets, button-down collars. It also maximizes the use of performance fabrics with its proprietary SensorCool technology. The look is on the understated side, which is OK in that keeps with Ping's DNA.
Rickie Fowler/Puma
Rickie is a perfect example of the axiom: "It's not only what you wear, but how you wear it." He can pull things off that others can't. For instance, he can take a pair of white joggers and give them their own style and personality. He adds a exclamation point and brings everything up a notch. It's a surprise that he's only wearing the joggers and high tops on Thursday. It's no surprise, though, that he's got orange going on come Sunday.
Billy Horschel/RLX Golf
You're disappointed when Horschel isn't wearing bright patterned trousers, it has become such a part of his look. The reason he pulls this off is that he follows the style mantra of picking one element to really blast out rather than try to make a statement with every element of the wardrobe. He does it again this week very well.
Keegan Bradley/Travis Mathew
The clothing selection for Bradley is too laid back for my taste. The problem with it is it will read "dull" on TV. Having said that, Bradley's selection of footwear is anything but bland. His Jordan High-Tops will make their usual contrarian statement.
Jordan Spieth/Under Armour
This is really nice, straight-forward styling. Spieth's look has become distinct—you put the white pants and blue shirts on a mannequin and ask people who wears these outfits, and most will know it's Jordan. His look is something, in turn, that has helped the Under Armour brand become a recognized, definable player in golf.
Jason Dufner/Vineyard Vines
Dufner and Vineyard Vines have been a great pairing, the two complementing each other well. The company's sporty, colorful outfits look great on the trimmed down PGA Championship winner. Dufner has fun dressing well and is very conscious of how he puts himself together. It's why it's surprising that he's still wearing the white belt three out of four days and the one time he's wearing white trousers, he chooses a dark belt instead.