Sneak Peek: Masters Style Preview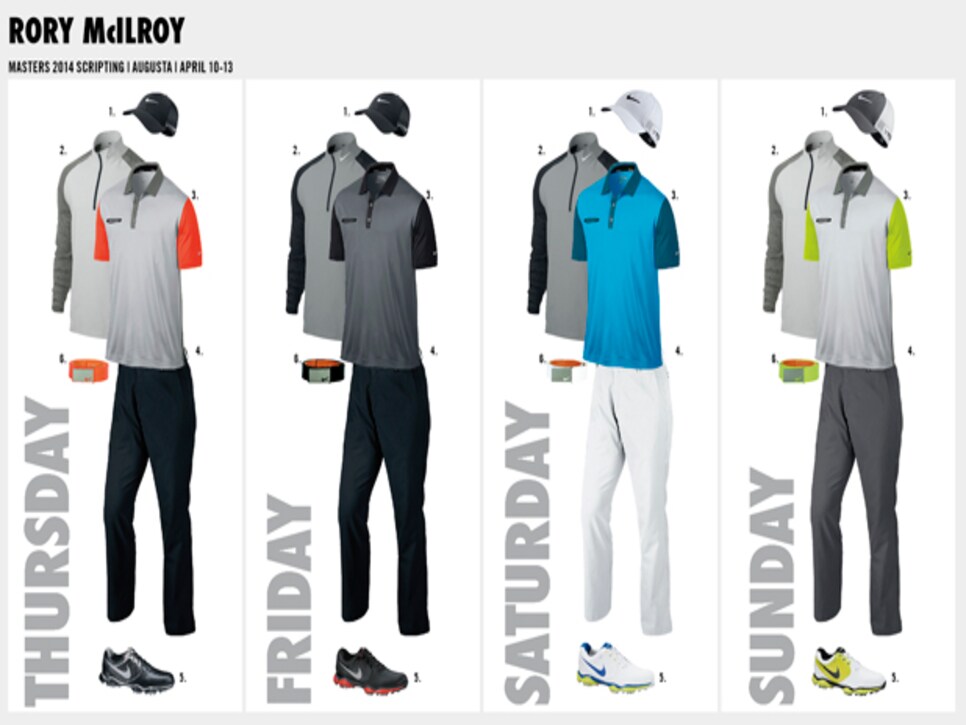 Rory McIlroy (Nike)
Nike recognizes that building a brand is as important, if not more, than selling individual product. Having Rory wear the same-styled shirt in four different color patterns is an excellent approach. I bet if we flashed you this shirt a week after the Masters, you'd identify it as one that was worn by Rory. And to Nike, that's a success.
Nick Watney (Nike)
One of the things that always gets lost in diagram sketches of what the players will wear is the style of the player and how they're going to wear it. The "Rube" will add his own Northern California relaxed beat to these looks. Thursday and Friday look fully-coordinated, and I like the engineered stripes on Saturday.
Russell Henley (Nike)
Love that Nike's giving you pink and red and lime green to match your positive outlook and early season success. Well-coordinated and good looking.
Francesco Molinari (Nike)
While the Thursday shirt might be a bit tricky on TV with the multitude of stripes, its function matches Molinari's smooth style. Saturday's colored placket is a theme that we're seeing in almost all of the Nike players. I'm calling this the
Sean Foley look
.As an aside, I wonder how the pros feel about wearing another player's shoes. Molinari's wearing the TW14's from you-know-who.
Charl Schwartzel (Nike)
I'm totally serious when I say this: check out his shoes. The new hybrid Clayton model is one of the hottest selling shoes in the Nike portfolio. Charl always looks neat and tidy, and Nike has sorted the fit out quite well.
Thorbjorn Olesen (Nike)
While this is only the second full year we've seen Thorbjorn at the majors, he's already identifiable with a brightly colored palette and youthful look that suits his personality.
Jason Day (adidas)
Adidias are the 'masters' of brand recognition in their scripting, and this is shown in their selections for Jason Day. They have picked the same design, only changing the colors, so brand awareness is at the forefront. There are a number of companies that are already doing this, but it's pretty incredible that a classic company like adidas can continuously stand out from the pack.
Sergio Garcis (adidas)
See Jason Day.
Dustin Johnson (adidas)
Ditto.
Bubba Watson (Oakley)
Love the Friday engineered stripes and raglan sleeve. The white belt works on Saturday, otherwise lose it. Notice how the Thursday and Saturday belts disappear, which is a nice touch.
Zach Johnson (Oakley)
Please go talk to Bubba about the belts. Each of these daily rigs seems to suit your Iowa style; interestingly enough, that shirt for Sunday is really cool if you could only see the back!
Jordan Spieth (Under Armour)
I cannot understand why one of the most talented guys on tour wearing one of the most innovative brands has all of his clothing selections stuck in neutral. I'm not expecting Jordan to dress like Rickie Fowler, but I wouldn't expect him to dress like my grandfather, either. This seems like a missed opportunity to us. Take a good look at his footwear, as I'm willing to bet we'll see a new Under Armour golf shoe next year.
Hunter Mahan (Under Armour)
The same people who brought you Jordan Spieth are now bringing you Hunter Mahan. I'm frankly surprised you didn't choose a white belt for Sunday too! The stripes theme is a good one, however, and it's a good fit.
Gary Woodland (Under Armour)
Finally we arrive at an Under Armour player who has some zip in his apparel selection. I think the green theme for the first three days is great, but I'm a little superstitious about switching to blue on Sunday. Not that this is bad Karma, but if everything looks good in a green jacket, why would you switch it up?
Scott Stallings (Under Armour)
Under Armour selected a good strategy for Scott, with a nice palette of stripes for each of the four days. And we always like the consistency.
Webb Simpson (IZOD)
USA! USA! The red, white and blue theme is clearly visible in this selection. It's strong, it's bold, and Webb seems to be in great shape this year. The fit has been perfected, and those Wednesday pants with the flags on them are pretty cool. I only wish we'd get to see them on TV. Nice job!
Keegan Bradley (Tommy Hilfiger)
This colorful selection matches the high energy of Keegan; bright, positive, forceful, and I love that every day brings a new, fresh and different look. The clothing selections here seem to be in perfect concert with the Tommy Hilfiger theme.
Chris Kirk (Travis Mathew)
Thank God someone's rolled the dice and committed to wearing the same look all four days. For the same reason that we liked Nike's approach to Rory McIlroy, we applaud the guts of the team at Travis Mathew for keeping everything consistent. Even the belt is the same.
Graham DeLaet (Puma)
The energy of these selections is solid. They're bold and confident, and I think they'll look good on Graham, whether or not he shaves. And thanks to the caption, I finally figured out that his Sunday selection of white and red is representative of the Canadian flag.
Rickie Fowler (Puma)
Guess who? Doesn't take a rocket scientist to figure out what Rickie's going to wear, but it's all colorful, modern and consistent. Rickie is one of the few players who will be carefully watched for his clothing and style selections, and he's become synonymous with the color orange. Tiger is to red what Fowler is to orange. Just don't stare too closely at his Thursday shirt.
Fred Couples (Ashworth)
With tour pros changing putters every week, isn't it great to see the loyalty Fred Couples has exhibited with respect to Ashworth? Couples has worn the Ashworth since 1988, one year after the brand's inception. Now, to celebrate Freddie's Hall of Fame induction in May, Ashworth has launched a limited edition line of Fred Couples shirts. The Masters edition is a very simple, but very classic and elegant golf shirt; perfect for Augusta. Ashworth is releasing this line in a limited run of 275 shirts (Couples will wear No. 1 on Thursday), or one for every stroke Freddie used to win the 1992 Masters.
Billy Horschel (RLX Ralph Lauren)
It's somewhat ironic that a southern gentleman has the preppiest outfit of the year. Horschel has become known for his bold trousers and this year's selections do not disappoint. Each day has some real zip, building up to those madras trousers for Sunday. They're very lightweight and we wouldn't be surprised to see more players wearing those in the future. Can you imagine those pants paired with the green jacket?
Luke Donald (RLX Ralph Lauren)
There's a lot of Chicago in these very modern looks, and that's a good thing. Love the Thursday cardigan, and we noticed that you're now being consistent with your Sunday selections.
Brendan Grace (Peter Millar)
The newest player in the Peter Millar stable -- the recently signed Brendan Grace -- should look great in these selections. The engineered stripes on Friday and the colors on Saturday and Sunday should be applauded. That's some real style.
Bill Haas (Peter Millar)
Bill Haas' selections are getting better and better. We like the soft, yet bold, color palette and the variety. Note the different colored cuff on the Saturday pants. Of course, we're not crazy about the Sunday belt, but overall, these are some really cool outfits that are all very 'South Carolina.'
Brandt Snedeker (Peter Millar)
Love those Friday checked trousers, and while you can't see it too clearly, his Saturday trousers are really great. Consisting of a pattern of extremely small dots, they absolutely look like they came off the runway in Milan. You'll be able to see it when he's putting. Brandt is the preliminary award-winner for best trousers.
Harris English (Peter Millar)
Smooth and stylish. The sorbet palette selection matches Harris' cool demeanor. Each day has one dominant color element, which is a very smart way to make a statement.