Sneak Peek: Masters Wardrobes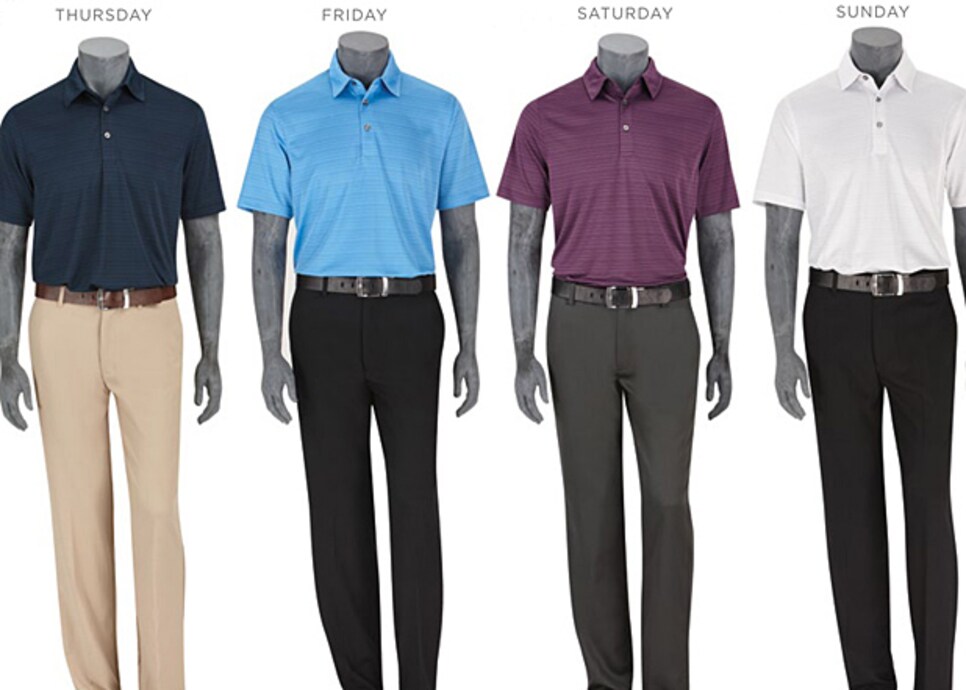 Sean O'Hair (Ashworth)
Sean always looks good to me. He has the perfect build and wears everything with great style. He quietly makes a solid statement.
Fred Couples (Ashworth)
Couples will be wearing green every day to celebrate his 1992 Masters win.
Fred Couples (Ecco)
STOP THE PRESSES! Freddy has new shoes! Ecco will showcase the new BIOM Hybrid shoes at the Masters. While it will not have the same seismic impact of the original hybrid, it's a nice nod to the year's first major. Only 100 will be made so go get 'em while you can!!
Justin Rose (adidas)
Love the Sunday shirt as it has a modern take on an old-fashioned look
Jason Day (adidas)
You can learn something from Jason's outfits. He wears color well and is the poster boy for the adidas Fashion Performance line. Key detail: look at his belt-pant combination for Saturday. Matching the belt to the pant really makes one simple statement. Ditto for Sunday combo.
Ben Crane (Hugo Boss)
I'm all about bright clean color as I think this is the trend, so this mustard shade and brownish sweater is very different. Ben's effervescent personality will make this work.
Nick Watney (Hugo Boss)
The Boss Hugo Boss outerwear is really great and has perfect scale. Nick has a tall model's physique and as such, should trim his trousers to have a modern, clean look. Plus, lose the white belt.
Lucas Glover (Nike)
Three out of the four days are really solid and Lucas might just get a hall pass on Friday as the plaid trousers are dead on trend. Lucas, stick with the stripes. They look great.
Kevin Chappell (Nike)
Check out the hat. When you are young and can play, you can go FLAT.
Stewart Cink (Nike)
Stewart takes great care and really works with the Nike design team to get his looks right. That he is aware is the key point to me. Stewart loves bright colors and barbecue (seriously). So Friday green is his signature look of the week.
Tiger Woods (Nike)
Take a wild guess at Sunday's look. The good thing is he is slated to wear those new shoes that Nike is working on, which should be out soon (I hope as they are light and really feel like the Nike Frees). Tiger will match his hat, belt and shoes, guaranteed! His pants will need some modifications as these new hybrid shoes need a shorter pant length as they are so flat. Tiger will wear the "TW" hat on Thursday and Friday, and the swoosh on the weekend. There is no one on tour that has the shirt fit down better than Tiger.
Paul Casey (Nike)
If you are looking for a player that represents the modern look, here is your man. Casey really gets it and has enough confidence to wear bright and strong colors. Casey is always on the "Style' leader board!
Charl Schwartzel (Nike)
There's lots of pressure on the defending Masters champion. Good for him for selecting a conservative look for Sunday because he will surely get lots of TV time. Charl always looks great. He's a bit conservative but always in good taste. I want him to wear a bolder color selection.
Masters Special Edition Lunarlon shoe (Nike)
Every year Nike Creates a special shoe for each of the majors and they are subtle but really cool. The green accents while being predictable still look good. This year Francesco Molinari, Paul Casey, Kevin Chappell, Lucas Glover, Ross Fisher and Charl Schwartzel will be wearing the shoe so you will get a chance to see them.
Bubba Watson (Travis Mathew)
No one is permitted to make fun of Bubba for wearing the same outfit all four days as he is once again doing this for a reason. All of the proceeds made from these limited-edition pieces will be donated directly to Fresh Start, an organization that provides cosmetic reconstructive surgery for children with physical defects or disabilities. That's reason enough for us to applaud this effort. Name one other player who is doing this. You're welcome.
Bubba Watson (Kentwool)
You can never be funnier than your socks!! Look for Bubba Watson to wear these limited-edition Kentwool socks. Very cool!
Geoff Ogilvy (Propr)
This might be the best sweater (it's cashmere!) that we will see this week and it will be on Geoff Ogilvy. The maker is a small company called Propr, designed by David Bedwell. There is no more knowledgeable golfwear designer on the globe. Pay attention to Ogilvy and you will see understated, modern stylish clothing.
Keegan Bradley (Tommy Hilfiger)
Mr. Prep will now be seen in Tommy Hilfiger, and I don't think they could have selected a better representative.
Keegan Bradley (Tommy Hilfiger)
Keegan wears the bright colors well and navy (a Hilfiger signature color). "Style" leader board contender.
Ian Poulter (IJP Design)
Nobody does it better than Ian Poulter who single-handedly put plaid back in our vocabulary.
Ian Poulter (IJP Design)
You might not realize that the tartan trousers Ian wears are all the same Prince of Wales pattern. He creates different color treatments for each season. Days 1, 2, and 4 have Ian in different tartan colors.
Ian Poulter (IJP Design)
Surprisingly these outfits do not look wild and crazy, but rather stylish and grown up!
Ian Poulter (IJP Design)
The perennial "Style" leader board member will look great this year and I'll bet you can get these same looks off his website.
Tom Watson (Polo Golf)
The elder statesman of golf style has a very elegant wardrobe selection that features cream trousers, soft colors and lots of cashmere. His sweaters (v-necks and half-zips) are the highlight.
Jonathan Byrd (Polo Golf)
Watson's teammate in the Polo stable will bring bold and bright colors each day. Very smart for Polo to have him in white shirts every day and have great fun with the bright trousers!
Jonathan Byrd (Polo Golf)
Byrd will even wear pink trouser on Sunday, perhaps a nod to his newborn daughter, Kate Elizabeth. If you want to see how you can wear the same shirt (white) every day and still look totally different with a great colorful selection of trousers and sweaters, Byrd is your man.
Rory McIlroy (Oakley)
I am only going to focus on one item in Rory's Master's scripting from OAKLEY and it is his Sunday Red shirt which is modern (zipper), trim (notice that this fit shows what great shape Rory is in) and gutsy (red on Sunday like you know who). I'm wondering how they will look when they are paired together on Sunday. Oh yeah, he will have some great patterned slacks and that ubiquitous Oakley logo belt, too!
Adam Scott (Aquascutum)
Is there anything that Adam Scott wears that doesn't look like a million bucks? He is the best mannequin (and a pretty good player, too) on tour. This classic English brand makes simple and elegant apparel, and ditto for their golfwear. So there is something to the oft used mantra, "Keep it simple ... "
Bill Haas (Peter Millar)
Bill Haas has really stepped up his wardrobe with the help of Peter Millar. This Sunday outfit has serious pop and really celebrates golf style. Well done.
Brandt Snedeker (Peter Millar)
If you do not have a new Peter Millar cardigan sweater in your closet, get one immediately and you will be "on trend." Sneds has selected just the right amount of color and will look great.
Luke Donald (Polo/RLX)
Now here is a brilliant idea: wear the same style every day and just change the colors so that's perfect. Why hasn't anyone done this before?
Rickie Fowler (Puma)
Rickie Fowler can always be counted upon to bring his "A" wardrobe to a major! Ricky is always stylishly on the edge ... he has great confidence in what he wears and it shows. Yes, you know exactly what he will wear on Sunday, but take a closer look at what he will sport the other days. The Thursday green look catches that patterned bottom treatment.
Rickie Fowler (Puma)
On Friday, Fowler goes with bold stripes and color.
Rickie Fowler (Puma)
On Saturday Fowler shows how to wear the color blocks well. He is hitting all the style notes! Don't forget to check out the Puma shoes that coordinate each day.
Alviro Quiros (Callaway)
Quiros is the perfect example of dressing to your personality. Alviro is outgoing and full of life and that matches his CALLAWAY attire!!