Our Favorite Viral Sensations
We look back at some of the images and videos that have captured our attention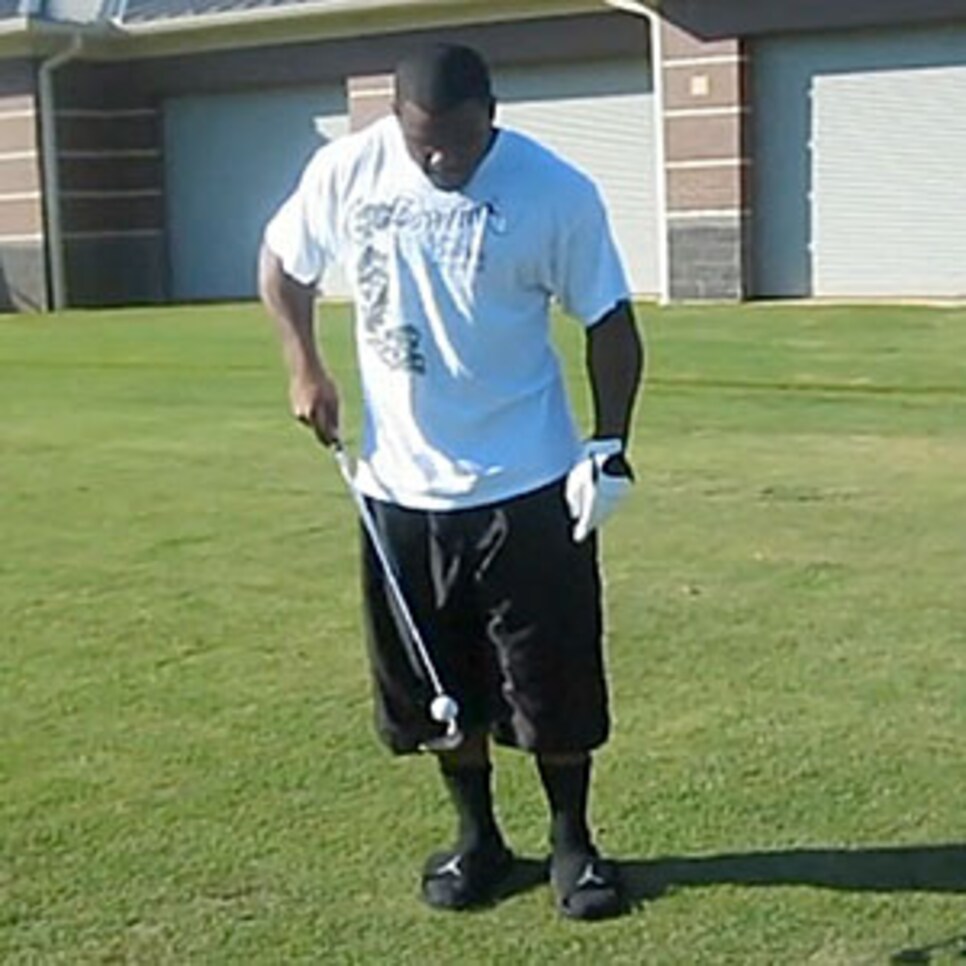 Photo By: David Cannon/Getty Images
Photo By: Mark Pain/The Mail
We look back at some of the images and videos that have captured our attention
Ben Crane: Golfer and... Dancer?
Ben Crane continued his stunning metamorphosis into the PGA Tour's leading funny man with
this gem that shows him dancing often
, and without much clothing. Where does he get his moves? Crane claims they come from growing up "in the Dance Academy," of course.
An Animated Take On The Tiger CrashSo many questions arise from
a viewing of this animated reenactment of Tiger Woods' car crash
. For instance, how true to reality is it? Why does it have the then-world No. 1 golfer wearing a Rugby-style shirt straight out of 1985? And how come his Cadillac Escalade looks more like a mini-van? However far-fetched, the video was unavoidable in the wake of the Woods crash, fetching more than 330,000 views, and the series of reenactments has been extended to everything from videos on the reality-star Snooki to the TSA screening controversy. Woods, meanwhile, probably hopes they've run out of material from his life to cover.
Phil's Trip To Krispy KremeA day after claiming his third Masters title, Phil Mickelson treated himself to his own breakfast of champions. Clad in his green jacket, Mickelson drove to Krispy Kreme with his family to pick up some donuts. The pictures spread like wildfire and further cemented Mickelson's popular status as a golfer of the people. A few months later, Lefty would announce he had become a vegetarian. We assume that the occasional bear claw is still part of his diet.
The Gong ShotThe objective of skimming a golf ball off the water and hitting a floating gong 200 yards away appeared impossible. The first few attempts seemed to back that up. But keep
watching the video
and it's apparent that the slogan "These guys are good" applies to the European Tour as well. The pros methodically close in on their target until David Howell finally accomplishes the trick. The feat probably won't bump being on two winning Ryder Cup teams from the top of Howell's career highlight list, but it should earn an honorable mention.
Ben Crane's Workout SecretsBefore his foray into dancing, there was this. Of the golfers you'd expect to produce a zany, self-deprecating web video, Crane wouldn't be near the top. A tour player who is known best for his methodical pace of play and devotion to his faith, Crane said
in an interview with Golf Digest's Matt Ginella
that he wanted to show off his lighter side. He managed just that in a video that features the golfer in uncomfortably short shorts plowing through his daily "workout" and spouting out faux-Zen gibberish. Watch the video once and you'll never see Crane the same way.
Christina Kim Swings From Her Heels... Literally
This video
wasn't as widespread as some of the others on this list, but that doesn't make it any less impressive. While at New York City's Chelsea Piers to promote her new book -- the aptly titled
Swinging From My Heels
-- Kim decided to hit a couple balls while wearing four-inch Rene Caovilla stilettos. The results, as you can see, were pretty amazing. Perhaps the struggling LPGA should introduce some high-heel-only events to try to attract bigger crowds in 2011.
Photo By: David Cannon/Getty Images
Heisman Winner Does His Best Tiger ImpersonationIn a year marked by reminders of Tiger Woods' flaws off the golf course, Mark Ingram provided a glimpse back to a simpler time. The Heisman Trophy winning running back from the University of Alabama showed he can do more than just plow defenders over on the football field by imitating the
famous Nike commercial
featuring a young Woods juggling a golf ball with a wedge before swatting it out of mid-air. Ingram's finish isn't as impressive, but we'll cut him some slack. After all, he's bound for the NFL, not the PGA Tour, and have you seen how much he can bench press?
Bubba Shows OffWe were given two distinct views of Bubba Watson in 2010. Turn on the TV and you saw Watson winning his first tour event in Hartford, coming up just short in the PGA, and playing his way onto his first Ryder Cup team. On the web, you saw a golfer more than willing to showcase his goofy side. Watson was shot turning
a righthanded PING driver around to hit it from his traditional left side
-- still sending the ball some 305 yards. Later, Watson posted on Twitter
a series of videos
in which he uses an old persimmon PING driver for a variety of purposes -- blasting out of a bunker, hitting a flop shot, even splitting open a banana. It's not the material that is going to win Watson any awards, but it probably helped him win some more fans.
The Mechanic Gets CreativeThe ponytail. The cigar. The swagger. Miguel Angel Jimenez didn't need to do anything more to prove how cool he is to the golfing world. Yet he did. In the third round of the British Open at St. Andrews, Jimenez found himself in a tough spot up against the stone wall on the famous road hole. But the Mechanic showed no panic, instead turning his back to the 17th green and pulling off a
bank shot
that Michael Jordan would be proud of.
Poulter Takes Fans Behind The Scenes With TwitterNo golfer was more successful in utilizing the world-shrinking power of Twitter than Poulter, which may explain why the brash Englishman has more than 1 million followers. Whether it was trading barbs with some of his fellow players, or offering his followers a
behind-the-scenes peek
into the European celebrations following their win in the Ryder Cup, Poulter established himself as not just an elite player in 2010, but as golf's foremost champion of social media.
The World Meets... Cigar Guy?It was already among the most remarkable sports photos of the year even before giving a closer look to the background. But after a few seconds examining Mark Pain's indelible shot of Tiger Woods hitting a ball directly into his lens at the Ryder Cup, you're attention is grabbed: cigar out of the corner of his mouth, Groucho Marx mustache, an odd brown wig atop his head. Within days, "Cigar Guy" was everywhere: Photoshopped behind President Obama at the State of the Union address, as a member of "The A Team," playing in the World Cup. Only later did we learn the look was not real, but the creative invention of a London-based investment analyst named Rupesh Shingadia. Shingadia would go on to do a
few media appearances
, before eventually receding back into his every day life. But the character he created is destined to live on forever.
Photo By: Mark Pain/The Mail