The Lighter Side of Golf
Great (and not-so great) moments in golf in animated format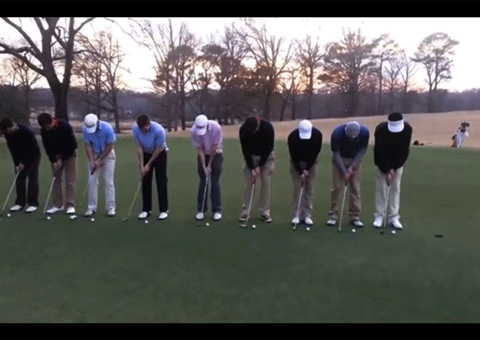 What happens when eight other people go to school on your putt.
Bubba Watson's form of instruction doesn't rely on any fancy terminology — or any words at all.
We'd like to say it's the GIF that makes Sir Charles' swing look that jerky.
Never mind that Larry David makes light of animal cruelty. How about that weight shift on the follow through?
Kevin Dillon, aka Johnny Drama, takes out his frustration on Tom Brady's driver.
A case for proper footwear, exhibit A.
A case for proper footwear (and rain gear), exhibit B.
Phil Mickelson is very encouraged by partner Keegan Bradley's tee shot.
Judge Smails' tip of the day: don't hit until you're absolutely, positively ready.
The Bishop gets hot after missing out on the course record -- then gets even hotter.
Phil Mickelson gets even closer to Pebble Beach than ever before.