The Grind
Miss Idaho's husband ends a PGA Tour drought, Bryson's odd new business venture and why Mike Trout is our favorite ballplayer
Welcome to another edition of The Grind, where we admit we were rooting for Matt Jones to close things out at the Honda Classic. The Aussie wasn't the highest ranked player on a less-than-stellar Sunday leader board, but he probably draws the most interest from those cruising the Internet. Well, his wife does, at least. In case you forgot, Jones is married to Melissa Weber Jones, a former Miss Idaho. Melissa didn't make the trip to PGA National, but she was there for Matt's last win in Australia a couple years ago: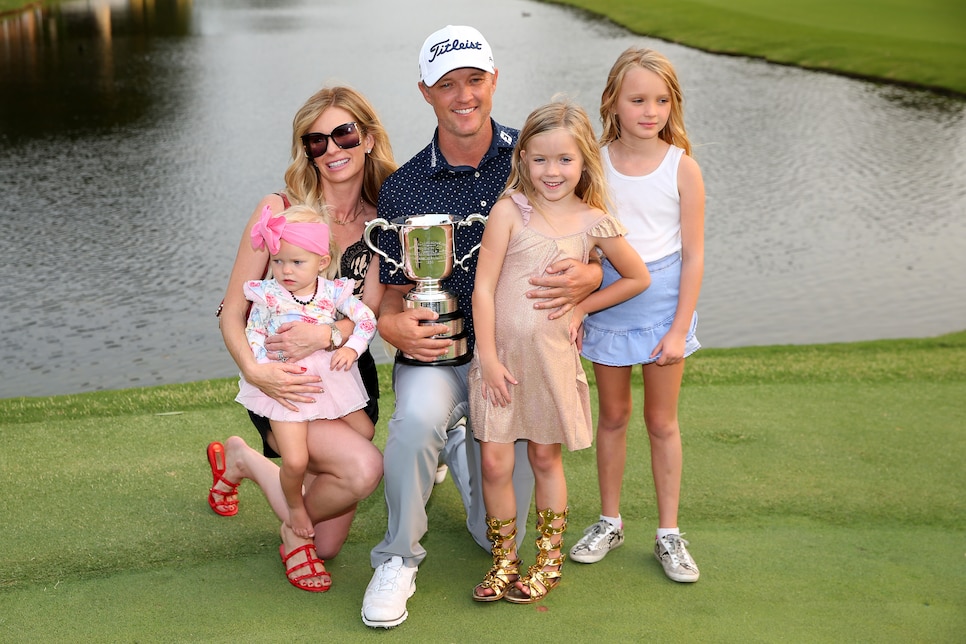 And here she is representing the Potato State at the 2009 Miss USA pageant: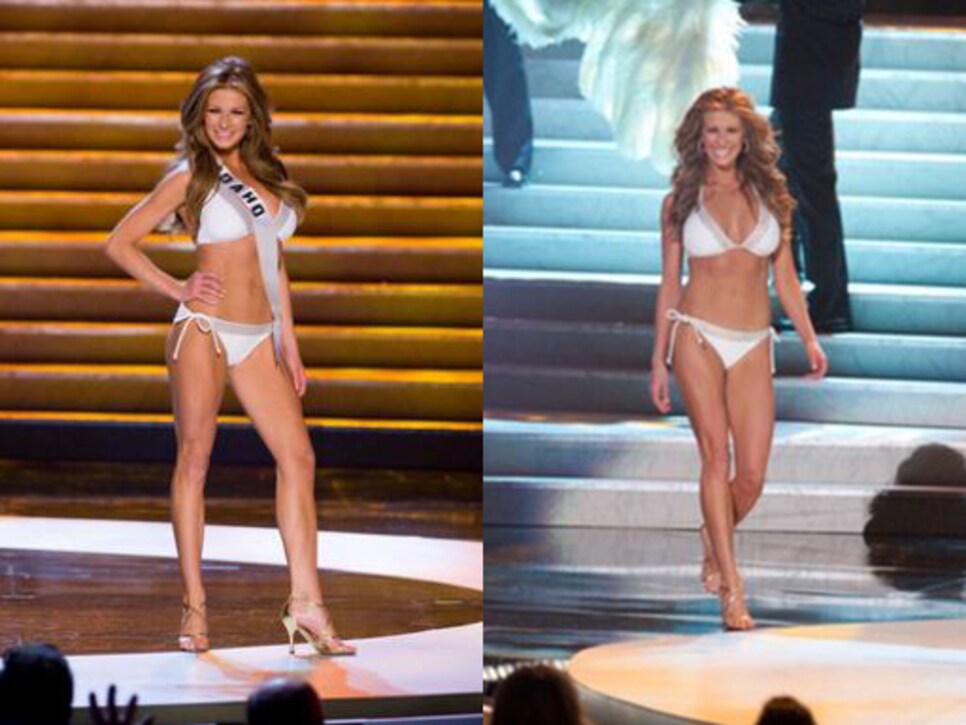 OK, there's a lot more to talk about this week, so let's get to it.
Matt Jones: There he is! Mister Idaho! Kidding, the Joneses don't live in the Potato State, but they can definitely afford to have a summer home there after Matt's big win netted him $1.26 million. And weak field or not, the guy won a PGA Tour event by five shots. That's impressive.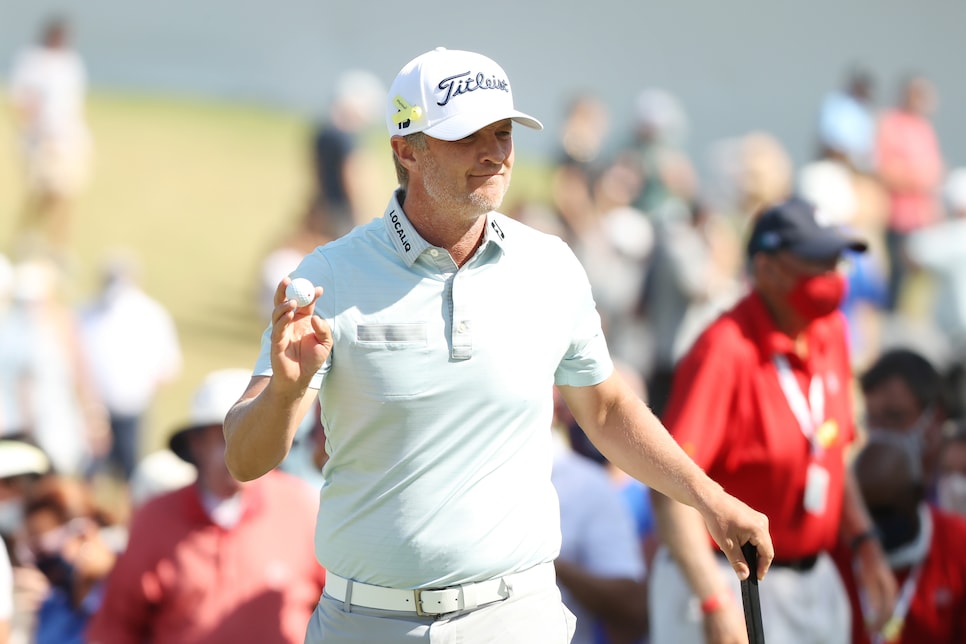 Despite having not won on the PGA Tour in seven years, Jones said he told people early in the week, "If someone beats me, they cheated." Gotta love that kind of confidence. Like when he was asked about how many course records he has after his Thursday 61 at PGA National and he said, "It's like asking me if I have a hole-in-one. I couldn't tell you how many I've had. I've never kept track." Dude might be the cockiest golfer on the planet. Anyway, Jones also has won the Aussie Open—a major in his homeland—twice. So when it comes to drawing eyeballs, he's no Miss Idaho, but he's no sack of potatoes, either. Sorry, that was bad. Seriously, please stay. Give me one more chance! Anyway, moving on …
Brandon Hagy: There's a saying in poker that, "All you need is a chip and a chair." The same is true with professional golf, except instead of a chip and a chair, you just need a tee time. Hagy became the latest example of the sport's incredible depth by going from being the sixth alternate for the Honda Classic to getting into the field at the last minute to finishing runner-up.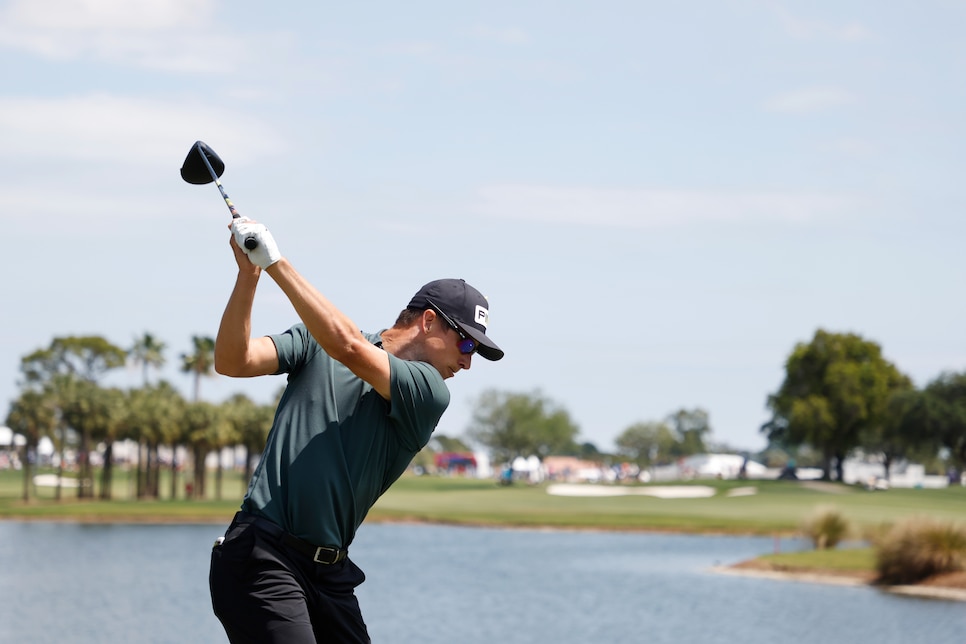 Before Bryson bulked up, before Cam Champ burst onto the scene, this guy was at the forefront of the distance revolution. Only 30, there's still time for him to make a much bigger mark. And now he'll have a lot more PGA Tour tee times to try.
Mike Trout: To be clear, this dude is already a lot of people's favorite ballplayer, but he won over at least a few more fans with the spring training stunt he pulled with manager Joe Maddon. Trout, in the baseball GOAT conversation thanks to modern metrics, joined a Zoom call with his manager to ask a question as a reporter. His alias? Mike from Golf Digest. Amazing. Even better? He asked a golf question. Check it out:
What a legend. And guys, let us know if you need any instruction help. Although, if Maddon really hits a 5-iron 200 yards, then maybe I'm the one who should be asking him for help …
Aaron Wise's weekend: How do you finish T-13 at a PGA Tour event when you shoot matching 64s in your opening two rounds? By shooting rounds of 75 and 73 on Saturday and Sunday. Wise's red-hot start was a distant memory by the time he finished, and he earned one tenth of the winner's check despite holding a six-shot lead at one point during the third round. Golf is truly the craziest game out there.
Brooks Koepka's knee: We figured something was afoot, well, wrong, when Koepka withdrew from the Players and now we know the reason. Knee surgery that could keep him out of the Masters as well:
This might be the one time you can pick someone else to win a major and Brooks won't be offended. Get better, big guy.
Bryson's new business venture: Introducing Bryson DeChambeau, major champion and professional salesman:
Nice effort, but I'm good. First WSB comes along and now NFT? How am I supposed to keep all this stock stuff straight? It took me long enough to even learn what the KFT was in golf. Anyway, Bryson, good luck with, well, whatever this is. Considering you've already made more than $5 million at your day job this season, you'll be OK either way.
The PGA Tour heads to Austin for the WGC-Dell Technologies Match Play, AKA that one that's not like all the others. Match play! VAGARIES! This is a fun one. And I'd say this Sunday's TV ratings are a lock to be better than what the Honda Classic produced, but NBC also could wind up with Antoine Rozner and Sebastian Munoz in the championship match.
Random tournament fact: Kevin Kisner has finished second and first the past two times this tournament was held in 2018 and 2019. He is very good at match play. He also was left off the U.S. team for the Ryder Cup and Presidents Cup those two years. Hmm.
RANDOM PROP BETS OF THE WEEK
—Antoine Rozner will play Sebastian Munoz in the finals: 1 MILLION-to-1 odds
—Kevin Kisner will win the WGC-Match Play: 60-to-1 odds (Actual odds)
—Kevin Kisner will make the U.S. Ryder Cup team this year if he wins again: LOCK (We think)
Matthew, sorry, MATT Fitzpatrick with a funny post after playing with Bryson DeChambeau, who he's had some, um, interesting things to say about, in the Seminole Pro-Member:
Put a hitting net in your backyard, they said. It will be fun and good for your golf game, they said. Well, no one ever said anything about shattering a window to this poor guy:
That's rough. But he has set up a GoFundMe page. And maybe he can somehow sell this as an NFT? Is that even possible? Someone ask Bryson.
THIS WEEK IN PUBLIC DISPLAYS OF AFFECTION
Check out this incredible Tiger Woods tattoo:
Suddenly, I don't feel like I'm Tiger's biggest fan anymore. That's impressive dedication to the GOAT.
Rickie Fowler was asked about Nick Faldo roasting him on Twitter by saying he could shoot another six commercials if he misses the Masters, and the five-time PGA Tour winner went OFF! Kidding. Here was his classy response:
"No, I know where Nick was trying to come from on that and it's like competitor to competitor, you're trying to needle each other and get each other going type of thing," Fowler said Friday at the Honda Classic. "I am fortunate to have some great partners and make some great commercials, and it's been fun to be able to do that. I would much rather be playing the week of the Masters than working. But it's all part of it. I'm going to keep kicking down the door, if we're able to do something special in the next few weeks before Augusta, we'll be there. If not, we'll keep grinding and we'll be back in the winner's circle soon."
And that, ladies and gentlemen, is why Rickie is a sponsor's dream.
Justin Thomas' heart rate spiked to 139 beats per minute when his final tee shot at the Players nearly found the water, according to Whoop. That's cool, but I'm guessing his caddie's was even higher. … Jon Rahm reiterated he would WD from the Masters if it coincided with the birth of his first child. Good call, because if he didn't, that might be the last child he has. … And, finally, good news again for those who can't make it to Augusta National this year: The Masters Patron Shop is back. And we know what Dustin Johnson has his eye on …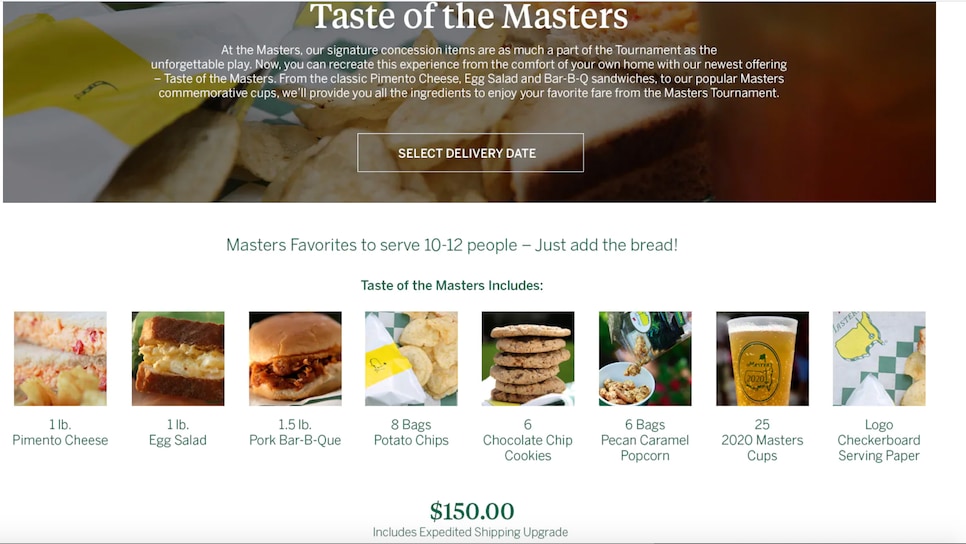 RANDOM QUESTIONS TO PONDER
How much did that Tiger Woods tattoo cost?
How many commercials will Rickie Fowler shoot during Masters week?
How many beats per minute is my heart rate when I get off the couch?