The Loop
Masters 2020: You can order an absolute feast of Masters food favorites from Augusta National this year
A few years ago, Golf Digest's Stephen Hennessey ate and graded every food item available at the Masters concession stand. It was the kind of intrepid journalism that can make a young man's career—or just make him sick. But now you can have nearly the same experience. And you can have it with the comfort that your own toilet is nearby.
In the latest example of 2020 being the weirdest year ever, you can order an absolute feast from Augusta National to your home. Dubbed a "Taste of the Masters," the pimento cheese-filled package costs $150 and claims to serve 10-12 people. Have a look at this online menu unlike any other: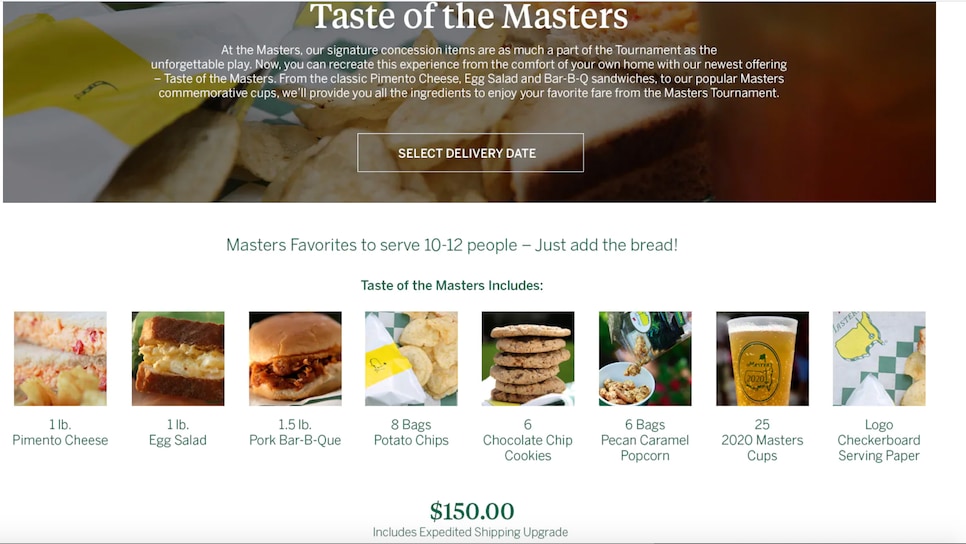 Of course, sharing food these days isn't the smartest move and having egg salad shipped around the country is also a bit of a gamble, but hey, you do you. Also, no Masters chicken sandwich? And only six of those glorious chocolate chip cookies? For 10 to 12 people? Weak.
Seriously, though, this is pretty cool, and all that yummy food for $150 is a better deal than paying $175 for a Masters logo football. Plus, if we were to trust anyone to deliver perishable prepared foods, it would be Augusta National (you're paying for "expidited shipping upgrade"). They don't mess around there. Just look at the serving paper they included!
But before you start licking your lips in anticipation of that pork BBQ, you have to be a ticket holder to purchase this or any of the items from the online Masters Patron Shop, created this year with no fans being allowed to due COVID-19. And even if you are a patron, you are only allowed to make two purchases total.
In theory, though, that means you could order TWO Taste of the Masters and have quite the viewing party—not to mention get some of your Christmas shopping done because people love those cups. Or, you could just hoard all that yummy egg salad for yourself. Again, you do you.