PGA Tour
Life just got more beautiful for Matt Jones with his Honda Classic triumph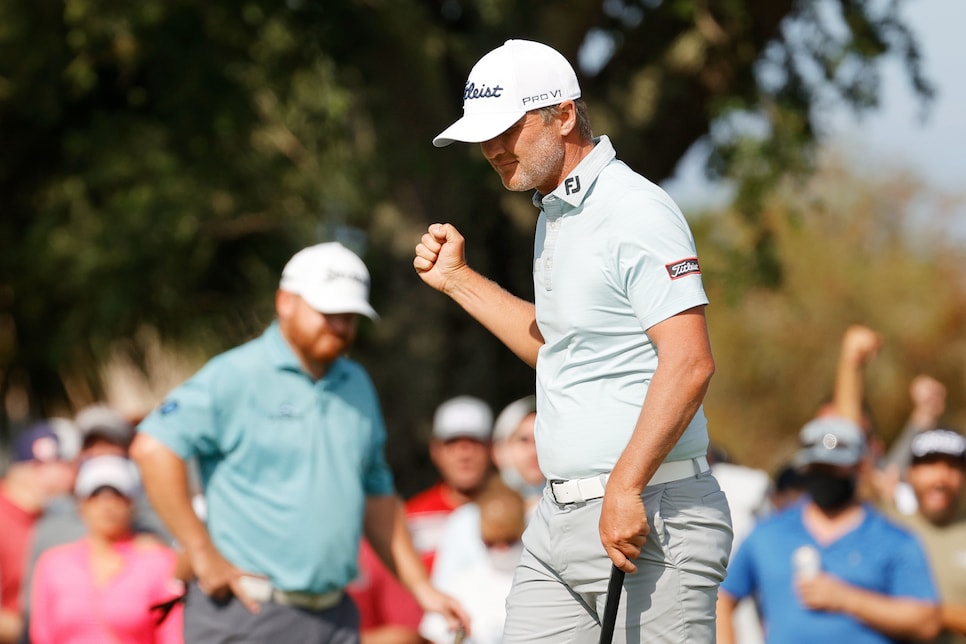 Matt Jones reacts to his birdie on the 12th green during the final round of the Honda Classic.
Jared Tilton
Type the name Matt Jones into the Google search engine and out spits a list of suggestions from the tech behemoth that indicates the guy might be a great golfer, but it's his good fortune enjoying betrothment to a certain former Miss Idaho that stirs perhaps the most interest in the Australian native.
That short list of search suggestions, in order:
Matt Jones
Matt Jones golf
Matt Jones PGA
Matt Jones wife
Matt Jones golfer wife.
So she has a lot of fans. So what? He also happens to own a beautiful short game, a lovely putting stroke and, well, truth be told, boyish good looks that informs all the jealous souls on the internet that he wasn't punching above his weight class in marrying California native Melissa Weber, the aforementioned Idaho princess.
What Jones didn't have was a lot to show for his talents, but he changed that on Sunday by waylaying the field at the Honda Classic in Palm Beach Gardens, Fla. Thanks to an opening 61 on Thursday and an impeccable closing two-under 68 on the breezy Champion Course at PGA National, Jones posted a five-stroke victory and ended a winless streak on the PGA Tour that stretched to nearly seven years.
Mind you, that's not to say the man hasn't won since his only other tour victory at the 2014 Shell Houston Open. Jones did capture the 2015 Australian Open, beating countryman Adam Scott and then-World No. 1 Jordan Spieth, both Masters champions, by a stroke. And he added a second victory in the championship in 2019, edging former Open Championship winner Louis Oosthuizen by one shot.
Still, his professional home is on the PGA Tour, and the 40-year-old got teary-eyed after touring the tricky Jack Nicklaus-designed layout in 12-under 268, five strokes better than rookie Brandon Hagy. A second trip to the Masters awaits and he'll play in the PGA Championship, too. Also, there's a two-year exemption attached to the win, not to mention a $1.26 million windfall.
Now 49th in the world, Jones' trophy case just got a lot more attractive.
"It means the world," Jones said after a frenetic week in which he led by three after the first round, trailed by three after the second and then re-emerged with a three-stroke cushion after 54 holes thanks to a nifty, scrambling 69 on Saturday. "Seven years between wins, it's been a battle. I've had ups, I've had downs, but to win a second time on this golf course in these conditions that we faced all week is, it's phenomenal."
He played phenomenally to do it. And quite out of character.
Jones entered the week ranked 112th in stroke gained/tee-to-green with an average of -0.12, but stays competitive with his short game and putting. Yet on one of the most penal courses on the tour, where water lurks on 16 of 18 holes, Jones led the field in the category at +3.575. He hit 11 fairways and 17 greens in regulation on Sunday. No wonder he said he felt as calm as ever. Or maybe feeling calm enabled his ball striking.
Whatever. Something clicked, starting with that 61. Jones is no stranger to going low, posting 64 or better 20 times since he joined the tour in 2008. The key is sustaining it. Which he did.
"That's the best I've hit it from tee to green for … ever," he beamed. "And to be able to do it on this golf course is amazing. I mean, you have to do it out here to have a chance and I did it."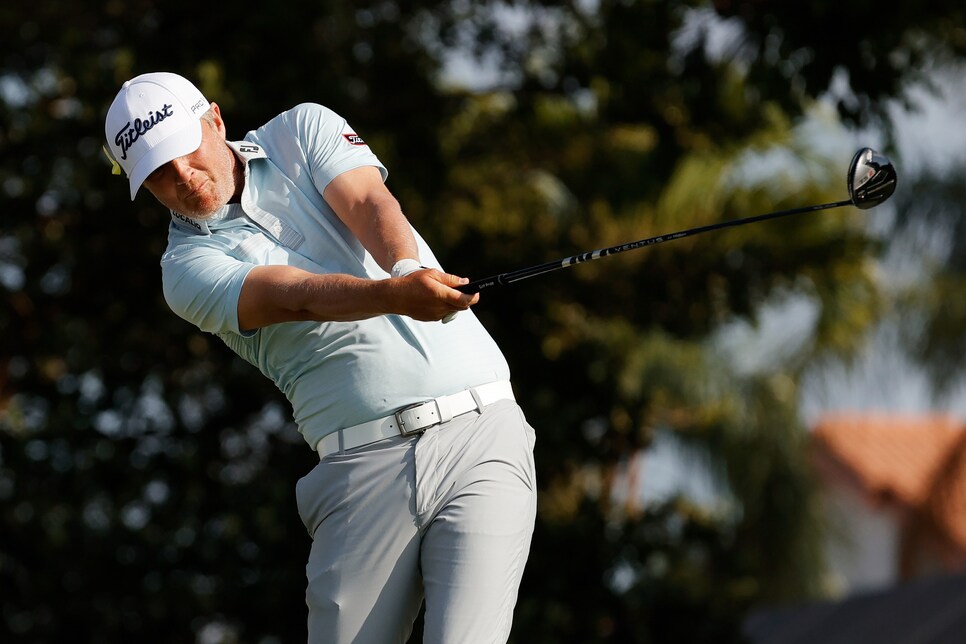 Matt Jones drives on the 14th tee during the final round of the Honda Classic.
Jared Tilton
A bit of range work while connecting with swing coach Gary Barter through FaceTime did wonders. Jones struck the ball decently two weeks ago at the Arnold Palmer Invitational, another tough track, but missed the cut, and then he ended up T-55 at the Players. But he felt something brewing, even though he made no significant changes.
"It's probably just golf being what golf is," he said. "[At] Players last week, I told my coach and I told my friends, something's coming, it's getting closer. I worked on the range through FaceTime with my coach back in Australia, and we just started to get a feel for things and started to get the body and the club working together and it worked all week. I told a friend earlier that I like my chances this week.
"I really played amazing golf all four days," he added.
Easily the most telling and consequential facet of Jones' final round was his ability to engineer a few mental U-turns whenever he ventured down the three-putt alley that sidetracked Aaron Wise—the second-round leader and, at one point Sunday, the biggest threat to Jones when he surged within a stroke—and a host of others, including Sungjae Im, C.T. Pan, Robert Streb and, if we're leaving anyone out, it's only because we're nearing our word count.
The scruffy-faced Aussie uncharacteristically blew a four-footer at the 11th and then bucked up and sank birdie putts of 19 and 10 feet on the next two holes to stretch his lead to five strokes. Another three-putt at No. 14 he erased with a 16-foot birdie dagger at 16, and Jones was able to waltz home with the second-largest winning margin on the PGA Tour this season and tied for the largest in Honda Classic history.
Jones became the seventh player in the last 12 months to go Rip Van Winkle on the competition, reawakening to break a PGA Tour victory drought of six years or more, joining Stewart Cink (11 years), Michael Thompson, Brian Gay, Harris English and Martin Laird (seven years each), and Streb (who let six years elapse between RSM Classic wins).
"It was worth the wait to win again in these conditions," he said. "You can't get a tougher golf tournament to win on. It's something I can build on for the future, hopefully."
Speaking of futures, a few others saw theirs get a little brighter by surviving the final-round melee.
One was Camilo Villegas, who closed with a 69 to tie for eighth at five-under 275. Making a comeback from a shoulder injury, Villegas, winner of the 2010 Honda Classic, needed at least a three-way T-3 finish to remain on a Major Medical Extension. He didn't get it, but he earned enough points to play the remainder of the season with conditional status for players in the 126-150 category in FedEx Cup points.
Another was Hagy, who holed out on 18 for birdie several hours before the leaders, carded a 66 after a disheartening 76 on Saturday, and watched his seven-under 273 hold up against everyone except Jones. His career-best runner-up finish, coming on his 30th birthday, enabled him to jump 101 spots in the FedEx Cup standings to 78th.
Nice work for a player ranked 348th in the world, considering that he was home in Arizona Tuesday, was the second-to-last alternate to get in the field and didn't squeeze in a practice round. Like Jones, Hagy also benefitted from some slight swing adjustments.
"I was pretty far down the FedEx Cup coming into this week, but this is a good week for me to set up the rest of the season," said Hagy, who would have lost his card after finishing 152nd in the points standings last season but got a reprieve because the schedule was lengthened by the pandemic. "I feel like I made some good adjustments that I applied this week and I look forward to putting them into play the rest of the season."
The only one who had more to look forward to was the winner, who was planning an early arrival to Augusta National Golf Club after missing the cut in his only other Masters appearance in 2014. Yep, life just got more beautiful for Matt Jones. Don't be jealous.