PGA Tour
Matt Jones sprints his way to victory (literally), Hagy comes up huge and Wise's nightmare weekend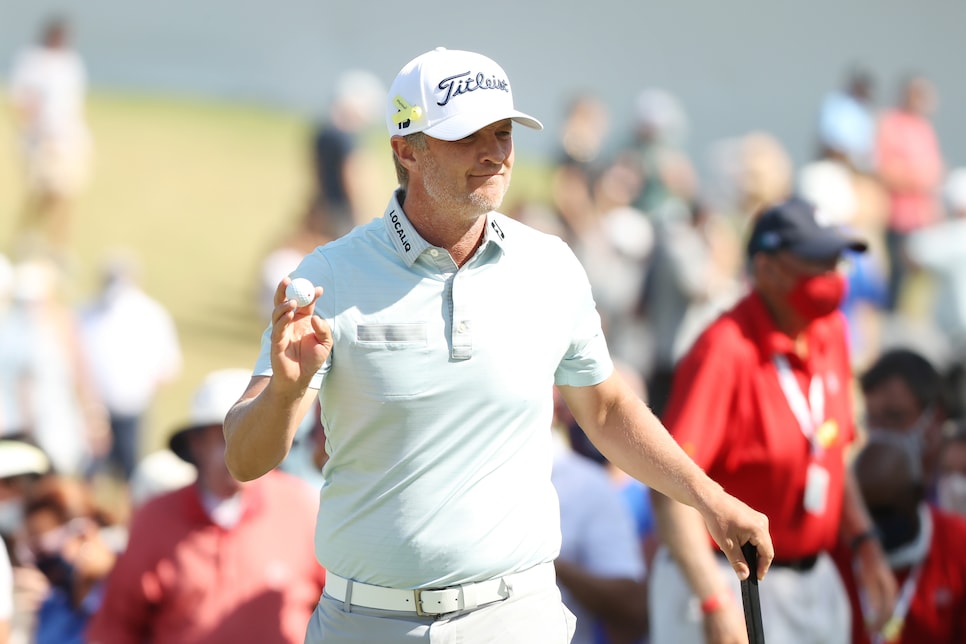 Matt Jones reacts on the 10th green during the final round of the Honda Classic.
Cliff Hawkins
Matt Jones' first PGA Tour victory at the 2014 Shell Houston Open, which featured a long birdie on the 72nd hole and a chip-in birdie in a playoff, was always going to be an impossible one to top. But, in a number of ways, the Aussie managed to eclipse it this week with win No. 2 at the Honda Classic.
First, he opened with a course-record-tying 61 on Thursday at PGA National in Palm Beach Gardens, which gave him a three-shot lead. Then, he overcame deficits of three and six shots over the next two rounds, earning himself a three-shot lead heading into Sunday. During the final round, even after his lead shrunk to one, and even after he bricked a two-footer for par at the 14th, Jones still managed to slam the door and run away with it late, holing an impressive birdie putt on the difficult par-4 16th.
And with all that, his most impressive feat might have been keeping his cheetah-like pace throughout the final round despite playing alongside J.B. Holmes, whose pace could be described as snail-like. It was not a good match for Jones, who wastes absolutely no time when he addresses the golf ball:
Aspirational stuff, especially for those of us who stand over the ball a little too long as we struggle to break 80. After tying the Champion course record Thursday, Jones went 70-69-68 by simply pointing and shooting. It's not fair.
To be able to stick to that strategy, on a challenging course in the final round of a PGA Tour event, with the lead, made this second career win that much sweeter for the 40-year-old Australian.
"I've had some tough times between that [2014 Houston Open] and now," Jones said. "Been an emotional seven years. I just worked hard, had some tough times putting, worked hard with my coach back in Australia. It's finally paid off.
"It was probably the calmest I've been for a golf tournament for four straight days. You can't get a tougher course to win on, in these conditions, so to be able to do that on this golf course is amazing and something I can build on for the future."
That future will now include Jones' first trip to the Masters since ... yep, you guessed it, 2014. This win will also go a long way in potentially getting him into the Tour Championship, an event he has yet to reach in his career (he went from 60th to 11th in the FedEx Cup standings Sunday). If we want to look way down the line, perhaps Jones can allow himself to begin thinking about the 2022 Presidents Cup, which would be his first should he make the team. OK, too soon, but the fact it's even in the discussion makes this the biggest day of Jones' career to date.
Three other takeaways from Sunday at PGA National.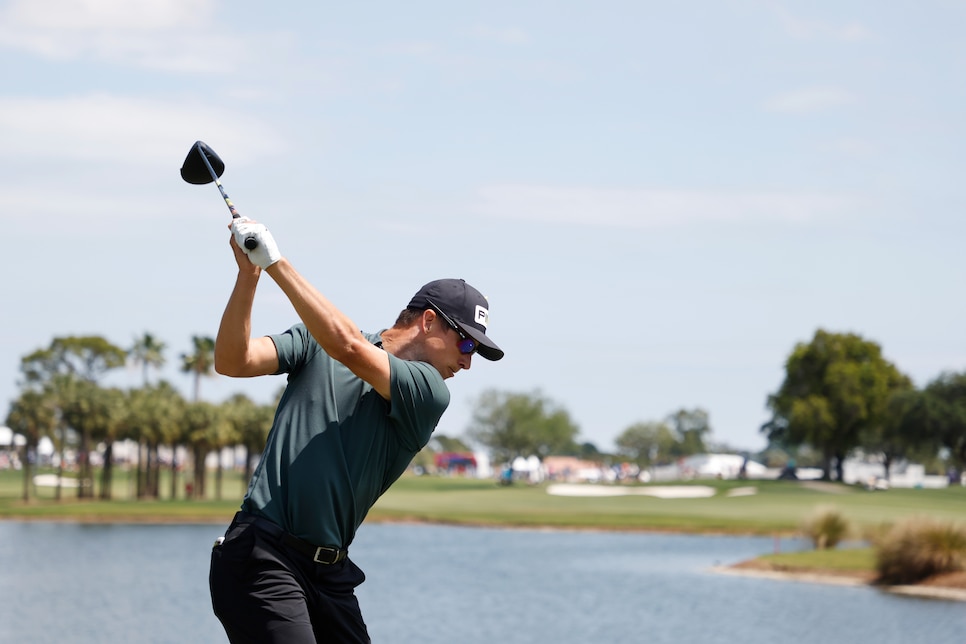 Brandon Hagy plays his shot from the ninth tee during the final round of the Honda Classic.
Jared C. Tilton
Brandon Hagy comes up huge
Speaking of career-altering days, Brandon Hagy had one himself thanks to a clutch four-under 66, a 10-shot improvement from Saturday for the former Cal Bear. Despite hitting it a mile and possessing plenty of talent, Hagy has not done much on the PGA Tour, with injuries and inconsistent play both to blame. He's begun to show signs of turning the corner in 2021, though, and Sunday's solo second, his career-best finish, is the most promising sign yet. Amazingly, it shouldn't have even happened, as Hagy was the sixth alternate. Thanks to a number of withdrawals, the man who also celebrated his 30th birthday on Sunday, flew to Florida on Tuesday and didn't even play a practice round.
"I got in at 11 [p.m.], got to my hotel at midnight, 12:30," Hagy said. "The PGA Rules woke me up that—Commitments woke me up at 9 o'clock saying I was in the field. I was actually still sleeping. So that was kind of what happened."
Essentially, Hagy went from not playing to finishing runner-up and vaulting 100 spots in the FedEx Cup standings, which puts him in prime position to get to the playoffs. This game works in very mysterious ways.
"It's been an interesting couple years," Hagy said. "Technically, I lost my card last year, but still having an opportunity to play out here this year [because the season was extended due to the pandemic]. This is a good week for me to set up the rest of the season. I feel like I made some good adjustments that I applied this week and I look forward to putting them into play the rest of the season."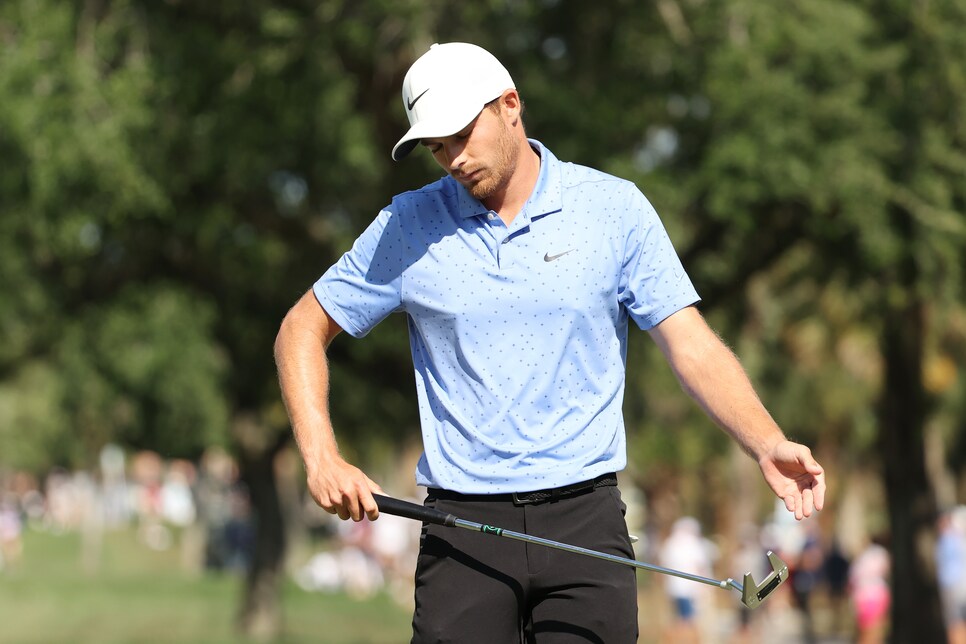 Aaron Wise reacts while four-putting on the 10th green in the Honda Classic.
Cliff Hawkins
Aaron Wise's nightmare weekend
Coming into the week, Aaron Wise ranked 216th on tour in strokes-gained/putting, a large part of the reason he's managed just one top-10 this season. That was a runner-up finish at Mayakoba, and the rest of his strokes-gained statistics would indicate that the former Byron Nelson winner was close to another breakthrough.
Thanks to a hot putter, Wise shot 64-64 the first two rounds, and then made a pair of early birdies on Saturday to take a six-shot lead. The ball game was over, no matter how hard PGA National was playing.
Turns out, it was not even close to over, especially when Wise's putter went completely cold. His six-shot lead on Saturday vanished in a matter of hours, and even when he was able to claw his way back in it Sunday he ejected again with a shocking four-putt at the 10th hole. It was an absolute nightmare of a weekend for the former NCAA champion, as he wound up falling into a tie for 13th. But it's clear he still has potential to be mentioned among the tour's many young stars despite the putter-shaped asterisk in his bag.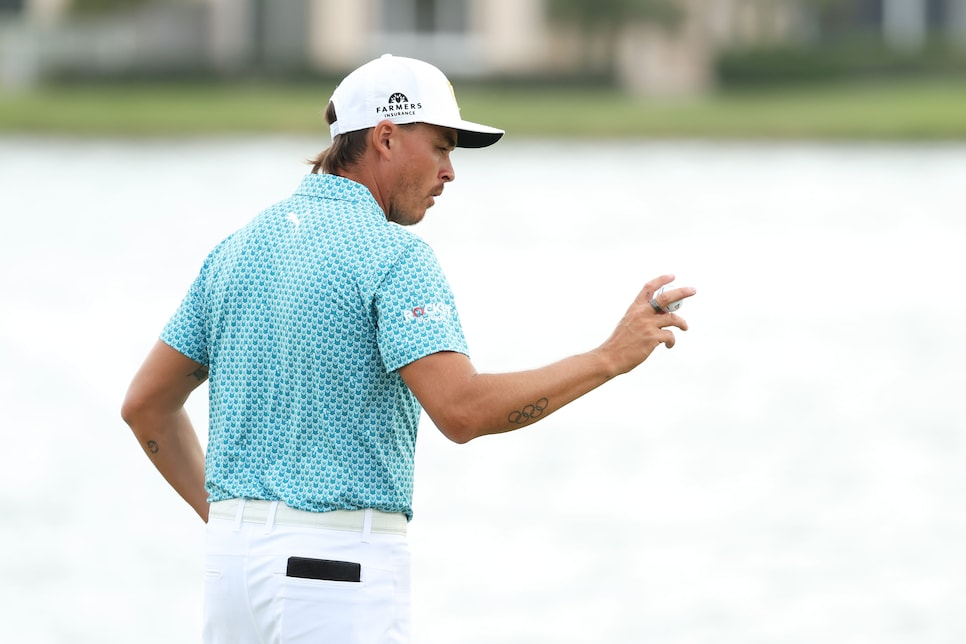 Rickie Fowler waves after finishing the final round of the Honda Classic.
Cliff Hawkins
Rickie Fowler is not making it into the Masters
Some may say we're calling it too soon, some might say we're calling it too late, and others might say we're kicking a man while he's down. All are valid opinions, but the sad fact is Rickie Fowler's game does not belong anywhere near Augusta National right now, and there are no signs pointing to him winning his way in at the Valero Texas Open. Yes, he made the cut this week, but then went 78-71 to finish in second-to-last, meaning he's gone dead last (Bay Hill), MC (Players) and T-65 in his last three starts. He's not in the Match Play, so he'd have to win the Valero not to miss the Masters for a first time in a decade. Our sincere, heartfelt apologies, but we don't see it happening.