U.S. Open
The Shots That Defined The U.S. Open
A look back at the shots -- both good and bad -- that shaped the outcome at Merion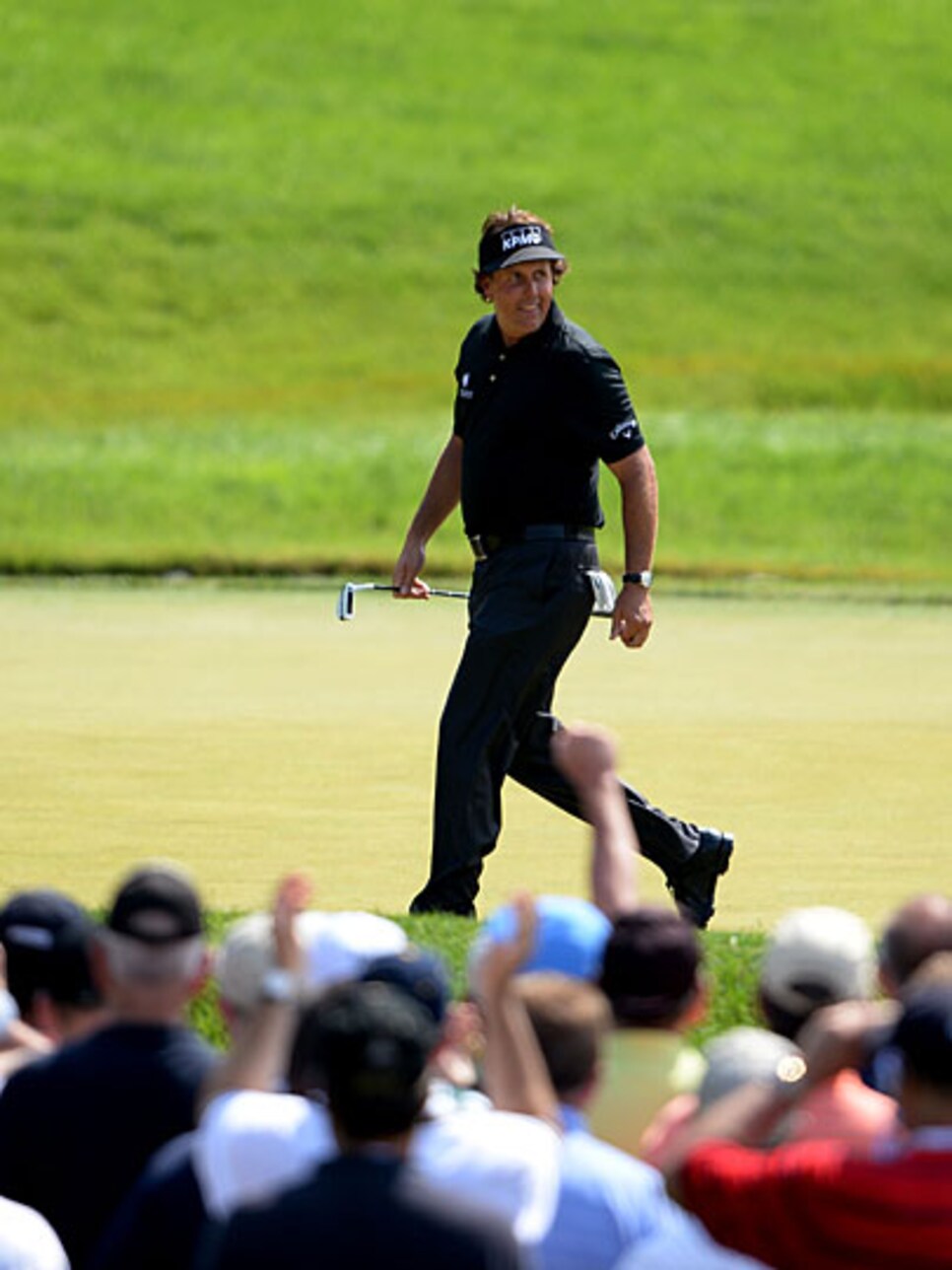 Photo By: Ross Kinnaird/Getty Images
Photo By: Drew Hallowell/Getty Images
Photo By: Gene J. Puskar/AP Photo
Photo By: Rob Carr/Getty Images
Photo By: Scott Halleran/Getty Images
Photo By: Morry Gash/AP Photo
Photo By: Drew Hallowell/Getty Images
Photo By: Rob Carr/Getty Images
Photo By: Julio Cortez/AP Photo
Photo By: Morry Gash/AP Photo
Photo By: Rob Carr/Getty Images
Photo By: Ross Kinnaird/Getty Images
Photo By: Andrew Redington/Getty Images
Photo By: Ross Kinnaird/Getty Images
Photo By: Charlie Riedel/AP Photo
Phil Mickelson's birdie putt, ninth hole, first round:
After a cross-country red-eye flight got Mickelson to Merion in time for an early Thursday tee time, he promptly bogeyed his first hole. But by the time he got to No. 9, his 17th of the day, Mickelson was on top of the leader board. Rolling in a 30-footer for a rare birdie on the tough par 3, Phil set the early pace with a 67.
Photo By: Ross Kinnaird/Getty Images
Sergio Garcia's first shot, 15th hole, first round:
In his first U.S. tournament since his controversial joke at Tiger Woods, Garcia figured to be in for a rocky reception from the Philly fans. But Sergio's most unpleasant moments of the week came on the 15th tee box. On Thursday, the Spaniard hooked one out-of-bounds and made an "ocho" to fall well back. Amazingly, he topped that on Saturday as he yanked three balls OB on his way to a 10.
Photo By: Drew Hallowell/Getty Images
Tiger Woods' birdie putt, first hole, first round:
The consensus was that Merion was the perfect venue for Woods to end his five-year drought in majors. But while the course's lack of length played into his strategy of hitting fairway woods and irons off the tee, the World No. 1 never got comfortable on its greens. Woods left his opening birdie putt about eight feet short, leading to a bogey start. It would be one of numerous three-putts during a week Woods will want to forget fast.
Photo By: Gene J. Puskar/AP Photo
Lee Westwood's third shot, 12th hole, first round:
Last year at Olympic Club, a ball stuck in a tree ended Westwood's U.S. Open chances. This year, he was victimized by one of Merion's famed wicker baskets. After a three under start, Westwood hit what appeared to be a good third shot, but it caromed off one of the wicker baskets atop the flagstick and bounced some 50 yards back down the fairway. The ensuing double bogey derailed his round and aided to him remaining major-less.
Photo By: Rob Carr/Getty Images
Billy Horschel's 2nd shot on No. 18, second round:
The 26-year-old's long iron from 237 yards nearly hit the flagstick before settling about 30 feet behind the pin making him the first player to hit all 18 greens in regulation at a U.S. Open since the USGA started keeping that as an official stat in 1992. More importantly, it led to a birdie that matched the low round of the tournament and gave him a share of the 36-hole lead with Phil Mickelson.
Photo By: Scott Halleran/Getty Images
Phil Mickelson's birdie putt, 18th hole, second round
Lefty's opening 67 after his last-minute trip to the left coast was all the talk on Thursday, but Friday was a struggle for the most part. It appeared like Mickelson would go the entire round without making a birdie, but he rolled in a 20-footer from the fringe to salvage a 72 and keep him tied for the lead heading into the weekend.
Photo By: Morry Gash/AP Photo
Rory McIlroy's tee shot, second hole, Third round:
Like Tiger Woods, McIlroy was four shots off the lead to start Saturday and began with a birdie on the first. As with Woods, the start was deceptive. On his next tee shot, McIlroy hammered his drive out of bounds, and had to play from the tee hitting three. He was fortunate to only make bogey -- he made birdie off his second ball -- but the day was a slog from there. The 2011 U.S. Open champion made six more bogeys against just one birdie for a 75, adding to the woes of a player who still hasn't found his groove in 2013.
Photo By: Dom Furore
Tiger Woods' chip, sixth hole, Third round:
Woods' second round 70 featured a vintage display of clutch par saves, and he started the third round strong by sinking with a twisting birdie putt on No. 1. From there, he unraveled quickly. After bogeys on the very difficult third and fifth, Woods missed the green short on the sixth and attempted a delicate chip that would require him to throw his ball high in the air and land it soft on the green. It didn't work. The ball traveled mere inches, caught the wrong side of the slope, and eventually rolled back behind where he first hit. The bogey was emblematic of a day when little went right for Woods, his 76 marking his worst U.S. Open score as a pro.
Photo By: Drew Hallowell/Getty Images
Hunter Mahan's approach shot, 16th hole, Third round:
Merion is the rare hole in major championship golf -- the 12th green at Augusta National is another -- that players play in virtual isolation, with no gallery or media allowed up around the putting surface. When Mahan knocked his approach shot close to set up a birdie, he didn't receive much in the way of applause, but he did earn a brief share of the lead. Closing bogeys on the brutal 17th and 18th would quickly follow, but Mahan's 69 was still good enough to earn a spot in the final pairing, one shot behind Phil Mickelson.
Photo By: Rob Carr/Getty Images
Phil Mickelson's tee shot, 17th hole, third round:
Given the punishment the 254-yard par-3 17th was doling out on Saturday, Mickelson had reason to be apprehensive standing on the tee. He admitted later he would have settled for par, but his 4-iron approach landed 10 feet from the hole, setting up a birdie that gave him the lead. "One of the best shots I've ever hit," Mickelson said. A bogey would follow on the equally-difficult 18th, but Mickelson still had the lead and the final tee time on Sunday, allowing him another shot at that elusive U.S. Open title.
Photo By: Julio Cortez/AP Photo
Luke Donald's third shot, 18th hole, third round:
The 35-year-old former world No. 1, still looking for his first major, had been in command for much of Saturday, and had the lead when he stood on the 17th tee. A bogey there paired with Mickelson's birdie was just the start of his troubles. On 18, after landing in the deep rough with his approach, Donald attempted to chip out onto the green. Instead, the grass grabbed his clubface and the ball shot out low, running over the green. The double bogey would drop him to one over, two shots out of the lead heading into Sunday.
Photo By: Morry Gash/AP Photo
Steve Stricker's Fourth Shot, Second Hole, Final Round:
The 46-year-old Stricker, looking to become the oldest first-time major champion (and the oldest U.S. open champion) in history, was just a shot off the lead when he teed off on the par-5 second on Sunday. But that hole turned into a disaster. Stricker launched his tee shot out of bounds, and then after re-teeing and finding the fairway with his third shot, he shanked his approach dead right and out of bounds AGAIN. The fact that Stricker needed only three more swings from there was remarkable, but a triple-bogey 8 was still devastating for a player who is running out of major chances.
Photo By: Rob Carr/Getty Images
Justin Rose, birdie putt, sixth hole, final round:
After bogeys on two of his three previous holes, Rose was just looking to make par to calm things down on the 490-yard hole. But his 40-footer found the bottom of the cup to get him back to even par. A birdie on the next hole put him into red numbers and into the lead.
Photo By: Ross Kinnaird/Getty Images
Phil Mickelson's approach shot, 10th hole, Final round:
On his 43rd birthday, Mickelson's start to the final round was a struggle. He made two double bogeys in a stretch of three holes, followed by a series of burned edges with the putter. His solution? Take putting out of the equation altogether. With a wedge out of the rough from 76 yards, Mickelson watched his approach bounce into the cup for eagle, giving Phil back the lead with some imposing holes still to play.
Photo By: Andrew Redington/Getty Images
Phil Mickelson's third shot, 15th hole, final round:In a brief three-way tie for the lead, Mickelson found the green in regulation on the par-4 15th, but had to negotiate a ridge bissecting the putting surface with his birdie putt. Hence Mickelson's unorthodox decision to pull a wedge and chip off the green. It was vintage Mickelson using every option at his disposal, but it backfired. He caught the chip thin, and the ball sailed to the back of the green. Phil missed the ensuing par putt to fall behind Rose, and he never recovered.
Photo By: Ross Kinnaird/Getty Images
Justin Rose's tee shot, 18th hole, final round:
Sure, for sentimental reasons, one might point to Rose's Hogan-like approach on the 72nd hole. But he doesn't get the chance without striping his drive right into the center of the fairway, and perhaps most importantly, not landing in a divot. Clinging to a one-shot lead at the time, Rose's tee shot set up a rather routine par -- a 4-iron approach to the back fringe, a 5-wood chip to mere inches, and then a tap-in for a winning score of one-over-par 281.
Photo By: Charlie Riedel/AP Photo