PGA Championship
The Shots That Defined The PGA
These are the shots that shaped the outcome at Kiawah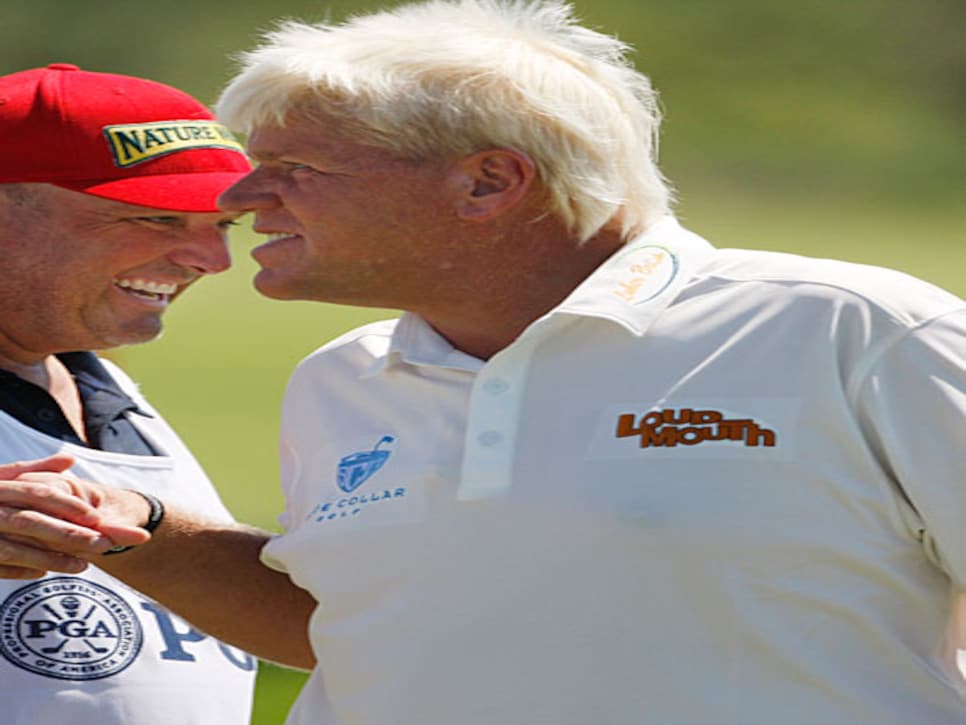 John Daly's second shot, 11th hole, first round
The most remarkable first-day story at Kiawah Island was the appearance of the 46-year-old Daly on the leader board. Although struggling just to earn playing privileges on tour, Daly offered a glimpse of his awesome power and shot-making abilities on Thursday, never more so than when he ripped his 3-wood from 253 yards and landed it 20 feet from the hole. The eagle that followed sent Daly on his way to a four-under 68, and he ended up finishing T-18, his best finish in a major since the 2005 British Open.
Carl Pettersson's birdie chip, first hole, second round
The underrated, overlooked Pettersson was a fixture on the leader board all week in large part thanks to his trusty long putter. But it was his chip out of Kiawah's many sandy areas that provided a needed spark on Friday. Starting out on the back nine on Friday, Pettersson was one over for his round when he missed the green on No. 1, his 10th hole of the day. But his chip found the bottom of the cup for birdie, helping Pettersson to survive a very difficult day with a two-over 74.
Tiger Woods's birdie putt, fourth hole, second round
Woods' promising start can largely be attributed to some otherworldly putting. He had 12 one-putt greens on Thursday, then came back Friday to one-putt five of the first seven. The most dramatic of those came on the par-4 fourth, when he rolled in a birdie from 40 feet. In what ranked as the most difficult scoring round in the history of stroke play at the PGA, Woods finished with a one-under 71, good for a share of the lead heading into the weekend.
Rory McIlroy's tee shot, third hole, third round
After two birdies to start, McIlroy's tee shot on the third hole not only hit a tree in the middle of the fairway, it got lodged in one of its branches. A TV blimp helped McIlroy find the ball, and after taking a drop, he was able to stick his third shot to six feet. The ensuing par enabled McIlroy to maintain his Saturday momentum when he surged up the PGA leader board.
Vijay Singh's third shot, 12th hole, third round
After working his way into the final pairing on Saturday, the 49-year-old Singh still had a share of the lead when play was halted that afternoon. But Singh lost his mojo when he returned Sunday. On the 12th hole, he flubbed his shot out of the sandy area, and it never escaped, starting him on a stretch in which he played the last six holes of the third round in four-over par.
Tiger Woods' second shot, 13th hole, third round
A horrific start to the third round seemed to signal the end of any hope of a 15th major title for Woods. But when he returned on Sunday, he found his footing. After birdieing the par-5 11th, Woods sent a towering 8-iron from 180 yards to about 12 feet on the par-4 13th. He made that putt for birdie and added another on 16 to move within five shots of McIlroy heading into the final round.
Carl Pettersson's second shot, first hole, final round
The big Swede looked to have made a great recovery when he hit his approach from a hazard and onto the green, setting up a two-putt par. But upon further review, it was determined that Pettersson brushed a leaf on his backswing in the hazard, which is a two-shot penalty. A few holes later, Pettersson was informed of the penalty, leading to a double bogey on No. 1 that dropped him out of second place. He finished T-3, nine shots behind McIlroy.
Rory McIlroy's third shot, second hole, final round
After a solid opening par, McIlroy yanked a layup on the par-5 second hole left. But after getting a break with a good lie on some wood chips and with no tree trouble, he nipped a wedge from 98 yards to about five feet of the hole. The first real test of the final round resulted in the 23-year-old converting the birdie putt, settling his nerves and extending his lead on the rest of the field.
Ian Poulter's third shot, fifth hole, final round
There are good starts to rounds and then there is what Poulter did at the Ocean Course on Sunday. The Englishman rolled in a 10-footer for a remarkable fifth-straight birdie to begin his final 18 and climb into second place. Poulter eventually cooled off, but his T-3 is his second-best major championship finish (behind only a second in the 2008 British Open)
Tiger Woods' fourth shot, third hole, final round
After a layup off the tee, misjudging his second shot and hitting an indifferent third, Woods was faced with a 15-foot curler on the 293-yard par 4. But he avoided an early blemish on his card by draining a par putt and unleashing a huge fist pump before the ball had even found the bottom of the cup, allowing Woods to at least stay in the hunt early in the final round.
Rory McIlroy's third shot, 10th hole, final round
A hooked tee shot had people seeing visions of that Masters meltdown last year, but this time, McIlroy advanced his ball up by the green leaving him a third shot from the sand. The guy with the bunker in his backyard nearly holed out, saving par and helping to ensure there wouldn't be another back-nine collapse.
Rory McIlroy's birdie putt, 18th hole, final round
He certainly didn't need it, but McIlroy finished his magical week by rolling in one final birdie putt. A 20-footer from the edge of the 18th green capped a bogey-free 66 and an eight-shot win -- breaking Jack Nicklaus' tournament record for margin of victory.