PGA Championship
The Shots That Defined the PGA Championship
From good to bad, these are the moments that shaped the outcome at Oak Hill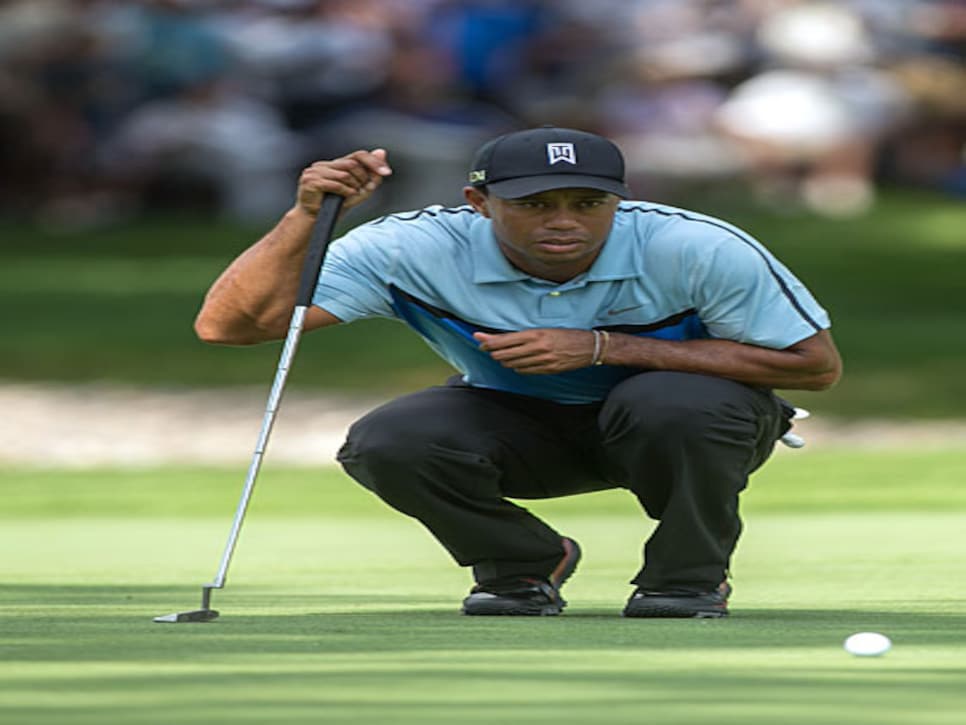 Tiger Woods' birdie putt, second hole, first round
Still in search of his first major title in five years, Woods started strong at Oak Hill, playing his front nine in two under. When he knocked his approach tight on the par-4 2nd, his 11th hole of the day, he had a chance to move to within one shot of the lead. Instead, Woods babied the four-footer, and he had to settle for par. Already out of rhythm when his group had been put on the clock earlier, Woods never recovered. He finished the round over par when he double bogeyed his last hole, and was never a threat to contend thereafter.
Phil Mickelson's second shot, 18th hole, first round
After battling back to red numbers after a shaky start, Mickelson hit a wild tee shot left on his closing hole. Instead of just pitching back out to the fairway, he compounded his mistake, trying a risky punchout through the trees that barely went anywhere. He wound up making a double bogey and was never a factor the rest of the week.
Jason Dufner's second shot, second hole, second round
Two years after seeing his chance to win the PGA slip away over the closing holes at Atlanta Athletic Club, Dufner thrust himself into the picture at Oak Hill with one swing on Friday. With a sand wedge, he sent his approach shot over the flagstick, then watched it spin back toward the cup before dropping in for a 2. The eagle sent Dufner on his way to a record-tying performance, where he became just the 24th player in history to shoot 63 in a major.
Jason Dufner's birdie putt, 18th hole, second round
Buoyed by his eagle, Dufner went on a tear Friday afternoon, adding five more birdies to give himself a chance at becoming the first player to shoot 62 in a major. When he knocked his approach to 15 feet below the hole, his chances got even better. But the birdie attempt was nervy and stopped two feet short. Dufner would make the ensuing par putt to become the 24th player to shoot a major 63. Plus, it gave him a two-shot lead heading into the weekend.
Rory McIlroy's third shot, 18th hole, third round
After clawing his way back into the PGA with a resilient Friday finish, the defending PGA champ thrust himself into contention over the closing holes on Saturday. First he rolled in a 50-foot birdie putt on 17, then after an errant tee shot, McIlroy was able to chase his approach up into the greenside rough. From there, McIlroy chipped in for another birdie, vaulting him up the leader board and into a late afternoon tee time.
Adam Scott's par putt, 17th hole, third round
The Masters champ fought his swing for most of Saturday, but he was able to minimize the damage with some clutch putting late. Fresh off a double bogey on No. 16, Scott found the trees off the tee on No. 17, and was forced to punch out with his second. He wedged his third shot to 10 feet, and with the help of a read from caddie Steve Williams, Scott curled in the par putt to remain at five under par, four shots off the lead heading into the final round.
Jim Furyk's par putt, 18th hole, third round
After a sluggish start to the third round, Furyk found his rhythm over the closing holes, even birdieing the treacherous par-4 17th. When he got into trouble on 18, he faced a par putt from off the fringe. But Furyk nailed it for a 68, allowing the 43-year-old veteran to start the final round of a major with at lea
Jonas Blixt's second shot, 18th hole, third round
On the leader board at a major championship for the first time, Blixt's tee shot went way left and landed in a fan's pocket. After taking a drop, Blixt hit his approach from a dirt patch in the left rough to about five feet on a brutal pin. The Swede made the unlikely birdie for a 66 to get a spot in the penultimate group on Sunday. Blixt couldn't muster the same magic in the final round, but his 70 was good for fourth place, by far his best finish in a major.
Jason Dufner's par putt, 18th hole, third round
A terrific third shot from about 100 yards spun back to five feet and looked to set up a simple par putt. It wound up being anything but easy, however, as Dufner pushed it slightly and started to walk after it as if he missed before the ball paused and then fell into the cup from the high side. The par kept him within one shot of leader Jim Furyk and put him in Sunday's final group with his Ryder Cup teammate.
Jason Dufner's par putt, first hole, final round
It was a nothing putt, or so it seemed, and yet Dufner later admitted he needed to sink the two-footer on the first hole to get past some early nerves. For a player who struck the ball beautifully but looked fidgety from close distance, the opening par calmed Dufner down and sent him on his way to a cool, efficient closing 68.
Jason Dufner's second shot, fifth hole, final round
A day after making a double bogey on the difficult par 4, Dufner played super aggressively on Sunday and it worked. He hit driver off the tee and then attacked a back-left flagstick, spinning a wedge back to within two feet of the cup. It set up a second straight birdie and gave Dufner his first outright lead in the final round.
Jason Dufner's par putt, ninth hole, final round
While Dufner seemed shaky on short putts throughout the week, he holed several mid-range putts on Sunday -- none more critical than on the ninth hole. After a rare bad tee shot, Dufner looked like he might drop his first shot of the day. Instead, he wound up picking up another shot on playing partner Jim Furyk. After Furyk missed his par putt, Dufner rolled in a 10-footer to cap a flawless front-nine 32 and give him a two-shot lead heading to the final nine holes.
Henrik Stenson's second shot, 14th hole, final round
The big Swede had pulled within two shots of leader Dufner when he reached the par-5 13th in two and two-putted for birdie. But his momentum was halted on the very next hole, when he chunked his second shot -- an uphill pitch on the driveable par 4 -- into the bunker, setting up bogey. Another bogey would follow on the 17th, and Stenson would have to settle for another close call and no win.
Jason Dufner's second shot, 16th hole, final round
Even nursing a two-shot lead late, Dufner took advantage of Oak Hill's last scoring chance. He hit driver off the tee and then spun a wedge to about a foot. Playing partner Jim Furyk made birdie as well, but having a tap-in to maintain his cushion was just what Dufner needed as he headed to the brutal two closing holes. Amazingly, that gave Dufner his third gimme-range birdie of the day -- not the worst thing for a player known to struggle with short putts under pressure.
Jim Furyk's third shot, 17th hole, final round
Down two with two to play, Furyk had a slight opening with Jason Dufner running his birdie putt some five feet past the hole, setting up a par putt he would ultimately miss. But Furyk couldn't take advantage, leaving his pitch in Oak Hill's deep rough. He nearly holed his fourth shot but settled for a bogey, allowing Dufner to maintain a two-shot cushion heading to the 18th tee. That wound up being the final margin as both players bogeyed the closing hole as well.