British Open
The Shots That Defined The British Open
From good to bad, these are the moments that shaped the outcome at Muirfield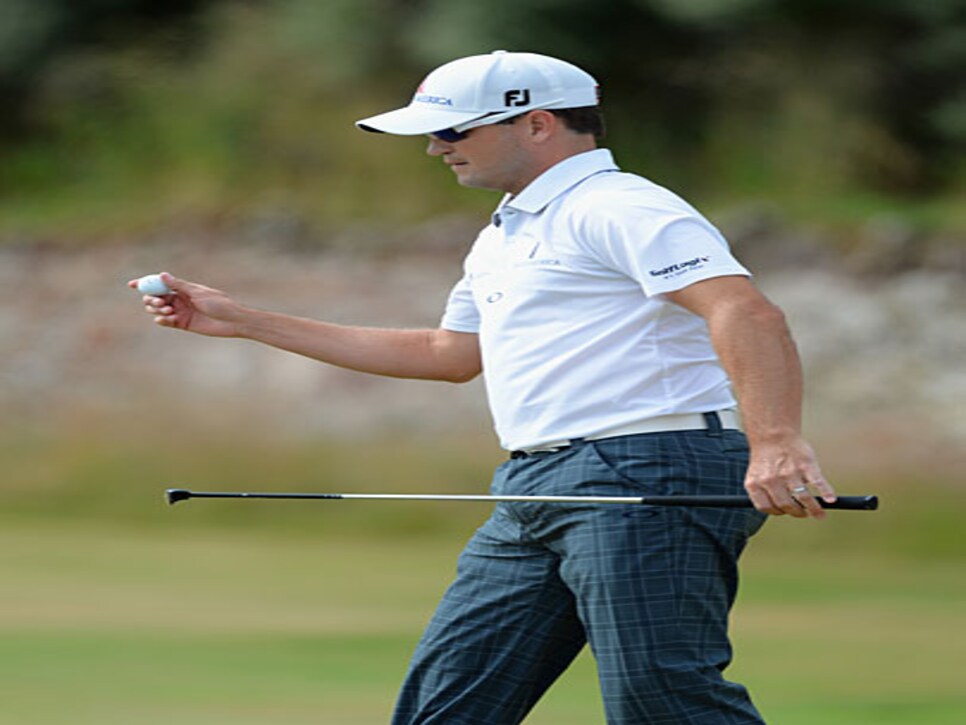 Zach Johnson's eagle putt, fifth hole, first roundA 45-footer for eagle early got Johnson, who lost in a playoff at the John Deere Classic the week before, off to a fantastic start. But Johnson wasn't done, adding back-to-back birdies at holes 6 and 7 and another on the 12th. Add it all up and his opening round 66 gave him his first end-of-the-day lead at a major championship since he captured the 2007 Masters.
Tiger Woods' par putt, fourth hole, second roundAfter a birdie on No. 3, Woods lagged a long birdie attempt to two feet on No. 4 to set up what appeared to be a routine par. But his next putt lipped out for a surprising bogey. Four holes later, Woods missed another one from about three feet for par -- especially shocking considering how well he was putting Muirfield's greens from mid-range. As the tournament went on, those two thrown away shots loomed larger.
Zach Johnson's par putt, first hole, second roundThursday's overnight leader waited a long time to tee off on Day 2. He then waited a long time for his par attempt to drop on his first hole. It never did. Johnson tapped in for bogey, which ended up being just the start of a disappointing 75.
Tiger Woods' birdie putt, 18th hole, second roundWoods struggled to hit greens on the back nine Friday, but he hung around the leaders with several difficult up-and-downs. When he finally found one of Muirfield's slick putting surfaces with an approach shot on his final hole of the day, he capitalized. Woods drained the 15-footer for birdie for a scrappy even par round and then watched as his two under total got better as the leaders struggled in the afternoon, placing Woods just one shot off the pace heading into the weekend.
Miguel Angel Jimenez's par putt, second hole, third roundMoments after Woods' latest long putt dropped, Jimenez, the 36-hole leader, missed a near gimme for par. The short miss dropped the 49-year-old out of the lead for good. Jimenez wound up shooting 77 to effectively end his quest to become the oldest winner in major championship history.
Lee Westwood's third shot, fifth hole, third roundAfter a bold play with his driver from the fairway left him just short of the green, Westwood opted to use his putter. Good choice. Westwood rolled in the curling 40-footer for an eagle and unleashed perhaps the biggest fist pump of his career. When playing partner Tiger Woods -- known for his similar fist pumps -- failed to make a short birdie putt, Westwood had the lead all to himself for the first time.
Hunter Mahan's par putt, 18th hole, third roundAfter a bad approach and a disappointing bunker shot, Mahan was faced with about a 20-footer for par. But the 31-year-old knocked it in to match the day's low round with a 68. More importantly, it put him into the final group on Sunday for a second straight major. It also helped make the buzzworthy penultimate pairing of Tiger Woods and Adam Scott a reality.
Ian Poulter's eagle putt, ninth hole, final roundThe Englishman began his final round five over and that's where he still stood as he eyed a lengthy eagle putt on the par-5 ninth. When he drained it, it set off a run similar to what we saw from Poulter on Saturday at last year's Ryder Cup. He birdied the next three holes as well to get to within two shots of the lead, but his run stalled with a bogey on No. 16.
Tiger Woods' second shot, first hole, final roundSure, people will point to the three-putt to start his round, but Woods should have never left himself a 100-foot birdie putt in the first place. Woods badly misjudged the distance on his approach shot, coming up well short like he did so many times throughout the week. It was the start of a disastrous front-nine 38 that all but ended his chances of ending his five-year drought in the majors.
Lee Westwood's first shot, third hole, final roundAfter solid pars to start his final round, Westwood revealed the first glimpse that this might not be his day when he yanked an iron into the high hay on the par 4. He wound up dropping a shot, his first of five bogeys in a closing 75.
Hunter Mahan's second shot, ninth hole, final roundMahan dropped three shots in his first eight holes, but he got two of them back with one brilliant shot. Taking advantage of the downwind par 5, Mahan ran a long iron to within two feet of a back-right pin position. The tap-in eagle brought Mahan back to even and within touch of the leaders, but that was as low as he would get.
Phil Mickelson's birdie putt, 14th hole, final roundAfter hanging around the leader board all week, Mickelson drained a 20-footer for his second straight birdie to pull within one shot of the lead, the most convincing statement yet that he was ready to win his first Open Championship.
Adam Scott's third shot, 13th hole, final roundA brilliant recovery shot from the right rough after a poor tee shot had Scott in position to escape with a par. Instead, he pushed his eight-footer right, dropping him out of sole possession of first place and givng Phil Mickelson his first share of the lead of the week.
Phil Mickelson's par putt, 16th hole, final roundAfter his tee shot rolled off the par 3's false front, Mickelson hit a nice pitch to eight feet, but he still faced a quick right-to-left putt. Mickelson rolled it in to stay tied for the lead. Moments later, after an Adam Scott bogey, he took sole possession of the lead in the Open Championship for the first time.
Lee Westwood's first shot, 13th hole, final roundA flaired iron put Westwood in high rough right of the green. He played a creative pitch off a slope behind the green to give himself a chance of saving par, but when he missed the 15-footer, he lost the lead for good. The 40-year-old Englishman is now 0-for-62 in major championships.
Phil Mickelson's second shot, 17th hole, final roundAfter his clutch par putt on the previous hole, an amped-up Mickelson took a crack at the par 5 in two, hitting 3-wood from 302 yards into the wind. He knocked it on to set up an easy two-putt birdie and grab a two-shot lead. As others struggled, Mickelson looked in control. And he didn't stop there . . .
Phil Mickelson's birdie putt, 18th hole, final roundAfter a big 3-wood off the tee, a bold approach left Mickelson with a 10-foot birdie putt. As the ball curled in, he raised his arms in celebration knowing he had all but won his first Open Championship. The 3 capped a stunning 66 that featured birdies on four of his last six holes. Later, the now five-time major winner would describe Sunday's performance as perhaps the best round of his life.