U.S. Open
The Shots That Defined the U.S. Open
These are the shots that shaped the outcome at Olympic Club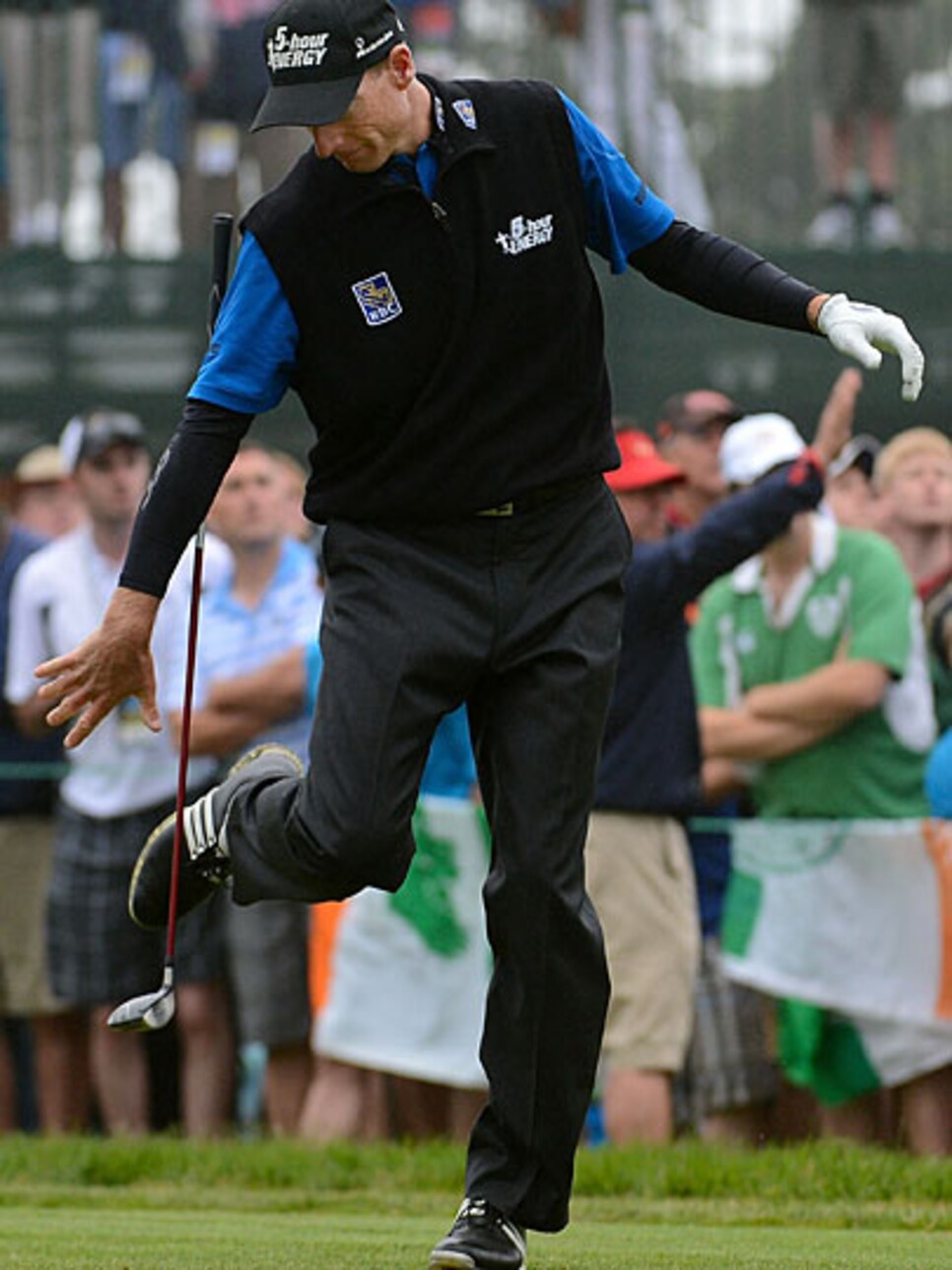 Photo By: Harry How/Getty Images
Photo By: David Cannon/Getty Images
Photo By: Stuart Franklin/Getty Images
Photo By: Jeff Gross/Getty Images
Photo By: Eric Gay/AP Photo
Photo By: Charlie Riedel/AP Photo
Photo By: Paul Kitagaki Jr./Sacramento Bee/MCT/Getty Images
Photo By: Harry How/Getty Images
Photo By: Stuart Franklin/Getty Images
Photo By: Harry How/Getty Images
Jim Furyk's tee shot, 16th hole, Sunday
So unflappable through much of the final round, Furyk's swing got quick at the worst possible time. Tied with Simpson on the 16th tee, Furyk said he was surprised by the USGA's decision to move the tee up, and it played at least a part in the ugly sequence that followed. Furyk snap-hooked his drive deep into the rough, leaving him no choice but to punch back to the fairway. When he was unable to get up and down for par, he gave Simpson a lead he would never relinquish.
Photo By: Harry How/Getty Images
Webb Simpson's third shot, 18th hole, Sunday
Simpson didn't know exactly what was at stake when he knocked his approach to 18 to the right greenside rough, but he certainly knew the ensuing chip would be important. Uh, yeah it was. With the pin tucked near the front of the green and with his ball in an uneven lie, Simpson still sent a delicate chip to four feet from the hole. When he made the putt, he took the clubhouse lead at one over -- good enough, it turned out, for his first major championship.
Photo By: David Cannon/Getty Images
Ernie Els' eagle putt, seventh hole, Sunday
After arguably the toughest opening stretch of six holes in major championship golf, the drivable par-4 seventh is finally a chance for a golfer to get a shot back. The Big Easy did one better than that. After rolling his drive to about 10 feet, Els curled in the eagle putt to vault into a tie for second place. It was also indicative of a wild week for Els, who led the field with three eagles -- the first time he's ever done that in his career.
Photo By: Stuart Franklin/Getty Images
Lee Westwood's tee shot, fifth hole, Sunday
Westwood probably wasn't in a position to appreciate the irony of his losing a ball in the exact same cypress tree that Lee Janzen lost his ball 14 years earlier. Especially when considering that he suffered a worse fate than Janzen, whose ball fell to the ground while he was on his way back to re-tee. Westwood arrived at the fifth hole just three shots off the lead, but the resulting double bogey derailed his latest pursuit of an elusive first major championship.
Photo By: Jeff Gross/Getty Images
Tiger Woods' tee shot, first hole, Saturday
Woods was in complete control with his long game through two rounds, even leading the field in fairways hit. But Saturday was different right from the start, with Woods pulling his opening 3-wood of the third round into the left rough. He would pitch out and make a bogey, setting the tone for an ugly 75 that ended his hopes of a fourth U.S. Open and a 15th major championship.
Photo By: Eric Gay/AP Photo
Tiger's third shot, 18th hole, Saturday
By the time he reached the final hole, Tiger's third round had already qualified as a disaster. But here is where it was cemented. With his ball in the greenside rough, Woods was looking to nestle a chip close to the flag and save par. Instead, he flubbed the chip, barely advancing it more than a few feet. A bogey led to a 5-over 75, along with a host of "I've got that shot" wisecracks from hackers everywhere.
Photo By: Charlie Riedel/AP Photo
John Peterson's tee shot, 13th hole, Saturday
Peterson had earned a spot in the second-to-last pairing, but his weekend got off to a sour start when he played first 11 holes in four over. Then his 7-iron to the 199-yard 13th found the hole, and it was like he was reborn. He ended Saturday with a respectable 72, and was a factor into the back nine on Sunday, finishing two strokes behind Simpson.
Photo By: Paul Kitagaki Jr./Sacramento Bee/MCT/Getty Images
Jim Furyk's birdie putt, 17th hole, Saturday
After bogeying the par-5 16th to fall back into a tie for the lead, it appeared that Furyk would waste a golden scoring opportunity on Olympic's other par 5. His approach ran through the green and his long eagle attempt raced 15 feet past the hole. But Furyk drained the comebacker to get back into red figures and take a share of the lead heading into the final round.
Photo By: Harry How/Getty Images
Graeme McDowell's second shot, 18th hole, Saturday
Already two under on his back nine, McDowell kept his momentum going on the short finishing hole. He cut a wedge to four feet, and the ensuing birdie putt gave him a closing 33 and a share of the 54-hole lead. It also guaranteed he'd play in the final pairing on Sunday -- a position he showed he was comfortable in when he won his only major title two years ago at Pebble Beach.
Photo By: Stuart Franklin/Getty Images
Beau Hossler's birdie putt, first hole, Friday
An opening 70 made 17-year-old Beau Hossler a nice story on Thursday. But a strong first nine followed by a birdie on No. 1 made him the story on Friday. Hossler's putt for a three on the 520-yard par 4 gave him the outright lead. He would stumble at the finish, but remain in contention throughout the weekend. Not bad for a kid who still has his senior year of high school ahead of him.
Photo By: Harry How/Getty Images
Nick Watney's second shot, 17th hole, Thursday
It didn't quite match Louis Oosthuizen, whose albatross in the final round of the Masters gave him the temporary lead. But when Watney's 5-iron found the cup out of the right rough on the 522-yard par-5 17th hole, it marked just the third double eagle in U.S. Open history, and put Watney just three strokes out of the lead after the first day. That was as close as Watney got, but it was still a rare highlight in a tournament that repels low numbers.
Photo By: J.D. Cuban
Phil Mickelson's tee shot, first hole, Thursday
No one has had more close calls at the national championship than Mickelson, who ranks first with five runner-ups. But it didn't take nearly as long in his 20th attempt as a pro to realize that this wouldn't be his breakthrough year. Lefty hooked his opening tee shot of the tournament well right and into the trees. When he didn't find it, he had to re-tee, paving the way for an opening 76 from which he was never able to recover.
Photo By: J.D. Cuban