The Masters
The Shots That Defined the Masters
From controversial drops to daring approaches to clutch putts, this Masters had it all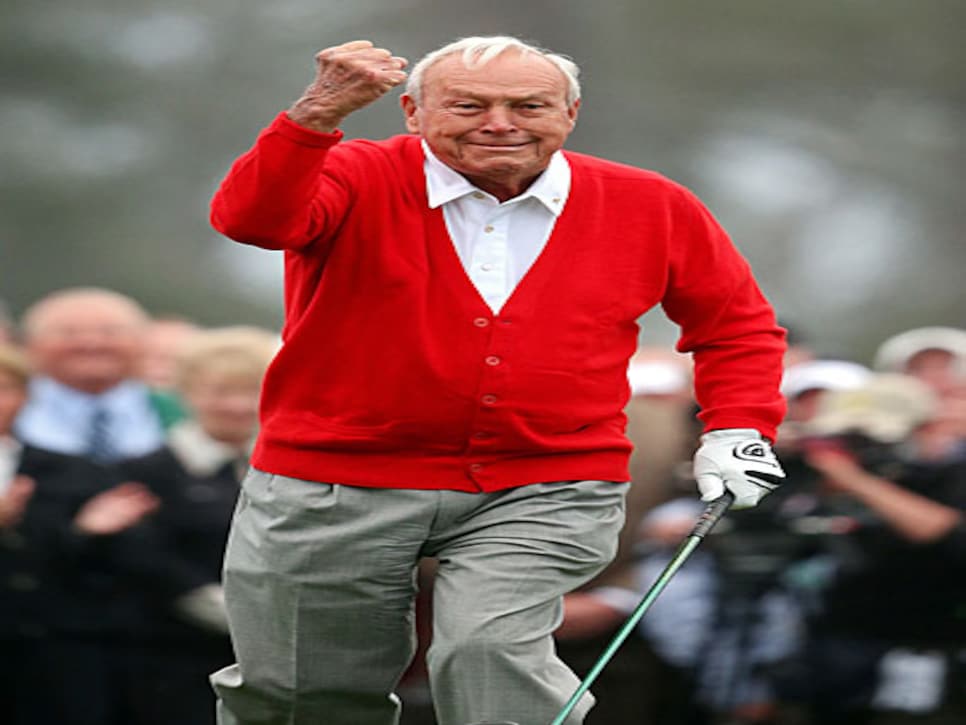 Arnold Palmer's Ceremonial Tee Shot, Thursday:
Ever the show man, perhaps the sport's all-time most beloved figure got the week off to an extra special start. Hitting first among a trio of legends, including Jack Nicklaus and Gary Player, Palmer smoked his tee shot right down the middle of the first fairway, prompting the King to unleash a vicious fist pump.
Tianlang Guan's Second Shot, 17th Hole, Friday:
Regardless of what the scoreboard said, no golfer was more impressive the first two days of the Masters than 14-year-old Guan, the youngest competitor in tournament history. On the precipice of making the cut at three-over par, Guan had been warned by rules official John Paramor about his pace of play several times on the back nine. Then on the 17th hole, with Guan struggling to pick a club for his second shot, Paramor pulled the trigger. He gave Guan a one-shot penalty for slow play, believed to be the first such penalty in tournament history. Although Guan went on to make the cut, the penalty set off a massive buzz storm -- or at least what seemed massive at the time.
Tiger Woods' Third Shot, 15th Hole, Friday:
After a conservative start, the world No. 1 made his inevitable climb up the leader board on Friday, moving into a tie for the lead by the time he reached the 15th hole. After laying up with his second shot, Woods hit what appeared to be a perfect wedge onto the green. But Woods' got the unluckiest of breaks when his ball hit the flatstick and caromed back into Rae's Creek. A bad break, sure, but not devastating, right?
Tiger Woods' Fifth Shot, 15th Hole, Friday:
When Woods dropped from the same area, and wedged onto the green to about a foot, it appeared he minimized the damage with a bogey. Uh, not quite. Turns out Woods, as he later acknowledged, dropped illegally when he went two yards back from his original spot and hit from there. After a dramatic couple of hours when Woods seemed on the brink of being disqualified, the tournament committee instead gave him a two-shot penalty for the drop, putting Woods at five shots off the lead heading into the third round.
Tiger Woods' Fourth Shot, 8th Hole, Saturday:
Though the dramatic events of earlier that morning were still fresh, Woods seemed unaffected when he teed off Saturday afternoon and summarily birdied the first hole. He bogeyed the difficult fourth, but then responded by birdieing the seventh and wedging to within 18 inches of the cup on the par-5 eighth. That's when Woods' run of bad luck continued. His birdie putt did a full 400-degree rotation around the rim of the cup and stayed out, leaving a stunned Woods to bite down on the shaft of his putter in frustration. He recovered enough to shoot a third-round 70, but was still four shots off the lead heading into the final round.
Brandt Snedeker's Tee Shot, 16th Hole, Saturday:
Although Snedeker saw his winter momentum halted by a rib injury, he resumed his stellar play at Augusta National. After playing the front nine at even par, Snedeker birdied both par 5s on the back and arrived at the 16th tee a shot off the lead. There Snedeker knocked his approach to two feet, setting up an easy birdie and giving him a share of the lead heading into the final round.
Fred Couples' Second Shot, 17th Hole, Saturday:
After a promising start to a tournament he seems to factor in, Couples unraveled on Saturday. He made consecutive bogeys on the 14th and 15th holes, then made a mess on the 17th hole when he drove his tee shot left and saw his second shot catch a tree limb and knock straight down. Five more shots would follow, and with a triple bogey, Couples' shot at a second green jacket were essentially dashed.
Angel Cabrera's third shot, 18th hole, Saturday:
No stranger to holing big putts on Augusta's closing hole, Cabrera made a 15-footer for birdie to cap a third-round 69. The birdie was made more impressive by the hole's back-right pin position and it locked up a spot in Sunday's final pairing with Brandt Snedeker -- meaning it would be the third time in five years that Cabrera has had the latest tee time in the final round. Once again, the Argentine would hold up well under pressure.
Jason Day's Third Shot, 2nd Hole, Sunday:
The 36-hole leader stumbled late in the third round with consecutive three-putts, but he responded in a big way to start Sunday. After a birdie on the first hole, Day holed out from the greenside bunker with his third shot on the par-5 second. The eagle propelled the Australian back into the lead early in the final round.
Angel Cabrera's Second Shot, Seventh Hole, Sunday:
It didn't appear as if Cabrera clipped his 9-iron from 156 yards perfectly, but his approach shot couldn't have wound up any better. Just clearing the front bunker, it hopped forward and then spun right, curling across the hole to within tap-in range. The birdie gave him a two-shot lead for the first time and showed if anyone else was going to win, they would have to catch the 2009 champ.
Brandt Snedeker's Fourth Shot, 10th Hole, Sunday:
Two shots off the lead but with leader Angel Cabrera in trouble, Snedeker had a chance to pull to within one on the first hole of the back nine. But his par putt from a little more than two feet rimmed out, and he never recovered. He three-putted on the par-4 11th, then dunked his approach on the par-5 13th in Rae's Creek to seal another disappointing Sunday at Augusta National.
Adam Scott's Second Shot, 13th Hole, Sunday:
After a great drive, Scott took an aggressive line going for the par 5 in two. His ball got to the front of the green, before spinning off and toward the hazard. However, he was fortunate when it hung up on the bank similar to the reprieve Fred Couples famously received on the 12th hole on his way to winning here in 1992. Instead of a potentially deflating bogey, Scott chipped to three feet and made birdie to keep his chances alive.
Angel Cabrera's Second Shot, 13th Hole, Sunday:
Having just seen his playing partner, Brandt Snedeker, dunk one into Rae's Creek, Cabrera followed him in. With the lead and hitting from a spot in the pine straw near where Phil Mickelson pulled off a sensational shot to all but wrap up his third green jacket three years ago, Cabrera tried to do the same. It didn't work. The Argentine found the hazard, then failed to get up-and-down from the drop area for a costly bogey on one of Augusta National's scariest holes.
Jason Day's Fourth Shot, 17th Hole, Sunday:
With three holes to play, it appeared that Day, not Scott, would end the Australian drought at the Masters. A two-putt birdie on No. 15 gave the 25-year-old a two-shot lead, but after a bogey on No. 16, he missed a 15-footer for par on No. 17 to end his hopes. The third-place finish marked Day's second close call at this event in the past three years, having finished T-2 in 2011.
Adam Scott's Third Shot, 18th Hole, Sunday:
After pulling back into a tie for the lead with Angel Cabrera, Scott hit his approach to 20 feet, and knew he faced a definining moment with his next putt. "I just told myself to go with instinct; just put it out there and hit it. Show everyone how much you want it." Scott showed how much it meant when the putt went in and for a moment, he thought he had won the Masters. The real celebration, however, would have to wait.
Angel Cabrera's Second Shot, 18th Hole, Sunday:
With Scott in at nine-under par, Cabrera knew he had to birdie the last to force a playoff. He then proceeded to hit a 7-iron from 163 yards that settled a mere two feet from the hole. The birdie would reaffirm Cabrera's reputation as one of his era's gutsiest players, and send him to a playoff in the Masters for the second time in five years.
Adam Scott's Third Shot, Second Playoff Hole,Sunday:
After he and Cabrera made par in near-identical fashion on the first playoff hole, Scott watched as his competitor narrowly missed his own birdie chance. Sensing his opportunity, but unable to see, he called in caddie Steve Williams to help with the read on the 12-foot birdie putt before him. "He said, 'It's at least two cups. It's going to break more than you think," Scott recalled. Williams was right. Scott rolled in the putt to clinch the win, his first major title, and the first ever by an Australian in the Masters.