British Open
The Shots That Defined The British Open
These are the shots that shaped the outcome at Royal Lytham & St Annes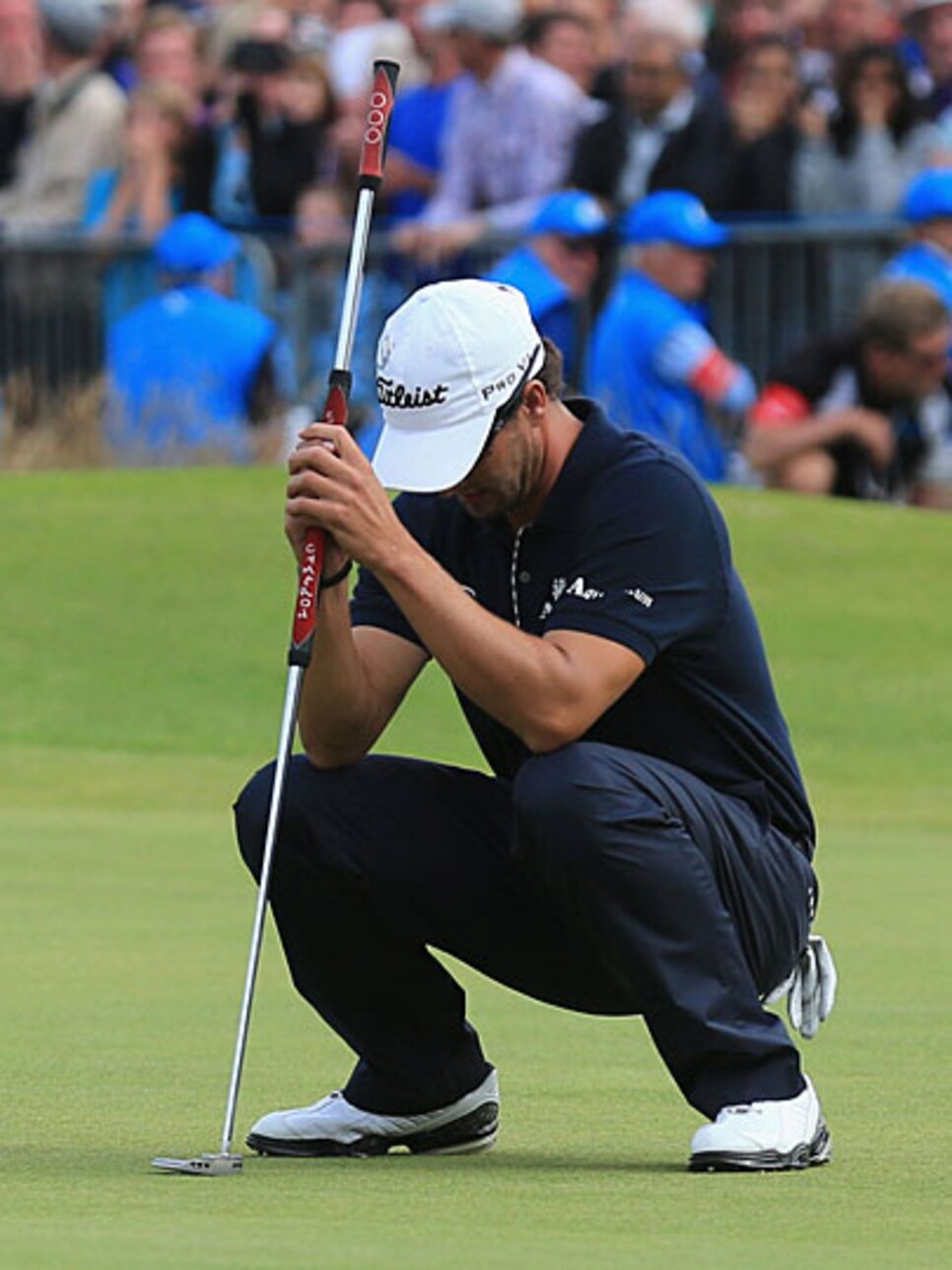 Photo By: David Cannon/R&A/R&A via Getty Images
Photo By: Ian Walton/R&A/R&A via Getty Images
Photo By: Ross Kinnaird/Getty Images
Photo By: Ian Walton/R&A/R&A via Getty Images
Photo By: Harry How/Getty Images
Photo By: Stuart Franklin/Getty Images
Photo By: Glyn Kirk/AFP/GettyImages
Photo By: Press Association via AP Images
Photo By: Paul Thomas/R&A/R&A via Getty Images
Photo By: Andrew Redington/Getty Images
Photo By: Ross Kinnaird/Getty Images
Photo By: Ross Kinnaird/Getty Images
Photo By: Richard Heathcote/Getty Images
Photo By: Stuart Franklin/Getty Images
Adam Scott's par putt, 18th hole, final round
After falling into a tie with Ernie Els, Scott's chances of a clinching birdie on the final hole were dismissed when he found a bunker off the 18th tee. After pitching out, though, Scott still gave himself a great chance at getting into a playoff with a third shot that settled about seven feet below the hole. But his par attempt slid just left, giving him a fourth-straight bogey to end the tournament and giving Els his second claret jug.
Photo By: David Cannon/R&A/R&A via Getty Images
Ernie Els' birdie putt, No. 18, final round
Just moments after Scott missed from short range on No. 16, Els drained a 15-footer for birdie on the closing hole to shoot 68 and cut the lead to one, prompting him to toss his ball dramatically into the crowd. About a half hour later, while standing on the practice green, he learned he was the Open champion, making it two majors in a row where the winner was already off the course.
Photo By: Ian Walton/R&A/R&A via Getty Images
Adam Scott's approach shot, No. 17, final round
Coming off a short miss for par on No. 16, Scott's lead had quickly gone from four shots to one. He needed to steady himself on 17, but instead, his approach sailed over the green and into the deep rough. When he failed to get up-and-down, he had lost sole possession of the lead for the first time since early in the third round.
Photo By: Ross Kinnaird/Getty Images
Tiger Woods' third shot, No. 6, final round
Entering the day five shots behind leader Adam Scott, Woods' second shot on 6 settled down in the sand in one of Royal Lytham's deepest bunkers. After contemplating his few options before playing toward the hole, Woods was unable to clear the lip of the bunker, and he barely avoided contact with the ball before it settled in an equally-tough spot. Woods managed to put his next shot on the green, but a three-putt left him with a triple bogey, all but ending his chances of claiming a fourth claret jug.
Photo By: Ian Walton/R&A/R&A via Getty Images
Adam Scott's par putt, No. 1, final round
Holding a four-shot lead, the last thing the Aussie wanted to do was give the field hope early in the day. But that's exactly what he did when he slid his five footer for par left of the cup on his opening hole. It also was a foreshadowing of things to come. Scott's miss from less than three feet for par on No. 16 made an improbable collapse look increasingly like a reality.
Photo By: Harry How/Getty Images
Graeme McDowell's birdie putt, No. 17, third round
As the third round unfolded, it seemed more and more likely that Tiger Woods would earn a spot in the final pairing alongside Adam Scott and former caddie Steve Williams. It was an intriguing storyline, but one that McDowell had no interest in accommodating. With his birdie putt on 17, the 2010 U.S. Open champion leapfrogged Woods on the leader board, and earned the spot in the final pairing with Scott. It turns out neither player would go on to claim the claret jug, but it altered the dynamic of the final round regardless.
Photo By: Stuart Franklin/Getty Images
Adam Scott's par putt, No. 10, third round
When are Royal Lytham's numerous fairway bunkers not a penalty? When you can make up the stroke on the greens. That's exactly what Scott did when he had to settle for just getting the ball back to the fairway after finding sand off the tee for the first time all week. But after knocking his third shot to the back of the green, the Aussie's long putter came through with an unlikely make from 34 feet to keep his momentum going and maintain his comfortable lead.
Photo By: Glyn Kirk/AFP/GettyImages
Anirban Lahiri's tee shot, No. 9, third round
It may not have been reflected on the final leader board, but this shot might just wind up having the biggest impact of any struck during this year's third major championship. Lahiri jarred a 9-iron from 150 yards for the event's only hole-in-one and capped a remarkable week in golf for his native India in the wake of Jeev Milkha Singh's win at the Scottish Open. Neither occurrence will exactly hurt the game's popularity in the world's second-most populated country.
Photo By: Press Association via AP Images
Tiger Woods' third shot, No. 18, second round
Employing a conservative game plan off the tee, Woods didn't give himself too many good, conventional birdie opportunities. But he created one after finding the right greenside bunker on his finishing hole on Friday. Woods softly popped his third shot out of the sand, watched as it fed right into the hole and then unleashed a signature fist pump. It was the latest signal that Woods was intent on being a serious factor deep into the weekend at Lytham.
Photo By: Paul Thomas/R&A/R&A via Getty Images
Tom Watson's birdie putt, No. 18, second round
In his 34th appearance at the Open Championship, the five-time winner of the claret jug showed he still has some links golf magic. Needing a birdie on No. 18 to stick around for the weekend, Watson rolled in a 30-footer to give the UK crowds yet another great memory. Saturday and Sunday didn't go as smoothly, but the fact that he was even there -- while plenty of other big names went home -- was another example of Watson defying time.
Photo By: Andrew Redington/Getty Images
Phil Mickelson's bogey putt, No. 6, second round
A runner-up finish at Royal St. George's in 2011 hinted that Lefty might be ready to improve upon his poor British Open record. But this horseshoe lipout from close range resulted in a double bogey and signaled the end of any positive links-course vibes. Mickelson went on to shoot 41 on the back nine and missed the cut by eight shots.
Photo By: Ross Kinnaird/Getty Images
Brandt Snedeker's par putt, No. 18, second round
After surging into the lead on Friday, Snedeker found the right deep rough on No. 18, forcing him to pitch back to the fairway. But he wedged his third shot to eight feet and drained the par putt. In doing so, Snedeker matched Royal Lytham's course record with a 64 and become the first golfer since Tiger Woods at the 2000 Open to play a bogey-free first 36 holes of a major championship.
Photo By: Ross Kinnaird/Getty Images
Rory McIlroy's second shot, No. 9, second round
At three under midway through his second round, McIlroy not only looked like he was over a recent rough stretch, but that he would seriously contend for his second major championship. He came undone after finding a front trap on this par 3. Normally an excellent bunker player, McIlroy left his first one in the sand and wound up with a double bogey on his way to a 75 that ensured he would be a non-factor on the weekend.
Photo By: Richard Heathcote/Getty Images
Adam Scott's approach shot, No. 16, first round
The Aussie said he would play with a more aggressive mindset this week than he had in past majors and he certainly backed that up on Day 1, when he flirted with shooting the first 62 in major championship history. Scott fired at pins all round, including late in his first round when he stiffed his approach to three feet. The easy birdie brought him to seven-under par and despite a closing bogey, he matched the course record with a 64 -- setting the stage for his big but ultimately painful week.
Photo By: Stuart Franklin/Getty Images