U.S. Adaptive Open
Adaptive golf is nothing new, but the inaugural U.S. Open is taking its visibility to new heights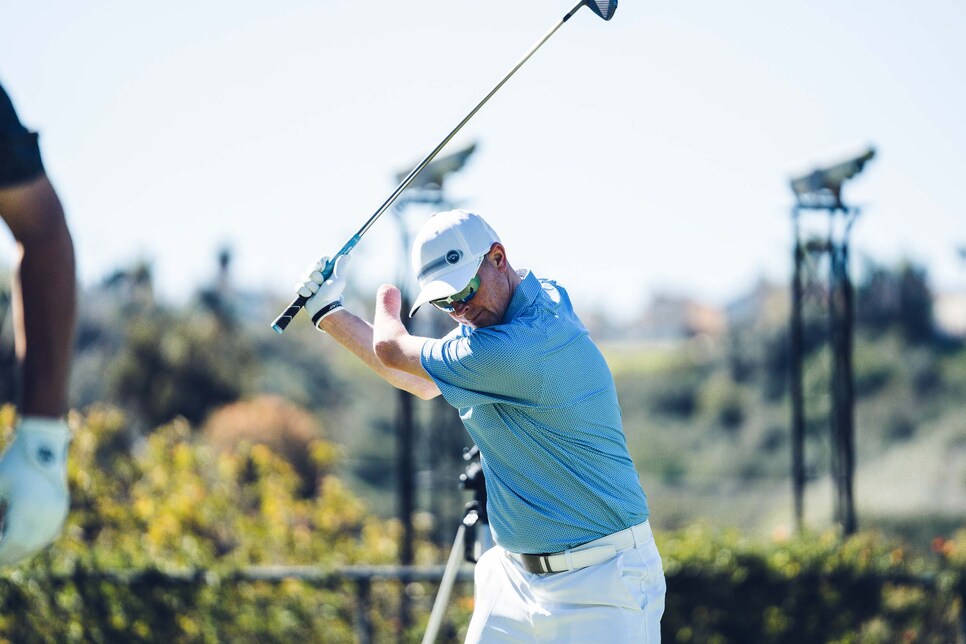 Jonathan Snyder is a competitor in the U.S. Adaptive Open and also serves as the director of golf for the U.S. Adaptive Golf Alliance. (Callaway Golf photo)
PINEHURST, N.C. — A couple of years ago, Jonathan Snyder entered an adaptive golf tournament and watched as a fellow participant—a man who had no arms and no legs—labored through extraordinary efforts simply to play. The golfer first needed help to strap on his prosthetic legs. Then he wiggled into the harnesses that attached prosthetic arms to his torso. For every swing, his caddie had to help him secure a club to his prosthetic hands.
Snyder, who was born without a left hand and wrist, was awed and humbled. "Regardless of what that guy's score was," he said, "it was one of the most incredible things I've ever seen."
Those are sentiments that will undoubtably be expressed time and again over the next few days during the inaugural U.S. Adaptive Open being contested at one of the USGA's favorite spots, the Pinehurst Resort. Starting Monday on the No. 6 course, 96 golfers from around the world with a variety of impairments will compete over 54 holes with a chance to earn the first medals awarded to adaptive players by a major golf governing body.
The largest fields for men and women are those for lower arm and leg prosthetics. There are players who have multiple limb impairments. There are blind golfers, autistic golfers, and those who have cerebral palsy or are short of stature. Some are so skilled that they have plus handicaps; others shoot in the 80s and 90s with their usual groups at home. The common thread between them is that they arrive at Pinehurst with golf having enormously impacted the course of their lives.
"One word: inspired," Snyder, 40, answered when asked to consider what the average fan might take away from seeing him and his fellow competitors in this first Adaptive Open. "They are going to see so many people overcoming their challenges, and they're going to think to themselves, 'What's my excuse?' I think people will leave thinking that they can overcome anything in life."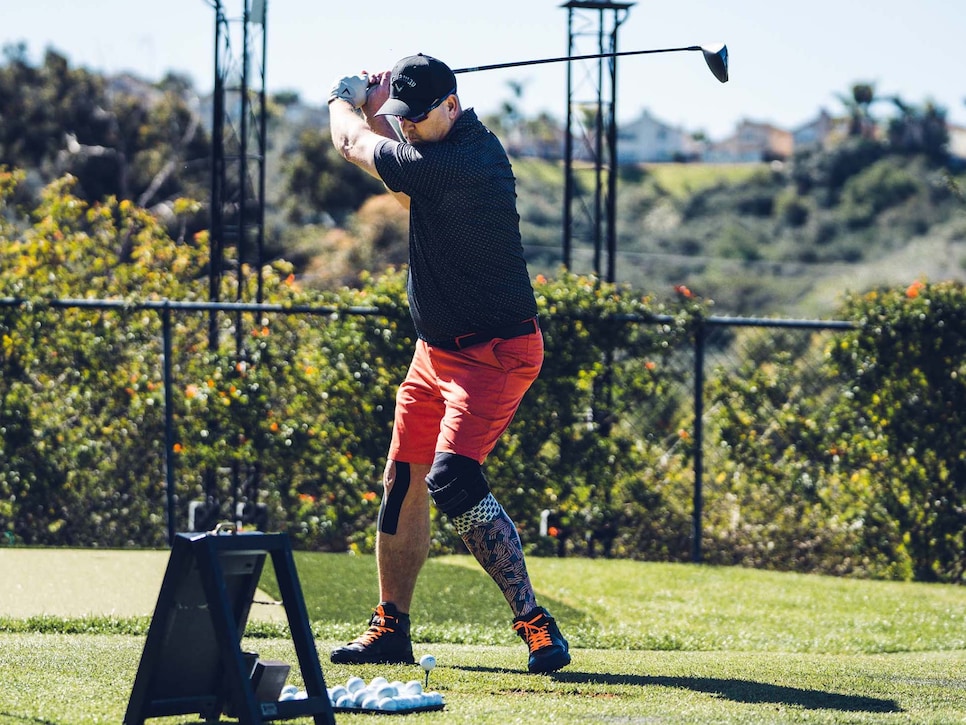 Tracy Ramin in a member of the Callaway Golf adaptive team and has won numerous championships.(Callaway Golf photo)
There are some competitors you might recognize at Pinehurst because of the national stories focused on them: Ken Green, a five-time PGA Tour winner who lost his left leg in an RV accident; Chris Biggins, whose body shakes and jerks because of cerebral palsy—before he produces shots as clean as most tour pros; Chad Pfeifer , a multiple amputee national champion who appeared on Golf Channel's "Big Breakl"; and Amy Bockerstette, a golfer with Down syndrome whose friendship with PGA Tour player Gary Woodland became the fascination of national talk shows.
Then there are the less public figures who, while also competing, diligently work behind the scenes to raise awareness of the adaptive game's challenges and potential.
Snyder serves as the director of golf operations for the United States Adaptive Golf Alliance, a fast-growing group that currently is aligned with 42 golf organizations around the country. In surveys, the National Golf Foundation has estimated that there are 600,000 disabled golfers in the U.S., and another 6.2 million who once played golf but gave it up after becoming disabled. Clearly, there is a market out there to be found and tapped, and this first Adaptive Open, added last December to give the USGA 15 championships, was already doing that before a competitive shot is struck. Snyder said his phone and email lit up soon after the announcement and four new organizations have since joined.
"It shows you the power of the USGA," Snyder said.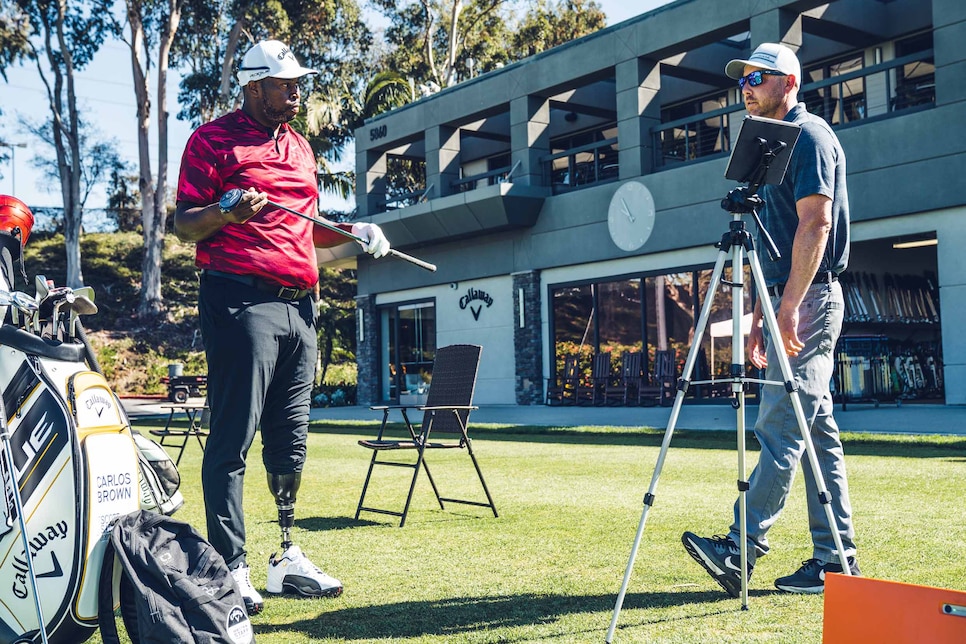 Carlos Brown (left) has been instrumental in helping Callaway Golf and Nike form adaptive teams. (Callaway Golf photo)
However, it's not like the USGA invented adaptive golf. It has surely existed for as long as people whose desire to play overcame any disability they had. Not surprisingly, Europe has been a leader in the adaptive golf movement, while U.S. entities such as the U.S. Blind Golfers Association and U.S. Amputee Golf Association have existed for more than 70 years. And there are hundreds of adaptive events played around the country. But for a long time, the focus was on those whose suffered their injuries during military service, rather than the majority of the adaptive population who are impaired through genetics, accidents, disease or birth circumstances.
Tracy Ramin, for instance, was badly injured in a 1998 accident and his left leg was amputated below the knee. Still, he got back to playing golf just three months later. Ramin, who enters the Adaptive Open with a 1.9 index, is the executive director of the U.S. Amputee Golf Association and is a key figure in the push to have golf included in the Paralympic Games.
"Our hope," for the U.S. Adaptive Open, Ramin said, "is that we'll have one person sitting at home who gets off their couch and changes their life. Golf has changed so many lives."
As evidence of how the larger golf world is beginning to look at the adaptive game, both Snyder and Ramin are members of a four-golfer adaptive team for Callaway Golf. Pull down the "Team" tab of the company's website, and they will be found alongside the likes of Jon Rahm and Xander Schauffele. They are treated like tour pros, too, getting yearly fittings at Callaway's facility in California, along with supplies such as balls, gloves and clothing.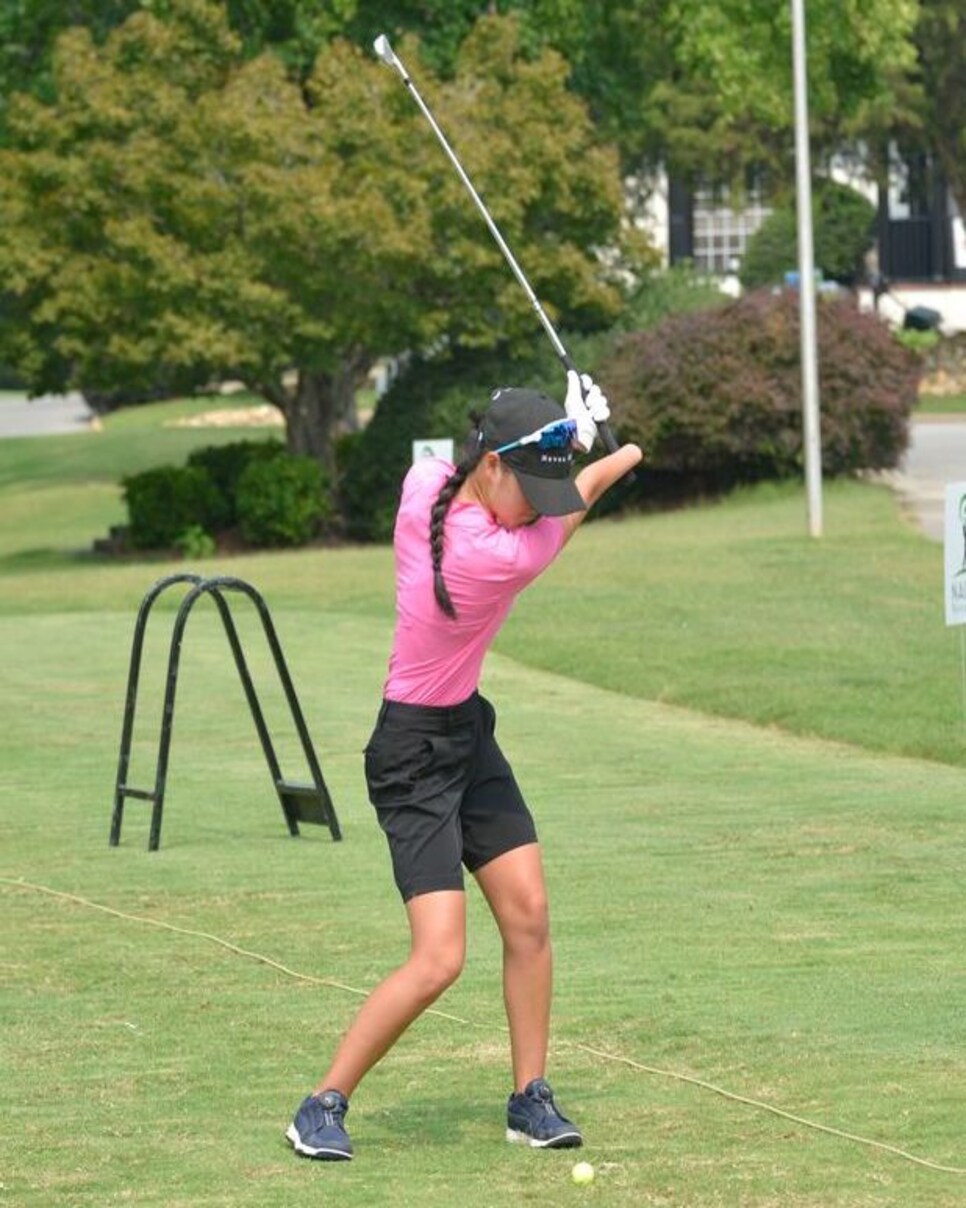 At 15, Sophia Howard is the youngest competitor in the U.S. Adaptive Open. (Howard family photo)
Years ago, Ping was among the first companies to work with adaptive players, and TaylorMade has supplied Wounded Warriors with clubs for more than a decade. Callaway's foray was sparked by a collaboration between CEO Chip Brewer and teaching pro Carlos Brown, a Callaway staff teacher and regular among Golf Digest's Best Teachers well before his lower left leg was amputated in 2016 due to complications from a staph infection. (Brown is such a beloved part of the Callaway family that they paid for, without publicity, his first prosthetic.)
"We're in the infancy of this, in my opinion," said John Mlynarski IV, the manager for Callaway's custom fitting and strategic partners division. "Working with some of these golfers, the biggest thing we've taken away is that we have to think outside the box … whether it's grip needs or using Velcro or something else.
"We're hopeful," he added, "that with more and more eyes on the sport that more people with disabilities will participate in golf. As we grow our team, we'll have a better understanding of the community and how to support them."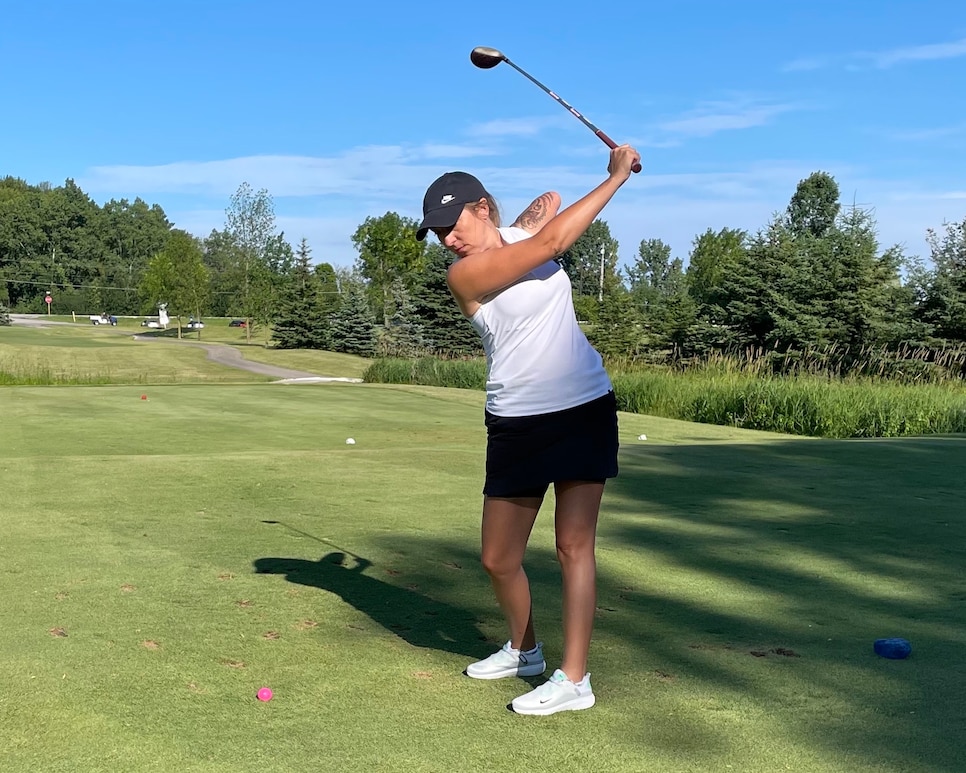 Sarah Beth Larson is a member of the Nike adaptive golf team. (Larson family photo)
There are few in the adaptive golf world more vocal or visible than Brown. The instructor from Dallas was invited to compete in the Adaptive Open but chose not to play because he's been swamped with the duties that have helped other people get here. Beyond Callaway, Brown helped Nike form an adaptive squad of five players who have a clothing deal with the company. They include the top-ranked golfer in the Leg Impairment division, Douglas Shirakura; the youngest player in the Open in 15-year-old Sophia Howard, who was born without a lower right arm; and 43-year-old Sarah Beth Larson, born with a form of spina bifida while also missing her left arm above the elbow, due to Amniotic Band Syndrome.
Both women have become strong advocates for more players of their gender to take up the game. The representation of females is particularly small in adaptive golf—hence, the 18 women playing in the Adaptive Open compared to 78 men.
"Let's be honest, golf has historically been a man's sport," Larson said. "But women are starting to get more involved and turning up some of the competition on the men. For us, we're just starting to get headway. There's a whole new freedom that I never thought would come, and it's the bee's knees."
Said Howard, who also plays travel softball, "No matter how I play, it should be taken that younger girls can set a goal, have a dream. Two years ago I didnt know this was going to happen. And now I'm here to show women in junior golf, in adaptive golf, that if you put your mind to it, anything can be done. You might get to hold the trophy at the end of the week."
Though he's not in the field this week, Brown will be on hand at Pinehurst to cheer his compatriots. He has seen so much progress in this corner of the game and contends there is far more to come. Just Brown's mere presence will produce smiles all along the range. He is, after all, the guy who, when he woke up to find that his leg was amputated, quipped, "Can I get a prosthetic with spikes on it?"
Course: Pinehurst Resort No. 6 Course, Pinehurst, N.C.
Yardage: Blue (6,500 yards) for men's arm impairment, intellectual impairment, leg impairment, multiple limb amputee, neurological impairment, short stature. White (6,100 yards) for men's visual impairment. Red (5,100 yards) for men's seated players and women's arm impairment, intellectual impairment, leg impairment, neurological impairment, visual impairment. Yellow (4,700 yards) for women's multiple limb amputee, seated players.
Field composition: A player's individual handicap index was the primary factor for determining the field. Committee selections were used to assure field balance and representation from key demographics. There are 96 players in eight impairment categories. Champions will be recognized in each category, as well as overall champions among men and women.
Schedule of play: 18 holes of stroke play each day from Monday through Wednesday.
Coverage: There is no live round coverage. Golf Channel will have highlights packages, features, player interviews and vignettes educating fans about the championship on "Golf Today" (12 noon-2 p.m. EDT) and "Golf Central" (4-5 p.m. EDT). The trophy ceremony and playoff (if necessary) will be shown on "Golf Central" on Wednesday.