USGA
USGA to host inaugural national championship for golfers with disabilities in 2022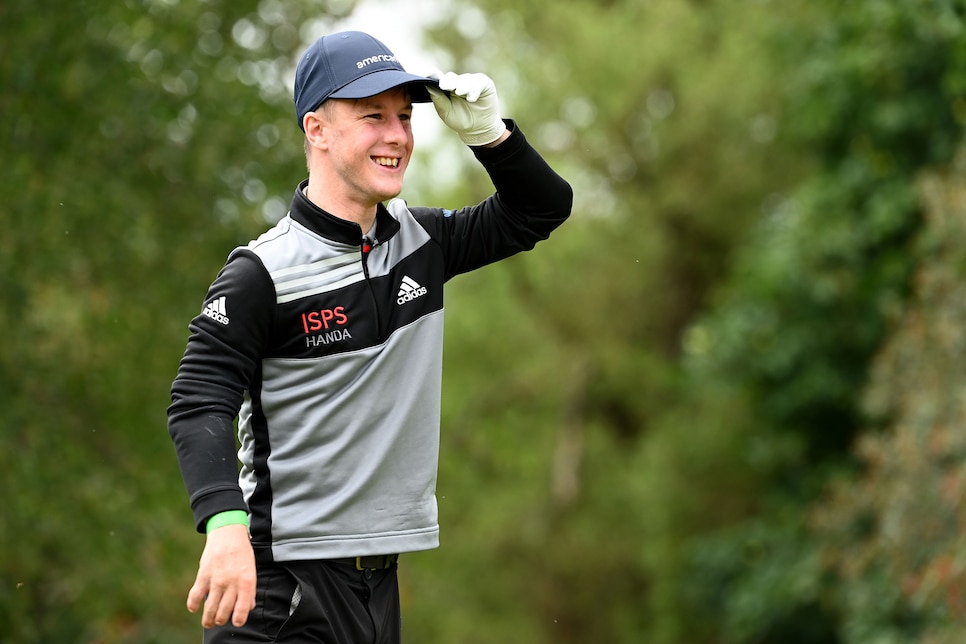 Ireland's Brendan Lawlor is among the top-ranked men's players in the official World Ranking of Golfers with Disability.
Ross Kinnaird
Fulfilling a promise made nearly five years ago, the USGA on Friday announced the creation of its 15th national championship, this one reserved for players with disabilities.
The U.S. Adaptive Open Championship will make its debut July 18-20, 2022, on Course No. 6 at Pinehurst (N.C.) Resort & Country Club. The 54-hole stroke-play event will be open to men and women who have a physical impairment, sensory impairment (vision) or intellectual impairment. They must possess a WR4GD Pass and an authorized golf handicap in the World Handicap System.
A WR4GD Pass requires medical evidence of disability or a copy of a government disability certificate. The disability must have an influence on a player's game, according to Definitions of Impairment established by the EDGA (the organization, based in The Netherlands, formerly known as the European Disabled Golf Association).
"There is a great deal of excitement across the organization for this event," said John Bodenhamer, USGA senior managing director, championships. "These are truly amazing players. And some of what they've been able to achieve, there are just so many amazing stories, and we're going to be proud to showcase their talents."
The field will be limited to 96 players and determined by a process that allows for numerous considerations, though qualifying will not be among them. Despite there being a single competition, a men's and women's champion will be crowned and separate trophies awarded. Amateurs and professionals are eligible to compete, but like other golf events for the disabled that include both, there is no prize money.
Application for entry is expected to begin in February. Handicap index will be one criteria used to select competitors to ensure a certain quality to the field, but the USGA wants to be careful and feature a wide array of players to strike a balance of representation. To that end, the USGA is considering "reserving spots based upon the minimum number of slots per disability category, which we're still kind of finalizing," Bodenhamer said. "Inspiration and inclusivity are two of our founding principles." A third, he added, would be sowing the seeds of having golf offered in the Paralympic Games in the near future.
Pinehurst No. 6 also will host the second edition of the championship July 17-19, 2023. The USGA in 2020 named Pinehurst its first championship anchor site, which includes staging four future U.S. Opens on Pinehurst Resort's No. 2 Course. The USGA also is establishing a satellite Golf House in the village.
"I think Pinehurst just kind of magnifies the start of this, which, I think one of our objectives was that like all our other championships that this would inspire others," Bodenhamer said. "What I mean by that is it hopefully will inspire those in the adaptive community to play more, and it will inspire other competition. And we hope it will inspire other great places to host adaptive competitions. We think there's a lot of positive messages here. Pinehurst gives us a springboard to do that."
There was a practical reason for selecting the No. 6 Course, and that had to do with the physical properties of the layout designed by George and Tom Fazio in 1979. Tommy Tangtiphaiboontana, championship director for the event, listed several favorable factors, including shallow bunker entrances to accommodate non-ambulatory competitors, tee-to-green cart paths, multiple teeing grounds and the lack of forced carries over hazards or penalty areas.
"No. 6 basically checks all the boxes to what we were looking for in conducting an event with players of different disabilities," Tangtiphaiboontana said. "What we're looking at in this scenario is that if two players with different disabilities, if their ball were to be in the same position, we're trying to minimize the number of times those players would have to basically play the ball differently."
The subject of creating a championship for players with disabilities first was broached during the 2017 USGA Annual Meeting in Washington, D.C., with then-CEO Mike Davis promising action in three to four years, a timeline hampered by the pandemic about to cross into its third calendar year. It is the fourth championship created in recent years, following the U.S. Amateur Four-Ball and U.S. Women's Amateur Four-Ball in 2015 (which replaced the men's and women's Amateur Public Links championships) and the U.S. Senior Women's Open in 2018.
"We were incredibly frustrated to have to delay this, but we are excited to move forward now after putting our stake in the ground in 2017," Bodenhamer said. "This really is a national championship, and this is important. The trophies will be in our museum with all the others. The names of the champions, the overall winners will be engraved into our bronze plaques in our Hall of Champions along with U.S. Open winner, our U.S. Amateur and Women's Amateur winners, the U.S. Girls' Junior, all of them. We've designed it every way that we can to make it as meaningful as our other championships."