U.S. Adaptive Open
Facing another life obstacle, Ken Green serves as inspiration to all in U.S. Adaptive Open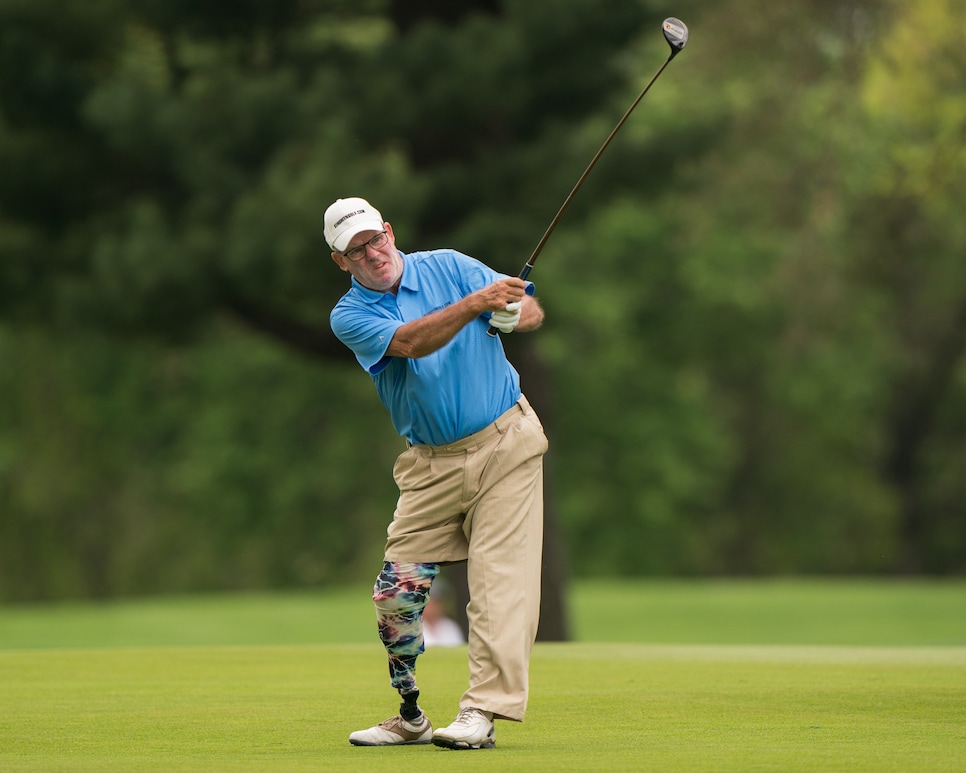 Ken Green hits a shot during the 2019 Senior PGA Championship.
Darren Carroll/PGA of America
It was a chance meeting that changed everything about the way Douglas Shirakura viewed the world of amputee golfers.
Born in 2002 with an amniotic band wrapped around his right leg, forcing doctors to amputate below the knee, Shirakura fell in love with golf early. For much of his young life he was perfectly satisfied to play junior tournaments alongside those who had no obvious impairments. Then he began gravitating toward amputee events in middle school, and one of the first tournaments happened to be at Richter Park Golf Course in Danbury, Conn. Before a practice round, he saw an older man with a prosthetic leg who seemed to have a nice swing.
An outgoing sort, Shirakura sought out the man and introduced himself. He asked if the golfer was preparing for the upcoming amputee event. "No," the golfer told him. "I just play out here a lot."
In those few moments, something about Shirakura impressed the other golfer. There was an old-soul quality to the kid and an obvious curiosity about the game. So, Ken Green passed on his contact info to Shirakura and told him he could reach out any time.
Upon returning to the clubhouse, Shirakura's close friend asked him about the guy, and Douglas revealed the name.
"Ken Green!" the other boy said. "That guy used to play on the PGA Tour!"
A quick Google check confirmed it. Douglas had nonchalantly sidled up to a man who held five PGA Tour titles and played on the American side in the 1989 Ryder Cup. As he dug a little deeper, he discovered Green's life was filled with harrowing setbacks: mental illness, a son's death by overdose, and an RV accident in 2009 that claimed the lives of Ken's brother, Billy; his girlfriend, Jeanne Hodgin; and his beloved dog, Nip. Green's right leg had to be amputated due to injuries from the crash, and he made it his goal to become an example of someone who overcomes devastating circumstances.
Shirakura later reached out to Green, and they played golf a couple of times together. It was on those occasions that the boy understood that there was more out there for him in the game than he ever realized.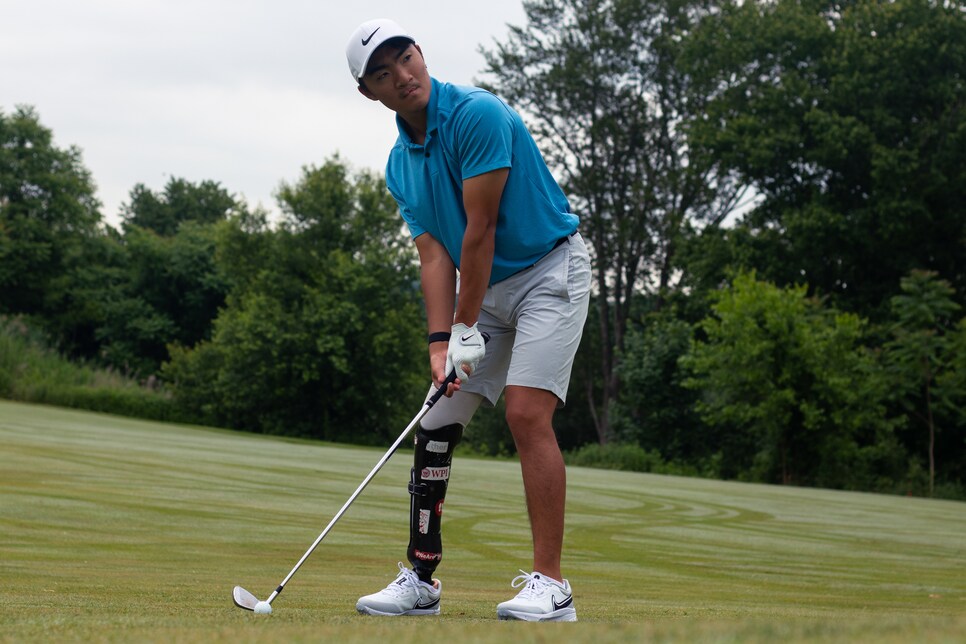 Douglas Shirakura is one of the top-ranked golfers competing in the inaugural U.S. Adaptive Open at Pinehurst. (Matt Sweet photo)
"One of the main reasons I've stuck with adaptive golf is that the first time I played with him, he shot like 67 or 68, and that blew me away," Shirakura recalled recently. "I didn't think a score like that was possible [for an amputee]. Him being where he was at that time, after all the stuff that had happened to him, and to still be able to play good golf. I thought, 'Man, I could do that too.' It showed me the future, what I could really do if I committed to it."
The two haven't seen each other in a few years, but their lives will mesh again in the most satisfying way in the coming days in North Carolina. Both Shirakura, 19, and Green, 63, qualified for the inaugural U.S. Adaptive Open that will be played Monday through Wednesday on Pinehurst Resort's No. 6 Course. And, yes, they'll be competitors in the event's largest division of 27 players with leg impairments.
A total of 96 golfers—78 men and 18 women spread over eight divisions of impairment—are entered in this first adaptive tournament staged by the USGA. There will be people playing without limbs, while others are blind, autistic, short of stature or have neurological issues.
"We believe this effort will spur participation for golfers with disabilities and hope it inspires others in the industry to make the game and its competitions more welcoming to all," John Bodenhamer, the USGA's senior managing director of championships, said when the creation of the event was announced last winter.
Shirakura, who studies aerospace engineering at Worcester Polytechnic Institute in Massachusetts, carries a 1.2 index and enters the Adaptive Open at No. 1 in the U.S. Adaptive Golf Alliance's ranking for those in the G2 Sport category of golfers with impairments to one lower leg. He's a member of Nike's recently formed adaptive golf team. Green, who spends most of the year in West Palm Beach, Fla., is not a regular on the adaptive circuit, but reached the Adaptive Open by way of his 0.5 index. They've got some formidable competition in the 54-hole event, with eight of the leg impairment competitors carrying plus indexes.
"It's going to be competitive and we're going to have to grind our tails off," said Green, who last played professionally in the 2019 Senior PGA Championship. "But this will be the first event you ever play that if you finish second, fifth or seventh, you're still going back walk away smiling. You've got an edge in life and that's what life is about. This is a home run."
Green vividly recalled meeting Shirakura for that first time at Richter Park and the impression he made. "You can tell the difference in kids and adults on how much they love golf," Green said. "Just by listening to them; how much they talk about their rounds; how they talk about their shots. Some people like golf, but they're not in love with the game. He definitely was in love with the game."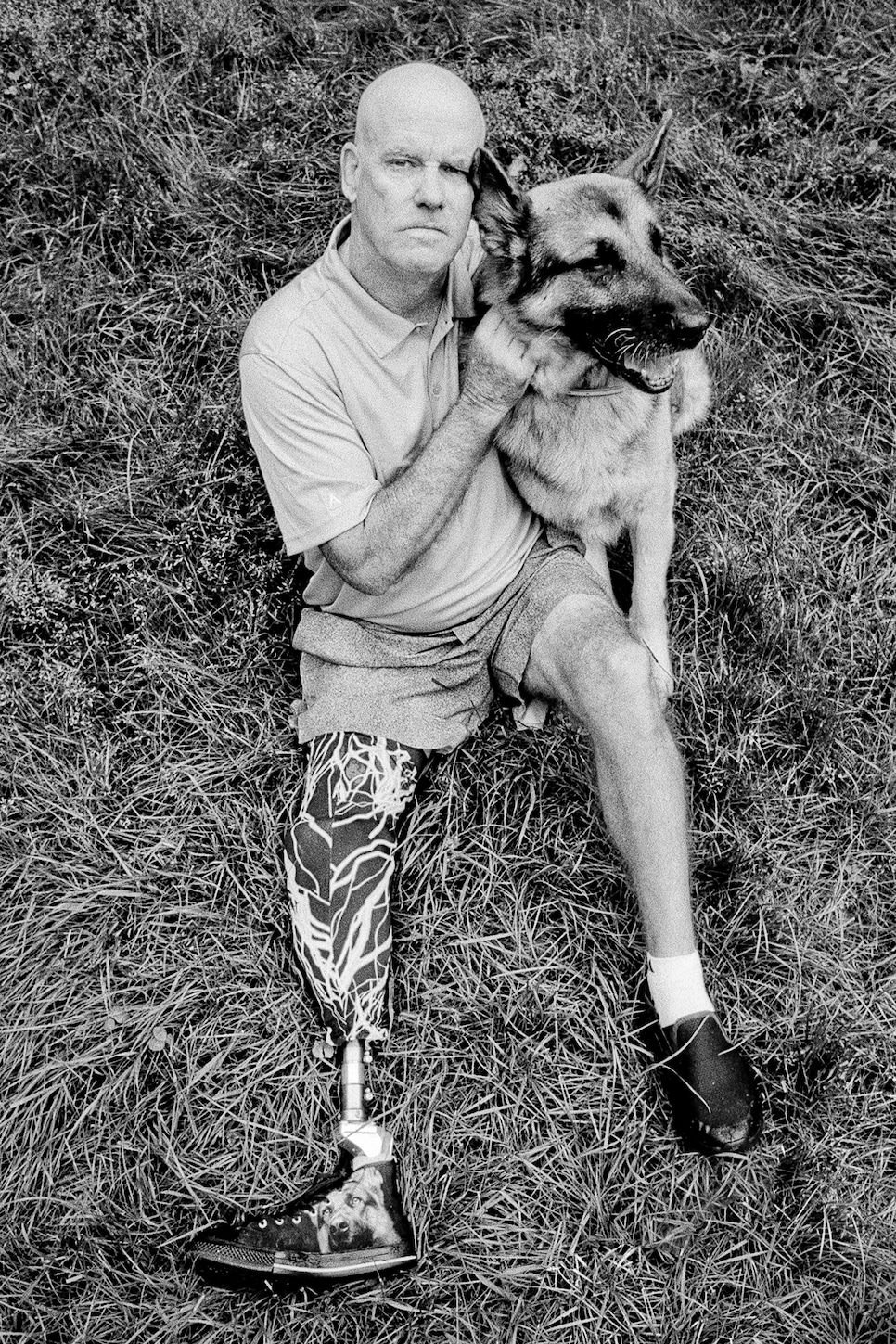 Ken Green in 2019 with one of his German Shepherds. (Alan Pittman photo)
Shirakura's first impressions of Green: "I was completely in awe of his ability and his touch. You could tell he was a professional player. The whole way he plays is so much different than anyone else I had seen at that point."
Green sought to counsel the young man about more than the golf swing. "[Shirakura] has the normal challenges of golf because most golfers are terrible in thinking their way around the golf course," he said. "Now, he's got a second negative with the fact he's missing a leg. He's got to adapt and learn how to work his way around the golf course. There are some shots you're never going to be able to hit. … You have to outthink them, because you're not going to out-strike them."
It's fitting for Green to talk about overcoming obstacles, considering few in his sport have had to overcome so much tragedy. "Golf has saved my life several times," Green said. Beyond the previously noted troubles, Green revealed a dark secret in his 2019 book, excerpted in Golf Digest, about the sexual assaults inflicted on him by a group of men after his family moved to Honduras when he was 11. The traumatized boy ended up being sent back to the U.S. by his father, but only after Green beat one of his attackers with a rock while the man slept.
Then, a year ago, Green was finally given a diagnosis for the excruciating pain he has suffered on the right side of his body following the RV accident. He said his condition is complex regional pain syndrome (CRPS), which involves abnormal inflammation and nerve dysfunction that, at its worst, can cause its sufferers to experience horrible pain with even the slightest touch or movement. According to the Mayo Clinic, CRPS often follows a traumatic injury to the body, but can go years without being properly diagnosed.
Green said there have been days when he can only curl up the couch with his three German Shepherds and try not to move much. "That's the good thing about Shepherds," he said. "They like to cuddle."
Green has undergone numerous surgeries since the accident with little relief until recently, when he spent 14 weeks at the Spero Clinic in Fayetteville, Ark.—a leading facility in the treatment of CRPS. The golfer said while he was there his own circumstance came into perspective in seeing much younger people from around the world who were afflicted to much more devastating degrees.
"There is no cure for this," Green said. "And some of the people I talked to at the clinic said they thought their life was over. This disease has an ugly nickname—'suicide'—because people can't live with it."
Green actually cut his time short at the clinic so he could prepare for the Adaptive Open, but reports feeling far less pain. And for the first time in a couple of years, he said he has full feeling in his right hand. He says he's once again optimistic about moving onto whatever the future holds.
The U.S. Adaptive Open is the first step in that process, and for a man who played in 25 majors over 15 years, there will be nothing like it that came before. Even when Green notched his only top-10 finish with a T-7 in the 1988 U.S. Open at The Country Club.
"Honestly, I truly feel that this is more important than any Open I've played in," Green said. "This about golf and life. And how golf has saved every one of us."
Course: Pinehurst Resort No. 6 Course, Pinehurst, N.C.
Yardage: Blue (6,500 yards) for men's arm impairment, intellectual impairment, leg impairment, multiple limb amputee, neurological impairment, short stature. White (6,100 yards) for men's visual impairment. Red (5,100 yards) for men's seated players and women's arm impairment, intellectual impairment, leg impairment, neurological impairment, visual impairment. Yellow (4,700 yards) for women's multiple limb amputee, seated players.
Field composition: A player's individual handicap index was the primary factor for determining the field. Committee selections were used to assure field balance and representation from key demographics. There are 96 players in eight impairment categories. Champions will be recognized in each category, as well as overall champions among men and women.
Schedule of play: 18 holes of stroke play each day from Monday through Wednesday.
Coverage: There is no live round coverage. Golf Channel will have highlights packages, features, player interviews and vignettes educating fans about the championship on "Golf Today" (12 noon-2 p.m. EDT) and "Golf Central" (4-5 p.m. EDT). The trophy ceremony and playoff (if necessary) will be shown on "Golf Central" on Wednesday.