Voices
One believer's perseverance has given adaptive golf an impactful voice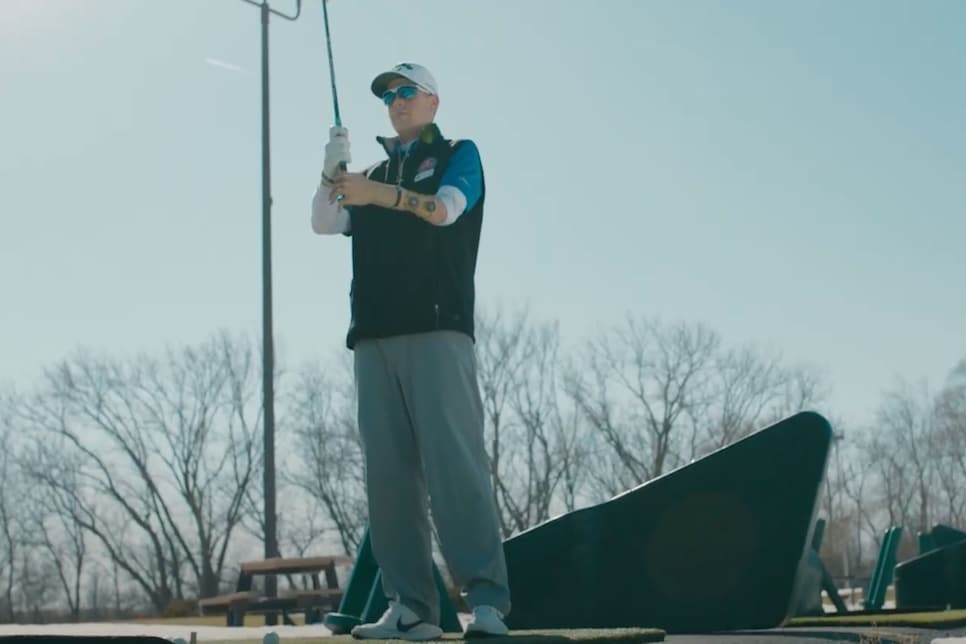 Jonathan Snyder, born without a left hand and wrist, is using his passion for golf to help spread the sport in the adaptive community.
Jonathan Snyder was born 40 years ago in Charlotte, N.C., with a left arm that came to an end just after his elbow. His parents' best guess was a rare genetic condition called Phocomelia, but the "why" was never very important to them, or to Jonathan. What mattered most was never letting the disability limit the way he lived his life.
That became difficult as a child, when he'd endure cruel taunts at school, and—even worse—watch them tease his brother James, who had cerebral palsy. The spitefulness ultimately hardened his will, and he gave himself to sports. He excelled at basketball, playing for his local AAU team, and was preparing to go to college when his father, who owned a construction company, suffered an accident in his workshop. Jonathan, nearby, saw his father's van rush by with a neighbor driving. He raced home, got the story from his mother and went out to the workshop where he saw what had been left behind in the rush to the hospital: four fingers from his father's left hand.
Unbelievably, the father now shared a similar fate to the son. College was put on hold while the son managed the construction company. In the process, Snyder taught his dad all the skills he'd learned over time, like how to button his shirt with one hand or how to tie his shoes. The injury brought them closer together than ever before, and Jonathan would listen to his father's stories. Some of them were about golf—he had once caddied in a Big Ten Championship won by Jack Nicklaus—and Jonathan would think about his own limited experience with the game, like the time he made his first birdie by holing out with an 8-iron from 126 yards.
By the time his father made a full recovery and was ready to run the business again, Jonathan knew it was time to make his next move. A golf club near Charlotte called Red Bridge had just opened, and while driving by, he had the absurd thought that one day he might run the club. Turns out, it wasn't so absurd. He started out as a cart guy, making no money but getting free golf, and worked his way up from assistant pro to event coordinator to head professional and finally, in 2015, to general manager.
Around that time, he began participating in adaptive golf events, like the ParaLong Drive, where he finished second. That earned him a spot on the U.S. Para Golf team, which held exhibitions at clubs to raise money and bring awareness to the U.S. Adaptive Golf Alliance, an organization that works to include special needs, veterans and amputees in the fabric of society through the game of golf.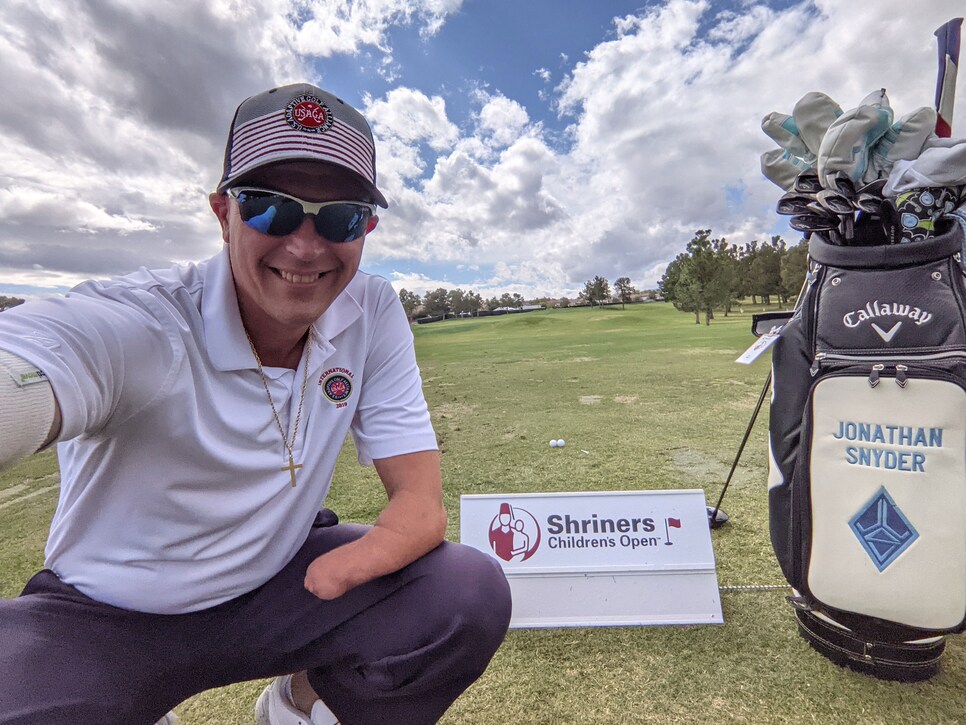 Snyder brings some publicity to the U.S. Adaptive Golf Alliance during the PGA Tour's Shriners Children's Open. (Photo courtesy of Jonathan Snyder)
At one exhibition at New York's Bethpage State Park, Snyder met E.Q. Sylvester, a man who had been able-bodied until age 74, when a case of sepsis cost him both legs, his left hand and much of his right hand. In response to this loss, Sylvester started the Freedom Golf Association, with a mission very much like the USAGA's. At Bethpage, Snyder invited Sylvester to join him as an adaptive golf instructor. He went through the training session—"a phenomenal experience"—and when it was over, Sylvester invited Snyder to be the Director of Golf for the FGA. Snyder accepted, moved to Chicago, and when the FGA merged with the USAGA in 2021, he became the National Adaptive Golf Director.
The expansion has been remarkable. In 2016, the program gave 516 lessons. By 2019, that number had grown to almost 10,000. Today, the USAGA has 39 member organizations across the U.S., including the Blind Golf Association and the Midwest Amputee Golf Association. Impressively, the group has continued to thrive during the pandemic. Those member organizations pay a fee to be part of USAGA, with the ultimate goal of providing free lessons to their communities.
In his tenure, Snyder has set a goal to standardize a five-step model that begins with training coaches to provide adaptive lessons at high schools, recreational centers, park districts, driving ranges, and golf courses, and then incorporate on-course experiences that culminate in players feeling confident enough to play with family and friends. The programs are open to all ages, and Sylvester often jokes that he wants it to be available at least to everyone as old as him—he's 83.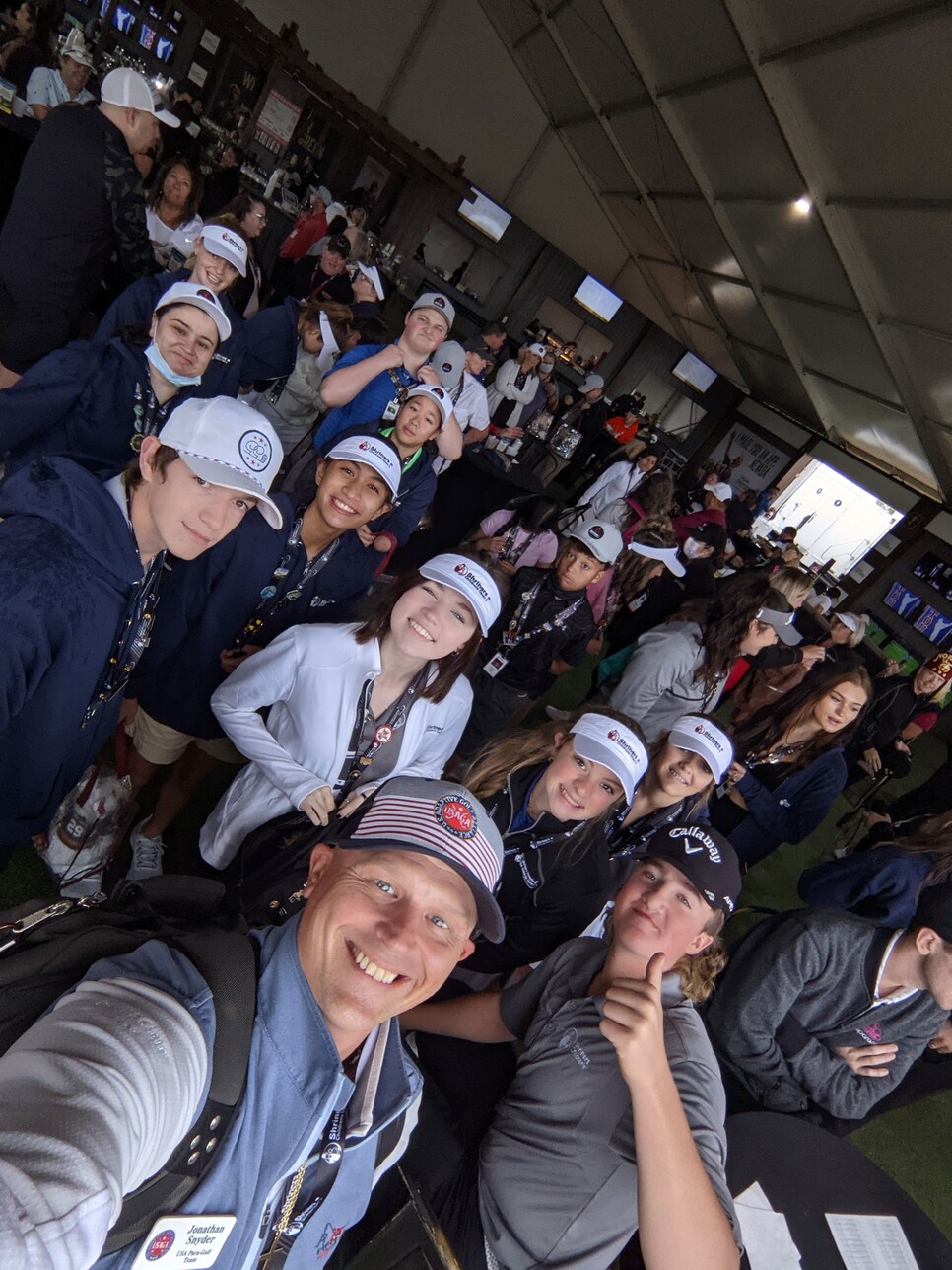 Snyder takes a selfie with kids participating in a mentoring event at the Shriners Children's Open in October. (Photo courtesy of Jonathan Snyder)
Snyder said that the USAGA has been effective at retaining students who take a first lesson—60 percent of lessons last year were returning golfers—while seeing a continued growth of players participating in competitive events after going through the program. As far as obstacles to success, it's not a word Snyder likes.
"I don't really see them as obstacles," he said. "Just adaptations. And you've already overcome one of the biggest by getting them out to the course. We're just taking what God has given them and created a way for them to be able to strike the golf ball and enjoy the game of golf."
He recounted the story of a player who was born without arms and didn't use any kind of prosthetic. The young man told Snyder that he enjoyed hanging out with everyone, but that he'd never be able to hit a golf ball because of his disability. Snyder began to do some research, reaching out to a friend in South Carolina who designed a special set of shoes that could accommodate the face of different clubs. He brought them to the boy, who was able to strike the ball, and when they played miniature golf with his parents, the boy made a hole-in-one.
"It's one of the happiest moments of his life," Snyder said. "And it was one of the happiest moments of my life. The golf ball doesn't know what kind of club you strike it with, or what the swing plane is, or any of that. The ball just wants to be struck on the center of the face and then find its home in the hole."
Recently Snyder has begun using a 3-D printed prosthetic arm that's let him put 10 fingers on a golf club for the first time.
Adaptive golf can be life-changing, and recently, Snyder's own life changed when he got his first prosthetic arm through a company called Unlimited Tomorrow. The prosthetic, called TrueLimb, is produced using Siemens software through 3-D printing technology and weighs less than 1.5 pounds on average.
"It's something I've never had the opportunity to experience in my life because prosthetics have been so expensive," Snyder said. "My whole life changed. I'm able to have 10 fingers for the first time in my life."
Over the past four years, the USAGA has developed a set of standards and rankings for their competitive events that level the playing field by types of disability, and they used it for 20 accredited events in 2021. There are 461 adaptive golfers in that ranking system, and part of the next mission of the organization is to create awareness in the service of making golf a Paralympic sport. Snyder is heartened by the fact that the USGA announced its first U.S. Adaptive Open, to be held in Pinehurst this summer, and these represent the top-down mechanisms by which he's hoping to increase participation on the local level. At every step, the model of his own resilience informs his work, and the work of the USAGA, in bringing those same opportunities to people like him across the country.