LPGA
New U.S. Women's Open champ Yuka Saso already is inspiring fellow Filipinos. Just ask Bianca Pagdanganan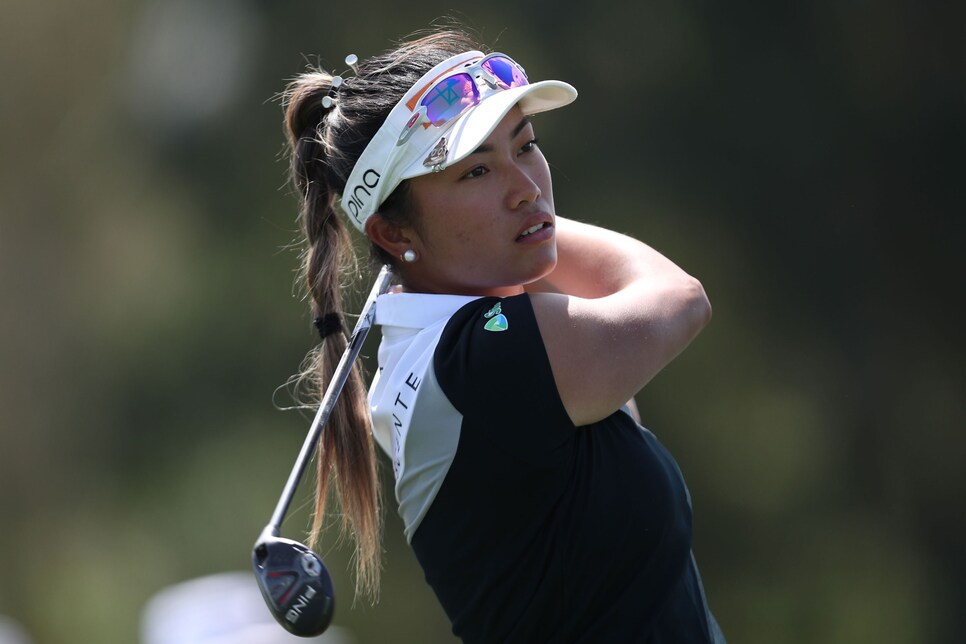 Bianca Pagdanganan tees off on the fifth hole during the opening round of the 2021 ANA Inspiration.
Jed Jacobsohn
SAN FRANCISCO — The impact of Yuka Saso's U.S. Women's Open victory at The Olympic Club last Sunday reached far and near, stretching across the Pacific Ocean to her native Philippines, where front-page headlines documented the historic moment, and to a mile and a half away at Lake Merced Golf Club, where a close friend was still comprehending what happened.
"Everyone [back home] is going crazy," said fellow Filipino Bianca Pagdanganan, after shooting a one-under 71 on Thursday at the LPGA Mediheal Championship to put her inside the top 20. Pagdanganan, 23, who has known Saso for 10 years dating back to their junior golf days, got to the Bay Area early so she could watch Saso play the final round. "Obviously, it was a great experience. I witnessed history. I guess everyone feels the same way. Just a lot of pride with Yuka's win."
It almost felt like Pagdanganan won the Women's Open the way her own phone blew up after Saso's win. Friends reached out to see if Pagdanganan could pass along congratulations to the new champion. She did the best she could to share what felt like a country's worth of goodwill to her longtime friend as Saso celebrated with her family Sunday evening.
"The fact she is on a first name basis with Rory McIlroy was kind of funny," Pagdanganan said. "It was nonchalant, very chill, like she knew him for a long time."
Saso's victory, in turn, is likely to raise expectations on what could be expected from her and Pagdanganan, especially come the Olympics later this summer. The two, who teamed to win a gold medal together in the 2018 Asian Games, have locked up spots for their country in Tokyo.
"I wouldn't say that's a lot of pressure but dang," Pagdanganan said. "It's pretty cool, it's very motivating to have a great player with you playing in the Olympics. It's very inspiring and makes me want to work harder as a player. I'm really looking forward to it."
Pagdanganan's most significant take away from watching the final round Sunday was gaining a clearer understanding of what she wants her game to emulate. "When I was watching, they made it look so easy, fairways and greens, making putts," Pagdanganan said. "I was excited to get back on the course and play."
Inspires by Saso, Pagdanganan put in some extra practice this week at Lake Merced. One of the longest hitters on the LPGA Tour, Padganganan grinded on the range to ensure she was comfortable with her distances in the cool San Francisco weather. The work was rewarded with a red number Thursday, as Pagdanganan felt fully committed to each shot on a challenging Lake Merced layout that requires numerous shaped shots amongst the hilly and undulating course.
"If you want to get better, you actually have to show it," Pagdanganan said. "Actions speak louder than words, so I guess that's what I noticed this week."