SAN FRANCISCO — Mid-way through the final round of the U.S. Women's Open, it was likely hard for Yuka Saso to imagine she would be the one holding the Harton S. Semple Trophy at day's end. Saso, a 19-year-old who plays on the Japan LPGA, had made two double bogeys on the front nine at The Olympic Club and was competing in the final threesome with Lexi Thompson, who held a five-stroke lead with eight holes to play (and six shots ahead of Saso).
But golf is golf, and nothing is guaranteed. Thompson stumbled coming home, making three bogeys and a double to post a back-nine 41 and add to her list of major heartbreak.
Meanwhile, Saso hung tough, posting a two-over 73 that was good enough to get into a playoff with Japan's Nasa Hataoka at four-under 280 total. Then after making pars on the first two playoff holes, Saso rolled in an eight-footer for birdie on the third to walk away the surprise champion.
Surprise at least to golf fans outside the Philippines.
"There's always that one player who stands out, and the rest will follow. That's what she's doing," said LPGA Tour pro player Bianca Pagdanganan, a fellow Filipino. "We've had a couple players before [on the LPGA Tour], we had Dorothy Delasin, we got Jennifer Rosales. It's been awhile. Yuka is a very young player. I think it was definitely, it means a lot especially with how old she is. It's very, very special and she's definitely someone to look up to."
In case you're just watching Saso for the first time this week, here are nine things you need to know about the new U.S. Women's Open champion.
1: She's the first major champion from the Philippines
It was 8 a.m. local time on Monday in the Philippines when Saso won the playoff to claim the title, her first LPGA Tour victory. You can rightfully say that Saso raised a new dawn for the game of golf in her home country. "I'm just thankful that there's so many people in the Philippines cheering for me," Saso said. "I don't know how to thank them. They gave me so much energy. I want to say thank you to everyone."
Interestingly, too, San Francisco has one of the largest Filipina populations of any city in the U.S., with Saso attracting an impressive following during her week at Olympic Club.
Pagdanganan wasn't in the field at Olympic Club but is playing in next week's LPGA stop in San Francisco and arrived at Olympic Club on Sunday to watch Saso starting on the fifth hole.
"I think it's not only good for her, but I think it's good for the Philippines," Pagdanganan said. "She put us on the radar. What she did was absolutely a great thing, not only for golf but for our country."
2: She tied Inbee Park for the youngest U.S. Women's Open winner (yes, actually tied)
Fate is a strange thing. Saso turned 19 years, 11 months and 17 days old on Sunday. That is the exact same age that Park broke through and won the 2008 U.S. Women's Open at Interlachen Country Club.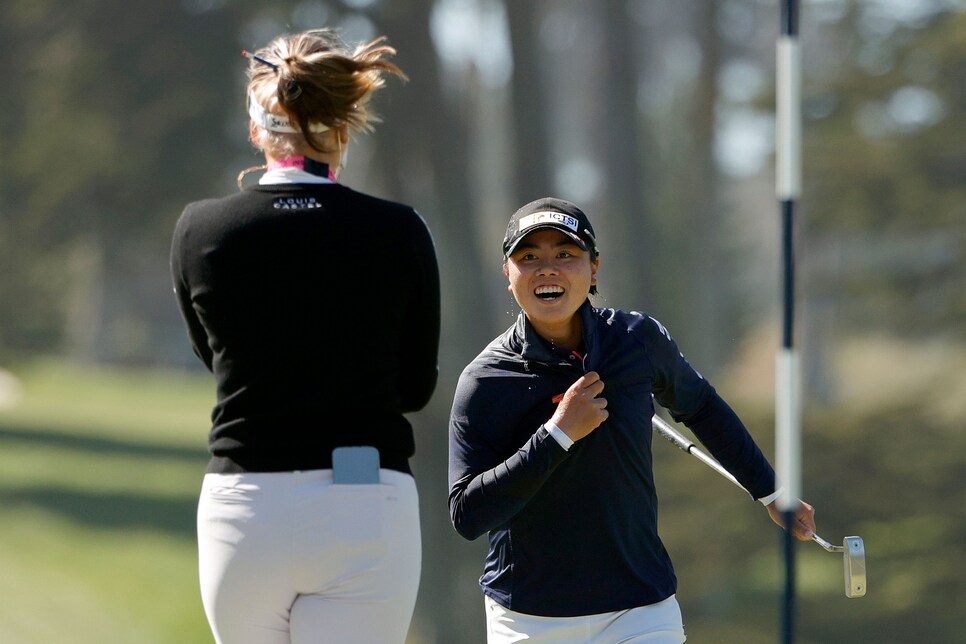 Yuka Saso reacts after being doused with water following her win of the 76th U.S. Women's Open.
Ezra Shaw
3: She's the first player to be eligible for full LPGA Tour membership under the newly created "Popov Rule"
Prior to this year, winning a major gave the champion a five-year exemption on the LPGA Tour … provided the winner already was an LPGA member. If she isn't, as was the case with Sophia Popov when she won the AIG Women's Open last August, that exemption shrank to only two years. It was a rule that didn't seem all that fair to some, and came into play again when A Lim Kim won the U.S. Women's Open last December as a non-member. During the off-season, the LPGA reviewed the rule and changed it to allow members or non-members alike to get the full five years.
Interestingly, Saso was initially non-committal about whether she'd play full time on the LPGA Tour. "I'm going to talk to my dad, my family about it, and we are going to decide after," Saso said in the immediate aftermath of the playoff win.
Hannah Green, who's known Saso since their amateur days six or seven years ago, wants her friend to join the LPGA. "She's fit for major championships," Green said. "This is probably the toughest golf course we're ever going to play. Obviously, it's huge for her confidence. I hope she joins the tour."
Shortly thereafter, Saso deliberated with her family, as she accepted membership just after 6 P.M. Sunday.
4: She is just the second Filipino to win an LPGA Tour event
The first was Jennifer Rosales, who won the Chick-fil-A Charity Championship in 2004 and then the SBS Open at Turtle Bay in 2005.
5: She's only two years removed from winning the Junior PGA Championship.
She is, after all, still a teenager.
6: She won a gold medal as an individual and as part of he Women's Team at the 2018 Asian Games with Bianca Pagdanganan and Lois Kaye Go
Pagdanganan's familiarity with Saso's game made her know the teenager could launch a comeback after falling behind early at Olympic Club. When Pagdanganan found Saso on Sunday, Saso mouthed "Oh my god!" to Pagdananan, gave her a fist bump, and said hi. Saso's teammate had complete confidence in her to make a move Sunday.
"That's just who Yuka is," Pagdanganan said. "Yuka is very resilient. I knew she was going to make a late charge, that's just who she is as a player. She's very, very talented. I didn't expect anything less from her."
7: This was only Saso's seventh start on the LPGA Tour
Of Saso's seven, three have come in the U.S. Women's Open. She missed the cut in 2019 and finished T-13 in 2020.
8: This is Saso's third professional win anywhere
Saso won twice in back-to-back events on the Japan LPGA Tour in 2020, winning the NEC Karuizawa 72 Golf Tournament and Nitori Ladies Golf Tournament in August last year.
9: She modeled her swing after Rory McIlroy
During Friday's broadcast on the Golf Channel, they showed a side-by-side comparison of McIlroy and Saso's swing, the two looking frighteningly similar. That's because Saso has spent hours watching McIlroy's swing on YouTube and mirror her's after his.
After this revelation made it on air, a flattered McIlroy responded that he hoped Saso would play well and win the championship. Saso acknowledge her idol during her post-victory speech.