Instruction
7 things we learned watching the 2021 U.S. Women's Open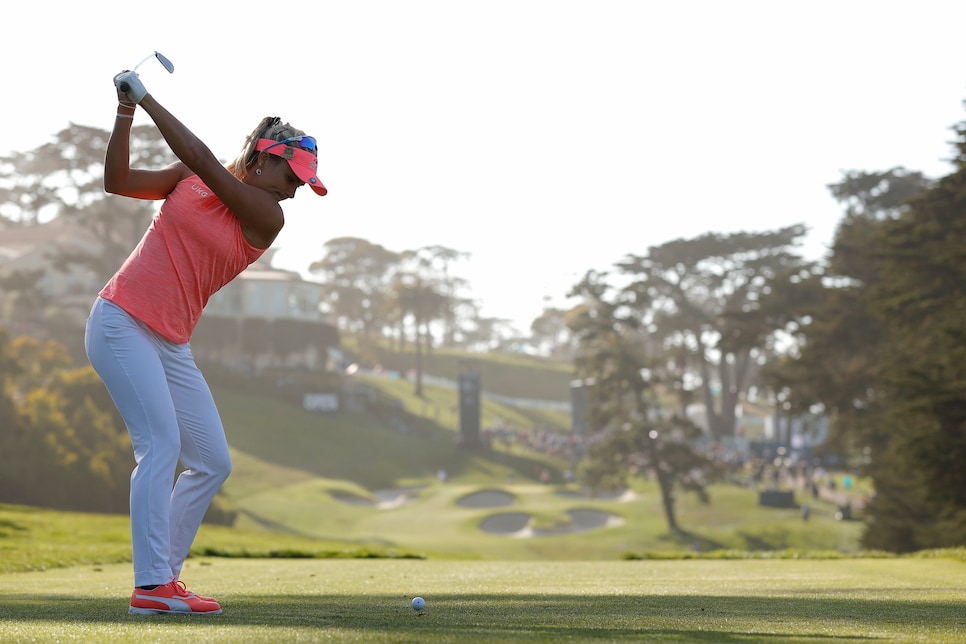 Despite tough conditions at The Olympic Club and dire predictions on how they might fair, players who competed at last week's U.S. Women's Open have performed well and shot some low numbers. After watching the action, we had a few takeaways that you can use to better your own game. Golf Digest Best Young Teacher Megan Padua Buzza shares some of the ways to learn from the best female players in the world.
1. Strategy starts on the tee
Golfers face many obstacles off the tee on the Lake Course at The Olympic Club. For example, the par-5 16th hole requires players move the ball right-to-left around a pronounced dogleg. If you watch closely, you'll see that players are being strategic about where they tee the ball between the markers. "By favoring a side of the tee box, these golfers are creating a natural angle on the hole that will make it easier to hit the fairway," Padua explains. She encourages every golfer to utilize this trick the next time they are on the course.
2. Keep the ball in the fairway with club selection
When you're playing a notoriously narrow course like The Olympic Club, one with a particularly thick second cut, Padua says the goal of hitting the fairway is even more paramount and should impact the club you pull from your bag while on the tee. Padua says that a great example of this is the 18th hole, a short par 4 with a tiny elevated green. "Players make their decision based on what club will give them the best chance of hitting the fairway," she explains. Padua says to keep in mind that, "where you are is far more important than how far down the hole you are."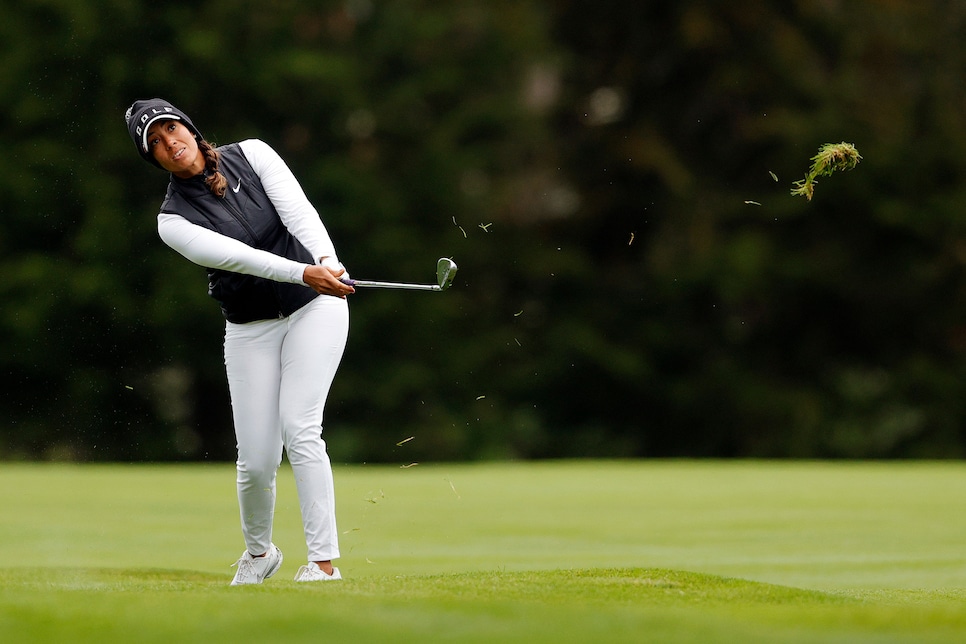 Keeping it in the fairway is a particularly premium at a course like Olympic Club, where thick rough swallows wayward drives.
Ezra Shaw
3. Turn your head on the target line
If you watch closely, you'll notice that most of the players tilt their head and connect with their target before hitting a shot. Padua explains that the key to this movement is confidently knowing where you're aiming. "Turning their head on the target line allows them to focus on where they want the ball to go and ignoring the trouble," she says.
4. Maximizing power potential
"The average male golfer can learn far more from LPGA Tour professionals because their clubhead speeds and course lengths are more comparable," Padua explains. As you watch them hit, Padua says to notice how efficient their swings are. "If an average golfer could apply some of what these players are displaying, I guarantee that they would hit the ball farther and more consistently," she says.
5. Play it smart on fast greens
The undulating greens at The Olympic Club have been playing quick this week. "On the downhill putts, players are focused on getting it close rather than trying to hole it," she explains, "while uphill putts provide more opportunity to be aggressive." Padua says that this emphasis on distance control leads to fewer three-putts and is a great takeaway for anyone watching.
6. Try a new way of reading your putts
Have you seen the players and caddies reading putts with Aimpoint this week? This green-reading technique uses the feet to feel the break of the putt and is extremely popular on the LPGA Tour. You can incorporate this technique into your game by feeling the break with your feet next time you're on the practice green. "It's important to remember that faster greens will break more than slow greens," Padua says.
7. Visualize your shots during tough conditions
The hilly nature of the course combined with fog made visibility into the greens difficult at times for those competing this week. While many players will use visualization to prepare for their tournaments, Padua explains that it can play a key role when making decisions out on the course. Especially when hitting approach shots into blind greens. "It's clear that the players are well prepared and trust their caddies and yardages," Padua says. "After they made their club selection and decided on a target, they were fully committed, which is essential when playing such a difficult course." While you might not always get a practice round, Padua says that visualizing your shots can help you to increase your confidence before pulling the trigger.