SAN FRANCISCO — Lexi Thompson managed to tell herself to smile. After all, that's what all the work she'd done with herself was about. Be positive. Be grateful. Do not beat yourself up. So, when she walked off the 18th hole at The Olympic Club on Sunday afternoon, every fiber of her body no doubt stinging with disappointment, she grinned as she did all week in the 76th U.S. Women's Open.
Then, in the privacy of the scoring tent, reality arrived. The talented American had just squandered a five-shot lead in the final round by shooting a numbing 41 on the back nine, and with a bogey at 17 followed by another on the devious little monster that is the Lake Course's 18th hole, Thompson capped a four-over-par 75 that left her one shot out of a playoff won in three holes by Yuka Saso over Japan's Nasa Hataoka.
Saso's first major triumph is an enormous achievement, with the 19-year-old of Filipino and Japanese heritage tying Inbee Park to the day as the youngest winner in the U.S. Women's Open history. Saso, who has two wins on the LPGA of Japan and immediately accepted membership to the LPGA Tour after Sunday's triumph, was gritty in fighting back from back-to-back double bogeys on the second and third holes. She steadied herself and made birdies on the back nine's two par 5s, 16 and 17, to shoot 73 and tie Hataoka (68) at four-under 280 overall.
Only three years ago, Saso played in the ANA Inspiration junior tournament and waited in line to get Thompson's autograph. Now, she's part of yet another crushing setback for the 26-year-old whose only major win in 52 tries came seven years ago.
As the playoff started, Thompson signed her scorecard and tried to gather herself. She emerged once, thinking she was ready to speak, but went back inside again. She skipped talking to the USGA's broadcast partner, NBC, and instead went straight to the interview area. There, her eyes red and glassy, an impressively composed Thompson answered one question from a USGA media official and two others from reporters. Then, at the behest of her agent, she was whisked away.
Last seen, Thompson was being taken to a destination unknown, the cart driven by USGA player liaison Jason Gore.
"Yeah, of course it's hard to smile, but, I mean, it was an amazing week," Thompson said. "Yeah, I played not so good today with a few of the bogeys coming in on the back nine, but the fans were unbelievable, hearing the chants and just gives me a reason to play."
This was to be a huge moment for Thompson—and for American golf. She has long been one of the domestic game's most recognizable and popular stars, and her 11 LPGA Tour wins made her worthy of admiration. For Thompson to capture the U.S. Women's Open, on a layout deeply wound in the USGA's DNA, and to overcome her own travails, well, it could have been one of those U.S. sporting stories that are remembered for lifetimes.
But the majors have been Thompson's nearly impenetrable castle. She now has eight top-three finishes, and it will be debated which is more painful—the 2017 loss in the ANA Inspiration when she was defeated in a playoff after being smacked with a four-stroke penalty for marking her ball incorrectly, or this collapse at Olympic Club with seemingly one hand on the trophy.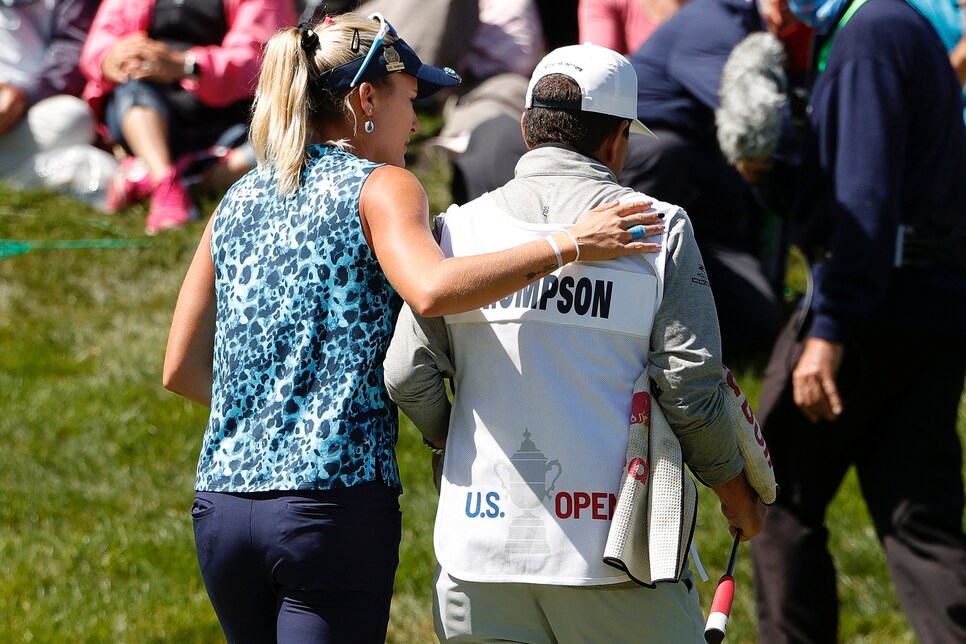 Lexi Thompson walks off the 18th hole with her caddie following the final round of the 76th U.S. Women's Open.
Ezra Shaw
Certainly, this was a more visceral undoing. Thompson looked sharp and composed in shooting one under on the front nine to forge a five-shot lead when everyone else seemed to be folding around her. As it happened, the birdie she made at the par-4 fifth would be her last.
The trouble started on the par-4 11th, when Thompson missed the fairway and slashed out to well short of the green with her second shot. There, maybe the nerves began to show, when she chunked her wedge and didn't make the green. She came up well short of the hole with her fourth shot and missed the five-foot putt for bogey, settling instead for a double. Still, she had a three-shot lead.
But Thompson appeared to lose almost all feel from there. She missed all but two of the remaining fairways on the back nine, left her tee shot on the par-3 15th at least a club short, and at 17 and 18, with makeable putts to save par, Thompson's weak rolls couldn't get to the hole.
The effort at 18 came after Thompson striped an iron off the tee into the middle of the fairway. But her approach to the front pin came up short in the front bunker so deep only the top of her head could be seen from the back of the green.
Reporters didn't get to ask Thompson about the 18th hole, but she said, "Just got the wind wrong on a few shots coming in.
"Overall," she said, "I'd be the first one to tell you that I hit some bad golf shots and I deserved it, but it's golf."
As Thompson was faltering, Saso and Hataoka were charging. Saso only made three birdies in the round, but two came critically at 16 and 17. She had begun the round horribly, pitching out sideways after a wayward drive at No. 2 in making a double bogey, followed by a three-putt double at the par-3 third after her tee shot found the left bunker.
Hataoka, 22, who was trying to win her first major and continue an impressive run of play for Japanese golfers after Tsubasa Kajitani's win at the Augusta National Women's Amateur and Hideki Matsuyama's Masters victory, recorded five birdies, including those on a par-3 (No. 13), par-4 (14) and par-5 (16).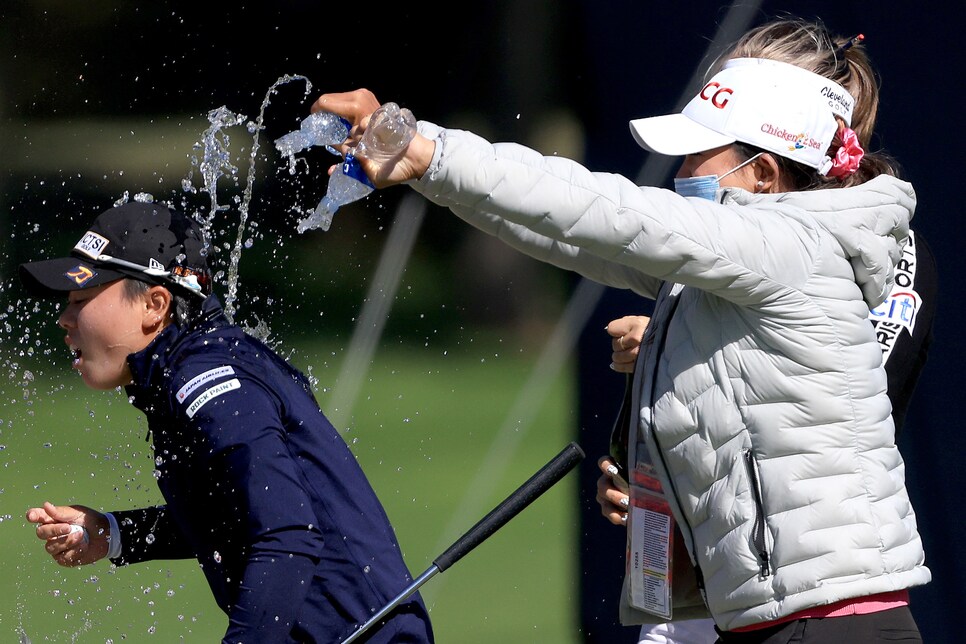 The USGA has a two-hole playoff system, and after the players traded pars while playing the ninth and 18th holes, Saso seized the win by making an eight-foot birdie in the return to No. 9.
Lost somewhat in the American disappointment for Thompson were the cheers from Filipinos, who waved flags for Saso throughout the round. It's the first victory by a Filipino, male or female, in any golf major.
"I don't know what's happening in the Philippines right now, but I'm just thankful that there's so many people in the Philippines cheering for me," Saso said. "I don't know how to thank them. They gave me so much energy. I want to say thank you to everyone."
With her tumble at Olympic Club, Thompson put herself into the company of one of the gods of the game. In 1966 on the Lake Course, Arnold Palmer squandered a seven-shot lead on the back nine, and Billy Casper made three birdies late to catch him and steal one.
Palmer was devasted, to be sure, but the wounds were salved by the seven majors he'd already won. Thompson figures to have at least a decade more of trying, but with each passing tough loss, it's hard to keep smiling.