U.S. Open Merchandise
Our Favorite Merchandise At The 2016 U.S. Open
Squirrels, bright colors and local purveyors are the U.S. Open merchandise center standouts, where the big-name brands have also raised their game with better design touches. There aren't quite enough nods to Oakmont's past in the form of retro logos, as evidenced by many of the best items that reimagine the traditional look for Oakmont U.S. Opens. Here are just some of the great items available to U.S. Open fans.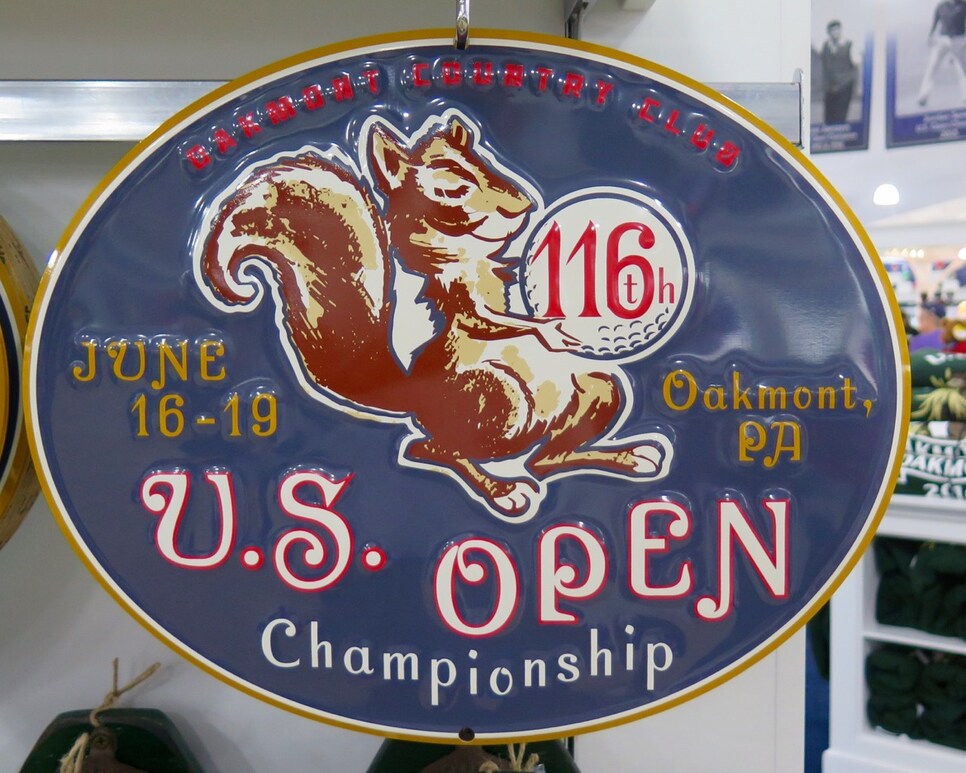 Mancave Must-Have
The mancave options have never been better, with a wood pennant, wood wall mountable bottle opener and more, but the standout at just $25 is this "pub" designed by Lee Wybranski and sourced from an Ohio company specializing in the old style gas station advertising signs.
Don't Forget The Kids!
Selections for the kids have never been better, with multiple stuffed animals playing off Oakmont's squirrel theme, plenty of cool hats and clothes, and for the littlest of the little ones this USGA block truck ($24).
Black & Gold For Days
Polo took the Steelers/Penguins/Pirates colors and ran despite how much they clash with the usual preppy tones. And run they did, with a $145 camouflage jacket perfect for a fall football game, complete with a re-imagined 2016 US Open logo. Also nice is a black sweatshirt and of course, golf shirts that'll make you either look like a Penguins fan or an assistant linebackers coach with the Steelers.
Best Bottle Opener Ever?
Limited edition of 145 Church Pews-inspired bottle openers by Seamus Golf. Yes, they're $90 but coolness quotient is off the charts to any golfer/root beer drinker.
Terrific Tees
T-Shirts are a mixed bag this year, with some nice designs and options, including a fitted tech workout shirt and these 47 Brand long sleeves that liven up the traditional design. The retro long sleeves go for $45.
You Can't Go Wrong. . .
Lee Wybranski's annual poster comes in two sizes and captures the grandeur of the property, with a squirrel, Church Pews and a hint of nostalgia.
For The Ladies
Ladies, get ready for some color! Nola dresses from Katherine Way are classy, colorful and sporting the 2016 U.S. Open logo. And they're a hit already thanks to their versatility. Men: helpful sales associates are on hand to discuss sizing, just in case you weren't sure what to bring home.
A Colorful Option
Polo RLX is also on board with plenty of color, including $125 women's skirts that are all the rage.
Book It!
It's a mystery! It's a golf book for kids! It's about a grandfather who teaches his grandson to play. What's not to love about Aidan Shoveling and Scott Dunlap's $18.99 children's book set at Oakmont? Aidan (right) is an Oakmont caddie and Dunlap (left) a former member and they are on hand this week signing copies. Grab one for your family and another for the kids next door.
Classy Glassware
The standout item of the merchandise tent comes from local purveyor Amanda Lee who is still lovingly hand painting each glass due to popular demand. The no-stem wine glasses are $120 for a set of four and come in a wood box created by another local artisan. Beer and wine glasses featuring the Pittsburgh skyline are also flying off the shelves.
Hats!
The flat brims are in short supply, but most of the fans will love the variety once again. Stand outs were the less traditional designs highlighting the Oakmont squirrel and the synergy between year and 116th U.S. Open. Steeler/Penguins/Pirates colors have been incorporated as as, for the first time, a nod to Father's Day. Prices: $27.
A Real Frame Job
Martin Miller is on hand signing his stunning images of the course. Miller's crispest, warmest image features the Church Pews bunker in surreal light. A bargain at $26 unframed.
More Of The Squirrel
The Bobby Jones brand has a presence in the merchandise tent and is getting plenty of attention thanks to a blend of their traditional styles with new tech fabrics and modern design touches. This "summer navy" pullover goes for $135 and features a handy chest pocket for sunglasses.