U.S. Open
2016 U.S. Open: Friday's Birdies & Bogeys
Who were the winners and losers on Day 2 of the 2016 U.S. Open? Let's take a look with Golf Digest's daily roundup of birdies and bogeys.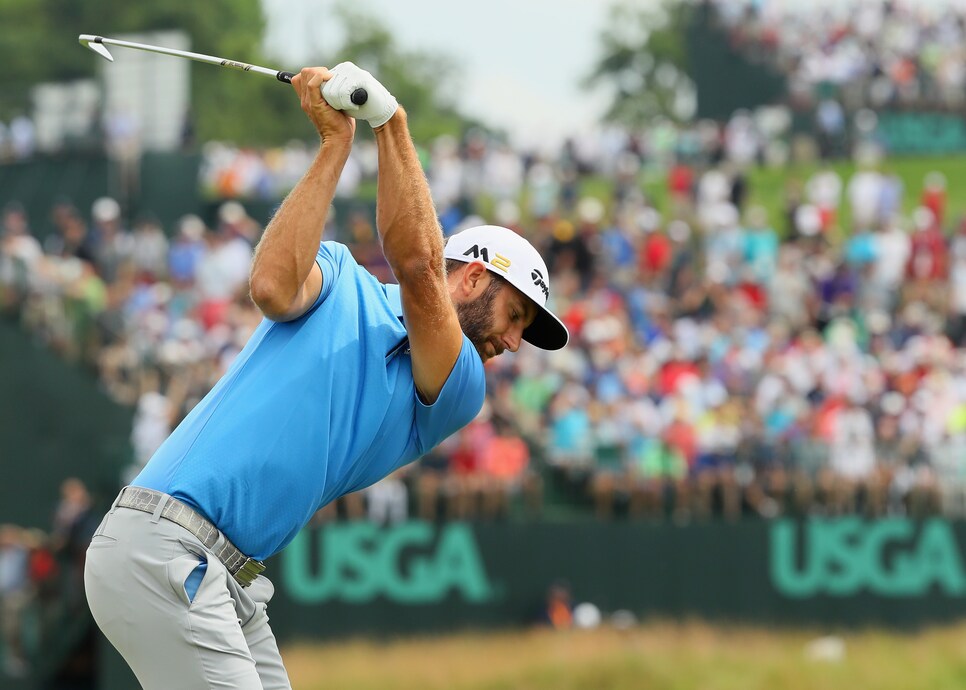 Birdie: Dustin Johnson
From tee to green, no one hit it better than DJ the first two days at Oakmont. In fact no one has hit it quite this well at the U.S. Open in two decades. At one stretch, Johnson hit 25 consecutive greens in regulation, the most since the USGA began keeping track of the stat in 1997. Johnson probably feels he left a few strokes out there during his marathon day -- especially with no birdies on the four par 5s he played on Friday -- but at four under and tied for the lead, he's put himself in great position heading into the weekend of a major. Then again, we've heard that a few times before. . . -- Alex Myers
Photo By: Getty Images
Bogey: Jason Day
The world No. 1 was a popular pick heading into this week, for all the obvious reasons that come with being the world No. 1. But Day got off to a disastrous start in his first round to shoot 76, including a double bogey on the par-4 sixth. That he rallied in the second round was likely enough to make the cut. But in terms of contending, he still has a lot of work to do. -- Sam Weinman
Photo By: Getty Images
Birdie: Andrew Landry
Landry wasn't around Oakmont long on Friday morning, but he made his abbreviated time count, finishing up his first round by converting a 10-foot birdie putt on the ninth hole. Landry turned in a 66, the best-ever score in a U.S. Open first round at Oakmont. Better yet, while many of his competitors labored on the course for multiple rounds, Landry was able to watch the proceedings from home and rest. The 28-year-old Texan is trying to become just the seventh qualifier to win the championship, the first since Lucas Glover in 2009. -- Joel Beall
Photo By: Getty Images
Birdie: Sergio Garcia
Playing alongside Dustin Johnson for 36 holes on Friday could have been a demoralizing experience for most players, but Garcia hung tight. After a 70 in the morning, Garcia played the afternoon in two under, and that was factoring in an all-world par on his last hole of the day. After driving into a ditch and hacking out so violently he risked bodily harm, Garcia rolled in a 51-footer for par. For a guy who often seems snakebit in majors, Garcia has some positive mojo to carry him into the weekend. -- S.W.
Photo By: Getty Images
Bogey: Rory/Rickie/Danny
It was arguably the marquee group of the first two rounds, but all three players in it laid duds in their first cracks at Oakmont. Reigning Masters champ Danny Willett fared the best with 75, followed by Rickie Fowler (76) and Rory McIlroy (77). The good news for fans coming to Oakmont on Saturday is that they'll be able to follow this talented trio play its second round. But incredibly, there's a chance that none of these guys will be sticking around past that. -- A.M.
Photo By: Getty Images
Birdie: Oakmont
Worries that Thursday's multiple downpours would leave the course vulnerable were overblown. Yes, Andrew Landry turned in a 66, and was joined by 10 other players who finished Round 1 under par (Only eight players broke par in the entire 2007 tournament). Conversely, Jason Day, Jordan Spieth, Rory McIlroy and Rickie Fowler were a collective 21 over in their inaugural Oakmont tours. Moreover, 20 players shot 78 or higher, including Zach Edmonson, who had to make a three-footer on his 18th hole to break 90. -- J.B.
Photo By: Getty Images
Bogey: Jordan Spieth
Spieth was visibly frustrated during a start-and-stop Thursday, but he had a chance to start fresh in favorable scoring positions on Friday morning. Instead, Spieth gave back another stroke in his remaining seven holes. A 72 at Oakmont is never a disaster, but it's not what we've come to expect from a guy who has seriously contended in each of the past five majors. The good news is he'll have two Saturday tee times to get back into the hunt. -- A.M.
Photo By: Getty Images
Birdie: Lee Westwood
Few took advantage of Friday's restarted first round quite like Westwood. The 43-year-old Englishman, who was one under through 13 holes when played resumed, birdied his last two holes (Oakmont's difficult eighth and ninth) to post a three-under 67. Interestingly for a golfer with five top-10 finishes in the championship, it was Westwood's best opening score in 17 U.S. Open starts. And it came while hitting just 10 of 18 greens as Westwood made up for it by needing just 26 putts. Westwood fans looking for another favorable sign should note that in seven of his last eight U.S. Open appearances, he has improved his position from the first to the second round. -- Ryan Herrington
Photo By: Getty Images
Bogey: Phil Mickelson
With so many close calls in majors, Mickelson, who turned 46 on Thursday, still harbored hopes of breaking through this week. Now barring something remarkable, he's likely to be headed home after completing the final two holes of his second round Saturday morning. In 34 holes, Mickelson has hit just 18 greens, and hasn't summoned the same short game magic to mitigate the damage. Perhaps we should have seen this coming: The missed cut would be Mickelson's first in a U.S. Open since 2007, also at Oakmont. -- S.W.
Photo By: Getty Images
Birdie: Billy Horschel's pants
The 2014 FedEx Cup champion has become famous -- some would argue notorious -- for his fashion ensembles, especially his slacks. Billy Ho went deep into the closet for this Friday outfit at Oakmont, which can only be described as the wallpaper pattern seen in your grandparents' bathroom. I don't care what the scoreboard says; Billy Horschel is winning the U.S. Open in my book. -- J.B.
Photo By: Getty Images
Birdie: Scott Piercy
The 37-year-old journeyman entered Oakmont at 250/1 odds. That figure may drop after Friday's performance. Over 36 holes, Piercy showcased remarkable accuracy, hitting 20 of 28 fairways and 30 of 36 greens. His precision equated to a two-round, two-under score. In four previous appearances, Piercy's best U.S. Open finish is a T-51. We're going on a limb and saying he'll best that mark this weekend. -- J.B.
Photo By: Getty Images
Birdie: Daniel Summerhays
There were birdies to be had on Friday afternoon, as Summerhays proved while playing the back nine of his second round. Making the turn at even par, the 32-year-old alternate (who didn't get into the tournament officially until Monday morning) made five of them coming in to post a tournament-low 65. It more than offset his opening-round 74 and left him inside the top 10 after 36 holes for the second straight Open (he was fifth halfway through at Chambers Bay). Said Summerhays: "I need to think a lot about that round and seer it right into my memory." -- R.H.
Photo By: Getty Images
Bogey: Brandt Snedeker
Snedeker came to Oakmont having had four top-10 finishes in the last seven U.S. Opens and sitting fifth on this year's FedEx Cup points list. The combination of the two made an opening-round 80 all the more frustrating for the 35-year-old still seeking a breakthrough in a major. Just three holes into the championship, Snedeker was already five over par thanks to a triple-bogey 8 on the 12th hole. He wrapped up the round, in which he hit only six fairways and nine greens, with three straight bogeys to add insult to misery. He would come back to shoot a 71 in his second round, but the damage had already been done. -- R.H.
Photo By: Getty Images
Birdie: Jim Furyk
Furyk is still looking for a follow-up to his lone major title at the 2003 U.S. Open, and Oakmont, where he finished second in 2007, seemed to be as good an opportunity as any to grab it. Or at least it was until a wrist injury sidelined him for the first part of the year. After returning in May, Furyk hasn't fared better than a T-35 on the PGA Tour, but he worked his way into red figures when play was suspended due to darkness. Needless to say, there would be no more rewarding win for the gritty Pa. native than a win here. -- S.W.
Photo By: Getty Images