The Players
2016 Players Championship: Friday Birdies & Bogeys
Who were the winners and losers on Day 2 of the 2016 Players Championship? Let's take a look with Golf Digest's daily roundup of birdies and bogeys.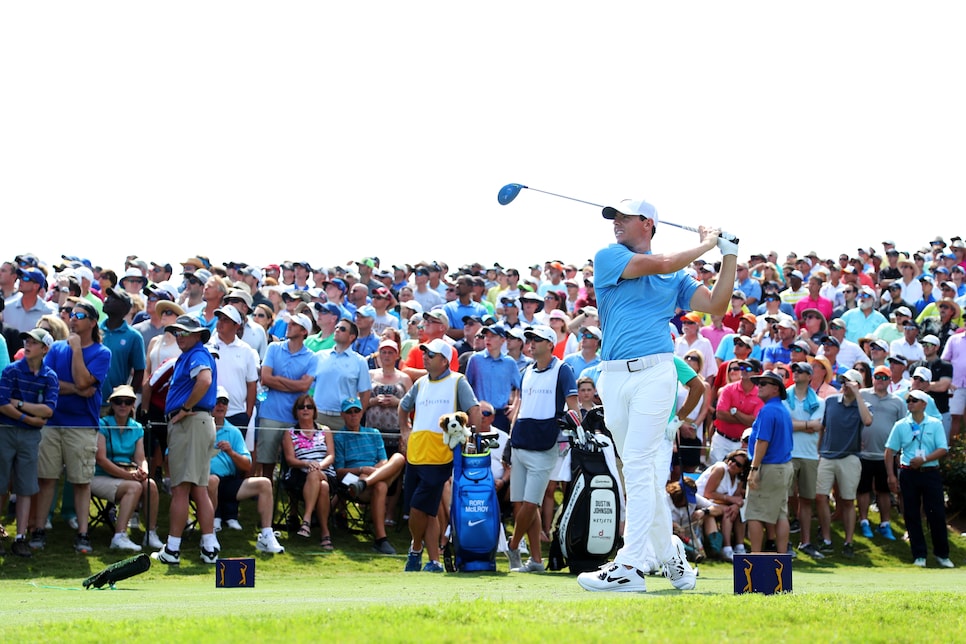 Birdie: Rory McIlroy
McIlroy's game is often compared to an amusement ride, a juxtaposition not made in a particularly positive light. But what people forget about such carnival cruises: Though they have valleys, there are also peaks. The Rory roller coaster hit plenty of highs in Round 2, highlighted by a 29 on TPC Sawgrass' back nine. His second-round performance reminded golf fans on Friday that, while his game has bumps and turns, it remains one of the more exciting rides on tour. -- Joel Beall
Photo By: Getty Images
Birdie: Colt Knost
Casual golf fans are forgiven if they haven't heard of Knost: He's winless in 160 PGA Tour starts, and his last professional victory came in 2008 on the Web.com Tour. Yet Knost, the 2007 U.S. Amateur champion, made his name known on Friday at TPC Sawgrass. The SMU product birdied 10 of his first 17 holes, and had a chance to break the course mark on the 18th green. Though he fell just short, his 63 -- spurred by hitting every green in regulation in Round 2 -- tied a tournament record and puts him in contention heading into the weekend. -- JB
Photo By: Getty Images
Bogey: The 18th holes of McIlroy and Knost
Far be it from me to criticize guys who finished a combined 17 under on the afternoon. Nevertheless, both had golden opportunities on their final holes -- Knost needing a two-putt, McIlroy with a shot at reaching the par-5 ninth in two -- to notch a 62. Instead, Knost three-jacked, while Rory tried to play safe, only to miss the green and chunk his chip. Both walked off with bogeys, leaving a sour taste in their mouths. Golf is not a game of perfect. -- JB
Photo By: Getty Images
Birdie: Jason Day
Neither an early challenge by Rory McIlroy or a middle-of-the-round weather delay could slow down the World No. 1. Day added five more birdies against no bogeys to extend his lead to three before play was called to darkness while he was playing the 15th hole. After his opening 63, which matched the course record fellow set by Aussie Greg Norman in 1994 among four others, Day said he hoped to follow in Norman's footsteps and win by setting the tournament record. Getting to 24 under at TPC Sawgrass is a lofty goal, but he's ahead of pace. -- Alex Myers
Bogey: Jimmy Walker
In a tournament that has featured 29s and 63s, Walker's round stood out, albeit not for the right reason. The five-time tour winner posted an 82 on Friday, missing the cut by miles. That it came during the morning session, in which TPC Sawgrass was especially vulnerable, adds to the oddity of Walker's score, in particular, a back-nine 44. -- JB
Photo By: Getty Images
Birdie: Will Wilcox
It had been 14 years and 6,300 attempts since a hole-in-one on the famed 17th hole, but Wilcox ended the drought in style. First, he gave us a fantastic reaction, and then, he sent a round of beer to the media center. Oh yeah, he also played solid golf for a second consecutive day to make the weekend in his first Players appearance. Hopefully, he got to enjoy a few cold adult beverages himself on Friday night. -- AM
Birdie: Adam Scott
Sure, Scott is currently first in the FedEx Cup rankings, but the Aussie hadn't posted a round in the 60s since Bay Hill. That changed on Friday, as Scott lit up TPC Sawgrass to the tune of a seven-under 65. It wasn't pretty -- Scott hit only 12 greens -- but was able to avoid putting a bogey on the card. That he posted this score after finishing Thursday's round with a quadruple bogey speaks to the fortitude of the 2013 Masters champ. -- JB
Photo By: Getty Images
Bogey: Patrick Reed
Reed wants the world to think he's one of the sport's elite. His performance on golf's biggest stages begs to differ. In 11 previous appearances in majors and Players Championships, Reed's best finish is a T-14. Or should we say 12 starts, as Reed's 71-72 puts him out of the running in this week's event. The 25-year-old undoubtedly has the game to one day reach golf's upper stratosphere. Alas, he's nowhere near that distinction so far in 2016. -- JB.
Photo By: Getty Images
Bogey: Rickie Fowler
The defending champ returned with high hopes, but it appears he'll be leaving Ponte Vedra Beach early -- and wet. Following a Friday 71 that left him outside the cut line, Fowler jumped into a swimming pool with his golf clothes on. "I just want to see how a few of my balls felt in the water this week," Fowler said before taking the plunge. -- AM