Ryder Cup
Friday's Birdies and Bogeys
Who were the winners and losers on Day 1 at Gleneagles? Let's take a closer look with another edition of birdies and bogeys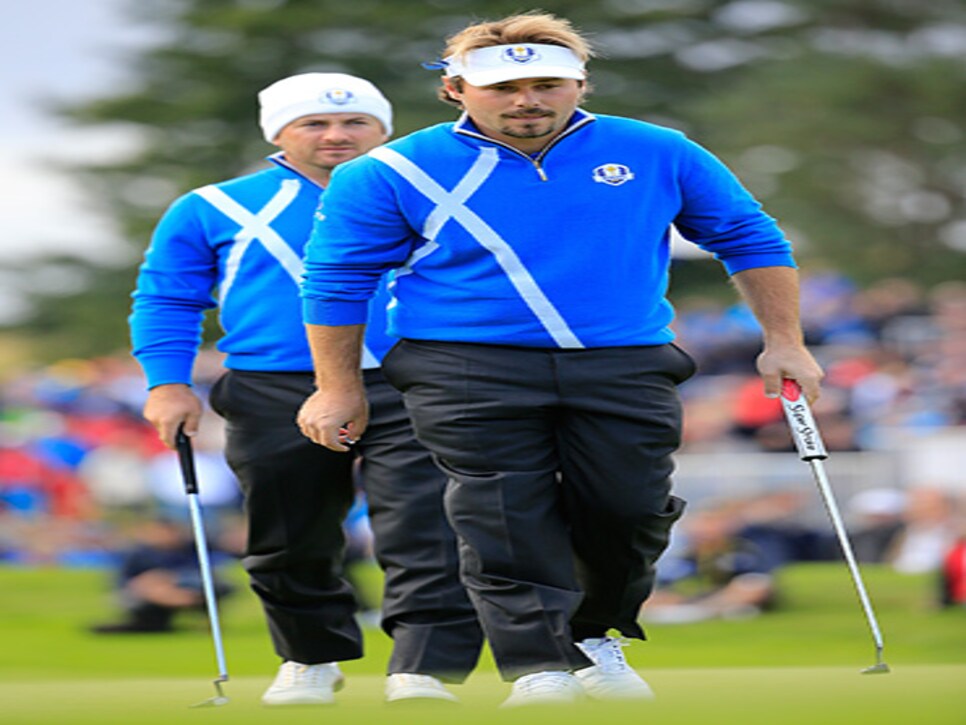 Birdie: Graeme McDowell & Victor Dubuisson
After sitting out the morning session, the experienced McDowell and the rookie Dubuisson wasted little time taking the lead with a birdie on the second hole. The duo added birdies on Nos. 4 and 5 and had the lead the rest of the way. More impressive was who they beat, knocking off the top American pairing of Phil Mickelson and Keegan Bradley. The butt-slapping buds had become the first U.S. partnership to win four straight matches Friday morning and were previously undefeated in Ryder Cup play.
Bogey: Rory McIlroy
By winning the season's final two majors, the World No. 1 arrived at Gleneagles as golf's dominant force and the guy supposed to be Team Europe's biggest difference maker. But an inconsistent McIlroy needed to be bailed out by partner Sergio Garcia on the final hole of their afternoon match just to come away with a half point for the day. Garcia's brilliant approach after a wayward McIlroy tee shot led to a two-putt birdie and kept the marquee pairing from being shut out. Another bad drive by McIlroy on No. 18 in the morning cost Europe a match and had people questioning his timing of putting a new Nike driver in play.
Birdie: Jordan Spieth & Patrick Reed
Lambs to the slaughter was what many were saying after seeing the youngest pairing in Ryder Cup history matched in Friday morning four-balls against European stalwart Ian Poulter and local favorite Stephen Gallacher. But a 5-and-4 thrashing proved
vice-captain Steve Stricker's midweek hunch
that the two U.S. rookies would play well together to be true. If Spieth and Reed had any nerves, they never showed them as they jumped to a lead on the first hole, won five of six from the sixth to 11th holes and outclassed their rivals.
Bogey: Webb Simpson
On Thursday, Simpson shared the story of his 4:30 a.m. plea to Tom Watson to take him with a captain's pick. It was a heartwarming exchange, but thus far, Watson appears to have made a mistake. By far the most questionable of Watson's picks considering Billy Horschel and Chris Kirk were enjoying better form, Simpson looked out of sync right from the start Friday. He skied the first shot of this Ryder Cup, landing it just 190 yards away, and he and partner Bubba Watson were steamrolled by Henrik Stenson and Justin Rose 5 and 4 in four-ball.
Birdie: Jimmy Walker
He might be a Ryder Cup rookie, but Walker is also a 35-year-old veteran tour pro who has looked in his element all week at Gleneagles. That didn't change Friday, even if he and partner Rickie Fowler played both their matches only to a draw. Walker holed a bunker shot for eagle on the ninth hole, chipped in for a birdie on the 16th and then rolled in a birdie putt to win the 18th that secured the half point in morning four-balls. In afternoon foursomes, Walker stuck an approach shot to four feet on the 11th to set up a birdie that put the U.S. in the lead over Sergio Garcia and Rory McIlroy. While watching the Euros birdie 17 and 18 to keep the Americans from winning the match, Walker could go to bed comfortable and confident in his game.
Bogey: Commercials
Apparently the secret's out that the Ryder Cup makes for great TV viewing, because there were no shortage of advertisers who wanted to be part of it. And therein lied the tradeoff for golf fans: You had great golf expertly broadcast by NBC and Golf Channel, but you also had commercials seemingly every seven seconds. But don't take our word for it. Twitter was exploding on Friday with complaints about the constant stream of ads.
Birdie: Justin Rose & Henrik Stenson
For all the partnership drama on Friday -- Reed and Spieth getting benched, Phil and Keegan not getting benched, etc. -- Justin Rose and Henrik Stenson offered surprisingly little in that department. Paul McGinley won't mind. The pair never trailed in either of their matches, which they won 5 and 4 and 2 and 1, and they were the only team on Friday to capture two points. Those two wins quietly bring Rose's Ryder Cup record up to 8-3, not markedly different to that of another Englishman who tends to take most of the Ryder Cup plaudits -- Ian Poulter.
Bogey: Tom Watson
It's one thing to blame a captain when a pairing doesn't work out, but how about blaming him after one does? On Friday morning the most effective U.S. team was the duo of Jordan Spieth and Patrick Reed who routed Ian Poulter and Stephen Gallacher. But Watson strangely opted against sending the two out again in the afternoon. Sure, foursomes is an altogether different format. But the way Spieth and Reed were clicking, we liked their chances of figuring it out.
Birdie: European Fans
Playing in Scotland, Team Europe has a home-field advantage this week -- one that extends to inspirational music. Each member of Team Europe has a personal theme song -- creative lyrics set to a popular tune -- thanks to a group called "The Guardians of the Ryder Cup," whose members were front and center on the first hole leading the crowd in serenading their heroes as they came to the tee.
Our favorites
? "Kaymer, Kaymer, Kaymer, Kaymer, Kaymer Chameleon," and "Bjorn Beat the USA." Technically, "Bjorn Tied the USA" would have been more accurate on Day 1, but we're not complaining.
Bogey: Ian Poulter
Ian Poulter's Ryder Cup record was -- and still is -- incredible. His 12-3 record going into Gleaneagles included a seven-match win streak, which was snapped at the hands of Jordan Spieth and Patrick Reed on Friday. In truth, the Ryder Cup hero from Medinah didn't even make life difficult for the two rookies. Paired with Stephen Gallacher, Poulter was one-over on the seven holes where his score counted, which doesn't include the near-shank he hit into the water on the 9th hole. He was always going to regress to the mean at some point, but this was a fast, hard fall back to earth.
Bogey: Ivor Robson
We love the legendary first tee announcer, who is known for his high-pitched tones and long days at the British Open without taking a bathroom break. Who doesn't? But he has one job to do and he messed it up on Friday. With Webb Simpson poised to strike the first shot of the event, Robson gave a cheery, "On the tee, Bubba Watson!" Simpson found it funny and Watson was very understanding. "Hey, it was the first shot of the Ryder Cup," he said. "He was nervous too."