PGA Championship
Friday's Birdies and Bogeys
Who were the winners and losers on Day 2 at Oak Hill? It's time to take a closer look with another edition of birdies and bogeys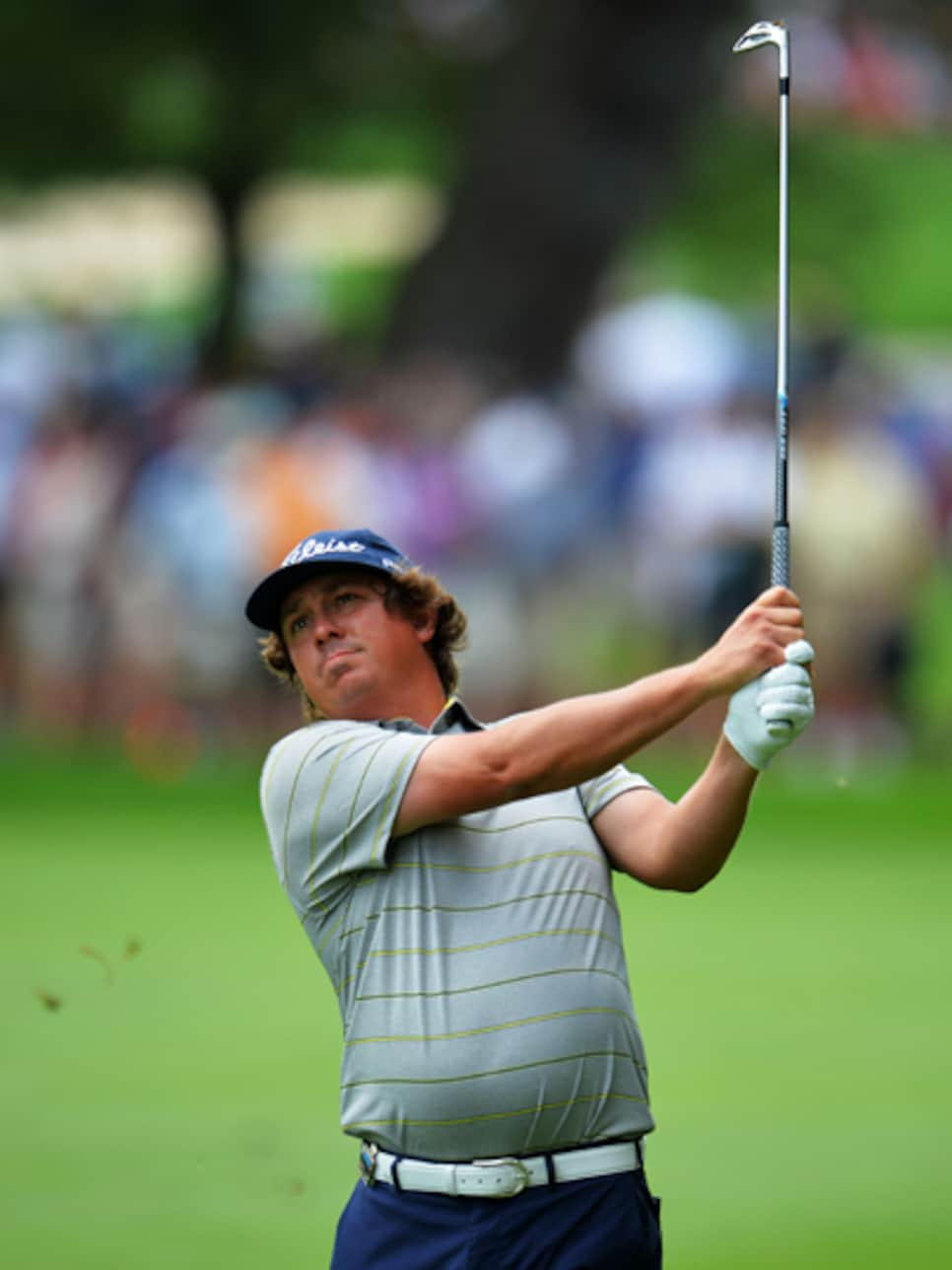 Birdie: Jason DufnerFor a second time in the past three PGA Championships, Dufner will take the lead into the weekend. This time, no one will be surprised if he's able to hold on for a first major title after a historic Friday. Dufner jumpstarted his day with a holed wedge for eagle on then added five more birdies against no bogeys. Add it all up and it was the 24th 63 shot in a major championship. Of course, it could have been the first-ever 62 if not for. . .
Photo By: Getty Images
Bogey: Jason DufnerIt's tough to criticize anyone after he's tied an all-time record, but after two perfect shots on Oak Hill's brutal finishing hole, Dufner had a golden opportunity to do something no golfer has ever done. His 12-foot birdie putt never scared the hole, though, coming up nearly two feet short. His ensuing par putt was a little shaky as well, but it went down to match the record. Yep, even the seemingly emotionless Dufner must feel some nerves.
Photo By: Getty Images
Birdie: Webb SimpsonBen Hogan and Curtis Strange also shot 64s at Oak Hill, but did either of them do it despite
hitting a shank
in their rounds? Doubtful. Actually, the surprising miscue from the middle of the seventh fairway (his 16th hole of the day) is all that kept him from matching the lowest round in major championship history. More remarkable is that the 2012 U.S. Open champ was five over at one point on Thursday.
Photo By: Getty Images
Bogey: Tiger WoodsWell, he made the cut. That's one measure of the depth of Woods' major struggles. Even on the heels of a seven-stroke victory, his tour-best fifth win of the season, the world No. 1 wasn't even a lock to make the weekend here. After his double-bogey close on Thursday, Woods needed to go low in the second round to thrust himself back into the picture. Instead, even with scoring conditions so ripe a 62 was in play for several, Woods was scuffling. He shot 70, but as has been the case in majors, always seemed to make things more difficult than usual. At one-over par, 10 shots off the lead, Woods at least won't have the pressure of being in contention when play begins Saturday. But that wasn't the weekend he had in mind.
Photo By: Getty Images
Bogey: Woody AustinThe worst part about the four strokes tacked onto Austin's scorecard for carrying a 15th club on Friday is it hit the guy who needed a break most. Austin hadn't made a cut in 2013 until his win in the Sandersons Farm Championship in July, and he still needed a strong showing here to keep his season going. Instead, after an opening 69, he had his brain cramp, leaving an extra driving iron in the bag and not discovering it until the third hole. The four extra strokes led to a 75 and a missed cut, meaning Austin will have to wait for the Fall Series before he plays his next tour event. "I can't say I was angry," Austin said. "I was more in shock. Just disappointed that I was that stupid."
Photo By: Getty Images
Birdie: Adam ScottFor much of Adam Scott's front nine on Friday, two questions prevailed: Are they going to keep playing in this? And is he going to keep making birdies? The answers: yes and yes. Although the rain was heavy enough at Oak Hill that small puddles began to form on greens, Scott kept going, making five birdies against three bogeys in soft, heavy conditions to finish the day at seven under par. It was the type of momentum-sustaining round that recalled Tiger Woods at the top of his game. Most important, with 36 holes to play, it gives Scott a chance to elevate to even greater heights. A win here would make him the first player since Jack Nicklaus in 1975 to win the Masters and the PGA in the same year.
Photo By: Getty Images
Bogey: Lee WestwoodA Friday morning charge following a Thursday 66 had people talking about the resilient Westwood putting himself in the mix at yet another major after his latest close call at Muirfield last month. But he played his final two holes in three over to tumble down the leader board. Winning a major has proven hard enough for Westwood when he's right in the hunt. Entering the weekend eight shots behind certainly won't make a breakthrough victory any easier for the 40-year-old.
Photo By: Getty Images
Birdie: Justin RoseFor 27 holes, the reigning U.S. Open champ had an up-close view of the reigning Masters champ, Adam Scott, kicking his butt. But then Rose produced perhaps the finest nine holes of anyone to this point in the tournament, firing a 29 (just the 22nd sub-30 for nine holes in major championship history) on the front nine (his closing nine of the day) to lock up a late tee time on Saturday. Rose has struggled since his maiden major victory at Merion, including a missed cut at the Open Championship, but the honeymoon appears to be over.
Photo By: Getty Images
Bogey: Billy HorschelThe 26-year-old Horschel's rapid rise this spring -- four straight top 10s, his first PGA Tour win, followed by a T-4 at the U.S. Open -- portended big things for the rest of the year. Instead, Horschel has stalled. After missing the cut in the British Open, he opened with a 68 at Oak Hill, then imploded with a 78 on Friday to miss the weekend again. All of this would be lamentable enough given how well he was playing just a few months ago. But for a player given to Horschel's sartorial flourishes, it's also deprived his fans of seeing him in his weekend best.
Photo By: Getty Images
Bogey: Luke DonaldWho will be the next golfer from England's "Golden Generation" to win a major? Well, we know it won't be Luke Donald this week. Donald followed up a Thursday 71 with a 74 leaving him outside the cut line for a second consecutive major championship. Coming into this event, Donald was the best golfer without a major title
according to GolfDigest.com's ranking
. After his latest lackluster performance in one of golf's four biggest events, we might have to look into changing the formula.
Photo By: Getty Images
Bogey: CBS/Time WarnerThe casual golf fan doesn't ask for a lot. He just wants four or five weeks a year when he can plop down on his couch and watch major championship drama unfold. But three million customers of Time Warner cable will have to be creative if they want to watch the PGA Championship. The network and the cable company are in the midst of a dispute over the fees CBS is charging, and it's led Time Warner to black out the network since August 2. A resolution before Saturday's third round is unlikely, which is a big loss given the quality of the leader board here.
Photo By: Getty Images