British Open
Friday's Birdies and Bogeys
Who were the winners and losers on Day 2 at Hoylake? It's time to take a closer look with another edition of birdies and bogeys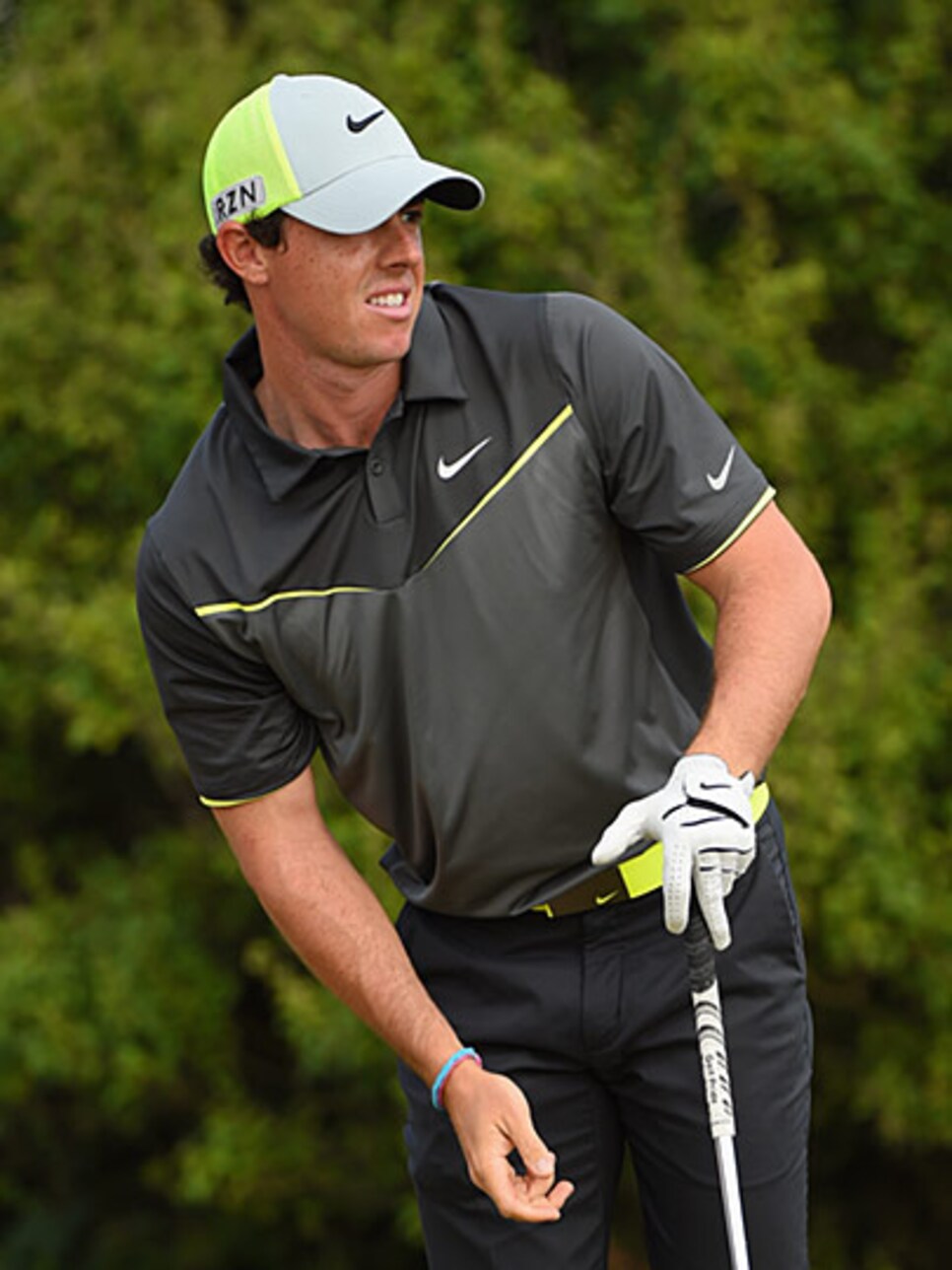 Birdie: Rory McIlroyWhat second-round problems? For all the hysteria about McIlroy's frequent Friday setbacks, the two-time major champion seemed oblivious to recent history when he birdied three of his last four holes en route to a six-under-par 66. With a four-shot lead at 12 under, McIlroy is potentially 36 holes from the third leg of a career Grand Slam. But these will likely be a long two days. Never known for his persistence in tough conditions, McIlroy will have to prove he can persevere through what is likely to be a miserable, wet Saturday while the rest of the field tries to chase him down.-- Sam Weinman
Photo By: Getty Images
Bogey: Tiger WoodsIn his fourth competitive round since returning from back surgery, Woods not only failed to build on the momentum generated Thursday, he went hard in the other direction. The 14-time major champion double bogeyed the first, bogeyed the second, then spent the rest of the afternoon fighting his distance control and his tee ball. Nowhere was that more apparent than at the par-4 17th, when he pushed his first drive OB, then pulled his next ball left into the deep rough. A triple bogey sent him plummeting down the leader board, but Woods rallied to birdie the last and squeak into the weekend. There's not a lot for Woods to be optimistic about, but it beats not playing at all. -- S.W.
Photo By: Getty Images
Birdie: Dustin JohnsonRory McIlroy isn't the only player going low at Hoylake this week. The Northern Irishman leads by four shots, but it was the American who shot the best round of the week so far with a Friday 65. Johnson's bogey-free round made him the nearest player to McIlroy on the leader board, and his lone blemish of the tournament came on the 12th hole on Thursday. A day after failing to birdie any of Hoylake's four par 5s, DJ birdied three in the second round and took advantage of a 397-yard drive on No. 17 to set up another birdie on the difficult par 4. He's probably going to need to stay aggressive if he's going to track down McIlroy over the weekend.-- Alex Myers
Photo By: Getty Images
Bogey: Jordan SpiethHe's still only 20, but it's time for Spieth to convert his consistently solid play into wins at the highest level. Yet instead of seeing him contend at Royal Liverpool, as he did at the Masters and the Players, Spieth spent the day clawing to make the cut. He did -- on the number -- but his three-over 75 leaves him basically irrelevant heading into the weekend.-- Luke Kerr-Dineen
Photo By: Getty Images
Birdie: Tom WatsonFive years after nearly capturing a sixth Open title at Turnberry, Watson has proven he can still hang on the junior circuit, especially on flat, hard-running links courses. With a pair of 73s to make the cut at age 64, Watson broke his own record (first set at age 61) as the oldest player to make the cut in a British Open. But he still has some time to catch the major record set by Sam Snead, who made the cut in the 1979 PGA at age 67. -- S.W.
Photo By: Getty Images
Birdie: Phil MickelsonA Friday 70 leaves the defending champion at even par entering the weekend, 12 back of leader Rory McIlroy. Listen to Lefty, however, and he's got the field right where he wants them. "I'm striking it so good," Mickelson said. "And if I putt the way I putted the last nine holes for the weekend, I'm going to have a good chance." Optimistic? Sure. Realistic? Well . . . we'll give him the benefit of the doubt. He did improve upon his opening round by four strokes. And he's actually hoping for bad weather, having faith he can handle it. You've got to like his confidence. -- Ryan Herrington
Photo By: Getty Images
Bogey: Lee WestwoodWinning a first major championship in his home country would have been especially sweet for Westwood. Instead he took another step toward remaining without one of golf's four biggest titles for another year Friday. Westwood shot 76 to miss the cut by one, and he need look no further than his performance on the par 5s, where he failed to make a birdie, instead settling for four pars, to explain why. A year ago at Muirfield, Westwood suffered his latest heartbreak in a major when he blew a two-shot lead after 54 holes. But now 41, watching the weekend from afar can't feel much better. -- A.M.
Photo By: Getty Images
Birdie: George CoetzeeThe birthday boy -- Happy 28th George! -- could celebrate in style Friday night after shooting a three-under 69, a score made more impressive given it came in the morning when the winds were at their fiercest. "I didn't think it was doable today, to get to that number," he said proudly, backing up an opening 70 and being the lone golfer with a late Thursday/early Friday tee time inside the top 10 after 36 holes. Three years ago in his Open debut he started 69-69 and eventually finished 15th. Besides chasing Rory McIlroy, Coetzee has a personal target to shoot for on the weekend. -- R.H.
Photo By: Getty Images
Bogey: Bubba WatsonGiven the tough morning conditions, Watson's 72 wasn't actually that bad, but he seemed to have an axe to grind from the day before, when he shot 76. "I hate the negative comments," Bubba said after his round Friday. "I don't watch coverage anymore, there's too much negative stuff going on in the world, not just golf, the whole world." It's fair to accuse the media of piling-on at times, but in this case, Bubba playing the victim speaks more to his attitude when things aren't going his way on the course, rather than anything happening off it. -- L.K.D.
Photo By: Getty Images
Birdie: Ryan MooreIt's easy to forget that Moore was just four shots back through 54 holes at Muirfield in 2013, and he's up there again this year. Moore started slow Friday -- playing his first seven holes two over -- but recovered by playing his next 11 in six under. "It was kind of going in the wrong direction through seven holes," Moore said, "but it made me refocus my efforts and my energy." -- L.K.D.
Photo By: Getty Images
Birdie: Francesco MolinariIn addition to arriving at Hoylake the Sunday prior to the Open to get in some extra reconnaissance, the Italian credits a midweek session with swing coach Denis Pugh for his impressive 68-70 start, which has him part of a six-way tie for third entering Saturday. Fixing his positioning in his backswing has him in eyeing a second straight top 10 at the Open, if not threaten for an even more lofty finish. -- R.H.
Photo By: Getty Images
Bogey: Brooks KoepkaIt's asking a lot for Koepka to stay at the very top of the leader board when he's still young, but his five-over 77 on the good side of the draw was disappointing. He made seven bogeys on the day, plus a triple, which dropped him all the way down to T-43. By contrast, a round of even par would have kept Koepka, who at one point was five under for the tournament, inside the top 15 going into the weekend.-- L.K.D.
Photo By: Getty Images