U.S. Open
Friday's Birdies and Bogeys
Who were the winners and losers Friday at Chambers Bay? It's time to take a closer look with another edition of birdies and bogeys.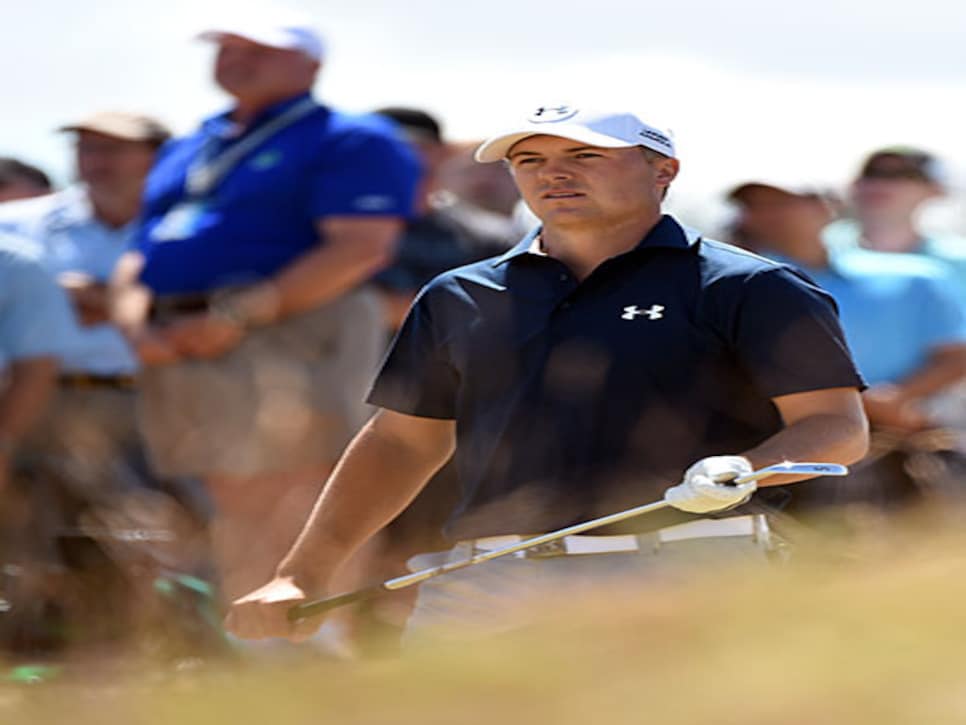 Birdie: Jordan Spieth
Despite a mini-meltdown on No. 18, his ninth hole of the day, Spieth managed to shoot 67 to put himself in contention at another major. In fact, Spieth's cumulative total of 23 under in the first six major rounds of the year broke Ben Hogan's mark of 19 under, set in his legendary 1953 campaign. Spieth could be headed toward a truly historic season of his own. Two more solid rounds and he could become just the sixth player to win the first two legs of the calendar Grand Slam. -- Alex Myers
Bogey: Jason Day's scary moment
And to think, as Jason Day, Jordan Spieth, and Justin Rose made their way to the ninth green on Friday, the biggest mystery appeared to be whether Spieth would make his birdie putt and regain a share of the lead. Then Jason Day collapsed about 30 yards short of the green, and the afternoon took a sobering turn. Day, we learned later, had another vertigo spell that caused him to tumble to the ground, and he stayed there for several minutes as he was tended to by medical staff. He was able to complete the final hole -- failing to get up and down out of the bunker, but still managing a respectable bogey -- but he was clearly struggling as he made his way off the course to sign his scorecard. At two under par and well within reach of the lead, Day's status for Saturday remains up in the air. Here's hoping we see him on the first tee. -- Sam Weinman
Birdie: Patrick Reed
Reed shot the low round (68) at the 2010 U.S. Amateur at Chambers Bay and it appears that experience has given him an edge on a course that was a virtual unknown to most of the field before this week. Reed made three bogeys in a four-hole stretch around the turn on Friday, but a long birdie putt on No. 11 got him back on track. He eagled the drivable 12th and wound up shooting 69 to share the 36-hole lead with Jordan Spieth. Surprisingly, Reed has yet to finish in the top 20 at a major, but his four wins in the past two years have proved he has what it takes to close out a golf tournament. -- A.M.
Birdie: Dustin Johnson
His combination of power and touch is so potent a major win has long seemed inevitable. The problem for Dustin Johnson has been avoiding the big mistake. So far, so good. Opening the day with a share of the lead, Johnson stumbled with an early bogey, but then settled in with birdies on three of his next five holes, steering clear of most of Chambers Bay's trouble spots by blasting past them to a 71 to stay within one shot of the lead. Given his history of late blunders, Johnson is still vulnerable. But he seems intent on hanging around as long as he can. -- S.W.
Bogey: Tiger Woods
It is a harrowing thought that a player of Woods' caliber can shoot 76 in a U.S. Open . . . and it's a significant improvement over the day before! Yet it was for Woods, who at least avoided another score in the 80s, but still looked adrift from tee to green, and everywhere in between. The player maintains he just needs to keep plugging away, and that he intends to play a busy schedule over the summer. But Woods' problems appear to run far deeper than a simple lack of reps. -- S.W.
Birdie: Greg Norman
Fox's U.S. Open debut has been spotty at best, but Norman, the network's biggest hire when U.S. Open rights were awarded, has distinguished himself. The two-time British Open champ has provided thoughtful commentary, and he's clearly done his homework on players and Chambers Bay. Noteworthy as well was his work when Jason Day collapsed, hustling out of the booth to talk to the player and his caddie, then returning with an update. -- S.W.
Bogey: Rory McIlroy
As was also the case on Thursday, there was a brief sequence when it appeared the world No. 1 would scale the leader board here. On Friday, it came after an eagle on the par-4 12th. But again, McIlroy wasn't able to sustain it. After narrowly missing the green on par-3 17th, McIlroy succumbed to a wacky adventure on the putting surface -- jamming his 50-foot birdie try 30 feet past the hole, and then three-putting from there for a costly double bogey. Now nine shots off the lead at four over, it's not out of the realm of possibility for McIlroy to still contend here. But it is if he has morelapses like he's had the first two days. -- S.W.
Birdie: J.B. Holmes
On a day when the USGA stretched out Chambers Bay, it made sense that the long-hitting Kentuckian took advantage with six birdies and an eagle. Four bogeys set him back, but his 66 still matched Louis Oosthuizen for the low round of the day and it put him in touch with the leaders -- something we're not used to seeing from Holmes, who is seeking his first top 10 at a major. Holmes has never finished higher than T-17 at a U.S. Open, but he's also never played in one ranked as high (No. 13 in the OWGR) as he currently is. -- A.M.
Bogey: Phil Mickelson
Lefty put an early charge into the Chambers Bay crowd by making three birdies and no bogeys in his first eight holes on Thursday. Since that promising start, though, he's made just two birdies and eight bogeys. A runner-up in this event six times, Mickelson was a popular pick entering the week. Now, the man who turned 45 on Tuesday is going to need a big Saturday just to be a factor in the final round. -- A.M.
Birdie: Amateurs
With 16 amateurs qualifying for the U.S. Open -- the most since 2009 and the most before that since 1981 -- the odds were good we'd see some strong performances from those not playing for pay. Still, six amateurs playing the weekend is the most since 1966, and none have shined more than recent Illinois grad Brian Campbell. After missing the cut by a shot at Pinehurst last year, Campbell opened with 67-72 to get himself in the top 15 entering the weekend. The group also includes Beau Hossler, who you may remember briefly contended on the weekend at the 2012 U.S. Open at Olympic Club as a high school junior. -- A.M.
Birdie: 12th hole
For all the discomfort Chambers Bay has heaped upon players, it's not without a soft side. Take the par-4 12th, just 284 yards, and bordered by generous slopes that can feed approaches toward the hole. With so many opportunities for disaster, it's the rare hole that allows players to spring forward. Just ask Rory McIlroy and Patrick Reed, both of whom took advantage Friday by driving the green and making the ensuing putt for eagle at a pivotal point in both of their rounds. -- S.W.
Bogey: The par-4 18th hole
We've heard plenty about Chambers Bay's "flexibility," which is mostly a good thing as it affords USGA chief Mike Davis the ability to give players different looks throughout the week. The problem is when some looks don't make sense. Case in point: moving the tee up on the 18th hole and turning an accessible par 5 into a long, punishing par 4 with the tiniest of landing areas. Several players complained, none more prominently than Jordan Spieth, but it probably won't deter Davis from going back to the same configuration for Sunday's final round. -- S.W.