British Open
Friday's Birdies and Bogeys
Who were the winners and losers on Day 2 at St. Andrews? It's time to take a closer look with another edition of birdies and bogeys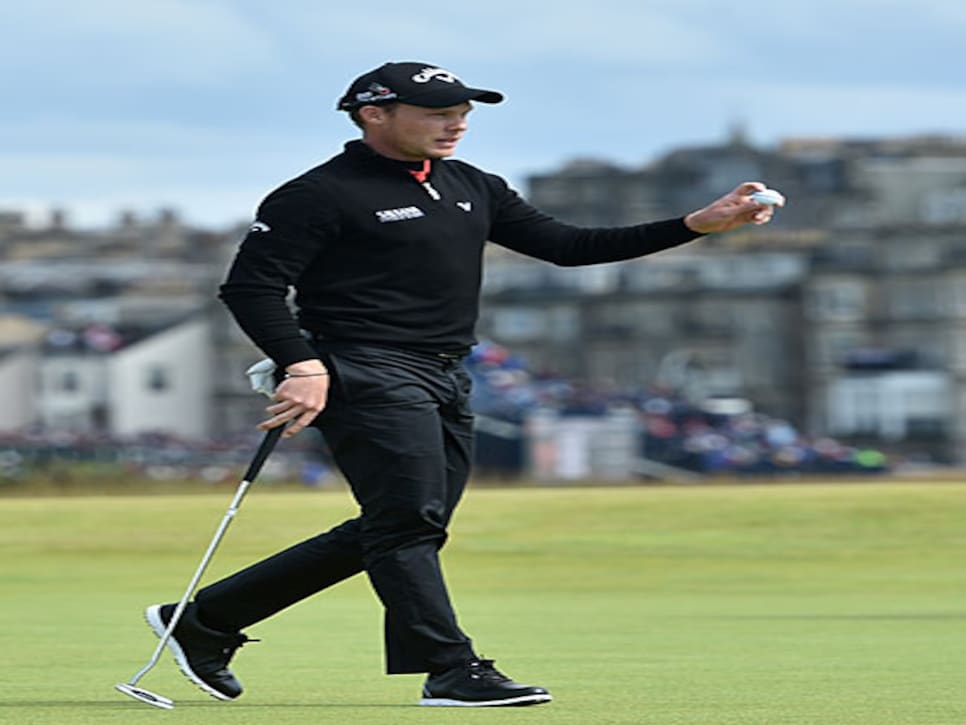 Birdie: Danny Willett
The 27-year-old product of Sheffield posted a 69 on Friday, equating to a two-day nine-under score to sit atop the Open leaderboard. Willett has two Euro wins to his name, and finished third in this year's WGC Match Play tournament. He's not a great ball striker, and you'll never see his name in a long driver competition. However, when he's on the dance floor, Willett can make some moves, ranking among the Euro leaders in most putting categories. Plus, he has a charity called the "Wee Willetts." What's not to like? -- Joel Beall
Bogey: Rain Delay
Watching from the States, I'm all for anything that facilitates further sleep. Alas, the Open was postponed for three hours on Friday, meaning a large contingent of the afternoon wave will have to finish their second round on Saturday morning. On the bright side, Tiger Woods can say he made it to the weekend. -- J.B.
Birdie: Adam Scott
How does a major champion, a perennial Open contender, and one of the best drivers in the game fly under the radar heading into the Open Championship? Blame Adam Scott's quiet demeanor, or his light playing schedule. Whatever, it appears to be working. To go with his breakthrough win in the 2013 Masters, Scott has top 10s in three of his last five majors, and top fives in each of his last three Open Championships. Playing in difficult conditions on Friday morning, Scott employed an abbreviated swing to counter the wind, and made five birdies against no bogeys to shoot 67. At seven under for the week, it's safe to say Scott won't be overlooked this weekend. -- Sam Weinman
Bogey: Everyone making it about Stevie
After his round, Adam Scott's press conference could be divided into two categories: questions about him blowing the 2012 Open at Royal Lytham, and questions about Steve Williams. At one point, a reporter even phrased a question by saying, "I apologize for asking another Steve Williams question, but ... " Yes, it's a nice story that the longtime caddie came out of retirement and back on Scott's bag and yes, the two have a bit of unfinished business at this tournament, but there's only one name going on that claret jug if the Aussie wins. -- Alex Myers
Birdie: Nick Faldo's sendoff
The 1990 champ here had a rough 83 on Thursday, which caused him to joke that he'd refuel on Glenmorangie in his hotel room. Whatever he did before he teed off on Friday, it worked. Faldo shot a one-under 71 and provided the day's largest roar when he made a rare birdie on the 17th hole to cap his Old Course career in style. And speaking of style, no one topped Sir Nick when it came to his sweater game this week. -- A.M.
Bogey: Tom Watson's sendoff
For fans of the five-time Open champ, the dream scenario would have been for Old Tom making one final charge at the claret jug, or at least making it to the final round. A less favorable outcome -- missing the cut at a reasonable time on Friday -- still would have provided an opportunity to give the honorary Scot a proper farewell. But a finish in virtual darkness with a skeleton crowd watching? Not good. At least we'll always have 2010. You know, when he got a nice sendoff because everyone thought that was Watson's last Open at St. Andrews. -- A.M.
Birdie: Geoff Ogilvy
A day earlier the Aussie leaked five shots in a span of four holes on the back nine, turning a spot on the leader board into only a modest one-under 71. Fortunately he has a short memory, or a resilient nature. On Friday, Ogilvy recovered, birdieing three of his last four holes to shoot 68 and move into contention heading into the weekend. -- S.W.
Bogey: Tommy Fleetwood
He's not a household name in the States, but this Brit drew a lot of pre-tournament buzz from bettors. Why? Fleetwood had played his previous four rounds at the Old Course in a staggering 26-under score. The casual golf fan will have to wait for another time to get familiar with Fleetwood. He posted a 69 on Thursday afternoon, and appeared to be in good shape to make a Friday move in easier conditions. Instead, he failed to make a birdie on Day 2, shooting a 76 and falling outside the cut line. -- A.M.
Bogey: Phil Mickelson
The point isn't that Phil Mickelson shot himself out of the tournament on Friday, but he also failed to shoot himself into it. A day after a game 70 in the windiest of Thursday conditions, Mickelson was out ahead of the worst stuff Friday morning, but could only muster an even-par 72 that featured a rare bogey on the short, simple par-4 18th. Seven shots off the lead heading into the weekend, Mickelson still has a chance to make a run over the final 36 holes, but he left himself more work than necessary. -- S.W.
Birdie: Zach Johnson
Perhaps he didn't take full advantage of his early tee time with a one-under 71. Nevertheless, Johnson enters the weekend in prime shape at seven under. His driving accuracy allows Johnson to circumvent the stiff Scottish winds, making the 39-year-old a sound claret jug candidate if the weather turns for the worse this weekend. -- J.B.
Bogey: Weather Worries
The forecast called for an unbearable climate. And sure enough, there was wicked wind and sideways rain. Yet, despite the announcers constantly reminding the audience how tough the conditions were, the players' scores did not support this outlook. By no means does this diminish the performances of Dustin Johnson,Matsuyama, Luke Donald or Charl Schwartzel. But with a host of afternoon players in the red, perhaps the weather factor was, ahem, overblown. -- J.B.
Birdie: Dustin Johnson
He waited around until evening just to tee off, and in the meantime, he saw Danny Willett surge past him on the leader board, and the wind stiffened. But Dustin Johnson wasn't fazed. Content to eliminate trouble by simply blasting over it, Johnson made three birdies in a span of four holes on his front nine to reclaim the lead, and seemed at ease even as the conditions worsened. He'll still have the rest of his second round to complete on Saturday, but might be even more of an opportunity to add to his lead. -- S.W.
Birdie: Hideki Matsuyama
Jordan Spieth and Dustin Johnson were the two biggest stories heading into the second round, but the third member of the marquee group stole the show on Friday afternoon. While his playing partners fared well, Matsuyama played brilliantly, making six birdies and no bogeys during a front-nine 30 and adding a ridiculous birdie putt from off the green to start his inward nine. The 2014 Memorial winner is only 23, but he already has three top 10s at majors, including a solo fifth at this year's Masters. Expect to see his name on the leader board this Sunday as well. -- A.M.
Bogey: Tiger Woods
After a rough Thursday, Woods had little chance of contending, but a low round to make the cut could have done wonders for his confidence. Instead, he got off to another slow start, shooting over par on the considerably-easier front nine for a second straight day. In fact, Woods was just one of two players in the field to fail to make a birdie on the opening nine holes in two days. And here's another stat that doesn't bode well for the 14-time major winner's pursuit of history: this year's PGA Championship will be his last major before he turns 40. -- A.M.