The Loop
Our plea to Fox for the U.S. Open, Jordan Spieth's new crib, a tour pro turned stock, and caddie WAGs
Welcome to another edition of The Grind, where we can't help but get our hopes up at the thought of Johnny Miller returning to the U.S. Open this year. With Greg Norman out as Fox's lead analyst, it just makes too much sense to have Johnny put on those houndstooth pants one more time and return to Oakmont, the site of his most famous triumph. (Did you know he shot a final-round 63 there to win the 1973 U.S. Open? We bet you didn't know that.)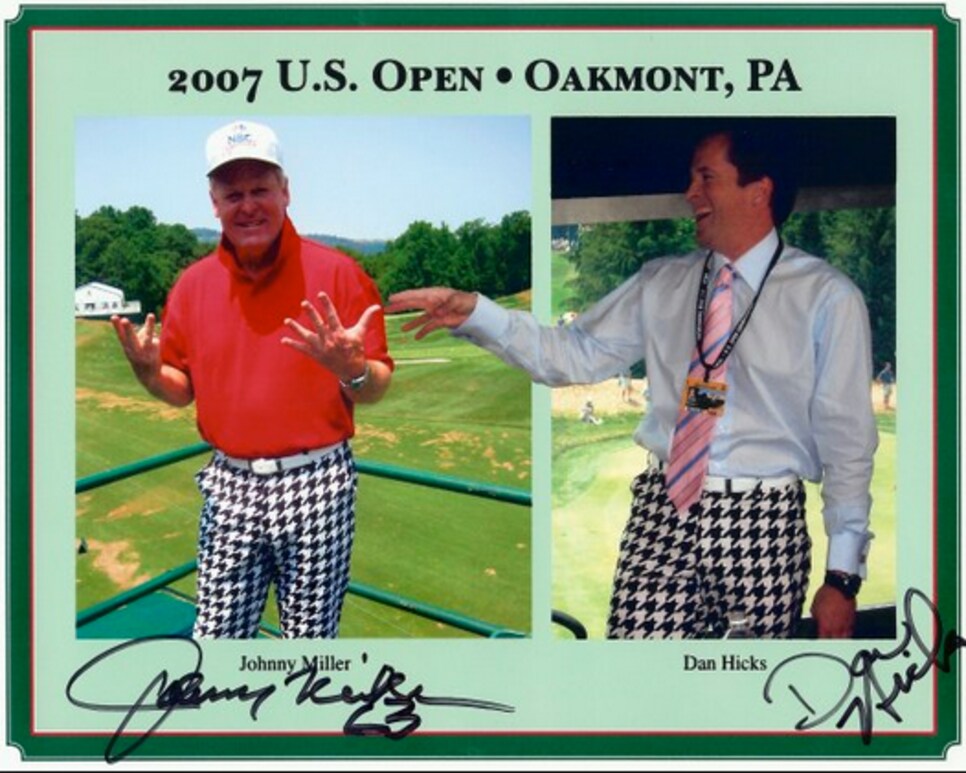 Yeah, yeah, the likelihood of Fox and NBC working together to make this actually happen is pretty small. But then again, who thought Aaron Rodgers could pull off TWO Hail Marys in one season? Our fingers are crossed a Miller loaner to Fox can become a reality (Pretty please?). Until then, here's what else has us thinking.
Fabian Gomez: We joked that Argentinians were taking over the PGA Tour on the opening day of 2016, but the recent run by two of its players is impressive to say the least. Gomez topped Brandt Snedeker on the second hole of a sudden-death playoff to win the Sony Open and pick up his second PGA Tour victory in his last 15 starts. Throw in Emiliano Grillo's win at the Frys.com in October, and this is clearly a golf country on the rise.
Team Europe: Boy, do these guys take team golf seriously. By the way they treated last week's EurAsia Cup, you would have thought the Ryder Cup had been moved up to January. Look at this inspirational message they were passing around before drubbing a totally overmatched Team Asia, 18.5 to 5.5:
Yep, the Americans will have their work cut out this fall.
__Scott Langley: __ As in, you're going to be able to actually buy a piece of this guy. Langley is the first golfer to sign with Fantex, a company that turns pro athletes into stocks people can invest in. If the company raises enough money through an IPO process (fancy finance speak for, well, something to do with selling a stock), Langley will get $3.06 million (not bad for someone with $2.5 million in career earnings), and Fantex and will get 15 percent of all his future earnings. Speaking of someone with future earnings potential. . .
Jordan Spieth: Even when Jordan Spieth isn't playing, he's winning these days. First, he topped Tiger Woods (and Phil Mickelson) for the No. 1 spot on Golf Digest's annual list of the top 50 earners in golf. Then, he signed a lucrative endorsement deal with Coca-Cola, meaning he'll probably only widen his margin when the list comes out next year. Oh yeah, and then there's Spieth's new house mansion paradise. The 22-year-old bought Hunter Mahan's old crib in Dallas for a reported $7 million, and it includes all the dream-house necessities. You know, like an indoor basketball court and a 12-car garage that features a mural of Augusta National. Necessities.
Greg Norman's broadcasting career: Well, that was fast. Norman had a shorter run than Zachary Taylor, but at least, he's got his health. And his wine. And his clothing company. And his gigantic yacht. Yeah, we're not too beat up over this. The Shark will survive.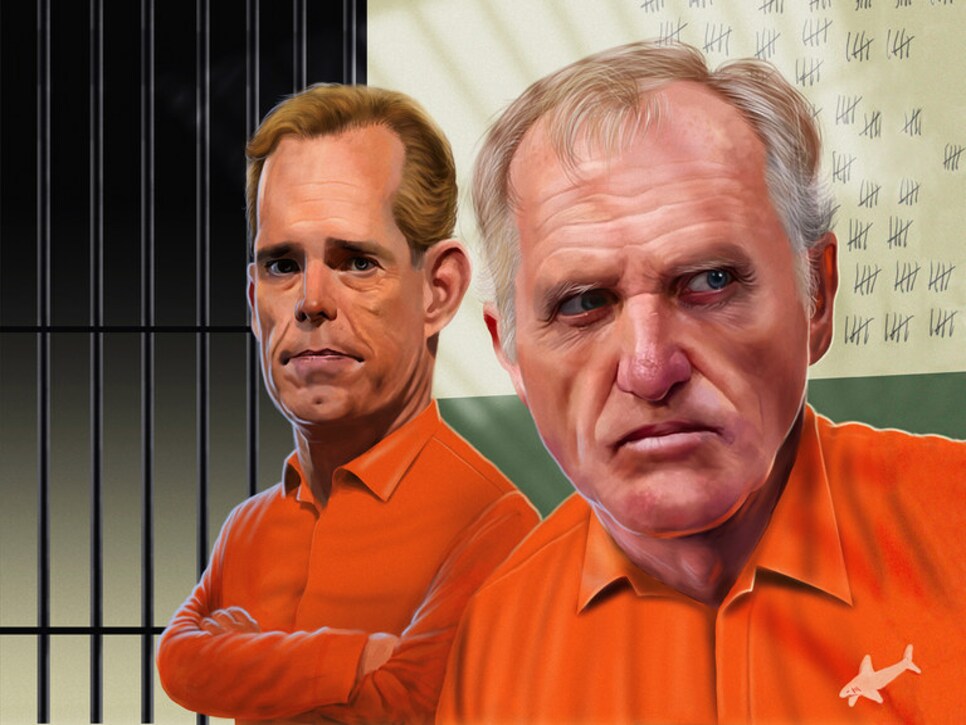 __Scrambling to make an important tee time: __ Gaston Bertinotti (Another Argentinian star on the rise!) seemed on his way to punching his ticket to Augusta National as the 54-hole leader at the Latin American Amateur Championship. Then he woke up at 9 a.m. for a 9:32 tee time. Fortunately, he made it to the first tee in time, but after no warm-up, he stumbled to a 77. There are no other details, but we won't blame Gaston if he doesn't feel like tuning into the Masters this year.
Phil's gambling cover up: Over the weekend, a story emerged about a 17-year-old Australian golfer, Ryan Ruffels, winning $5,000 off Phil Mickelson on the course. According to Ruffels, "We get on the first tee, it's pretty early in the morning and he says, 'I don't wake up this early to play for any less than $2,500." Talk about a money quote. Anyway, because the foursome also involved Tim Mickelson, Arizona State's head coach, there was a bunch of backtracking by Ruffels and his agent. But considering Phil's propensity for gambling – and his admission to routinely carrying around $8,000 in cash, we're going to keep believing this one.
The PGA Tour heads to the mainland for the CareerBuilders Challenge, aka the old Humana Challenge, aka the really old Bob Hope Classic in Palm Springs. Meanwhile, Jordan Spieth, Rory McIlroy and Rickie Fowler will be teeing it up in another desert at the Abu Dhabi Championship. Advantage: European Tour.
Random tournament fact: Patrick Reed shot three consecutive 63s at the 2014 Humana Challenge -- and barely won. Oakmont these Palm Springs courses are not.
That is what happened when Jamie Donaldson's hand met a chainsaw.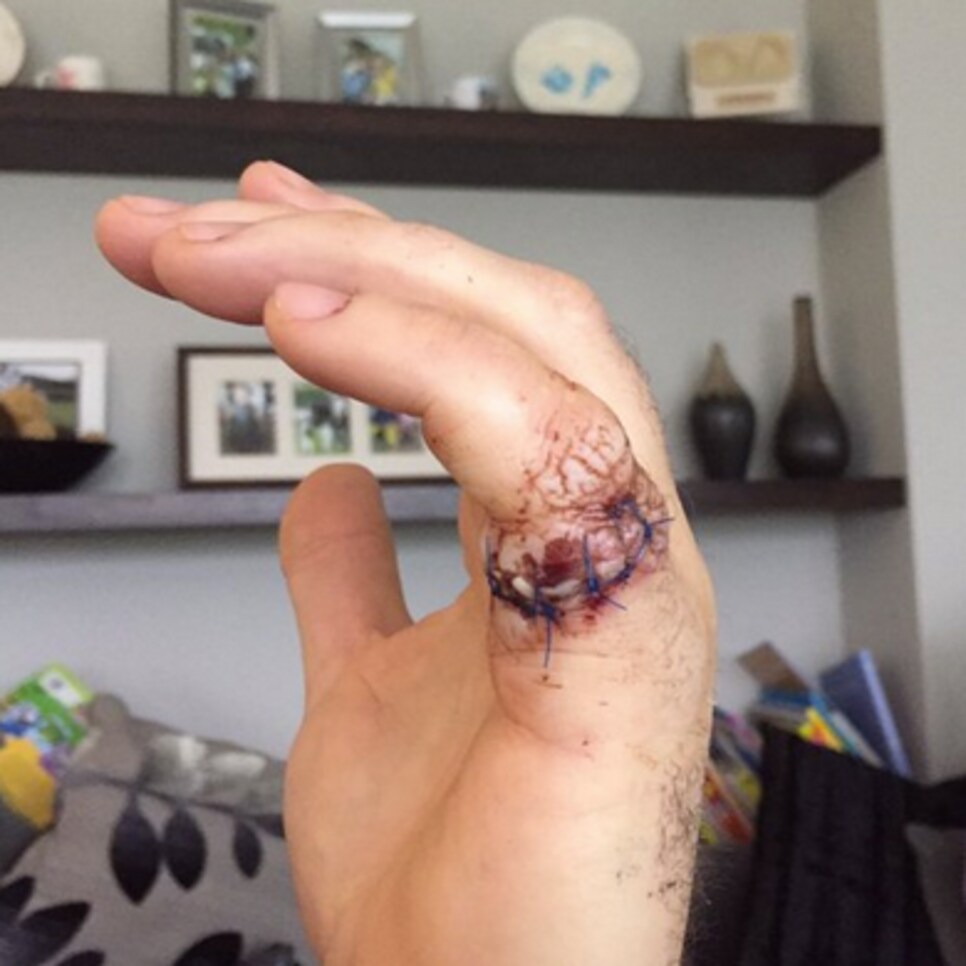 It's similar to what happened to Greg Norman when his hand met a chainsaw in 2014. Just a thought, but golfers should not be handling chainsaws.
RANDOM PROP BETS OF THE WEEK
-- Jordan Spieth is done buying awesome houses: 7 MILLION-to-1 odds
-- Phil Mickelson gambles for anything less than $2,500: 2,500-to-1 odds
-- Jamie Donaldson is done using chainsaws forever: LOCK
On Friday, we released this video of Larry Fitzgerald testing equipment with members of our staff at this year's Hot List Summit.
On Saturday, the future hall-of-famer torched the Green Bay Packers to propel the Arizona Cardinals into the NFC Championship Game. Coincidence?! OK, yes, so this was definitely just a coincidence.
THIS WEEK IN NATALIE GULBIS JUSTIN ROSE MAKING US FEEL BAD WITH HER HIS TRAINING
Wait a minute. He did ALL of those activities in one workout?
THIS WEEK IN PAIGE SPIRANAC BEING PAIGE SPIRANAC
With Paige coming to NYC for a photo shoot with Golf Digest, I was hoping to be posting a photo of us finally meeting in this spot. However, it wasn't meant to be. Instead, we have to settle for her latest glam shot on Instagram:
"If you could get Kevin Na's mind right, that would be the golf equivalent of finding the Lindbergh baby." – Anonymous sport psychologist quoted in Alan Shipnuck's profile of Kevin Na. Read the entire story and you'll probably agree.
__THIS WEEK IN DUSTIN JOHNSON-PAULINA GRETZKY AUSTIN JOHNSON-SAM MADDOX PUBLIC DISPLAYS OF AFFECTION __
AJ has been dating Sam, one of Paulina's friends for a while. Here, she hints at her and Austin being in an upcoming commercial together:
And here, she shows off some new boots.
Are we going to have to start featuring the WAGs of PGA Tour caddies on a weekly basis now?
Si Woo Kim finished T-4 at the Sony Open. He's only 20, and he's one of our 9 sleepers to watch this season. . . . Paul Chaplet won the Latin American Amateur Championship. He's only 16, and now he's heading to the Masters. . . . I didn't get to meet Paige, but she did start following me on Twitter. Yeah, it was a pretty good week. . . . And adding to that good week, we had a Golf Digest party to celebrate our relocation to the Big City. The drink of choice? Moscow Mules.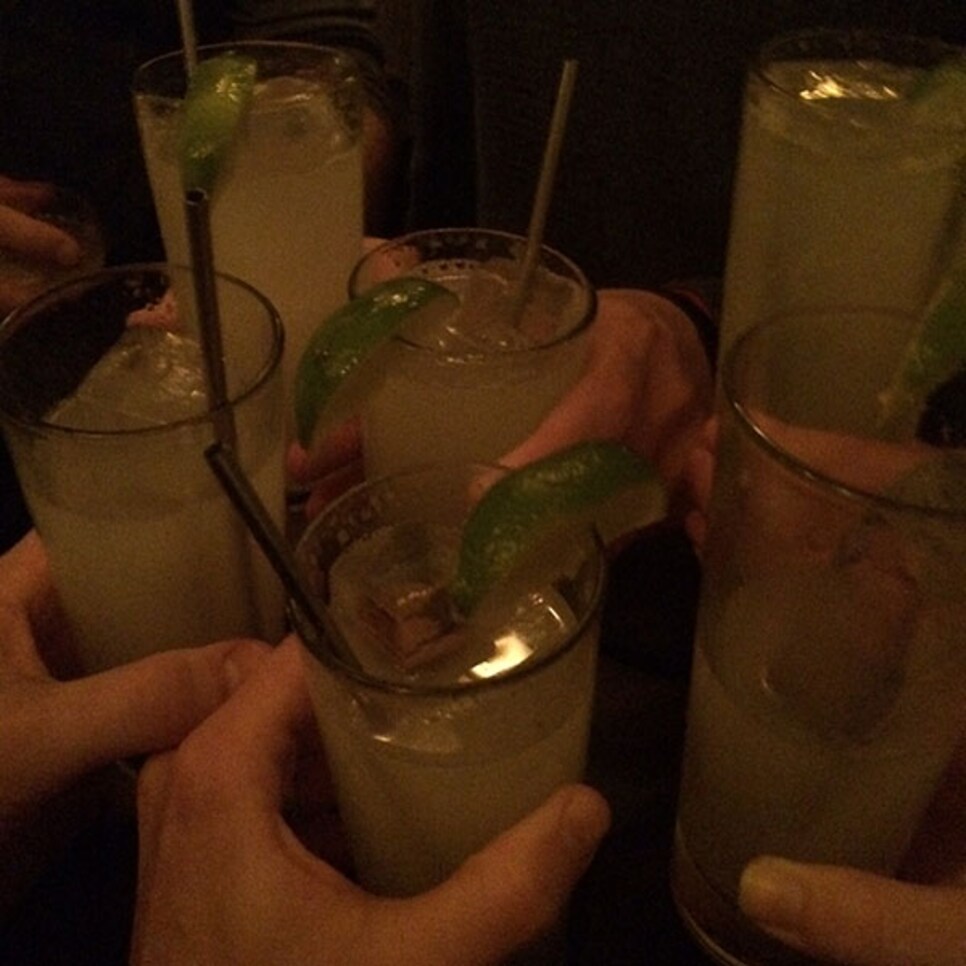 Golf Digest. So trendy right now.
RANDOM QUESTIONS TO PONDER
Is Paige coming back to New York? (I hope)
Is my wife reading this? (I hope not)
Does Jordan Spieth get free Coke for life?