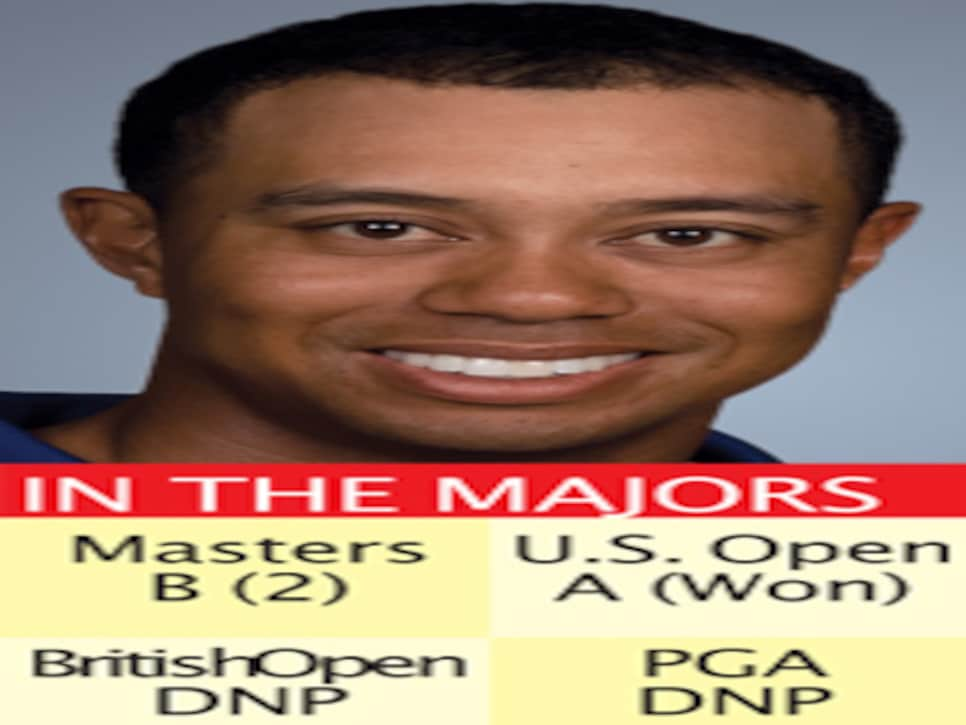 Tiger Woods, did not play
Still rehabilitating his surgically repaired left knee, Woods admitted to having little interest in golf and said he probably wouldn't watch the PGA Championship.__ 2008 recap:__ Winning the U.S. Open on a broken leg keeps him in the mix for the player-of-the-year award.
Phil Mickelson, T-7, 284 (+4)
__ What worked:__Opened and closed with even-par 70s and had fewer putts (115) than at any other '08 major.What didn't: Hit four fairways Sunday, his lowest total of the week and was three over on his last 14 holes.2008 recap: Below par just twice in his last 14 major rounds and was really in contention only at Augusta.
Padraig Harrington, Won, 277 (-3)
__ What worked:__ Brilliant on the greens (only 108 putts) and on the beach (six sand saves in his last 34 holes).__ What didn't:__ It hardly mattered, but he hit fewer fairways as the week went on, finishing with seven in round four.__ 2008 recap:__ The first player not named Tiger to win two majors in one year since Mark O'Meara in 1998.
Vijay Singh, MC, 152 (+12)
__ What worked:__ The winner at Firestone wasn't a factor at Oakland Hills but did average 308.8 yards off the tee.__ What didn't:__ His putting abandoned him, especially on No. 9 where he needed eight putts over two days.__ 2008 recap:__ Not out of the top 20 at Augusta, he was never that close again after round two at Torrey Pines.
Ernie Els, T-31, 291 (+11)
__ What worked:__ Despite finding few fairways, Els was in the top half of the field in greens hit and total putts.__ What didn't:__ His tee ball. Els didn't hit three consecutive fairways until the end of his round Sunday.__ 2008 recap:__ Was in semi-contention at Torrey but didn't really put two solid rounds together all year.
Sergio Garcia, T-2, 279 (-1)
__ What worked:__ For the most part, his youthful exuberance returned, and he was just out of the top 10 in GIR.__ What didn't:__ Just as at Carnoustie his entire game faltered down the stretch with a major on the line.__ 2008 recap:__ Though he lost again to Harrington, Oakland Hills salvaged a below-average year in majors.
Geoff Ogilvy, T-31, 291 (+11)
__ What worked:__ Hit eight fairways and 11 greens in a final-round 70, his best figures of the week.__ What didn't:__ Missed nine straight greens in the third round en route to a four-over 74.__ 2008 recap:__ Hasn't missed a cut at a U.S. major since '03, but had just three rounds at par or better in '08.
Adam Scott, MC, 150, (+10)
__ What worked:__ There were few positives for Scott. The best you can say is he rebounded to shoot 73 Friday.__ What didn't:__ Hit just three fairways Thursday, at one point missing nine in a row. Also had four three-putts.__ 2008 recap:__ It's hard to believe the hand injury hasn't hurt him. Has gone eight majors without a top-10.
Stewart Cink, MC, 151, (+11)
__ What worked:__ He didn't have a three-putt, something no other player on this list can claim.__ What didn't:__ Hit only 10 fairways and made just three of nine sand saves in two rounds.__ 2008 recap:__ Finished T-3 at Augusta while on a hot streak but is slumping as the Ryder Cup nears.
Steve Stricker, T-39, 292 (+12)
__ What worked:__ Hit 16 fairways and 26 greens in rounds one and four, resulting in scores of 71 and 69.__ What didn't:__ Hit 10 fairways and 19 greens in the middle two rounds when he shot 75-77.__ 2008 recap:__ Similar to '07. Had a MC at Augusta and a top-10 at the British for a second year in a row.