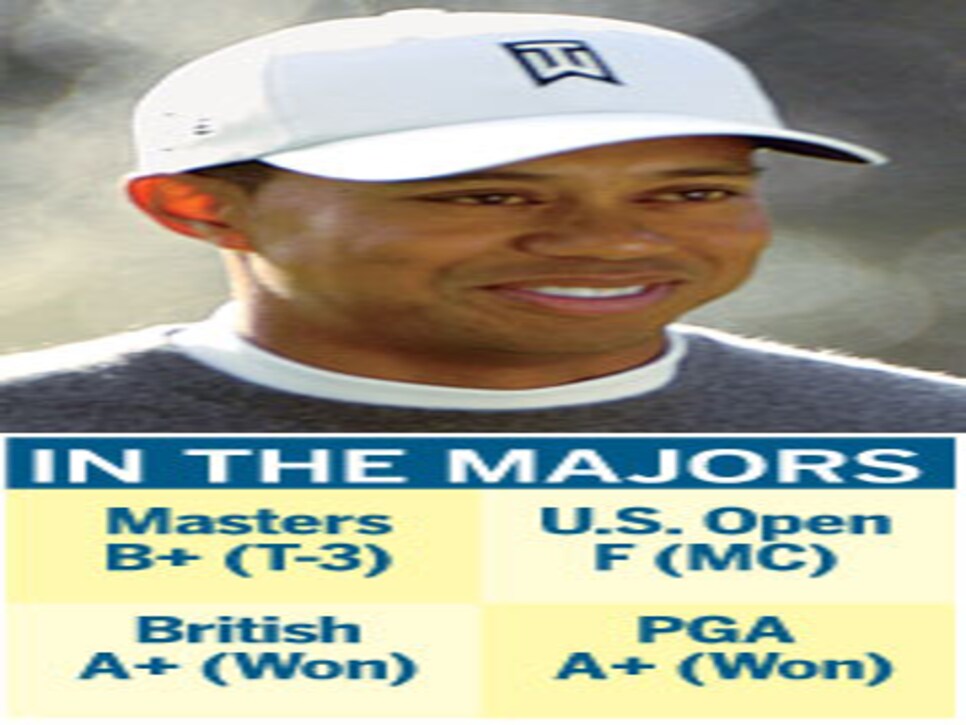 Tiger Woods, Won, 270, (-18)
What worked: He led the field by hitting 56 greens, giving him an amazing 114 in his last two majors.What didn't: For some reason holes 1 and 10 gave him trouble. He hit 1 of 8 fairways and 4 of 8 greens.2006 recap: His second-straight two-major season brings the Tiger Slam back into the picture.
Phil Mickelson, T-16, 282 (-6)
What worked: He dominated the par 5s (nine under), including seven birdies on the front nine's long holes.What didn't: Lefty hit fewer greens (10) and took more putts (32) Sunday than in any other round.2006 recap: A mix of good (Masters), bad (British Open) and ugly (U.S. Open) typified his year.
Jim Furyk, T-29, 285 (-3)
What worked: Tied Woods with 56 greens hit, the second-straight event (Buick Open) he's led in GIR.What didn't: All those greens meant a field-worst 126 putts, including a Sunday high of 35.2006 recap: We expected more at the PGA after the solid Opens, but it was a good year nonetheless.
Vijay Singh, MC, 145 (+1)
What worked: His average drive (314.5 yards) was second-best among those who missed the cut.What didn't: As at Hoylake, Singh couldn't take advantage of a major course that yielded birdies.2006 recap: The first two majors raised hope, but he wound up singing the summertime blues.
Retief Goosen, T-34, 286 (-2)
What worked: The Goose hit 16 greens during a 68 Saturday that almost got him on the leader board.What didn't: Only 33 fairways (T-55) meant he had a hard time getting close to the cup on approaches.2006 recap: Other than a short stay early at Hoylake, he hasn't graced a major leader board since April.
Adam Scott, T-3, 276 (-12)
What worked: Five birdies on the front nine Sunday was his best sustained play all week.What didn't: Six bogeys on the 16th and 18th holes kept him from taking any momentum into the next day.2006 recap: There's hope for the future. The world's highest-ranked Aussie improved at every major.
Ernie Els, T-16, 282 (-6)
What worked: He hit more fairways Sunday (12) than any other day, making five birdies in a 69.What didn't: Els persevered after the death of his father-in-law, but didn't break 70 the first three days.2006 recap: One of five on this list (Mickelson, Furyk, Scott, Ogilvy) to make the cut at all four majors.
Geoff Ogilvy, T-9, 279 (-9)
What worked: His attitude the first two days while paired with Tiger and Phil made him a media favorite.What didn't: Early double bogeys Saturday and Sunday kept him from staying close to Tiger on the weekend.2006 recap: The Aussie was the only player to finish in the top 20 at all four majors in 2006.
Sergio Garcia, T-3, 276 (-12)
What worked: Was 10 under on the front nine and didn't make a bogey there the first three rounds.What didn't: He only found four greenside bunkers, but didn't get up and down a single time.2006 recap: Unlike Goosen, he rebounded from the missed cut at Winged Foot to post a pair of top-5s.
David Howell, 67, 297 (+9)
What worked: The Englishman only played one hole well, No. 1, with birdies there the first three days.What didn't: He hit 15 greenside bunkers. Also, the final-round 82 was his third 80+ on tour this year.2006 recap: Two top-20s put him in the spotlight; the last two majors cast doubts about his game.