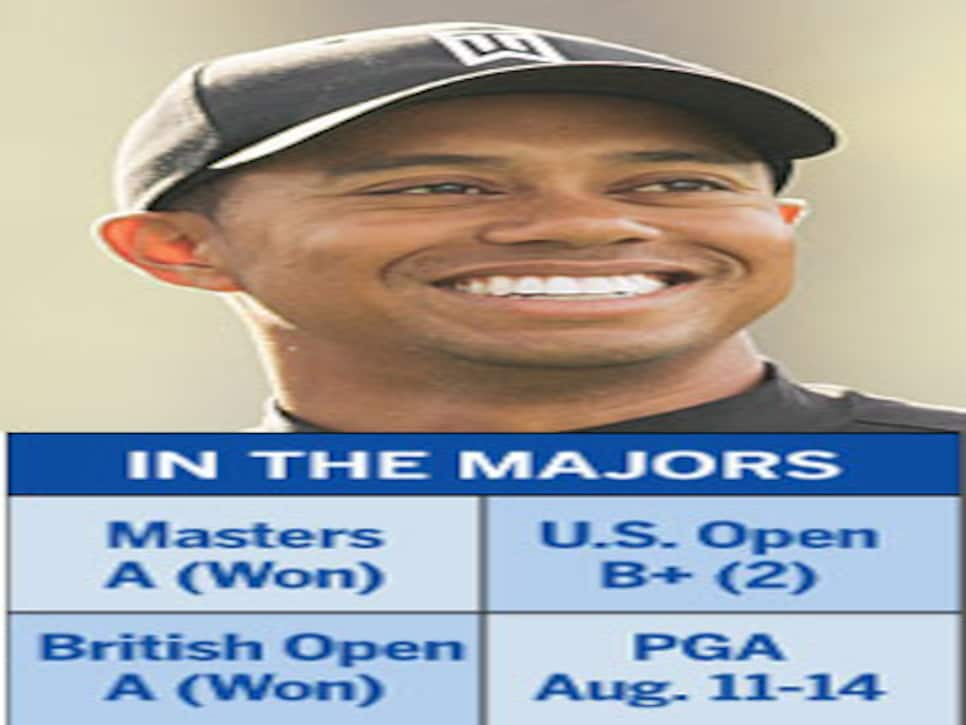 Tiger Woods, 1, 274 (-14)
What worked: The putter, which failed him at Pinehurst. His 120 putts last week were a tournament low.What didn't: Well, he hit four bunkers. And he didn't secure the win until the back-nine Sunday.What about the PGA: Four times since '97 he's had his worst major finish at the year's final major.
Vijay Singh, T-5, 281 (-7)
What worked: No stat shined, yet he was T-5, gutting out a similar finish to the year's other majors.What didn't: He took 124 putts, his lowest in a major in '05. But that's misleading. He didn't putt.What about the PGA: If he converts on the greens at Baltusrol, the two-time champ should threaten.
Ernie Els, T-34, 286 (-2)
What worked: He made 18 birdies despite hitting only 37 fairways and 52 greens in regulation.What didn't: Els took 37 putts Saturday when he fell out of contention for good.What about the PGA: Was T-7 in the '93 U.S. Open at Baltusrol, his first made cut in a U.S Open.
Phil Mickelson, T-60, 289 (+1)
What worked: Through three rounds Mickelson played the front nine in seven under par.What didn't: He was nothing if not consistent on the greens, taking 33, 33, 33 and 32 putts per day.What about the PGA: Has a star-crossed PGA history, being in contention (six top-10s) as often as not.
Retief Goosen, T-5, 281 (-7)
What worked: He hit 47 greens the last three days, tied for best in the field during that span.What didn't: Bounced back from Pinehurst, but another poor final round (74) leaves work to be done.What about the PGA: He'll get another chance to rebound, but it's likely the year that could have been.
Sergio Garcia, T-5, 281 (-7)
What worked: Had his best Open finish ever--and fourth top-10--thanks to 69s in the middle rounds.What didn't: Garcia took 131 putts. Among players in the top 10 only Fred Couples took more.What about the PGA: He missed the cut three of the last four years, but expected better this time around.
Adam Scott, T-34, 286 (-2)
What worked: One of the week's longest hitters (eighth, 329 yards) and better putters (12th, 123).What didn't: Everything in between. He hit only 53 greens (T-58) and made just 14 birdies.What about the PGA: A T-30 finish sounds right. He's been consistently underachieving in majors in '05.
Jim Furyk, MC, 148 (+4)
What worked: Like most players Thursday he hit the ball a long way, averaging 329 yards per drive.What didn't: Three three-putts in a first-round 78, kept him from the weekend despite a 70 Friday.What about the PGA: Once an automatic top-10 major finisher, he has no top-10s since his U.S. Open win.
Padraig Harrington, did not play
Harrington withdrew from the British Open after the death of his father, Patrick, three days before the tournament began.What about the PGA: It depends on his frame of mind, but if he decides to play, he'll likely do well.
David Toms, DQ, 74 (+2)
What worked: His honor goes unchallenged, penalizing himself for a violation no one else saw.What didn't: The admirable DQ hid a flawed round. After the 74, he likely would have missed the cut.What about the PGA: Hasn't done well in NYC-area majors, with a MC, a T-45 and a T-20 in three tries.