The Loop
BEEF earns his PGA Tour card, a new golf world record, and Paige Spiranac's sexy "pre-shot routine"
Welcome to another edition of The Grind, where we're having a hard time containing our excitement these days. There's the FedEx Cup up for grabs this week, the Ryder Cup on the line next week, and the PGA Tour return of Tiger Woods next month. But wait, what's this? Another Anthony Kim sighting? On a golf course . . . PLAYING GOLF?!
Try to stay calm, everyone. And while we await more word on AK's potential comeback, let's talk about everything else going on. Exciting times, indeed.
Andrew "Beef" Johnston: With a fourth-place finish at the Albertsons Boise Open, everyone's favorite bearded British golfer will be a member of the PGA Tour next season. That's right, BEEF is coming to America!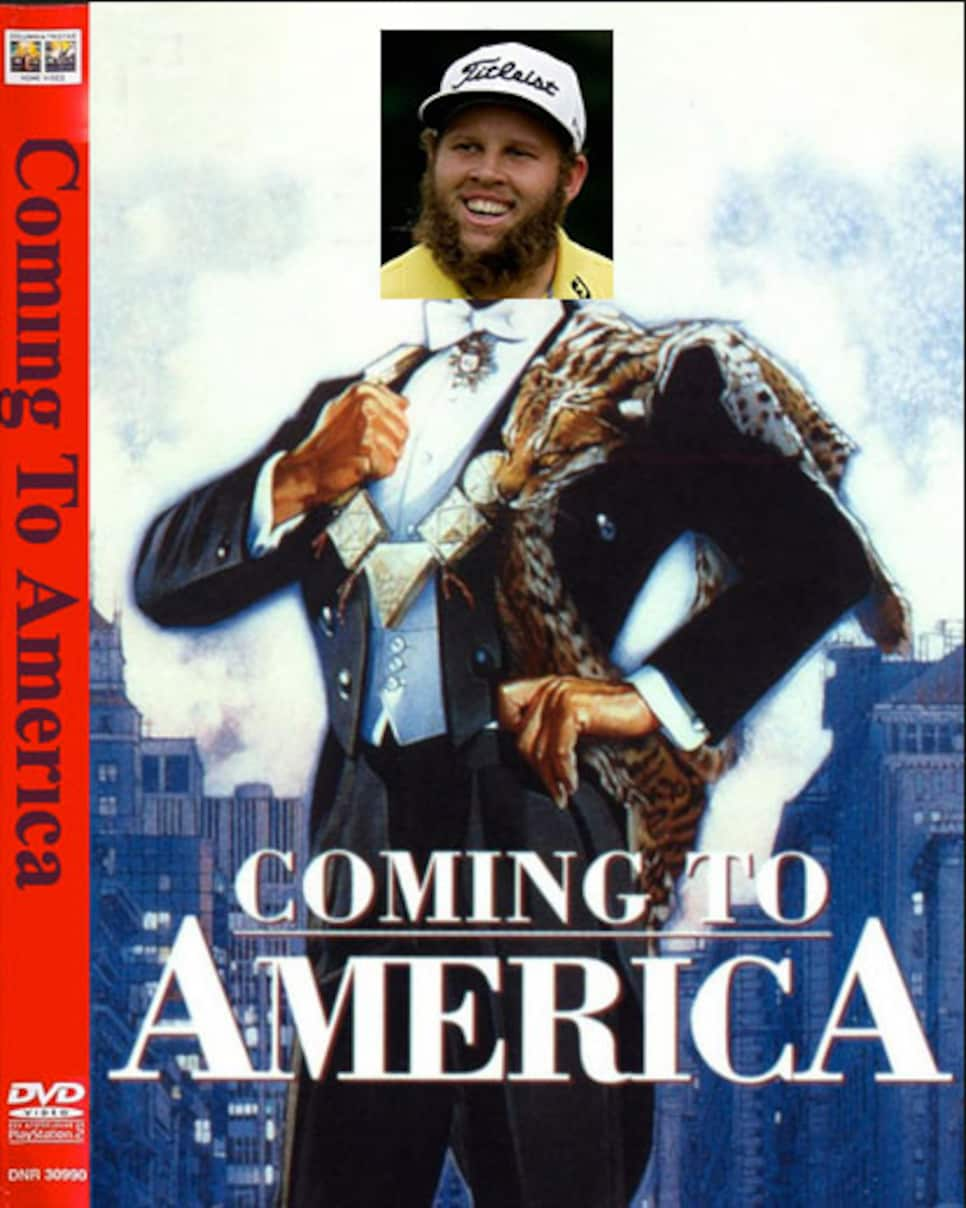 Now blare Bruce Springstein's "Born in the USA," but substitute "Born" for "Beef":
Feels good, right? And how about Beef's timing? He earned his tour card on National Cheeseburger Day (seriously) and he just happens to be the new Golf Digest cover boy. Beefsanity!
In Gee Chun: The 22-year-old South Korean captured her second career major at the Evian Championship and she did it in record fashion. At 21 under, Chun topped the mark of 20 under set by Jason Day at the 2015 PGA and Henrik Stenson at this year's British Open. She also has a nickname – Dumbo – that gives Beef a run for the best in golf. Speaking of record-breaking performances. . .
Barry Gibbons: It's official. No one in history has ever played more rounds of golf in one calendar year than this Ridgefield, Conn., resident. Gibbons broke the Guinness World Record by playing his 612th(!) round of the year at Valley Country Club in Colorado on Sept. 18 and now he has his eyes set on 850. Amazing. "I want to run it up as much as possible," he told me when we played together last week. "I'm never doing this again." That's probably for the best, Barry.
Byeong Hun An: The South Korean became the latest victim of one of sport's silliest rules, signing an incorrect scorecard. To make things worse, An had his overall score right, but flipped a couple of holes to earn his DQ. Oh yeah, he was also in contention at the Italian Open and it was his 25th birthday weekend.
Tiger replica putter: Someone is selling this replica of the Scotty Cameron Tiger used to win the 1997 Masters: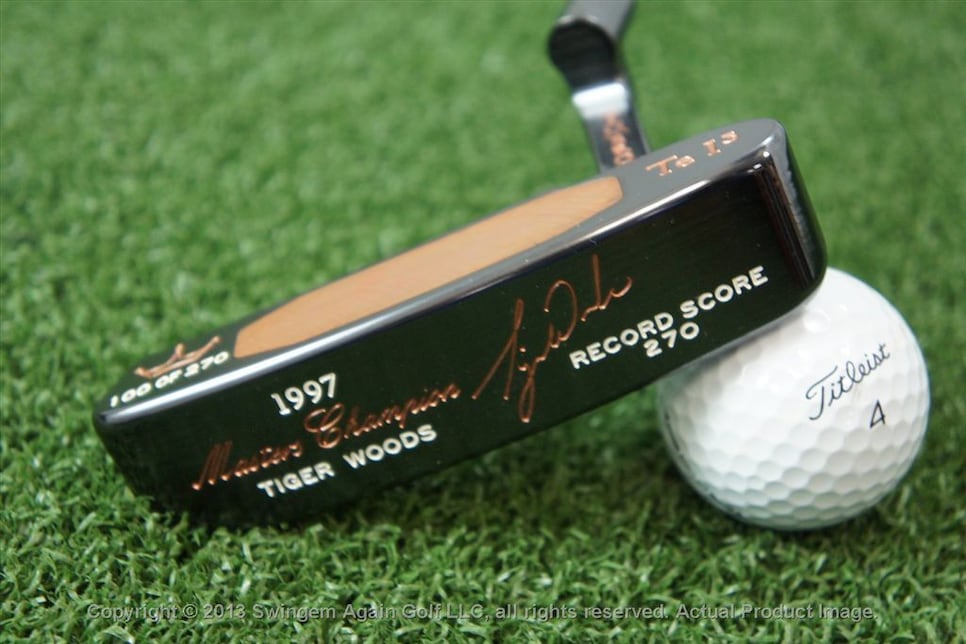 What's wrong? Oh, only that they're asking $20,000 for it! The actual putter Woods used during his historic win at Augusta National? Sure. But to ask this much for a replica is criminal.
Michelle Wie: While we're on the topic of golf collectibles you might see on eBay someday, check out the gold shoes Wie wore at the Evian Championship:
Look, they're kind of cool, and we'll never forget when Michael Johnson wore gold shoes at the 1996 Olympics. But he WON gold. Michelle, if you're going to pull off the same look, you have to finish better than T-55.
The 2015-16 PGA Tour season concludes with the Tour Championship at East Lake, aka that place where someone wins the FedEx Cup and a $10 MILLION bonus – whether they realize it or not (Looking at you, Bill Haas).
Random tournament fact: East Lake also used to be known as that course that ends with a long par 3, but this year, the PGA Tour is flipping the front and back nines, making that long par 3 the ninth hole and the 18th hole a par 5. Sounds more exciting to us.
RANDOM PROP BETS OF THE WEEK
-- This week's winner will sign an incorrect scorecard: 10 MILLION-to-1 odds
-- Some idiot will actually spend that much on that replica putter: Even odds
--Beef will have more sponsors next year: LOCK
PHOTO/SNAPCHAT OF THE WEEK
Check out Dustin Johnson and Brooks Koepka hanging out together.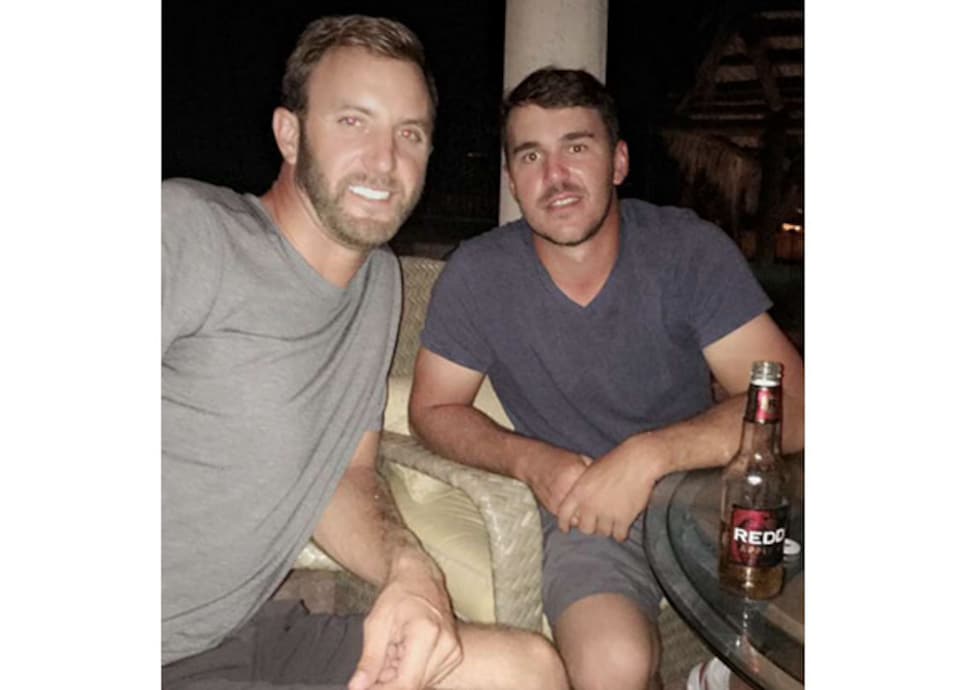 It leads to two obvious questions: 1. Is this a possible pairing at the Ryder Cup? (Hopefully!) 2. Whose Redd's Apple Ale is this? (Hopefully, neither of theirs.)
Stewart Hagestad staged one of the great comebacks in USGA championship history, rallying from four down with five to play at the U.S. Mid-Am and winning on the first playoff hole. Almost as exciting as his final birdie putt dropping (his fifth in those final six holes) was buddy Justin Thomas' reaction:
VIRAL VIDEO OF THE WEEK (DARING TRICK SHOT DIVISION)
Not even a broken ankle could keep golf pro Romain Bechu from trying this – and this guy from letting him try it:
"A few, um, sodas. Maybe a Coke and a Fanta or something like that. . . No, no, there's going to be a few beers, man." – Beef on how he planned to celebrate earning his PGA Tour card. We're pretty sure he didn't go too crazy. He was in Boise, after all.
THIS WEEK IN DUSTIN JOHNSON-PAULINA GRETZKY PUBLIC DISPLAYS OF AFFECTION
Not only did these two lovebirds share a sweet photo of them together, but they shared it almost simultaneously on Instagram. Aw!
We'll give a slight edge to DJ for his caption.
THIS WEEK IN BELEN MOZO MAKING US FEEL BAD WITH HER TRAINING
That's one workout? Sounds like a lot.
THIS WEEK IN PAIGE SPIRANAC BEING PAIGE SPIRANAC
Here's Paige showing off her new sexy "pre-shot routine" (NOTE: This is a joke, people!):
THIS WEEK IN BLAIR O'NEAL BEING BLAIR O'NEAL
Blair sure loves her football. First, she showed some school pride for her alma mater on Saturday:
And on Sunday, her Denver Broncos:
And both of Blair's teams won. That always makes for a good weekend.
Michael Thompson won in Boise to secure his PGA Tour card. You probably remember him as that guy who almost won the 2012 U.S. Open. . . . Francesco Molinari won the Italian Open. As you might imagine, he was a popular winner in his home country. . . . Davis Love III will make his final Ryder Cup captain's pick Sunday night. We're guessing it's going to be either Bubba Watson, Daniel Berger or Justin Thomas considering they were invited to a team practice at Hazeltine over the weekend. . . . And with summer officially coming to a close, a special shout-out to my wife, Michelle, for this glorious ice cream cake concoction: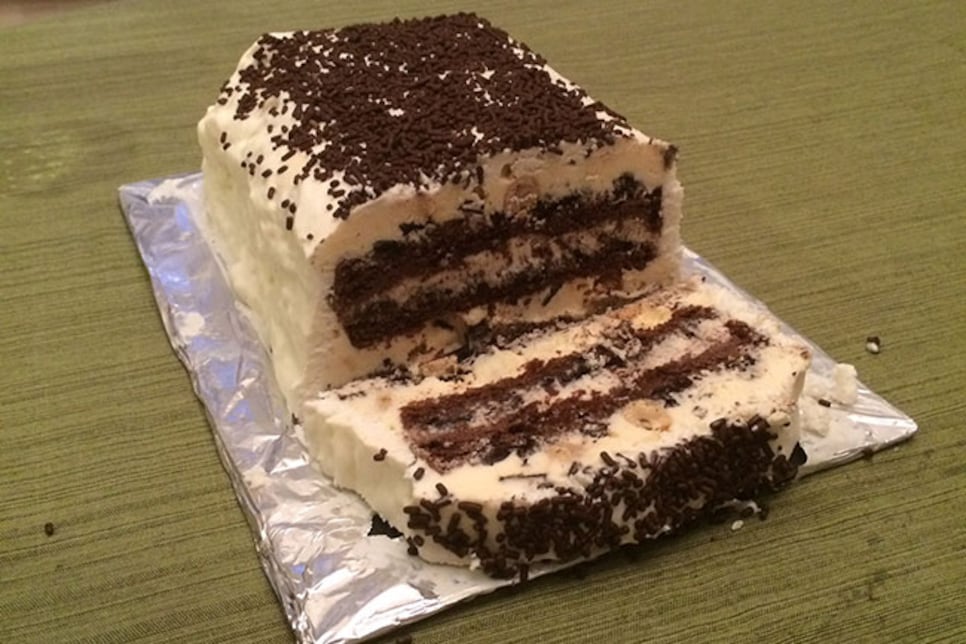 That thing goes down smooth. No matter the season.
RANDOM QUESTIONS TO PONDER
Who will be the final Ryder Cup captain's pick?
How many rounds of golf have I played in my life?
Is there a National Ice Cream Cake Day?