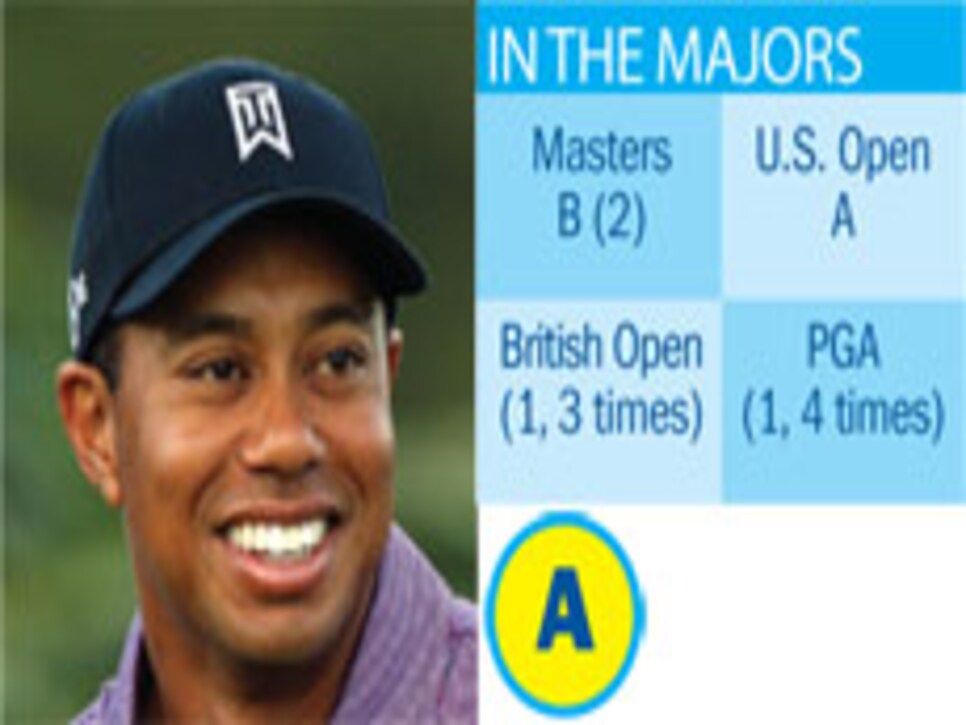 Tiger Woods, Won in playoff, 283 (-1)
What worked: He was T-11 in putts for the week, but made more long ones in big moments than ever before.What didn't: He missed more than his share of fairways--some by a lot--keeping him from winning Sunday.British prospects: He opened with a 65, finished with a 66 when they last played Birkdale in 1998.
Phil Mickelson, T-18, 290 (+6)
What worked: His opening and closing rounds were better than most, but his 68 Sunday was a little too late.What didn't: The no-driver strategy didn't help, but Phil hit only 25 fairways, tied with Chris Kirk for last.British prospects: His worst round as a pro was a third-round 85 at Birkdale in '98. He closed with a 78.
Adam Scott, T-26, 291 (+7)
What worked: He hit 26 greens on the weekend and was T-6 in GIR with 48 for the week.What didn't: He still misses too many short putts and needed 125 putts during the tournament.British prospects: Scott has only one top-10 in eight British Opens, but Aussies have three wins at Birkdale.
Ernie Els, T-14, 289 (+5)
What worked: Els made the most of his week, playing solid golf with Butch Harmon in his corner.What didn't: The triple on 15 Sunday will be remembered, but Els only made 10 birdies all week.British prospects: Like Phil, Els doesn't have fond memories of Birkdale, his T-29 is his third-worst British.
Geoff Ogilvy, T-9, 288 (+4)
What worked: He was pleased with his putting during a first-round 69, his best-ever score in an Open.What didn't: He followed his 11-fairway performance Saturday by hitting only four Sunday.British prospects: Ogilvy has been hit or miss at the British, with three MCs, a T-5 and T-16 in five starts.
Justin Rose, MC, 151 (+9)
What worked: He had no trouble finding the narrow fairways, hitting 13 Friday and 20 in two rounds.What didn't: He threw too many shots away, not taking advantage of his accuracy by failing to hit greens.British prospects: Has better memories than most at Birkdale, the site of his T-4 as a 17-year-old amateur.
Sergio Garcia, T-18, 290 (+6)
What worked: After a slow start he began hitting greens. His 52 GIR were second to Nick Watney's 53.What didn't: The first seven holes Thursday. He could never rebound from that six-over start.British prospects: How will Garcia react when the British press reminds him no European has won at Birkdale?
Steve Stricker, T-29, 292 (+8)
What worked: Flew under the radar all week, but a good weekend (71-72) bumped him from T-65.What didn't: As expected his lack of length off the tee hampered him, but he also only hit 31 fairways.British prospects: Stricker is the same age as Mark O'Meara (41) when he won at Birkdale in 1998.
Vijay Singh, T-65, 298 (+14)
What worked: Singh claims he struck the ball well while making the cut for the 14th straight U.S. Open.What didn't: He made too many self-described silly mistakes and was T-67 in the field with 126 putts.British prospects: In need of a good major, he opened with a 67 at Birkdale in 1998.
Jim Furyk, T-36, 293 (+9)
What worked: Furyk hit 10 fairways and a week-high 14 greens in regulation during a 71 Friday.What didn't: He had too many putts (124) and too few birdies (eight) on a course he never plays well.British prospects: Fourth a year ago after five straight MCs, Furyk tied Rose at T-4 in 1998.