PGA Championship
The PGA's Defining Moments
From good to bad to bizarre, the moments we'll remember from Valhalla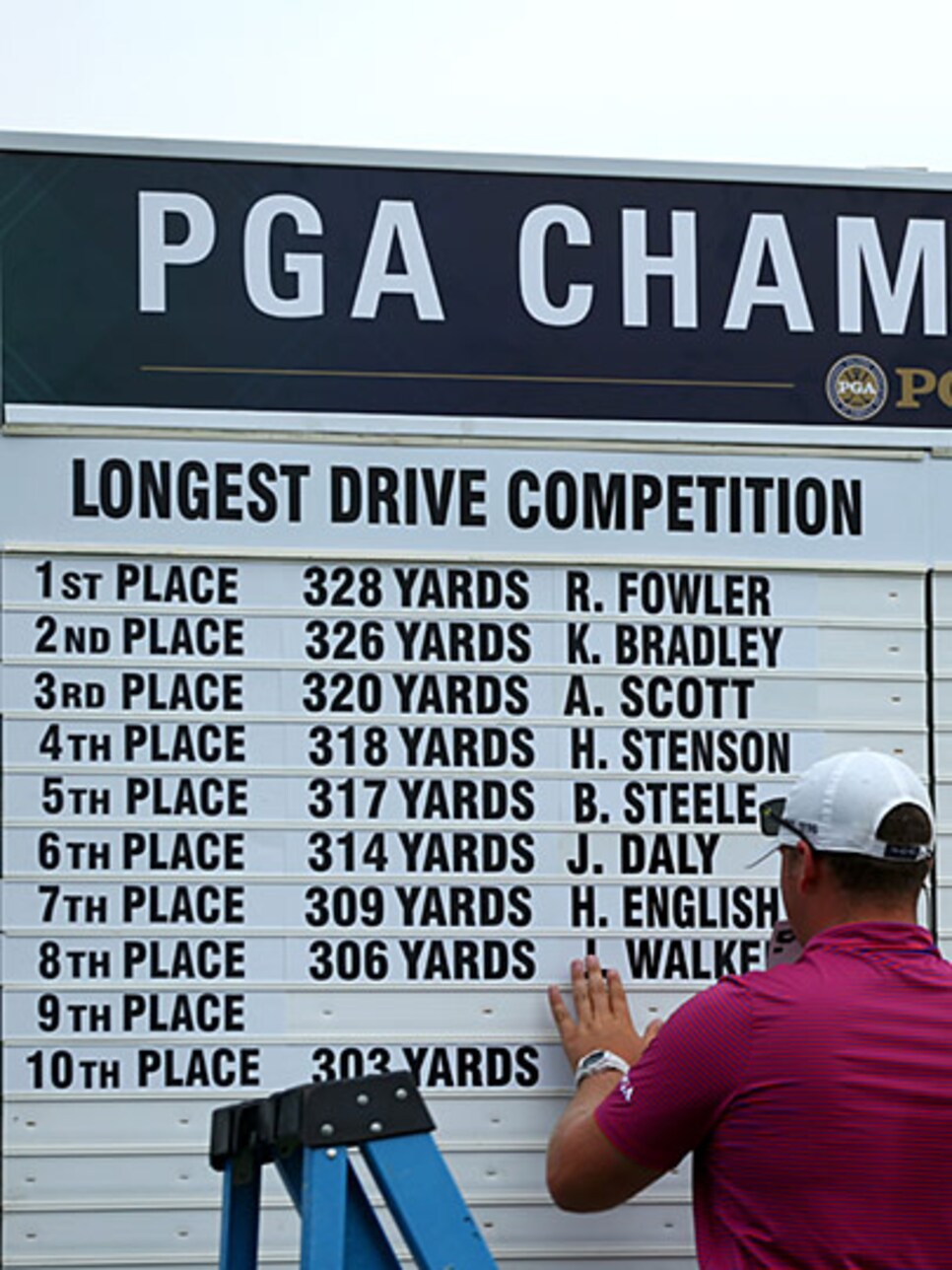 Photo By: Jeff Gross/Getty Images
Photo By: David Cannon/Getty Images
Photo By: David Cannon/Getty Images
Photo By: Sam Greenwood/Getty Images
Photo By: Andrew Redington/Getty Images
Photo By: Andrew Redington/Getty Images
Photo By: Warren Little/Getty Images
Photo By: Sam Greenwood/Getty Images
Photo By: Jeff Gross/Getty Images
Photo By: Andrew Redington/Getty Images
Photo By: Andy Lyons/Getty Images
Photo By: Megan Blank/The PGA of America via Getty Images
Photo By: Warren Little/Getty Images
Photo By: Jeff Gross/Getty Images
Photo By: Andrew Redington/Getty Images
Photo By: Mike Ehrmann/PGA of America via Getty Images
Photo By: Warren Little/Getty Images
Photo By: Andy Lyons/Getty Images
Photo By: Montana Pritchard/The PGA of America via Getty Images
Photo By: Andy Lyons/Getty Images
Photo By: Jeff Gross/Getty Images
Bubba Watson's Odd StatementIt was supposed to be a lighthearted, fan-friendly exhibition -- a long-drive contest woven into the normal flow of Tuesday's practice round. What was not to like? To Bubba Watson, plenty. The two-time Masters champion, who surely would have been among the favorites, deemed the competition a distraction and decided to hit a 3-iron off the 10th tee. Watson's reasoning was that he didn't want to distract from his preparation for the tournament, which was odd because in the actual tournament, he hit driver on 10 all four days. "I was trying to prove a point that nobody cared about," Watson said on Tuesday. Right. Of course he was. --Sam Weinman
Photo By: Jeff Gross/Getty Images
Tiger's surreal arrivalThis was, as many noted, the strangest chronicling of a white SUV since O.J. Simpson's Bronco chase. With Tiger Woods' PGA status uncertain after his Sunday withdrawal from the Bridgestone Invitiational, word spread through Valhalla he was intending to arrive on Wednesday. Hence, the stalking of Woods' parking spot, followed by the player's actual arrival just before 2 p.m. Woods pulled into his spot, changed his shoes in the parking lot, then proceeded swiftly to the range to hit balls without any stretching. It wasn't so much what Woods did that day, but the utter fascination in how he did it. Which is pretty much how you can explain his entire career.-- S.W.
Photo By: David Cannon/Getty Images
Rory McIlroy's early wake-up callBy the time Rory McIlroy reached the 10th hole Thursday, it would only be a slight exaggeration to say he hadn't hit a bad golf shot in nearly a month. And yet with his second shot into the par 5, McIlroy hit a whopper, a double-crossed 3-wood he launched left and out of bounds. Three under par at the time, McIlroy made double bogey, followed by a three-putt bogey on the par-3 11th. "Walking on to the 12th hole, I was muttering a few things to myself," McIlroy said. It must have helped, because from there he birdied his next four holes and ended the day with a 66. -- S.W.
Photo By: David Cannon/Getty Images
U.S. Ryder Cup (black and) bluesIf the U.S. Ryder Cup team loses again next month, it could be that Thursday at the PGA Championship proved the pivotal moment. News circulated early in the day that Matt Kuchar -- who at this point might be the team's most consistent player -- had withdrawn from the year's final major because of a bad back. A few hours later, reigning PGA champ Jason Dufner withdrew after nine holes with a neck injury. The pair of WDs and the unknowns surrounding the players' return ignited a worried conversation about the impending fate of Watson's team -- and the captain wasn't immune to it. "Yes, there is concern," Watson said. "My team are dropping like flies." -- Luke Kerr-Dineen
Photo By: Sam Greenwood/Getty Images
Rory's eagle lands him in firstWith a British Open and a WGC win in his last two starts, Rory McIlroy looked like an unstoppable force heading into the PGA. He lurked one back after Thursday but stormed into the lead on Friday, recovering from a bogey on the 12th with two birdies and an eagle on his final six holes. The eagle came on the 18th, where he holed a long putt from the front of the green to take a one-stroke lead into the weekend. It established to everyone who wasn't convinced already that if Rory's win streak was going to end, at the very least, it wouldn't be without a fight. -- L.K.D.
Photo By: Andrew Redington/Getty Images
Bubba acts like a babyBubba Watson has become known for his occasional on-course petulance, but the second round at the PGA was an all-time low for the two-time Masters champ. After an early weather delay forced him off the course, Bubba unsuccessfully campaigned for the PGA to implement lift, clean and place, then threw a tantrum when he was back on the course not long after. Bubba started loudly complaining about rainwater on his driver's club face, and at times told his caddie, Ted Scott, to tee up his ball for him so he could stay dry. It was a poor display that Bubba, to his credit, later apologized for. -- L.K.D.
Photo By: Andrew Redington/Getty Images
Tiger's bad back comes backWoods said his back was stiff after his opening round and then it "went out" on him Friday on the range. People watching saw the first real sign of that, though, when he grimaced after a pulled tee shot on the seventh hole. Many thought Woods would withdraw like he had the week before, but he played on in pain. Woods shot one under on the back nine, but still missed the cut by five shots -- marking only the fourth time in his pro career that he's missed the cut at a major. -- Alex Myers
Photo By: Warren Little/Getty Images
Welcome to 2014, PhilIn a pre-tournament interview, Phil Mickelson described his season as "pathetic," but the 44-year-old lefty showed he still has some magic left with a Friday flourish to vault into contention. One over through six, Mickelson birdied four of his next eight holes and capped his great round with an aggressive long iron to six feet on the par-5 18th. Mickelson drained the putt for an eagle to show he was going to make some noise in the year's final major even if he had failed to be a factor thus far in 2014. -- A.M.
Photo By: Sam Greenwood/Getty Images
Jason Day's barefoot parOne shot off the lead to start the third round, Day pulled his tee shot left and seemingly out of play on the long, dogleg par 4. Thus began his wacky barefoot adventure. Day and a coterie of others, including caddie Colin Swatton and CBS course reporter David Feherty wallowed around in the marsh before finding, then losing again, then finding again Day's ball. Day removed his shoes, rolled up his pants, and had Swatton toss him a wedge. He was able to advance his ball across the fairway and into the rough, and then was able to get up and down for par from there. As par saves go, this was a classic, and it kept the Australian in the hunt for his first major title heading into the final round. -- S.W.
Photo By: Jeff Gross/Getty Images
Bernd Wiesberger?The Austrian played with Phil Mickelson in one of Saturday's final groups, but wasn't on many people's minds as a serious contender until an incredible stretch of golf made everyone take notice. Wiesberger, playing on the weekend at a major for just the second time, knocked his approach on No. 16 to kick-in range, then nearly jarred his second shot on the par-4 17th and just missed pitching in for eagle on No. 18. The trio of birdies secured him a surprising spot in the final pairing with Rory McIlroy. Wiesberger didn't hold up on Sunday, but he was another reminder of how many players were in contention during a crazy final round. -- A.M.
Photo By: Andrew Redington/Getty Images
The most imperfect stormSo much of this PGA final round had the makings of an all-time classic, with one notable exception: a violent rainstorm that rolled through Valhalla at midday, turning fairways and greens into creeks, and suspending play for an hour and 50 minutes. Along with further softening an already saturated golf course, it also turned Sunday into a scramble. The last pairing didn't tee off until 4:19 p.m. -- S.W.
Photo By: Andy Lyons/Getty Images
Rory's early hiccupAfter waiting out a rain delay and then watching everyone around him push deeper into red numbers, the PGA Championship leader was sluggish to start on Sunday. At the par-3 third, McIlroy played away from the pin, then left his birdie putt six feet short. Facing his first nervy putt of the week, McIlroy missed to fall back into a tie for the lead with Phil Mickelson and Bernd Wiesberger, a group that was expanded minutes later. -- S.W.
Photo By: Megan Blank/The PGA of America via Getty Images
A five-way tie on Sunday?Yep, a five-way tie on Sunday. Henrik Stenson's birdie on the fifth hole created a logjam at the top of the leader board. The situation was a stark contrast to what we saw at the season's first three majors, which featured little final-round drama. After no Sunday back-nine ties or lead changes at the Masters, U.S. Open and British Open, four players all had a chance to win until the very end. -- A.M.
Photo By: Warren Little/Getty Images
Fowler moves in frontAfter hitting his tee shot into a hazard on No. 2 and making a good bogey, Fowler found his stride. He birdied Nos. 3 and 4, and then when it looked like he might drop a shot when he missed the fifth green, Fowler turned it into an opportunity. He chipped in for an unlikely birdie to take sole possession of the lead at a major for the first time in his career. -- A.M.
Photo By: Jeff Gross/Getty Images
Rory's great missThere was a point, early in his round, where it looked like Rory McIlroy was going to sink quietly into the background. Two bogeys in his opening six holes Sunday left him increasingly far back of Phil and Rickie, who at the time were separating themselves from the field. But Rory put an end to that notion with his second shot on the 10th hole; a low, screaming, slightly thin 3-wood from 280 yards that rolled to seven feet. Of course he made the putt, which effectively started a final-round shootout that set the golf world alight. -- L.K.D.
Photo By: Andrew Redington/Getty Images
Phil's clutch par saveMickelson had said all week he felt a low round coming, and he delivered on Sunday, making five birdies without a bogey through the first 11 holes. But on the 12th, Mickelson's momentum was nearly halted when he missed the green in a precarious spot to the right of the green. Mickelson's flop with a 60-degree wedge carried well past the pin, but he made the 28-footer for a par to hold onto a share of the lead with Rickie Fowler. -- S.W.
Photo By: Mike Ehrmann/PGA of America via Getty Images
Stenson's stops his own momentumFor everything that Stenson did well during his final-round 66, he'll certainly rue the three-foot par putt he missed on the par-3 14th. After holing lengthy par putts on No. 8 and No. 12, Stenson narrowly missed a 15-footer for birdie and the outright lead and then lipped out the comebacker -- his first miss from inside seven feet for the week. With pars on each of the final four holes, Stenson couldn't climb back to the top of the leader board. -- A.M.
Photo By: Warren Little/Getty Images
Phil's flop doesn't dropIt's fair to say this tournament was won on the 16th hole -- or, in Phil's case, lost on the 16th hole. With Rickie's drive well right, Mickelson was coming from a decent position in the rough, but his poor second shot left him short-sided in front of a greenside bunker. His pitch lipped out, but in reality it was always traveling too fast. When he left his par putt short a few moments later, it effectively ended Phil's dream of adding the 2014 PGA Championship to his trophy cabinet. -- L.K.D.
Photo By: Andy Lyons/Getty Images
Rickie's wild ride on No. 16Fowler chose an aggressive line over the trees for his tee shot on No. 16, but pushed his drive onto the 15th hole. It caused him to walk back to the 15th green where Rory McIlroy was putting and then around to get to his ball. From there, he hit a great recovery to the front of the green, but still faced a putt of about 100 feet. Fowler was able to two-putt to stay in contention, but his adventure didn't help the pace of play as darkness approached. More on that later. -- A.M.
Photo By: Montana Pritchard/The PGA of America via Getty Images
Rory's door-shutting birdieWith both Mickelson and Fowler scrambling to save par in front of him, McIlroy appeared to find trouble of his own when he found the bunker off the 17th tee. But from there, McIlroy delivered a vintage approach, catching his wedge clean out of the bunker and hitting it to 10 feet. When McIlroy rolled in the birdie putt, he had a two-shot lead heading into the final. Which, for a variety of reasons, was vital . . .-- S.W.
Photo By: Andy Lyons/Getty Images
The bizarre 18th holeIn the end, the guy who was leading made par on the last to win. Maybe that doesn't sound so crazy, yet this may go down as the strangest finishing hole in major championship history. With light rapidly fading and the pairing of Fowler and Mickelson already in the 18th fairway, they called ahead to McIlroy to tee off on the last hole as well. First McIlroy's drive sailed right and landed within feet of the water. Then he hit his second shot up toward the green with Fowler and Mickelson thinking he was going to wait. Lastly, there was the two-putt from 33 feet on the final green in virtual darkness. Had McIlroy missed to force a playoff, we might never have heard the end of it. -- S.W.
Photo By: Jeff Gross/Getty Images