U.S. Open Preview
Best Major Final Round Duels
Fifteen years after Payne Stewart and Phil Mickelson went head-to-head in a memorable final round at Pinehurst, we take a look back at that event and other classic Sunday battles at major championships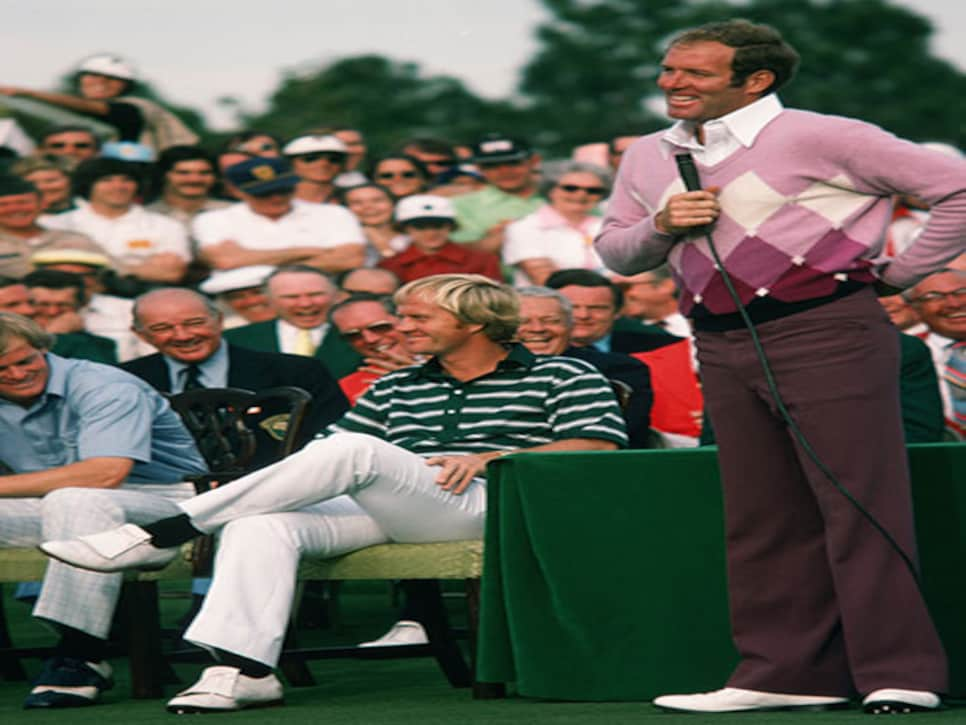 Jack Nicklaus-Tom Weiskopf-Johnny Miller1975 MastersJack Nicklaus-Tom Weiskopf-Johnny MillerThis final-round duel was really a battle of three people, with Nicklaus playing in the group in front of the final pairing of Weiskopf and Miller. Arguably the three best players in the world at that time, the trio were tightly bunched until Nicklaus drained a 40-footer for birdie on No. 16. That proved to be the difference as the Golden Bear won his fifth of six green jackets when Miller (20 feet) and Weiskopf (8 feet) missed tying birdie putts on the final hole.
Tom Watson-Jack Nicklaus1977 British OpenTom Watson-Jack NicklausHow good was this one? It's only known as "THE Duel in the Sun." It will be tough for any one-on-one golf battle to top what happened at Turnberry in 1977. Nicklaus shot 65-66 over the weekend, but he couldn't keep pace with Watson's 65-65. On the final hole, Nicklaus drained a 35-footer for birdie to keep hope of a playoff alive, but Watson converted a two-footer for birdie to claim his second of five claret jugs. Watson shattered the Open scoring record by eight shots and Nicklaus finished 10 shots clear of third place. "This is what it's all about, isn't it?" Watson said to Jack on the 16th tee on Sunday, to which Nicklaus replied: "You bet it is."
Payne Stewart-Phil Mickelson1999 U.S. OpenPayne Stewart-Phil MickelsonUnder difficult conditions at Pinehurst No. 2, Stewart and Mickelson -- who was waiting to hear if his wife, Amy, would go into labor with their first child -- matched each other until Stewart regained his one-shot edge with a birdie on No. 17. On No. 18, it looked like Stewart would give the shot back when his drive found deep rough on the right side. But after playing safely back to the fairway, he hit his approach to about 15 feet and drained the par putt for the win. As the two embraced (left), Stewart reminded a disappointed Mickelson that he was about to become a father. Stewart died in a plane crash four months later, but his triumph lives on in the form of a statue behind Pinehurst's 18th green.
Tiger Woods-Bob May2000 PGA ChampionshipTiger Woods-Bob MayA breathtaking back nine in which both players shot 31 at Valhalla led to a ridiculous final hole of regulation. May, an unheralded journeyman with no career PGA Tour wins, made a double-breaker from the fringe for birdie, but Woods answered with a seven-footer for birdie, sending the two to a three-hole playoff (their 18-under-par scores are still a tournament record). On the first extra hole, May hit an incredible chip shot to within inches of the hole to save par, but Woods responded by draining a 25-footer for birdie that he famously ran after and snatched out of the cup. The two would both par the next two holes, giving Woods his second Wanamaker Trophy and the third leg of the "Tiger Slam".
David Toms-Phil Mickelson2001 PGA ChampionshipDavid Toms-Phil MickelsonMost people remember Toms' decision to lay up from the rough on Atlanta Athletic Club's challenging par-4 finishing hole, which led to him wedging onto the green and rolling in a clutch par to beat Mickelson (sound familiar?). But not everyone realizes what an exciting final round the two played while paired together. Mickelson shot 68 to Toms' 69 and the two were tied through 15 holes, but Phil was undone by a three-putt on No. 16. The result gave Toms his lone major title and left Mickelson still in search of a breakthrough in one of golf's four biggest events.
Shaun Micheel-Chad Campbell2003 PGA ChampionshipShaun Micheel-Chad CampbellIt wasn't exactly a battle of marquee names, but the 2003 PGA Championship at Oak Hill produced one of the more dramatic finishes in golf history. Although both were new to final-round pressure in a major championship, both held up quite well, with Micheel holding a one-shot advantage on the final hole. There, he hit a 7-iron to a few inches of the hole to set up a clinching birdie. Pretty good timing for the shot of his life. The victory remains his lone PGA Tour title.
Todd Hamilton-Ernie Els2004 British OpenTodd Hamilton-Ernie ElsAs opposed to Tiger Woods vs. Bob May, this time David beat Goliath. Hamilton, 38, a journeyman who had won his first PGA Tour title earlier that year at the Honda Classic, nearly blew his chance at history when he made a mess of the Royal Troon's final hole and had to scramble for a bogey. Els had a 12-footer for the win, but came up short and the two went to a four-hole playoff (Els shot 68 to Hamilton's 69 in regulation). On No. 18, Hamilton hit a bump-and-run hybrid from 30 yards off the green to set up a par putt of two feet, in turn closing out Els and scripting one of golf's most unexpected endings. Hamilton hasn't won anywhere in the world since.
Tiger Woods-Chris DiMarco2005 MastersTiger Woods-Chris DiMarcoWoods got into the final group by concluding a third-round 65 on Sunday morning, while DiMarco struggled to a 74. But DiMarco bounced back in the afternoon, trimming Tiger's three-shot lead after 54 holes to one with a birdie on No. 11. Still one ahead, Woods made his famous chip-in on No. 16, but then bogeyed the final two holes. DiMarco, meanwhile, hit the flagstick with his potential winning chip on No. 18, but had to settle for par, forcing a playoff. On the first extra hole, Woods nailed an 18-footer for birdie to capture his fourth green jacket in eight years. The next summer, he would hold off DiMarco again, this time at the 2006 British Open.
Y.E. Yang-Tiger Woods2009 PGA ChampionshipY.E. Yang-Tiger WoodsAfter a few close calls on Sundays at majors, Woods finally met his match in a late-blooming South Korean. Tied for the lead on Hazeltine's short par-4 14th, Yang chipped in for eagle. Woods answered with a birdie, but couldn't catch his playing partner over the final four holes. On No. 18, Yang wrapped up his stunning victory by drawing a hybrid from 210 yards around a tree and through the wind to about eight feet. As Yang made birdie (left), a deflated Woods bogeyed the finishing hole to lose by three shots, snapping his perfect 14-of-14 record when leading a major after 54 holes. Nearly five years later, Woods is still looking for major No. 15.