The Best & Worst From The Majors
With 2014's four major championships in the books, we hand out our own awards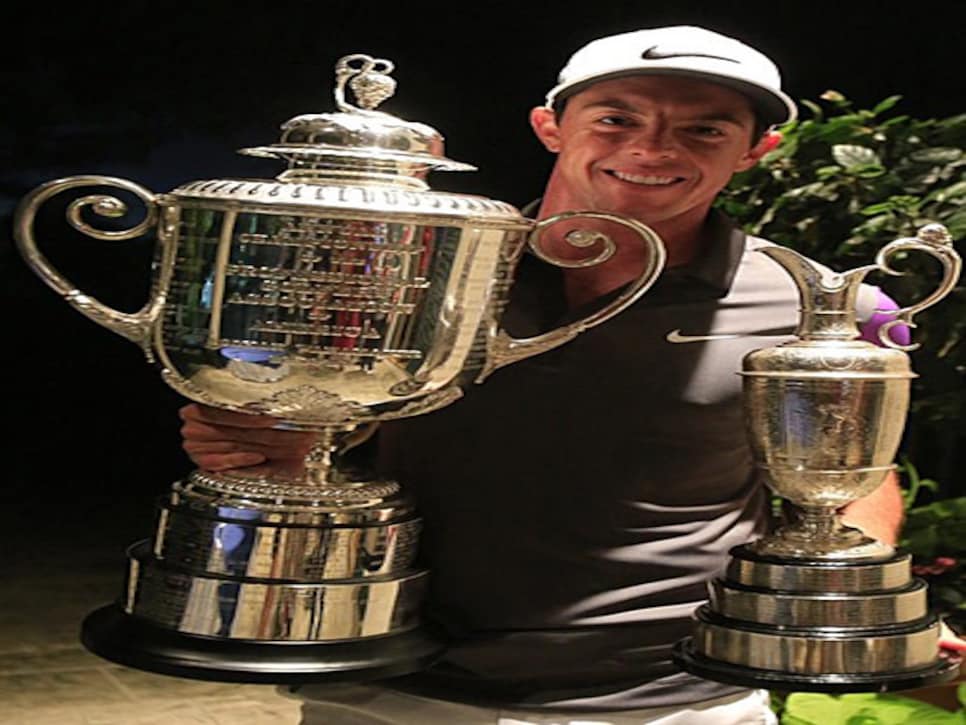 Best Player: Rory McIlroyDuh. McIlroy snapped his nearly two-year winless drought on the PGA Tour in a big way with his victory at the British Open. Three weeks later (after another win at the WGC-Bridgestone Invitational), he won the PGA Championship to bring his major title total to four at age 25. It's crazy to think that someone playing in the Tiger Woods era other than Tiger might have a better chance of breaking Jack Nicklaus' major mark of 18, but McIlroy's double dip has at least made him part of that conversation.
Most surprising performer: Rickie FowlerFowler entered 2014 with one career top-five finish at a major (a T-5 at the 2011 British Open), but he became a fixture on leader boards at golf's four biggest events in 2014. Fowler became the first player outside of Tiger Woods and Jack Nicklaus to finish in the top five in all four events. Perhaps most surprising? Through the PGA Championship, those were Fowler's only four top-five finishes of the season.
Most surprising not to have won: Rickie FowlerNo one has ever had a better year in golf's four majors and not won at least one of them. No, really. Aside from being the first to finish in the top five in all four majors without winning at least one, Fowler tied for the third-best aggregate score ever in one season of majors. The two guys ahead of him on that list -- Tiger Woods (2000) and David Duval (2001) -- each won a major in their respective years, but the guy he's tied with, Phil Mickelson (2001), didn't. Of course, Mickelson would eventually break through in a big way in golf's four majors. At 25, Fowler still has plenty of time to do the same.
Best drive: Bubba WatsonIt's unusual for the signature shot of any event to be a tee shot -- especially one which doesn't find a putting surface -- but such was the case for Watson at the 2014 Masters. In a stunning display of power, Watson launched a drive on the par-5 13th hole on Sunday that CBS cameramen had trouble finding and drew such attention from fans that players on the green turned and took notice. The shot traveled about 360 yards -- almost all in the air -- and set up an easy birdie as Watson cruised to his second green jacket.
Worst drive: Bubba WatsonDespite his prodigious power, Watson made it clear he wanted nothing to do with the Long Drive contest at the PGA Championship even though it was one tee shot on Valhalla's 10th hole that was woven in with Tuesday's practice round. Instead, Watson hit an iron off the tee -- he hit driver all four days of competition -- to "prove a point." It didn't play well with the fans and set off a rough week for the Masters champ, who took even more heat with his rain-induced moping during Friday's round.
Sneakiest good overall performance: Jimmy WalkerWalker had won three early-season events -- the first three PGA Tour titles of his career -- by the time the first major rolled around. He didn't keep that pace up, but he did continue his breakout year with a collection of solid performances. Walker finished T-8 in his Masters debut and T-9 in his first U.S. Open appearance since 2002. A rough final round at the British Open dropped him to T-26, but he responded with a T-7 at the PGA Championship.
Most important parking lot moment: Tiger WoodsWoods' arrival at Valhalla less than 24 hours before his Thursday tee time was just the beginning of a wild week at the PGA Championship. In a matter of moments, he became the most-photographed golfer in a parking lot of all time. While his stay ended up being less exciting -- and much shorter -- than he would have liked, the bizarre scene proved once again that no golfer comes close to creating the buzz that Woods does.
Most disappointing performance: Tiger WoodsFor a sixth straight year, Woods failed to win a major championship -- an incredible fall-off from the pace he set when he won 14 in his first 12 full years as a pro. More disappointing for Woods is that he was further away from winning than ever before. After undergoing microdiscectomy surgery on his back on March 31, Woods sat out the Masters and U.S. Open before returning at the British Open. He made the cut on the number at Hoylake, but finished 69th. At the PGA, he re-injured his back before Friday's round and missed the cut by six shots.
Most confusing final hole: Valhalla's 18thWith darkness descending after a rain delay pushed Sunday's tee times back two hours, the PGA of America was scrambling for players to finish their rounds. After a slight nudge from the PGA, Phil and Rickie allowed Rory's group to hit their drives while they were still playing the hole. The problem was Phil's group thought Rory's group was only going to hit their drives, while Rory's group thought they were going to play the entire hole together. It all culminated in Rory needing to two-putt from 30 feet to win in near-pitch black conditions, which he did (thankfully). But in truth, it was a shame the year's most entertaining major had to end in such frenetic fashion.
Brightest pair of trousers: Billy HorschelThe man who rocked octopus pants at the 2013 U.S. Open again wore the most memorable pair of pants at this year's PGA -- which is easier said than done in a field that featured John Daly. Billy Horschel's bright green "camo frog pants" captured everyone's attention on Sunday at Valhalla, even if his T-59 finish didn't.
Biggest feel-good story: Erik ComptonIn sports, there are redemption stories, and then there are stories like Erik Compton. Because of a condition that means his heart can't pump as hard as it should, the 34-year-old Compton has already undergone two heart transplants in his life and lives with the knowledge he could one day need a third. Compton may have finished T-2 to Kaymer, but that didn't stop the Pinehurst crowd from rooting for him every step of the way. "On every hole, from the tee box to the putting green, people were cheering for me," Compton said. "I definitely felt the love and the support from the crowd."
Biggest buzzkill: Martin KaymerWhile Compton was a great story, he never had a chance to win on Sunday. No one did other than the eventual champ. The 2014 U.S. Open was returning to a new-look Pinehurst -- the home of American golf, some like to say -- and everyone was pretty excited going into the event. But the tune fell decidedly flat once play got underway. Martin Kaymer, to his credit, put on a flawless display of golf, but his eventual eight-stroke, wire-to-wire victory didn't exactly make for the most riveting of contests.
Least smooth trophy presentations: Rory McIlroyFor whatever reason, McIlroy's trophy presentations at both the British Open and PGA Championship each had hiccups. At Hoylake, he made the mistake of mentioning he was a Manchester United fan in front of a Liverpool crowd and was lustily booed. And at the PGA, he was on the receiving end of the most awkward trophy exchange ever, although the blame goes to PGA President Ted Bishop. McIlroy's saving catch might have been more impressive than his winning two-putt in the dark.
Most inconveniently-timed water ball: Jordan SpiethWith Jordan Spieth holding a one-stroke lead over Bubba Watson going into the eighth hole, things were shaping-up nicely for another back nine duel at Augusta National. But consecutive bogeys by Spieth to close out the nine, matched by Bubba's consecutive birdies, swung the pendulum in favor of Watson. Any lingering hope that remained for back-nine excitement evaporated when Spieth misjudged the wind on the par-3 12th hole and dunked his tee shot into Rae's Creek.
Most valuable tournament souvenir: Rory McIlroy's golf ballSeconds after Rory tapped in to win the 2014 British Open, he grabbed his ball from the hole and heaved it into the crowd surrounding Royal Liverpool's 18th green. A man named Lee Horner from Leeds caught the ball and put it up for sale on the website Green Jacket Auctions. Two weeks later, Rory's Nike ball sold for $52,038.65. Horner collected about $38,000 of that money, according to reports. Nice catch.
Best WAG performance: Gala AltenMay the 2014 PGA Championship be forever remembered as the week Gala Alten, Pablo Larrazabal's girlfriend, introduced herself to the world of PGA Tour WAGs. Larrazabal may have missed the cut at Valhalla, but the image of the two sharing a kiss on the seventh hole of Pablo's practice round lives on.
Best ex-WAG performance: Rory McIlory and Caroline WozniackiIt's a shame Caroline Wozniacki has officially left golf's WAG scene, but at least she went out with a bang. At the 2014 Masters -- her last appearance at a golf tournament before the pair called-off their engagement -- Wozniacki stole the show during the par 3 contest. She sported bright pink hair as she caddied for Rory, and on the final hole, she was handed McIlroy's putter and holed a long, downhill, left-to-right putt in front of a big crowd. We'll miss you, 'Wozilroy.'