U.S. Open
Biggest Final-Round Blowups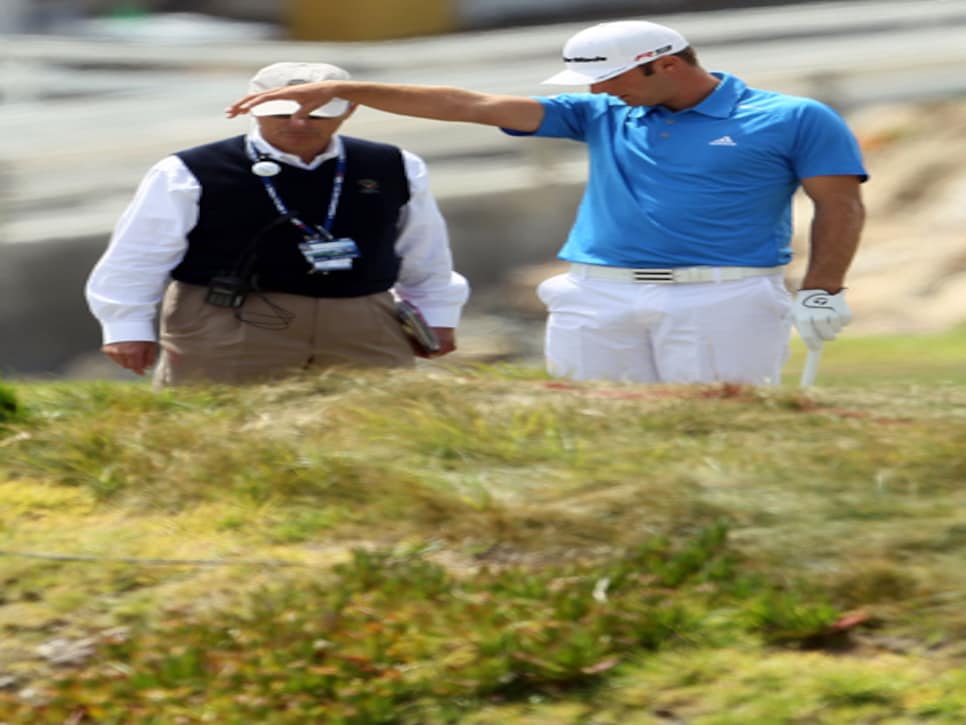 Dustin Johnson: 82 at Pebble Beach in 2010
Johnson looked like he would cruise to his first major title after a third-round 66 put him three shots ahead of the field. But after an opening par on Sunday, disaster struck with a triple bogey on the second hole, and a lost-ball double on the third. Nothing good followed as Johnson finished tied for eighth.
Gil Morgan: 81 at Pebble Beach in 1982
Morgan was flying high, becoming the first man to get to double digit under par in Open history, and even got to 12-under par on Saturday before playing the last 11 holes seven-over par and seeing his lead drop to one. The slide continued on Sunday, as he became one of 20 players to shoot in the 80s and finished T-13. "I guess I got a hole in my parachute," he said.
Retief Goosen: 81 at Pinehurst in 2005
The Goose appeared to be a lock for his third U.S. Open title in five years with a three-shot lead through three days. But in the final round he bladed a chip on the second to make a double bogey, and shot six over on the front nine. He made five more bogeys on the back nine and finished T-11. "I couldn't make a putt to save my life," said Goosen, who had 36 putts on Sunday. "I messed up badly."
Marty Fleckman: 80 at Baltusrol in 1967
Fleckman became the first amateur to lead going into the final round since Johnny Goodman in 1933. The problem was he only led by one and it was over Jack Nicklaus, Arnold Palmer and Billy Casper. Driving wildly, the 23-year old bogeyed the first three holes and limped home to tie for 18th. Asked by reporters what happened, Fleckman replied, "I finally got back on my game."
Aaron Baddeley: 80 at Oakmont in 2007
Baddeley started the final day three strokes ahead, but, paired with Tiger Woods, gave it all back on the first hole with a shaky triple bogey, and was out of it after a front-nine 41. "I putted poorly, but my effort was 100 percent," said Baddeley, who finished 13th, seven back.
Tom Watson: 79 at Winged Foot in 1974
Watson, who was still winless on the PGA Tour, began wobbly, with bogeys at the fourth, fifth and eighth holes 4th, 5th and 8th holes. He drove poorly all day, finishing T-5, five strokes behind. In the locker room afterward, Byron Nelson was quietly encouraging and offered Watson help with his game if he wanted it. It was the beginning of an enduring friendship, and Watson won the Western Open two weeks later.
Tom Kite: 78 at Oak Hill in 1989
A consistent winner who had never won a major, Kite started the final day with a one-shot lead and extended it to three by going one under through the first four. But on the fifth, Kite blocked his drive into a creek, eventually missing an 18-inch putt for triple bogey. He finished T-9, five strokes behind. "My play stunk," said Kite. Three years later he would get his major at Pebble Beach.
Frank Beard: 78 at Medinah in 1975
Beard lost his three-stroke lead with a front-nine 40 on Sunday. But he was still tied with four holes to go when he bogeyed the 16th and 17th. He finished tied for third, one stroke out of playoff. "I was so drunk that Saturday night I had no idea where I was," Beard, who struggled with alcoholism before undergoing treatment in 1980, later wrote. "The hardest thing on the last day was waiting to tee off. I ate lunch twice."
T.C. Chen: 77 at Oakland Hills in 1985
Chen started the final round two strokes ahead of Andy North, and extended to four ahead through four holes. But on the fifth, Chen double-hit a greenside flop shot and ended with a quadruple bogey 8. He lost the lead on the next hole, but fought back to regain it with a birdie on the 12th. But he bogeyed two of the last five holes to finish one behind North.
Bert Yancey: 76 at Oak Hill in 1968
A stroke ahead of playing partner Lee Trevino, Yancey made three bogeys in the first five holes, and then bogeyed the 9th and 11th as Trevino was making birdie on the 11th and 12th. He would finish third, six strokes behind Trevino. After the round, Arnold Palmer admonished Yancey for talking about winning beforehand. "Bert, you should have stayed quiet and kept it hard in your stomach," Yancey said Palmer told him.