2010 Masters: Final Round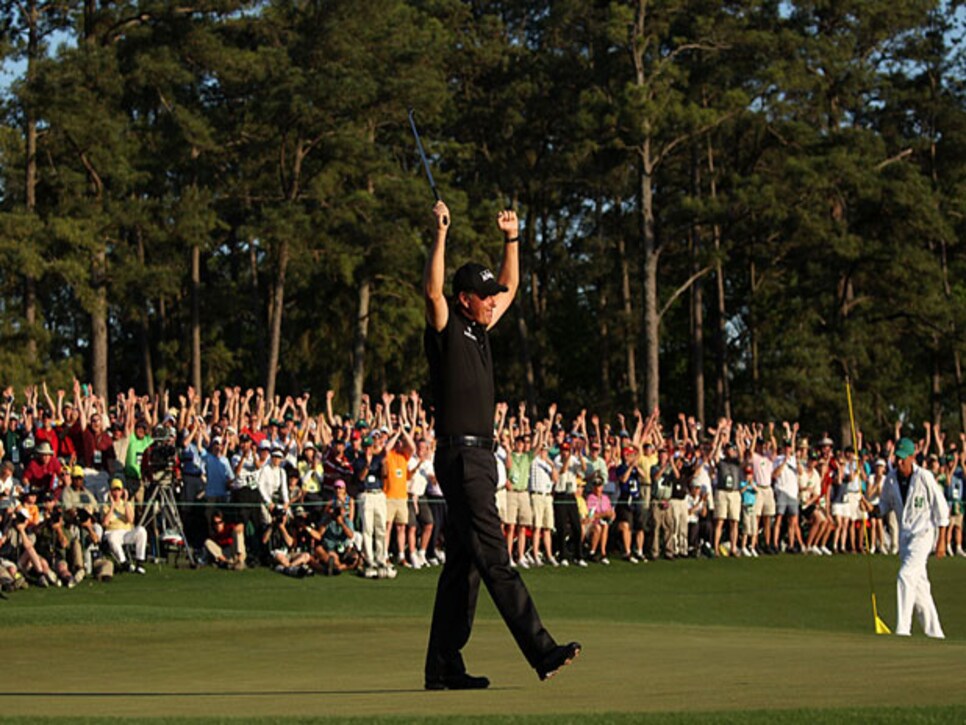 3rd Time Champion: Phil Mickelson wins the Masters by three strokes.
13th hole: Mickelson plays a shot from the pine needles.
Runner-up: Lee Westwood plays the 13th.
Disappointed: Tiger Woods could not catch up with the leaders.
Pumped up: Mickelson birdies 12.
Bad shot: Fred Couples' ball goes into the water on the 12th hole.
Strong finish: Anthony Kim waves to the gallery on the 18th green alongside his caddie Brodie Flanders after shootoing a 65.
Subdued: Tiger Woods lines up a putt on 16 with the help of caddie Steve Williams.
Solid: K.J. Choi makes a birdie putt on the eighth.
The Watsons: Tom Watson lines up a putt on the 18th green with his son Mike.
Hightlight: Tiger Woods holes out for eagle on the seventh hole.
Out of the woods: Phil Mickelson watches a shot from the pine needles on the tenth hole.
Faded: Ian Poulter shot a 73 on Sunday.
Scenic stroll: Phil Mickelson and Jim Mackay walk off the sixth tee.
Masters moment: Phil Mickelson hugs his caddie Jim Mackay on the 18th green.
More green: Angel Cabrera presents Phil Mickelson with his third green jacket.