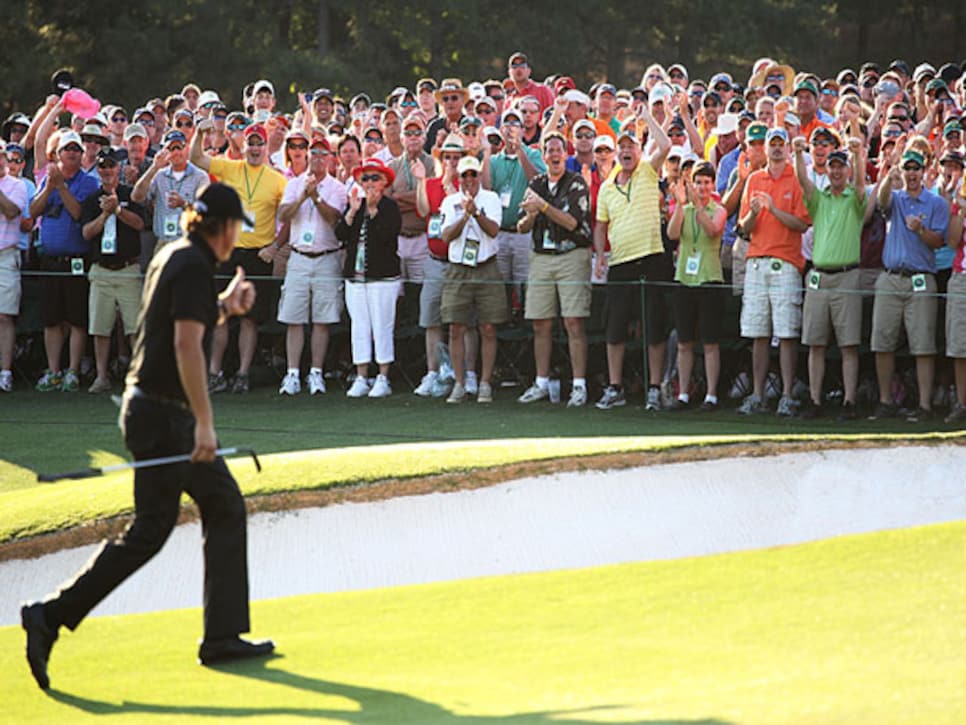 Final RoundGrand reception: Phil Mickelson on his way to the 18th green.
Final RoundRunner-up: Billy Foster lends support to Lee Westwood as they wait for Phil to close it up on the 18th green.
Final RoundMasters Champion: Phil Mickelson celebrates his three-stroke victory.
Final RoundMasters moment: Phil Mickelson hugs his caddie Jim Mackay.
Final RoundGreen jacket ceremony: Angel Cabrera presents Phil Mickelson with the green jacket.
Final RoundNext generation: Billy Payne presents the Silver Cup to Low Amateur Matteo Manassero.
Final RoundRough start: Tiger Woods plays the first hole.
Final RoundNot perfect: Phil Mickelson misses his birdie putt attempt on the 14th green.
Final RoundEagle: Tiger Woods holes out for eagle on the seventh hole.
Final RoundStepping up: Anthony Kim playing the 12th hole finished in third place.
Final RoundIn the mix: First Round leader Fred Couples plays out of a bunker on the tenth hole.
Class act: Tom Watson hugs his son/caddie Mike on the 18th green.
Third RoundOn balance: Lee Westwood led on day three.
Second RoundCrossing the bridge: Ian Poulter was at the top of the leaderboard after the second round as he and Westwood finished T1.
First RoundPaired up: K.J. Choi and Tiger Woods played four rounds together.
First RoundSecurity: Tiger Woods and his caddie Steve Williams walk off the sixth tee.
First Round1st Tee: Tiger Woods waves to the gallery as he prepares to compete for the first time in five months.
First RoundHonorary starters: Jack Nicklaus and Arnold Palmer.