Junior Golf
Snapshots From The Year's Final Major
Team California captured the PGA Junior League Golf National Championship at Grayhawk Golf Club in Scottsdale. These 10 winners emerged from a regular season comprised of more than 36,000 participants. (Photos by Traci Edwards/PGA of America)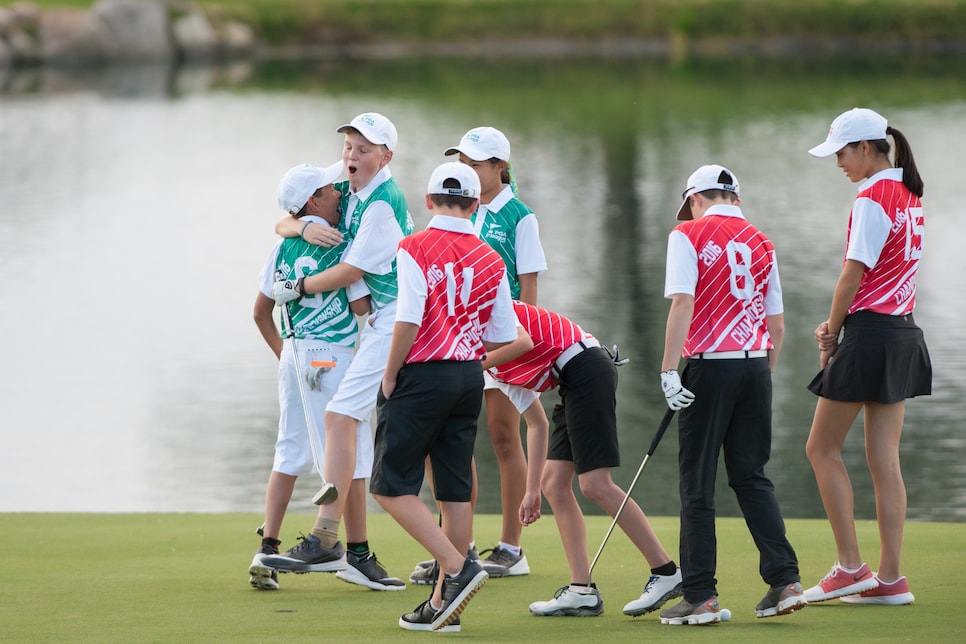 If the essence of PGA Junior League were boiled to one object, it'd be the team uniform. The stings of learning to compete at anything, let alone a fickle sport like golf, aren't as sharp when there are pals with whom to absorb the experience. (From right to left) Team California (Aqua): Ethan Jaehn (6), Ian Gilligan (10), and Madison Wu (4). Team New Jersey (Red): Christopher Dorey (11), Logan Paczewski (8), and Katherine Lu (15).
Photo By: PGA
There have been five PGA Junior League Golf National Championships. The 2016 edition, held Nov. 19-21 at Grayhawk Golf Club in Scottsdale, was comprised of eight regional all-star teams of 10 players each.
Photo By: PGA
The team from California won, captained by Jeff DeBenedetti PGA. All players hail from Las Positas Golf Course in Livermore, Calif., a public facility where the 18-hole green fee is less than $40. "It's funny," said DeBenedetti, "While we heard the other teams shouting the name of their home state, like 'C'mon Connecticut,' or 'Let's go Ohio," our chant was just 'Go Las Po!' That's the nickname of Las Positas. We have 49 kids at our course who play [PGA Junior League], which is enough to form our own league in the regular season." (From left to right) Team California (Aqua). Front Row: Madison Wu (4) and Alice Liu (9). Second Row: Aidan Tran (7), Jacob Ponce (5), Darren Pang (8), Ian Gilligan (10), Ethan Jaehn (6) and Drew Kim (13). Back row: Becky Chin (Assistant Coach), Austin Tran (12), Anay Roge (11) and Jeff DeBenedetti (Team Captain).
Photo By: PGA
Girls welcome. Not every team in the national tournament had a female member, but all in, eight girls showed their mettle alongside the boys. Twelve-year-old Alice Liu sank the winning putt against Georgia in the finals. Her teammate Madison Wu also contributed largely.
Photo By: PGA
California (green jerseys) and Georgia (purple jerseys) are the established powerhouses. Teams from the two states have met in the finals all five times. "This morning I told the kids to play for themselves," DeBenedetti said. "Don't listen to all the storylines you're hearing about the states. Today is for you to do something special for yourself." (From left to right) Team Georgia (Purple): Charles Kyle (10), Myles Jones (12), and Carter Loflin (2). Team California (Aqua): Ian Gilligan (10).
Photo By: PGA
The format is probably unlike anything you've ever played. Think two-person scramble, matchplay. A game between two teams consists of four nine-hole matches divided into three-hole segments (called flags) worth one point each. (From left to right) Team Alabama (Royal Blue): Teagan Miller (12) and Jackson Bowman (10).
Photo By: PGA
PGA Junior League is run by the PGA of America, with teams coached by local PGA Professionals. A major upshot of that is, the Wanamaker Trophy was on property at the National Championship for selfie-ops. (From left to right) Team Ohio (Green): Gaege Gobezie (11) and Topher Reed (13).
Photo By: PGA
Unlike say, a professional major championship, a silly violation of an arcane rule will never decide an outcome. Preferred lies, no penalties for inadvertently moving a ball, and out-of-bounds played as a lateral hazard are just some of the many variations. Here, Michael Dotson of the Georgia team hits a recovery close.
Photo By: PGA
The standard is high. Here's Luis Giovi of New Jersey, whose team shot -31 across one 36-hole stretch. Each nine of the Raptor Course at Grayhawk Golf Club was set up around 2,900 yards. Of course, pars or even bogeys can win holes in the regular season, where beginners are encouraged to compete and learn alongside the more skilled.
Photo By: PGA
Echoes of Casey Martin. Matthew Doyle of the Connecticut team, with captain Suzy Whaley, was one of this year's most courageous competitors. Doyle was permitted to ride in a golf cart because he suffers from Legg-Calve-Perthes disease, a rare degenerative bone disease that prevents him from playing other sports.
Photo By: PGA
Substitutions are a regular occurrence so that every golfer sees action. And a player in waiting can still contribute by reading putts and discussing shot strategy with teammates. (From left to right) Team Texas: Morgan Miller (10) and Trent Mierl (5).
Photo By: PGA
No sitting on benches for parents, either. Spectators are encouraged to venture on the course and actively cheer.
Photo By: PGA
How do you get your kid (age 13 or under) involved? Call a PGA professional at a public or private course in your area, or search at
pgajlg.com
. Registration generally occurs from February through March, with a regular season of five or six games in June and July.
Photo By: PGA