News
After 18 years on tour, Angela Stanford finally wins her first major by taking the Evian Championship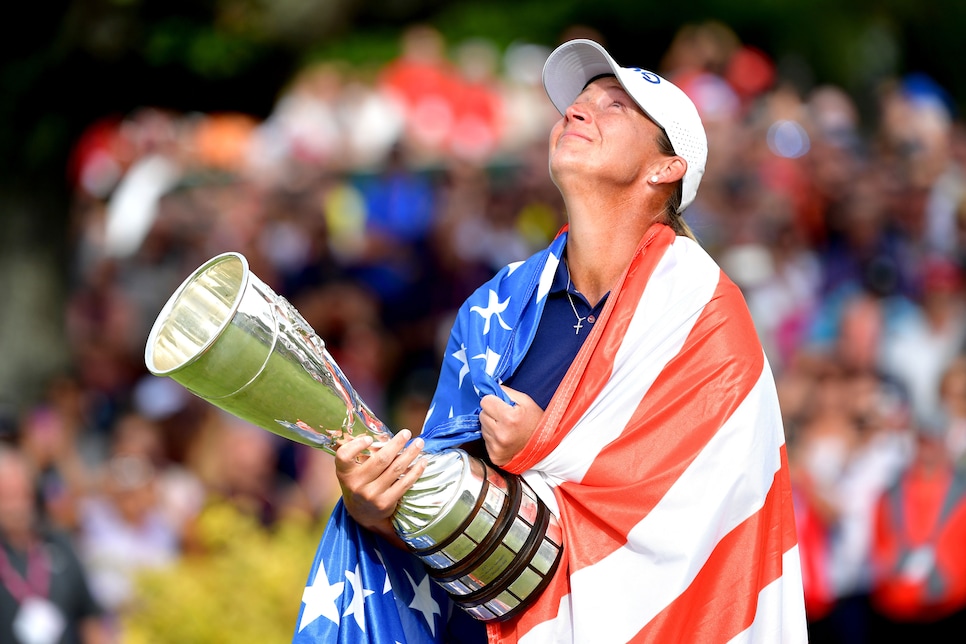 Stuart Franklin/Getty Images
Five LPGA Tour wins, 94 top 10-finishes, six Solheim Cup appearances. It sounds like a pretty good LPGA career, right? And it is. But Angela Stanford was missing one thing: a major championship win. In her 76th major start on tour, the 40-year-old Texan finally got her moment at the 2018 Evian Championship, winning by one stroke over four players at Evian Resort Golf Club in France.
"It's the one thing I couldn't get my hands on. I'm not letting go now," said Stanford, clutching the trophy in her post-win interview.
It's been six years since Stanford's last win of any kind, and this one didn't seem very likely. After rounds of 72-64-68, Stanford trailed leader Amy Olson by five shots at the start of Sunday's final round. Playing a group ahead of Olson, Stanford hit 69 percent of fairways and needed just 25 putts to finish with a closing three-under 68. Her round that was highlighted by an eagle at the 15th, but quickly followed by the lowlight: a double bogey at 16.
"I just kept telling myself, You just got to be who you are. And maybe you're not good at certain things, but you got to be who you are right now and you got to just fight," Stanford said of those final holes.
Stanford stuck it out to finish birdie-par to get in the clubhouse, her 18-foot birdie effort on the 18th hole sliding just agonizingly by over the left edge of the hole. It left her at 12 under for the tournament, with Olson teeing off 18, holding a one-shot lead.
But Olson, a 26-year-old from South Dakota who has yet to win on the LPGA Tour, struggled on the 18th. After missing just one fairway all day, she pulled her drive left. Forced to punch out rather than go for the green on the par 4, her second shot came up short of the fairway in more rough. Her third got to the green but left her a 40-foot par attempt that she raced eight feet past the hole. Needing the bogey to force the playoff with Stanford, Olson missed left.
Before Olson's missed bogey putt, Mo Martin and Sei Young Kim each had birdie chances on the 18th hole that would have gotten them into a playoff with Stanford as well, but both just missed to finish the tournament at 11 under, Martin with a closing 70 and Kim with a 72.
While clinching her elusive first major in this manor wasn't how Stanford had envisioned it playing out, having finally accomplishing the life-long goal brought her to tears. The moment was made all the more emotional given the fight her family is going through. Stanford's mother was previous diagnosed with breast cancer but had gone eight years cancer free since her treatment. This summer, however, she found out that it was back and had metastasized in her bones.
Smiling through tears, Stanford said she was glad her mom got to see her major moment and joked that mom might be the first to drink out of the new trophy.