The Loop
A new potential global superstar, John Daly's documentary finally arrives, and golf's best (and worst) Halloween costumes
Welcome to another edition of The Grind, where we have mixed feelings about Halloween. The candy is great, but the decorations and costumes take a lot of effort. At one point recently, I turned to my wife and said, "You know, Halloween isn't a real holiday, right?" She paused, took a deep breath, and responded, "I'm going to pretend I didn't hear you say that." Well, I was the one who needed to take a deep breath before purchasing candy for 1,000-plus trick-or-treaters in our neighborhood. Look at all that sugar!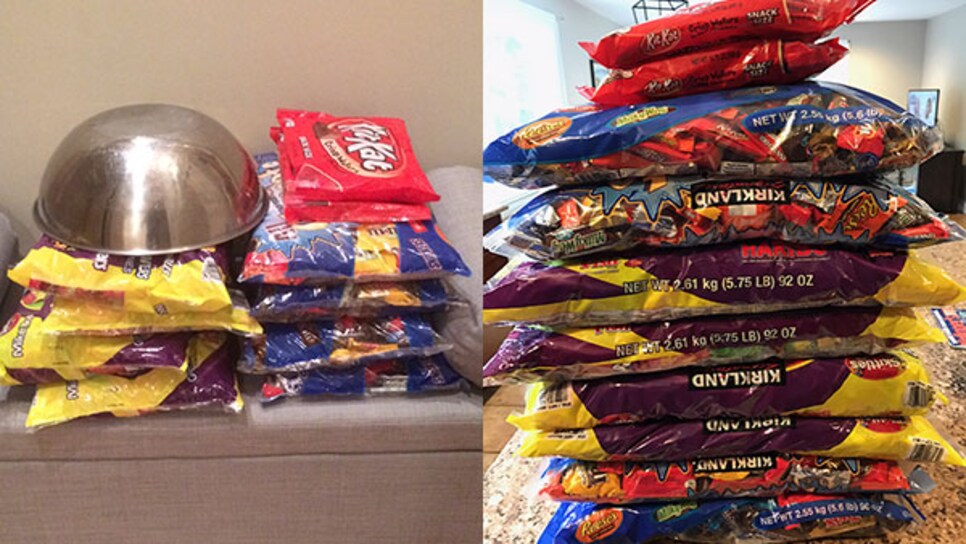 On the bright side, 1,400 pieces of candy turned out to be juuust a bit too much. Hello, breakfast for the next couple weeks.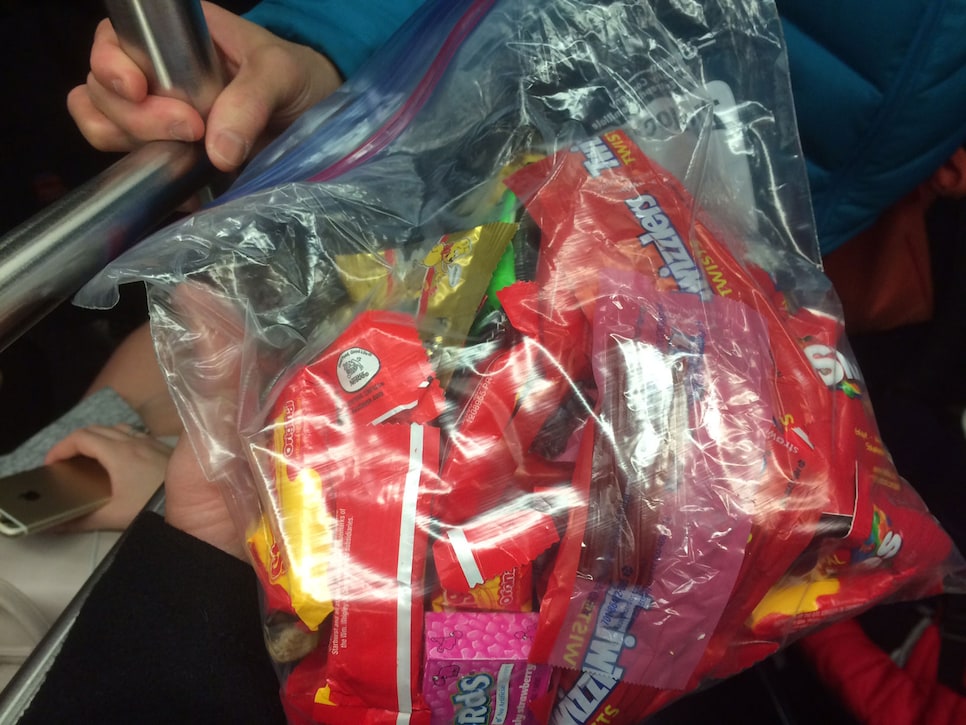 Anyway, here's a look at what else we're buying, selling and celebrating this week.
Hideki Matsuyama: A week after becoming the first Japanese golfer to crack the top 10 of the Official World Golf Ranking in nearly two decades, Matsuyama kept things rolling with a seven-shot route at the WGC-HSBC Champions. Now No. 6 in the world and with his first WGC title, it seems like just a matter of time before he wins his first major.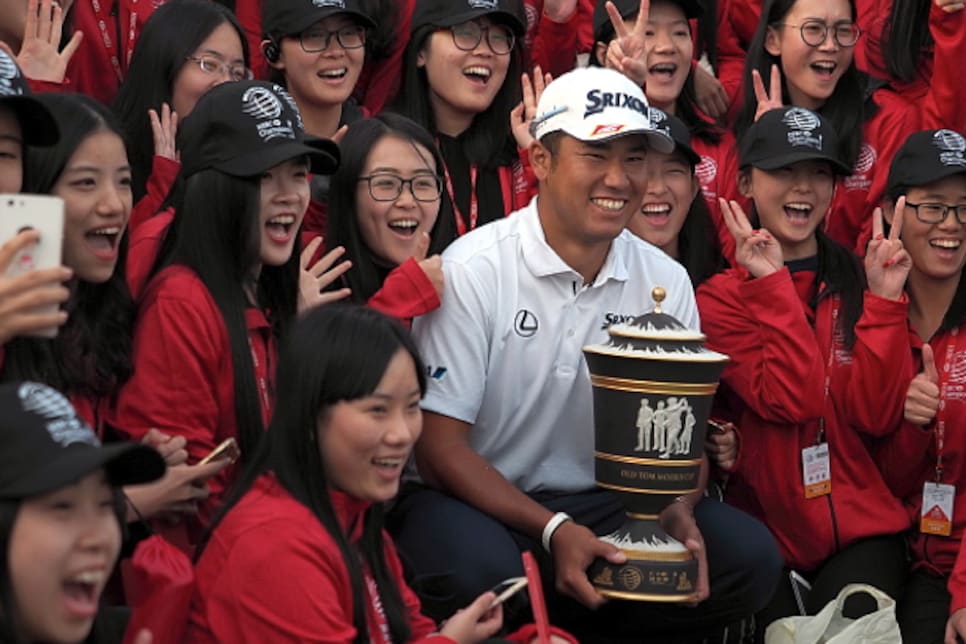 We hope he filled that trophy up with some candy to celebrate.
Cody Gribble: And just like that, we have our first PGA Tour rookie to win this season. And here's a guarantee: He won't be the last. Gribble claimed the Sanderson Farms Championship and got to take home the coveted rooster trophy.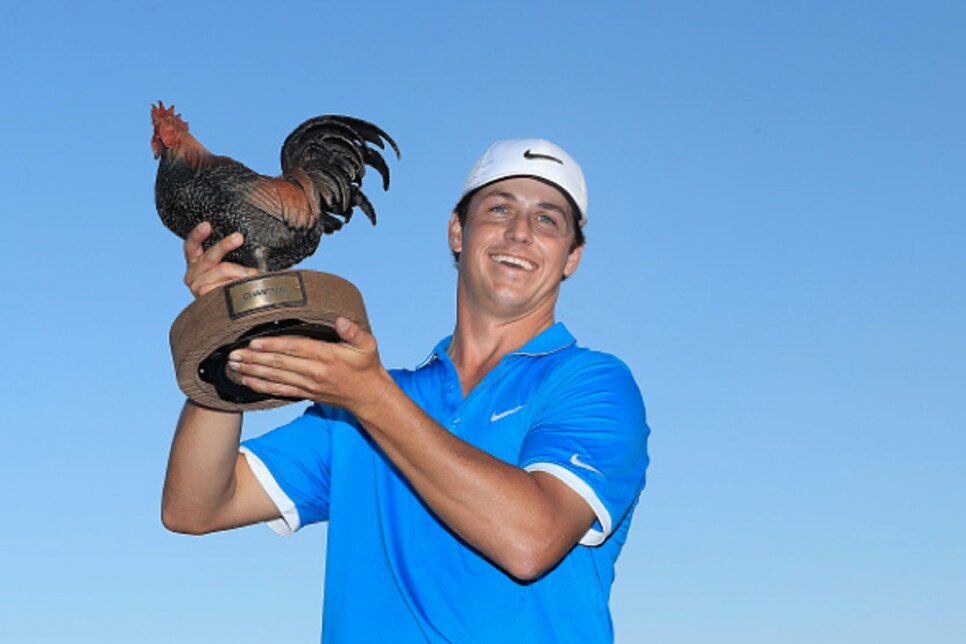 "Hit It Hard": I was fortunate enough to get a sneak peak at the ESPN "30 for 30" on John Daly before the Nov. 1 release date. I will be watching it again on Nov. 1, though, because it's that good. Kudos to directors Gabe Spitzer and David Terry Fine and ESPN (It's about time a full-length "30 for 30" was dedicated to golf!). JD is must-see TV.
Family-spirited costumes: Several golf families hit it hard when it came to Halloween. You have the Cranes: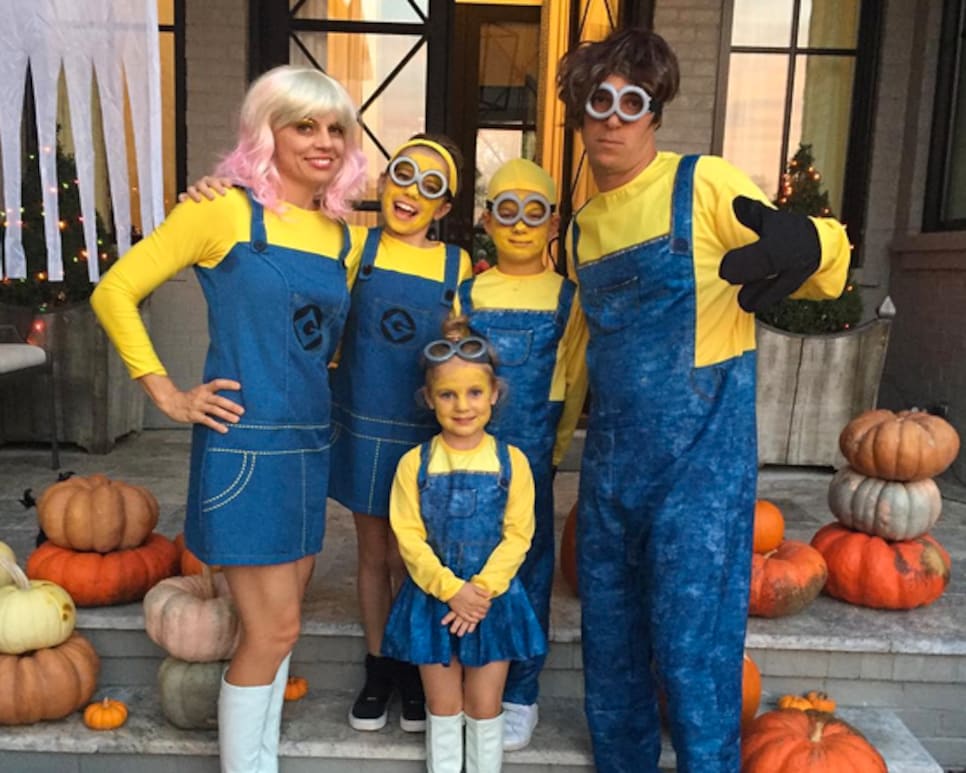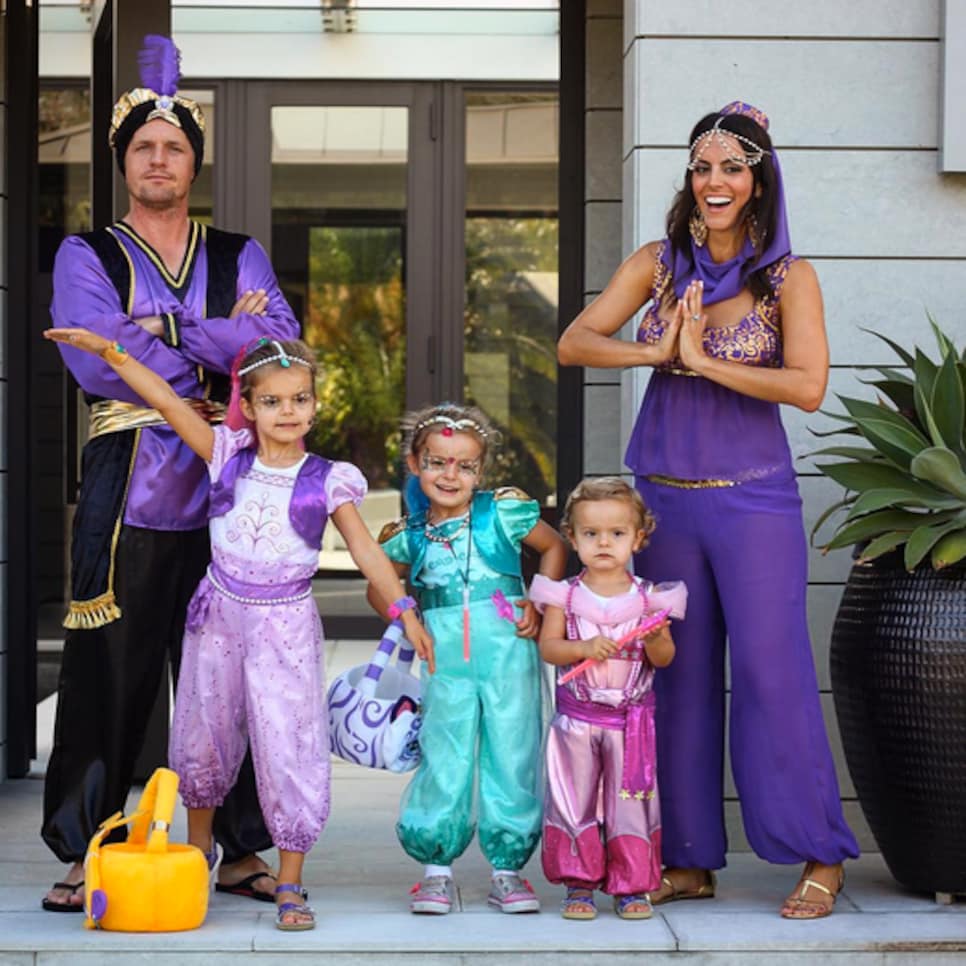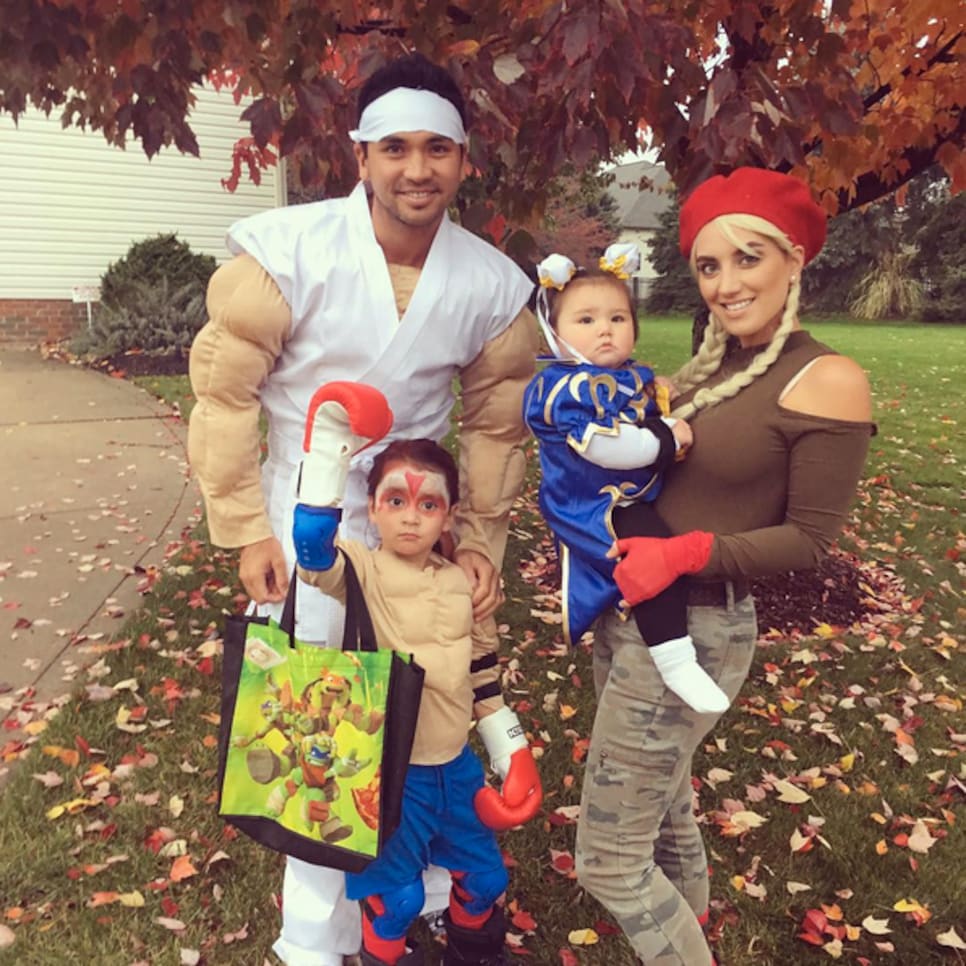 I have no clue what the Days are supposed to be, but if Dash picked out the costumes, they have to be cool.
The #SB2K16 crew's Halloween spirit: We were expecting big things, but these guys didn't do any sort of group costumes. Disappointing. At least, Smylie Kaufman brought it with this tribute to Harambe – and Nattie Light:
Meanwhile, Justin Thomas went as Rickie Fowler and Rickie Fowler went as. . . Rickie Fowler.
Sweet onesie, Rickie, but weak effort.
Matt Kuchar getting robbed: No, he wasn't literally robbed, but what happened to him at the WGC-HSBC was really unfair. Kuchar made a hole-in-one on the 17th hole of the third round at Sheshan International and appeared to win a shiny Cadillac, but then his caddie read the fine print. Due to conditioning, the tee box was moved up for the weekend to 193 yards -- not meeting the 200-plus requirement established before the event. Ouch.
Vine being killed off: That's right, Twitter announced the video sharing app is going away. That means no more this:
Sad news, folks. RIP, Harambe. And RIP, Vine.
The PGA Tour leaves the Asian Swing and heads to Las Vegas for the Shriners Hospitals For Children Open. This is probably the tournament Tim Finchem fears most when it comes to a potential off-course incident.
Random tournament fact: There are 144 players in the field instead of the planned 132 because of a clerical error made by the PGA Tour. This is not a joke.
RANDOM PROP BETS OF THE WEEK
-- None of those 144 players will visit a casino: 1 MILLION-to-1 odds
-- Hideki Matsuyama will win a major in 2017: 5-to-1 odds
-- You'll see a lot of amateurs copying Hideki's pause at the top in 2017: LOCK
(MORE HALLOWEEN) PHOTOS OF THE WEEK
Here's Peter Uihlein and his girlfriend (and pets) going with a Star Wars theme:
Golf Channel's Lauren Thompson going as Ariel from The Little Mermaid:
And Paulina Gretzky dressing up as a gladiator:
So it's not the most historically accurate costume I've ever seen, but her fans seemed to approve.
VIRAL VIDEO OF THE WEEK (TRICK SHOT DIVISION)
Amazing. You know it's a good trick when you inspire copycats.
And how about this effort from young Matty du Plessis, who did a similar trick, plus added a Halloween element:
VIRAL VIDEO OF THE WEEK (TOUR PRO LIFE DIVISION)
This is John Peterson flipping from high off a cliff in Cabo. The same John Peterson who basically sat out the entire last season with a hand injury.
And this is the aftermath:
Sounds like a good lesson for everyone.
"I would say I would have been level [with playing partner Adam Scott] without it and maybe a little bit behind [Watson] before, and I was hitting it by both of them so it can only be a positive." -- Rory McIlroy on using a TaylorMade M2 for the first time. Look out, everyone.
THIS WEEK IN DANIEL BERGER-TORI SLATER-DOLPHIN PUBLIC DISPLAYS
Looks like while Daniel had a swell time in Shanghai finishing T-2, Tori had a grand old time in the Bahamas.
THIS WEEK IN PAIGE SPIRANAC BEING PAIGE SPIRANAC
No Halloween costumes from Paige, but how about this trick shot caught on camera?!
Usually this section if full of a bunch of odds and ends, but this week, we're focusing on Golf Digest's annual Editor's Putter. Why? Because it's a very prestigious event that dates back to 1980. Oh, and I just happened to win it for the first this year. Yep, after a disappointing season, I somehow scraped together a 79 at Pound Ridge for a net 70 (Max Adler won the gross with a 76). Seriously, this might be the biggest upset at a major championship since Ben Curtis won the Open in 2003. That's me having the honor of sitting at the head of the table at dinner after with this classy group.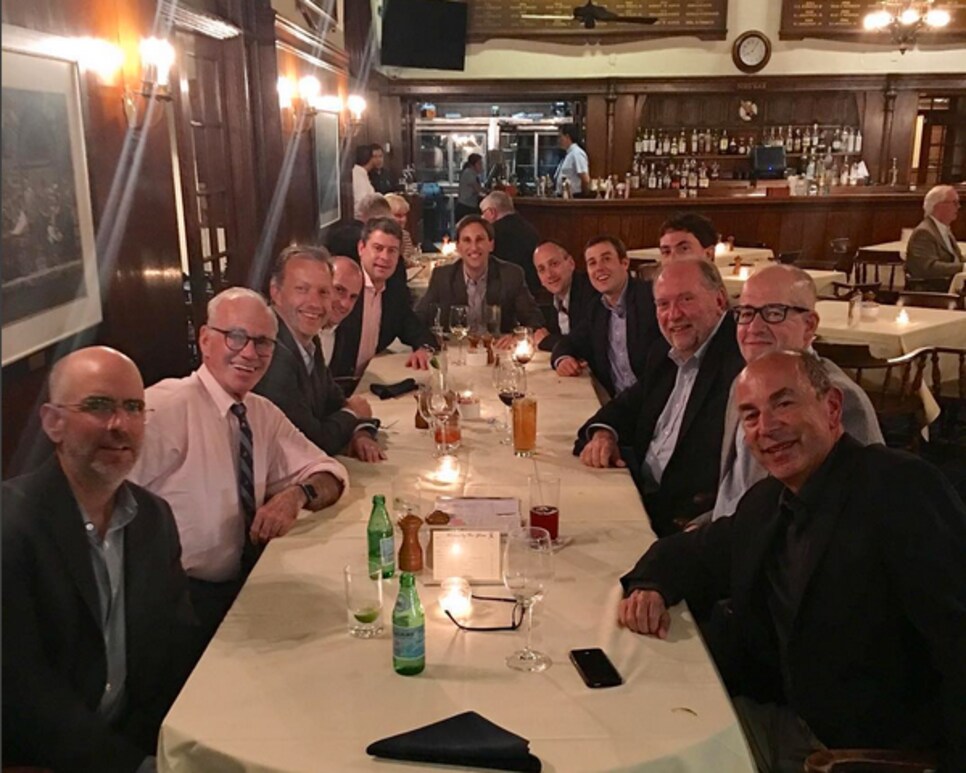 The best part? Our editor-in-chief, Jerry Tarde, says I'm to be referred to as "The Champion Golfer of the Year" until next year's Editor's Putter. But you can call me TCGY or TC or Champ for short. Just a heads up, in case you run into me.
RANDOM QUESTIONS TO PONDER
What candy have you eaten the most of in your life?
What will be the next golf-based "30 for 30"?
How is John Daly still alive?