Not great
U.S. Open 2023: Dustin Johnson's quadruple-bogey 8 looks as bad as it sounds, but didn't put end to title hopes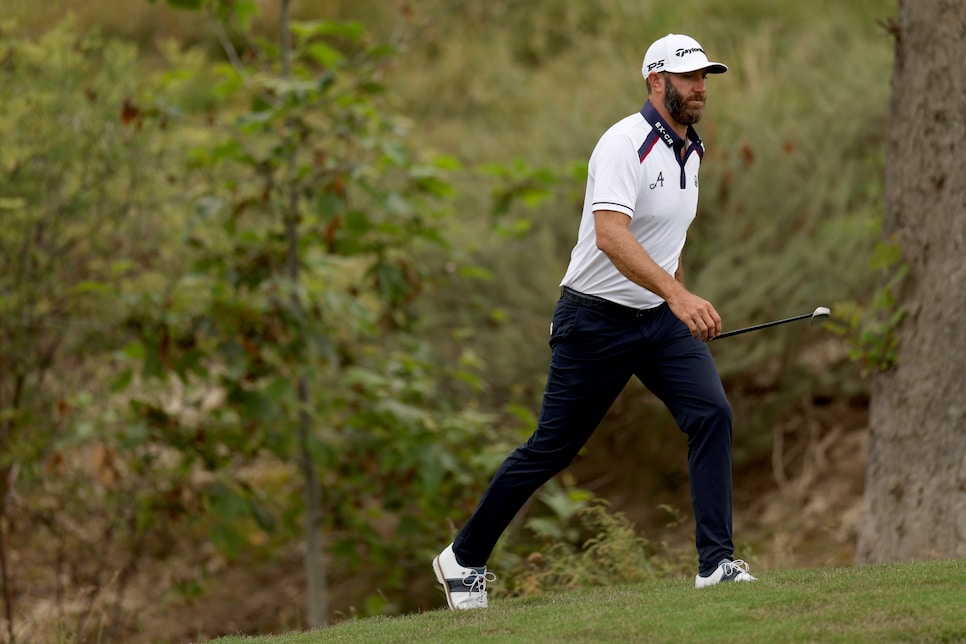 If you were on Golf Twitter, you were certainly aware of the Los Angeles Country Club blowback after a record-setting Day 1 of the 123rd U.S. Open. We saw two 62s, multiple aces and 37 players under par as the sun set on Thursday. The question then was whether LACC—with a little nudge from the USGA's setup crew—might bite back during Day 2.
Sure enough, LACC looked to be a little stiffer test on Friday, as Dustin Johnson learned on the par-4 second as he would make his highest-ever score in a U.S. Open—a quadruple-bogey 8.
"The barranca bites back." That's what the USGA's social media said about DJ's disastrous showing on the 497-yard par 4, and we can't really argue that point. A wayward drive into the lone fairway bunker got him off to a bad start, forcing DJ to lay one up to avoid the barranca. Instead of finshing the fairway with his second shot, however, Johnson found the Bermuda rough, setting up another challenge as he had still yet to clear the barrance. Of course, that's then where he wound up after hitting his third shot.
The whole thing felt so unexpected given that DJ shot an opening-round 64, his 10th career round of 65 or better in majors, something only Tiger Woods can boast of. After his play Thursday, Johnson was adamant about how important those opening tee shots will be at this course: "You just gotta drive it in the fairway here." And he had done such a great job of that in the opening round, hitting all 13 fairways. But his words obviously proved prophetic.
After taking a drop, DJ then played his fifth, only did exactly what the NBC announcers said you can't do ... hit it long over the green, which slopes back to front. Now he had a tricky chip that he hit 28-feet past the hole. And when he couldn't hole that putt for a 7, DJ had to write down an 8 on his scorecard that send him from two shots back of the lead to six off the pace in as much time as it takes one to say "quadruple bogey." Six under to two under is certainly a way for LACC to show that it means business.

"Well, I was just trying to make a 5, but obviously didn't really hit that bad of a drive," Johnson said. "Just hit it a little on the top so it didn't quite cut enough. Caught the corner of the bunker and then chunked my bunker shot and then chunked the next one, skulled the next one. Everything that you could do wrong I did wrong. It happens sometimes, but just battled back and played a really good round of golf."
Impressively, though, DJ didn't let it get to him. On the next hole he bounced back with a birdie and before the day was done he made four more to close out an even-par 70 that got him back to six under for the tournament and just three off the lead after his round. If not for the quad, he'd be in the lead as the afternoon wave tees off.
"To battle back and get it back to even par for the day and 6-under for the tournament, so still right in the mix going into the weekend, so yeah, definitely proud of the way I came back and finished off the round," Johnson said.