Family matters
U.S. Open 2022: Good breaks brought Sean Jacklin to Brookline, where he'll put lessons from his Hall of Fame father to the test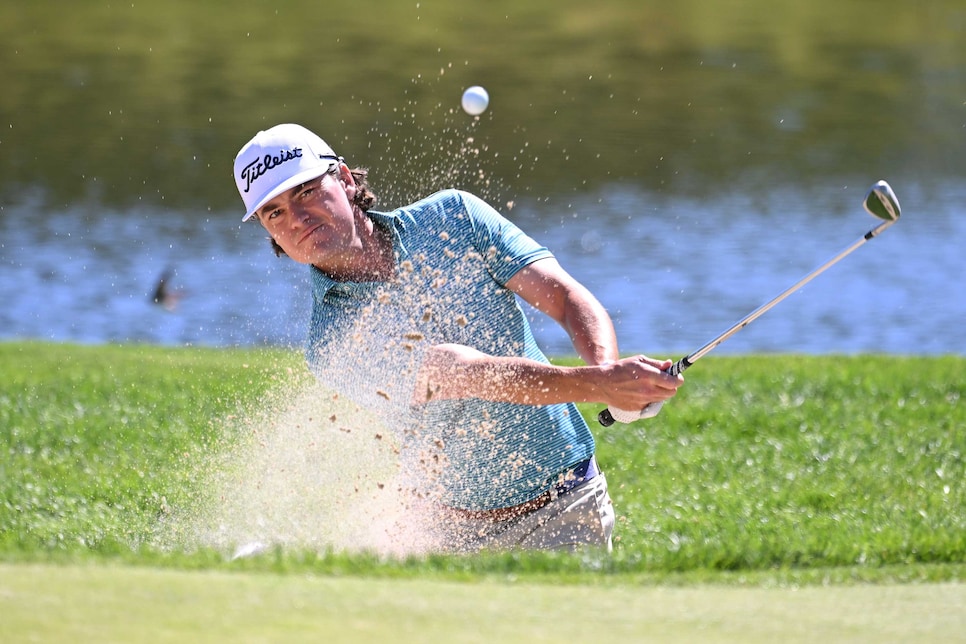 Sean Jacklin plays a shot from a bunker on the 13th hole during a practice round prior to the U.S. Open.
Ross Kinnaird
BROOKLINE, Mass. — He speaks with a mid-Atlantic accent that echoes long-time residence in Florida, despite the fact his famous father is as English as roast beef and Yorkshire pudding. And his mum hails originally from Norway. Despite all this Sean Jacklin, 30-year-old son of 1970 U.S. Open champion Tony, tees it up this week at The Country Club in the 122nd playing of America's national championship with a Scottish flag fluttering beside his name. It sounds complicated, but the explanation is simple. Jacklin the younger—named after 007 himself, Sean Connery—was born in Caledonia during the family's four-year sojourn "north of the border" in the early 1990s.
When he was 2, Sean and family moved to the U.S.—hence his own strong American twang. And his journey to Brookline, while not as lengthy in terms of distance, is quite the saga. All the way through two stages of qualifying, Jacklin, a Florida mini-tour player, has beaten the odds.
"When you are playing on mini-tours all the time, you start wondering if you are ever going to get that break and get out there," he said. "You question things as time goes on. Things like this make all the down times worth it, and I'm just really grateful."
During local qualifying at Sara Bay Country Club in Sarasota, Jacklin, who regularly plays with his father's near-neighbor, 1993 PGA champion Paul Azinger, was bumped into a playoff for an alternate spot by a fellow competitor in the last group of the day. He won that spot, which put him first in line should someone withdraw from Final Qualifying at The Club at Admiral's Cove in Jupiter. Taking a chance, he drove there the night before. And, when a few players competing on the Latinoamerica Tour couldn't get there in time, he was in. But only just. Jacklin's place on the first tee was confirmed only 20 minutes before he drove off.
"I had never played the course, so I went out with one mission: make birdies," he said of the 137 aggregate (66-71) that saw him claim co-medalist honors. "And I did that. At the end it was like, 'what just happened?' I wasn't even in the sectionals and now I was in the U.S. Open as co-medalist. I was fortunate and lucky to have driven over. I could easily have thought I probably wasn't going to get in and not bothered. I'm glad I did. And now I'm here. Happy days."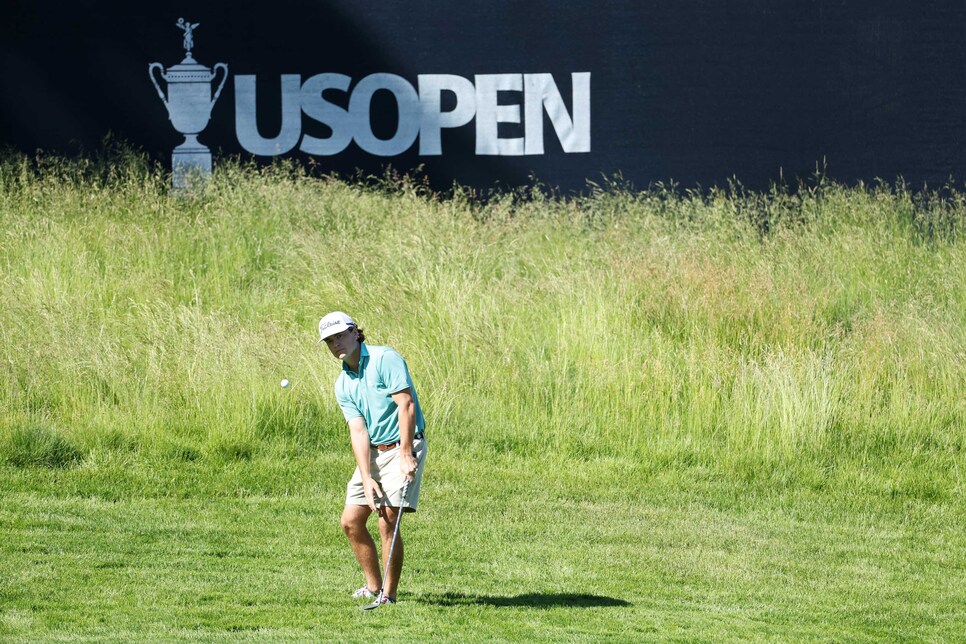 Jacklin gets in some practice as he prepares to play in his first major.
Warren Little
Even that wasn't straightforward though. With two holes to play, a weather delay sent Jacklin back to the clubhouse. Pain in his legs wasn't helping either.
"It was a tough second round as I was cramping up all the time and I was just getting a bit sloppy," he said. "It was the end of a long day, and I was caddieing for myself and it was just a grind to finish. I was literally worried about not being able to physically finish due to the cramping being so bad that it was keeping me away from thinking about the outcome and I think that might have helped. Anyway, I knew what I had to do the last three holes and I holed a nice four-and-a-half footer for a par on the last."
Which brings us up to date.
"It's exciting to be here," Jacklin said. "The course is in great shape. You can tell the USGA has perfect control over it. I'm just trying to familiarize myself with the place. It's a demanding test. But if you can keep the ball on the short grass you can give yourself a chance to score. I'm learning where you can go and where you shouldn't. I'm looking forward to it.
"I've been an apprentice of the game for 30 years now. I've been privileged to grow up following my dad around on the Champions Tour. I constantly tried to absorb as much wisdom as I can. This week is a new experience though. I've never played on a stage like this. As much as I want to play well, I want to be my own best friend and enjoy the week."
He will have company in that endeavor. On Wednesday, his father Tony—the only European to claim the U.S. Open title between 1926 and 2009—is scheduled to be at The Country Club and will join his daughter-in-law, Paige, and granddaughter, Margot, on site in support of Sean.
"Obviously, with the history of my dad in the event, I've always wanted to follow in his footsteps," he said. "I know that I've always been capable of putting myself in a position like this and now I've got to try to not let the moment overtake my ability. It's my first major, it's going to be a family affair and it's something I am looking forward to.
"My dad always says winning the U.S. Open was his greatest achievement," he continued. "He's a Hall of Fame golfer, and you always try to follow in the footsteps of your dad. He's my idol. So this opportunity is very special. I'm going to take it all in and enjoy it as a family. Hopefully, we can start making this more of a routine. I look forward to accepting the challenge."
Perhaps the only thing is for sure. Jacklin will certainly be, whatever he shoots, the low Scot in the 156-man field.
"There are enough American flags on the leader board," he said. "I was born in Scotland. And I'm proud of that. I don't see anything wrong with showcasing that fact and being the lone Scot in the field. It feels good and it's another unique little titbit about the week."
MORE U.S. OPEN COVERAGE FROM GOLF DIGEST